Canucks at Rangers: Coach cage match!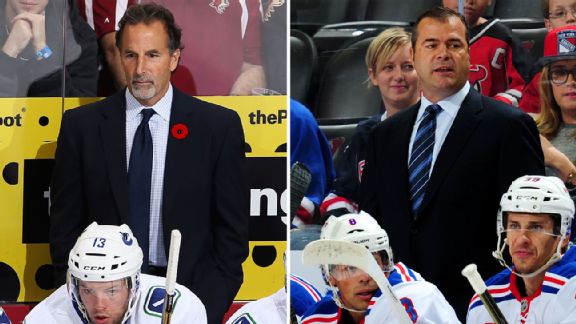 Getty ImagesJohn Tortorella returns to Madison Square Garden to face off against Alain Vigneault's Rangers.
For the first time in the regular season since he was given the ax following the Rangers' hasty second-round exit from the playoffs in the spring, John Tortorella returns to his old Madison Square Garden digs to face his former club Saturday.
The Canucks and Rangers have already played once since Tortorella and Alain Vigneault swapped places this summer -- Tortorella assumed the vacant position in Vancouver while Vigneault replaced Tortorella behind the bench in New York -- but that was a meaningless preseason match in September, when the Rangers were spanked 5-0.
Both Tortorella and Vigneault were still getting a feel for their respective clubs, assessing their personnel, implementing their distinctive and disparate styles of play and acclimating to their new gigs.
This time, there is a markedly different feel to the emotionally charged match, one with pride and points at stake.
The two clubs meet with plenty to prove, as a middling Rangers club sits at 13-13-0 in eighth place in the Eastern Conference while the Canucks are hoping to recover from a recent skid that edged them out of the playoff bracket; Vancouver is currently in ninth place in a competitive Western Conference after a tough stretch during which they recorded only two wins in nine games.
The Rangers flourished under Tortorella during his tenure in New York but eventually grew weary as a result of his brash, abrasive demeanor. While the team seems looser under its new coach, that hasn't necessarily translated in the wins column. Though the Rangers have steadily improved after an atrocious start, the deficiencies remain. They entered Friday's match one of the worst teams offensively with a meager 2.12 goals per game (27th), one of the main reasons the team has had trouble gaining ground in the standings.
Meanwhile, the Canucks seemed to receive the proper jolt from the tough-love Tortorella and enjoyed a strong start. Battling in a dominant Pacific Division that includes the likes of San Jose and Anaheim, the Canucks have since faltered with only three wins in the past 11 games.
Most recently, however, the Canucks dispatched the Ottawa Senators as some key contributors finally found their way back on the score sheet. Defenseman Jason Garrison snapped a 24-game goalless drought. David Booth scored for the first time in 12 games, and Mike Santorelli scored for the first time in nine. Even role player Dale Weise halted a 13-game skid. Daniel Sedin is hardly slumping, but he tallied his 300th career goal in the team's 5-2 win Thursday night; he has seven points in the past four games.
One storyline to watch for the Rangers is whether embattled defenseman Michael Del Zotto returns to the lineup after sitting out Friday afternoon's match, when he was scratched for the fifth time in eight games. The 23-year-old blueliner, once regarded as one of the Rangers' top young defensive talents within the organization, has found himself on the outside looking in as trade rumors continue to swirl. A source confirmed to ESPNNewYork.com over the weekend that multiple teams have expressed interest in the former first-round draft pick (20th overall, 2008), though the Rangers have yet to make a deal. The issue is not their unwillingness to move Del Zotto -- they are -- but getting back someone who can handle top-four defensive minutes (preferably a right-handed shot). Though Justin Falk has recently played in Del Zotto's place, the Rangers will need a more capable replacement both for this season and beyond.
Though Del Zotto's production has plummeted -- only one goal and four points in 19 games this season, a stark contrast from his career-high 41-point campaign in 2010-11 -- he still averages 18:04 per game for the Blueshirts. It is also worth noting that top-four defensemen Dan Girardi and Anton Stralman (the team's only two right-handed shots on the back end) are pending unrestricted free agents, while Del Zotto's deal comes in at a modest $2.55 million cap hit.
Offensively, the Rangers are seeing signs of life with seven goals over the past two games. Wednesday night's output was only the third time this season the Rangers had scored five goals. Star winger Rick Nash was engaged and physical Friday against the Bruins, with a first-period goal that was his second in as many games.
There has been plenty of analysis and nitpicking since Tortorella and Vigneault traded places this summer. In the lone meeting of the two coaches this regular season, which one will come out on top?
ESPN.com
Katie Strang covers the Detroit Tigers for ESPN.com. She is a graduate of Michigan State University and the Columbia University Graduate School of Journalism.
W2W4: Canucks At Rangers
Canucks (31 points) at Rangers (26 points) - 2 p.m. ET
• Teams last met in October 2011, NYR shutout win in VAN
• Teams last met at NYR in January 2011, NYR shutout win
Rangers
• Last game: Road L - 0/5 on PP - 19 shots for
• lost 3 straight at home, scoring 3 G
• Stepan has 0 pts. last 3 home games
Canucks:
• Last game: Road W - 5GF - Luongo 37 saves
• have not won 2 straight games in Nov
• 5-2-1 past 8 road games, 3/20 on PP
• D Sedin has 3 G last 5 GP vs. NYR

Stay On Your Skates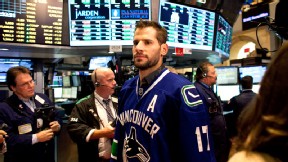 Ramin Talaie/Getty Images
Has the stock of Ryan Callahan and Ryan Kesler (above) risen or fallen for making the Team USA Olympic roster? We've got Insider information on it. Frank Provenzano