Canucks at Hawks: Chicago avoids hangover
CHICAGO -- Chicago Blackhawks captain Jonathan Toews grabbed a stick and schooled a few young kids on faceoffs at the United Center on Thursday, but that was the extent of hockey the Blackhawks have played the last two days.
The Blackhawks took a break from the game Wednesday and Thursday after a stretch where they played 19 games, including 12 on the road, during a 34-day span. The Blackhawks held their annual holiday skate on Thursday, and the players took the ice with their girlfriends, wives and children at the United Center.
Toews joked he and the growing amount of his teammates' children were in danger being on the ice together.
"I didn't think there could be more than last year, but it's getting worse every year," Toews said. "You got to look out, especially when you have a history of running little kids over on a hockey rink. It's not good for me. I got to keep my head up out here."
The Blackhawks were able to share some laughs Thursday and thoroughly enjoy their two days off because of what they did during that 19-game period, going 13-5-1. They currently lead the league with 55 points.
"It's great," Toews said. "It's been a great season so far. We're having fun. I think it's nice to enjoy moments like this because we have been playing so many games and working really hard to get to where we are. We got to take a few moments to catch your breath and spend some time with family, especially this time of year."
The Blackhawks have put themselves in a better position than previously to take a shot at repeating as Stanley Cup champions. After the Blackhawks won the Stanley Cup in 2010, their 2010-11 season began with a rough start and they had to fight to just get into the playoffs.
Blackhawks general manager Stan Bowman was pleased to see that wasn't the case this time around.
"We talked about that over the summer," Bowman said on Thursday. "We wanted to put ourselves in a good position going forward, to try to not be playing catch up. The last time around we dug ourselves a bit of a hole and had to spend a lot of energy to just get back into the race. Now we've had a good start. Now the challenge is to continue that.
"I think as good as we've played we haven't recently distanced ourselves from the people behind us. That just shows how competitive the division and the conference is. It's full steam ahead. We're focused on continuing to win. We're certainly happy getting off to a good start, but we're not happy and satisfied. We want to keep going."
Blackhawks forward Patrick Kane, who ranks second in the league in points, thinks not being satisfied is one of the strengths of the team.
"I think we have a great thing going with the group we have," Kane said. "I think the thing about our team with the guys we have no one is really ever satisfied with what we're doing. It feels like if we lose a game it feels like things are dropping down here a little bit. I think it's just exciting to be around a group that's always trying to get better and always wants to prove themselves and do something special here."
The Blackhawks suffered their first bump in the road this season during a three-game span in which they went 0-2-1 to begin December, but they quickly got back on track and have gone 5-1-0 since then. Toews thought that ability to bounce back was another characteristic of this season's team.
"When things go south and we don't play so well, we can kind of hit the reset button and say, OK, let's forget about that one and move on,'" Toews said. "It just goes with the character of your team in the locker room. When you have experience winning, you know what it takes to win. You kind of understand you're going to go through some tough moments. When you do, don't overact and keep working and keep doing the things you know help you win games."
The Blackhawks have two more home games until the NHL heads into its three-day break next week. The Blackhawks host the Vancouver Canucks on Friday and New Jersey Devils on Monday.
"It's a good feeling being on top of the standings and going into the break with a pretty good record," Kane said. "We obviously have two games left. We want to finish strong here at home. After that, enjoy a little bit of time away from the game and come back strong."
ESPN Staff Writer
Scott Powers is the Blackhawks beat reporter for ESPNChicago.com. He is an award-winning journalist and has been reporting on preps, colleges and pros for publications throughout the Midwest since 1997.
W2W4: Canucks at Blackhawks
Canucks (46 points) at Blackhawks (55 points), 8 p.m. ET

• CHI is 1-0-0 vs VAN this season, winning in VAN
• CHI has won past 2 at home vs VAN, both past regulation
Chicago (25-7-5):
• Last game: Road W - 1GA - 2/5 on PP
• won 2 straight, 1GA in each of the games
• Kane (5G, 13A) during a 10 game PT streak
Vancouver (20-11-6):
• Last game: Road L - 1GF - 0/3 on PP
• 0-1-1 on road trip, scoring 3G, 0/5 on PP
• 3-4-1 past 8 road games, 4/22 on PP
• D Sedin has 1G, 3A past 4 games

Stay On Your Skates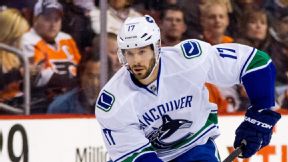 AP Photo/Chris Szagola
Ryan Kesler is back to All-Star form for the Canucks, but he still has unfinished business with Team USA. Pierre LeBrun »