Updated:
December 8, 2009, 8:18 PM ET
It's back! 'The Hakan-Hanukkah Song'

By John Buccigross
ESPN.com
Archive
About 55 percent of the NHL is comprised of Canadians. Twenty percent of NHL players are from the United States, while about 50 players are from Sweden.
I've interviewed a handful of Swedes throughout my years covering hockey at ESPN and my observations about them are:
• Swedes are unfailingly uber-friendly and decent. I've been convinced for years that Nicklas Lidstrom is only 48 percent human; the other 52 percent must be solar-powered Styrofoam, dove feathers or a series of 9-volt batteries strewn throughout his body. I need a Red Wing to go rogue on Nicky and answer me some questions in order to refute my theory that Lidstrom is too good to be true.
• Does he swear? Ever? "Poop noodles," "Jiminy Crickets" and "Fudge crackers" don't count.
• Does he text message suburban Michigan Hooters waitresses on Thanksgiving night?
• Has he ever mentioned squirrels, olive oil and aluminum foil in the same sentence?
• Does he have a trunk full of red Salvation Army kettles?
C'mon, Kris Draper, spill the beans. I'm the boss. Need the info.
Here are some other Swedish facts:
• Sweden has not participated in any war in almost two centuries.
• Just over 9 million people live in Sweden (a 2009 estimate); the country's size is slightly larger than California, which has a population of roughly 36 million.
• Sweden has the 10th-highest life expectancy at 80.86 years old. Canada is higher at 81.23, good for eighth in the world. The United States is 50th.
So, no wars, plus plenty of space, equals a country that's pretty chill while being competitive on the ice and not acting like a doorknob. Yes, we love the Swedes. So, with Hanukkah set to begin sundown Friday, we offer up our 2009 version of "The Hakan-Hanukkah Song."
Understanding Adam Sandler's classic "The Chanukah Song," along with its melody and pacing, will enhance your enjoyment of this song. Maybe listen to Adam's song as you replace his lyrics with mine. "The Hakan-Hanukkah Song" is a tribute to hockey's finest name, Hakan Loob, and all of the great and classy Swedes in the NHL. You make the league a better place with your unique Swedish style.
---
This is a song that, uh ... there's a lot of Norwegian songs out there, but not too many about Hakan Loob and Swedish hockey players. So, I wrote a song for all those nice Swedish kids who don't get to hear any Swedish hockey songs. Here we go ...
Put on some ABBA-kah,
Here comes Hakan-Hanukkah!
So much Swedish-funukah,
To celebrate Hakan-Hanukkah!
Hakan-Hanukkah is a festival of ice
Instead of one night of hockey, we have 180 craaaazy nights.
But, when you feel like the only kid in town without a Synergy,
Here's a list of people who are Swedish, just like Doug Murray
Henrik Lundqvist's hair, is like grass called Kakuya,
There's a dude on the Devils named Johnny Oduya,
Guess who eats crayfish at a bistro in Malmo?
Fabian Brunnstrom, Fredrik Sjostrom and ex-Oiler Tommy Salo
Victor Hedman's rookie card is something worth collectin',
So is Kent and Ulf Nilsson's and Pelle Eklund's.
Swedish names are awesome, and Swedish names are fun,
There's a Nik Backstrom in Minny, and one in Washington!
One's Swedish!
Put on your ABBA-kah,
It's time for Hakan-Hanukkah!
The ex-captain of the Vancouver Canuck-anukkahs, celebrates Hakan-Hanukkah!
Saku Koivu, not a Swede!
But guess who is? Hakan's older brother Pete (he scored one goal in nine NHL games)
Peter Forsberg has bad feet, but he still likes a dancin',
So do Roger, Mathias, Calle, Bjorn and Andreas Johansson!
Mike Grier's not from Sweden, nor Dainius Zubrus
But Niclas Wallin, two Sedins and Hakan Loob is!
So many Swedes are in the NHL,
There's a dude in Chicago named Hjalmarsson.
Now that's announcer hell!
Tell your friend Per-onica,
It's time for Hakan-Hanukkah!
I hope I get new Graf-onikahs
On this lovely Hakan-Hanukkah!
So drink your cold Fal-connika
And play 18 with Annika
If you really, really wannakah
Have a happy, happy, happy Hakan-Hanukkah!
Happy Hakan-Hanukkah!
John Buccigross' e-mail address -- for questions, comments or crosschecks -- is john.buccigross@espn.com.
Tuesday Poll
Sponsored by Ken the Otter
Bucci's Power 5
The Hawks are a major force and fast becoming the West heavyweight. In the past few weeks, they have beaten the Sharks, Flames and Pens (without Sidney Crosby). They can score and skate and are sturdy tough.
Hey, they have the fewest losses in the NHL. Nobody scores more goals. They are also doing a better job in the goals-against category lately. They still haven't played the Penguins (first meeting is Jan. 21). Thanks, NHL. Alex Ovechkin scored twice Monday night in his first game back from a two-game suspension, his NHL-leading seventh multigoal game of the season. Ovechkin reached the 20-goal mark in just 22 games, the fastest start of his career.
The Devils are led by Hart Trophy candidate Zach Parise, the most exciting player in team history. They have won 14 of their past 18 games, and you can really see belief in their strides. I don't understand why there is ever an empty seat at a Devils home game with Parise in the lineup. Martin Brodeur's 3-0 win at Buffalo on Monday night was his 103rd regular-season shutout, tying Terry Sawchuk's NHL record.
The Penguins have been bashed by injuries this season, but when healthy we see (a) a team with elite centers, but average finishers on wing; (b) a goaltender who is able to elevate his game in games that have his interest; and (c) a group of defensemen that may be in need of another force along the blue line.
Really good coaching, goaltending and leadership go a long way in hockey. It's why the Devils have been so good for so long and why the Flames are a force this season. You could see this team getting on a roll in the playoffs and being a runaway train. The question is, will they get enough scoring in the postseason?
Patrick Marleau is playing at an astronomically high level. He has to make the Canadian Olympic team. No one is skating better in the NHL. I think the Sharks are starting to construct a deeper offensive unit and should be fine there. They need another defenseman. Another tie at No. 5 this week because I think the Cup will be won by one of these six teams in June.
Shot of the Week
It's back. You know how it works: We present an NHL photo, and Bucci provides a caption. E-mail him your suggestions (include your name and hometown/state), and we will use the best ones and provide a new photo the following week.
LAST WEEK: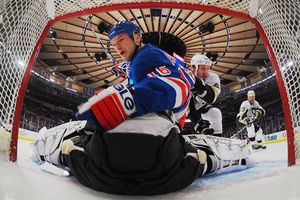 Getty Images
The Statue of Misery.
Your captions:

"Oh, HERE'S the back of the net. I can never find it!"
Doug (Minneapolis)
"Quick, everybody hide in the net! That 'V' spaceship is back above us."
Paul Nolan (Langhorne, Pa.)
"No! No! I want an Official Red Ryder Carbine-Action Two-Hundred-Shot Range Model Air Rifle!"
Alan S. (Buffalo, N.Y.)
"When I said make your face touch the ice, I meant it! It's the only way this stretch works, Marc!"
Dan Pietrusinski (The Pennsylvania State University)
THIS WEEK: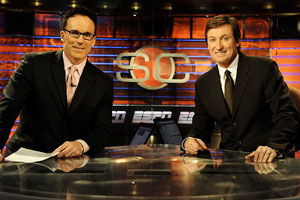 ESPN
ESPN signs Wayne Gretzky, causing serious salary-cap concerns for 2010.