All-Star memories, teams and advice for future

By John Buccigross
ESPN.com
Archive
From 1998 to 2004, I hosted the hockey highlight show "NHL 2Night" on ESPN2. The job was as good as it sounds. To make matters even better, I was able to cover multiple NHL All-Star Games, beginning with the 1999 event in Tampa. Wayne Gretzky, in his final NHL season, was named MVP of that contest. From there, my All-Star Game career looked like this:
1999 in Tampa: Any chance to take a trip to a warm-weather climate in February receives at least one thumb up for a New England resident. This was the first time I flew to an event on someone else's dime. The Gretzky MVP factor made this a very memorable experience. (Yes, Wayne is also the all-time leading scorer in All-Star Game history.) Additionally, I met Phil Esposito during this weekend and conducted a one-on-one interview with Maurice Richard. "The Rocket" died a little over a year later in May 2000. I can still see and feel Richard's eyes.
2000 in Toronto: This was by far the best experience because you could feel the buzz in the streets. For a United States hockey fan, there is no better feeling than to be in an environment where your game matters. Like Bob Vila in a bathtub full of hammers. Pavel Bure was the MVP.
2001 in Colorado: It was like 70 degrees in Denver and the West won 14-12. I think Bill Guerin had 10 goals or something and was the MVP. I also remember Thomas Dolby rehearsing "She Blinded Me With Science" the morning of the game; only the NHL would hire a guy to sing a song in 2001 that was released in 1982. The night before, there was a dinner Dolby was supposed to attend. I took his little table name placement tag thing (what do you call those little things on tables to mark where you sit?) and still have it in my small collection of strange hockey memorabilia. He might still be looking for his table. Other items in the basement include:
• A Ray Bourque-autographed baseball.
• A Joe Sakic-autographed wine bottle.
• A Mike Myers-autographed Fat Bastard action figure
• A Chris Dingman-autographed dress shirt (mine)
2002 in Los Angeles: This was a great All-Star Game because it was my first time in Los Angeles and I met Jean Beliveau. It was during a banquet on the Friday night of All-Star Weekend. Alan Thicke was there, too.
I've never been more impressed by the presence and grace of another human being as I was by Beliveau (and I've met Tony Twist and a member of Bell Biv DeVoe). Beliveau implored the NHL and NHL Players' Association to reach a labor agreement and avoid a lockout. Of course, no one listened because, compared with Beliveau, everyone else is stupid and classless.
I also sat on the bench as Barry Melrose coached one of the teams during the YoungStars Game. I listened to Ilya Kovalchuk dig his edges into the ice and score seven goals. I think Jewel sang the national anthem before the All-Star Game, and you just don't forget seeing Jewel in person. Eric Daze was named MVP and won a truck. (After that season, Daze would play only 74 more NHL games because of back issues.)
2003 in Florida: L.A. and South Florida, back to back, on ESPN's dime. Winner, winner, chicken parm dinner. Dany Heatley was MVP. What was memorable about this weekend was the game went to a shootout. This was a time when few could imagine the NHL implementing the shootout into regular-season games. I will never forget the buzz in the arena as the shootout began. I knew then the NHL would implement the shootout soon thereafter.
Sheryl Crow sang in between periods and stayed in the same hotel as the ESPN folks. Then-ESPN analyst Darren Pang saw her in the lobby and went right up to her and struck up a conversation because Pang will fearlessly walk up to anybody and start a conversation. I've seen him talk up Crow, Meg Ryan and Mike Myers like they were ball-hockey teammates. We should all live more like Panger.
2004 in Minnesota: This weekend was comparable to Toronto in that hockey is the city's best friend. I saw a Bemidji State-Minnesota Golden Gophers game on the Friday of All-Star Weekend. I met actor Kurt Russell in one of the suites before the game and was mesmerized by how much smaller he was and how much larger his head was in person. Cheap Trick played at the NHL party in the Metrodome. The late Peter Jennings of ABC News was in the crowd.
It was the first time I met and interviewed Mark Messier in person. I understood his leadership and presence in 1.9 seconds. At that moment, I would have backstroked in a pool of rusty razor blades if Messier said mankind would be better off if I did so. Sakic was named MVP. This was the last All-Star Game covered by ESPN/ABC Sports and the last I have attended in person.
I loved covering All-Star Weekend. It was the one time of the year when just about the entire hockey community came together, the league, media, players and rabid fans of that city. It was a great midseason resurfacing to infuse one with enthusiasm and passion for the rest of the year. I greatly miss it. But I still enjoyed watching the festivities in Dallas, Atlanta and Montreal on television. The skills competition still brings out the kid in me.
Because of the Winter Olympics, there is no All-Star Weekend this season. Not having an All-Star Game is a negative. It stokes the fires of fandom. But I would take a hockey tournament with the passion and excitement of the Olympics every year.
In the spirit of the All-Star Game, this is a good time to do two things:
1. Write the ol' "LOOK AT MY GREAT IDEAS TO IMPROVE THE ALL-STAR GAME!" column.
2. Pick the All-Star teams for the East and West.
To tell you the truth, I liked just about everything about All-Star Weekend. But anyone will tell you the worst or most humdrum part of the All-Star experience is the All-Star Game itself. Players competing at 65 percent are not good television. So I would look to shake that up.
My All-Star tweaks:
First, I would play two periods of 20 minutes and tighten up the television show. Three periods is too much. This is the time to have a no-holds-barred hockey lovefest. I would play 5-on-5 for five minutes, 4-on-4 for five, 3-on-3 for five and 2-on-2 for five. I'd even consider lighting tires on fire and placing them on different parts of the ice. I mean, the last thing I would do is play something that resembles an NHL game. I would script all kinds of crazy things.
Alex Ovechkin? You are playing goalie for five minutes. Roberto Luongo? Grab a stick, you're playing left wing. Sidney Crosby? Your next shift will have linemates consisting of Melrose and Cuba Gooding Jr. Jonathan Toews? Two local Squirts will be your wingers against Mike Richards and two Squirts from South Jersey. Bring two fans down and have a penalty shot. One fan gets the shooter and one gets the goalie. The winner gets a new car. I'd have Zdeno Chara shoot a puck at a giant watermelon or pumpkin or Jay Leno and see what happens. I'd make it one big, crazy televised party. The crazier, the better. A YouTube fest. You think those highlights would be on "SportsCenter"? Yes, yes and yes.
My All-Star teams: If I don't have a player from your team on this list, it doesn't mean I hate you, your team or your country!
EASTERN CONFERENCE
Forwards
Ovechkin-Crosby-Marian Gaborik
Kovalchuk-Nicklas Backstrom-Martin St. Louis
Zach Parise-Steven Stamkos-Alexander Semin
Mike Cammalleri-Tomas Plekanec-Evgeni Malkin
Defensemen
Mike Green-Tomas Kaberle
Chris Pronger-Sergei Gonchar
Chara-Tyler Myers
Goaltenders
Ryan Miller
Martin Brodeur
Henrik Lundqvist
WESTERN CONFERENCE
Forwards
Daniel Sedin-Henrik Sedin-Rick Nash
Dany Heatley-Joe Thornton-Patrick Marleau
Alexandre Burrows-Toews-Patrick Kane
Corey Perry-Ryan Getzlaf-Bobby Ryan
Defensemen
Duncan Keith-Dan Boyle
Drew Doughty-Brent Seabrook
Nicklas Lidstrom-Christian Ehrhoff
Goaltenders
Luongo
Evgeni Nabokov
Craig Anderson
John Buccigross' e-mail address -- for questions, comments or crosschecks -- is john.buccigross@espn.com.
Shot of the Week
It's back. You know how it works: We present an NHL photo, and Bucci provides a caption. E-mail him your suggestions (include your name and hometown/state), and we will use the best ones and provide a new photo the following week.
LAST WEEK: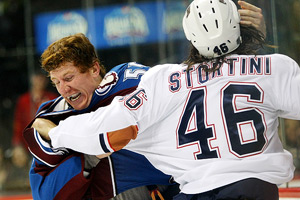 Getty Images
Ava-lunch.
Your captions:

"I'm on Team Coco. Sorry about the hair."
Mike Raia (Silver Spring, Md.)
"Just for Men"? This is the NHL, brother!
Shawn M. Mousourakis (Toronto, Ohio)
"Stortini! Stop trying to mess up my Ralph Malph hairdo!"
Andy Gilb (Prior Lake, Minn.)
"I like my Stortini stirred, not beaten."
Nick Dashaye (Toronto, Ontario)
"I know you're looking to load up on carbs, Cody, but that's Stortini, not Rotini!"
Mike Fecteau (Richmond, Va.)
THIS WEEK: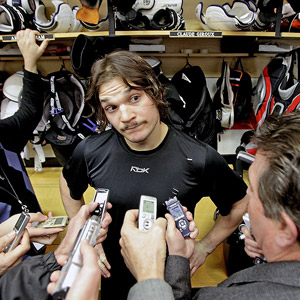 Getty Images
"Dan, have you considered Rogaine for the 'Stache?"