Time to give the West its due

By John Buccigross
ESPN.com
Archive
Is there an East Coast bias in the sports (hockey) media?
Most of you understand the reason for this question and the generic definition of "East Coast bias." East Coast bias is the belief that Eastern time zone things, athletes and sports franchises receive more media attention than Western time zone things, athletes and sports franchises. (Colorado and Missouri, among others, in all likelihood share this belief.) Those who think East Coast bias exists also feel that the extra attention those East things, athletes and franchises receive is more passionately presented as well as repetitive, comprehensive and sometimes exaggerated.
Disciples of the East Coast bias theory cite the location of the media's bigger corporate headquarters (New York and Toronto) and media members themselves (born and raised in the East) as the primary reason for East Coast bias. Vancouver loves the Canucks as much as Toronto loves the Maple Leafs, yet the Maple Leafs seem more important because of the amount of coverage they receive. And they are more important to Canadian media folks because there are more Maple Leafs fans. And those Maple Leafs fans are everywhere.
I would guess (and this is an unscientific guess) that 98 percent of Canucks fans live within a gallon of gas of Vancouver. The Maple Leafs, meanwhile, have fans in Boca Raton, Fla. Forget that we are in the midst of the worst stretch in Leafs history. This will be the fifth straight season Toronto will miss the playoffs, the first time that will happen in the team's history. The Canucks realistically could win the Stanley Cup in June, but that doesn't matter in terms of coverage.
Excellent ECB examples: Rex Ryan, Mark Sanchez, the said Leaf of Maple, Sidney Crosby, Alex Ovechkin, Joe Namath, the United States Golf Association's selection of locations for major championship golf venues (heavy in the East), "Seinfeld," LeBron James, Boston Red Sox, New York Yankees, Philadelphia Flyers, Notre Dame football, Philly cheesesteaks, Tim Tebow, Donovan McNabb, Martin Scorsese, "Saturday Night Live," New York Rangers, Duke University, Gary Bettman, pizza, E-ZPass, Sarah Jessica Parker, Martin Brodeur, Sean Avery and possibly Dion Phaneuf.
Those who do not believe in East Coast bias cite the extra attention given to non-East Coasters such as Kobe Bryant, Brett Favre, Ford F-150s, the Dallas Cowboys, Michael Jordan and ... um ... uhh ... well ...
OK, there might be something to this East Coast bias thing. Some of the examples above are driven by controversy as much as daily performance.
Here are some possible explanations as to why there might be an East Coast bias imbalance and why it is sometimes (kind of) warranted/understandable:
1. The closer you physically are to something, the more important it seems, especially if it is important. You can't work and live in New England and be immune to the fervor of the Boston Red Sox. It's too pervasive. If you live in Connecticut, you pretty much get 50/50 Red Sox-Yankees passion. I live two hours from Yankee Stadium and an hour and 15 minutes from Fenway Park. Interest plus population equals a good television rating. Can we get carried away? Yes. But when the bear is in your backyard chewing on your swing set, your storytelling will be more vivid than when it happens in York, Pa.
2. The stretch from Boston to Washington, D.C., is the most densely populated part of the United States. If you had only one place to sell cell phones, Vampire Weekend CDs, Snuggies, almonds or sports, you would concentrate on this megalopolis. It's math, bruthas and sistas.
3. About half the people in the United States (150 million of 305 million) live in the Eastern time zone. This speaks to point No. 2 and also the fact that a lot of these people are in bed when Pacific Time games are going on. This contributes to lower television ratings for West Coast games, which contributes to the lack of national broadcasts of West games in the first place.
4. I think we can all kind of agree, for the most part, that sports is more all-consuming where traditions date back 100 years and/or the weather is often dreadful, Jack Nicholson and Dyan Cannon, notwithstanding. Nicholson and Cannon are both huge Lakers fans. (But Cannon was born in Tacoma, Wash., where it rains a lot during basketball season; Nicholson was born in New York City and grew up in Neptune City, N.J. He had a pre-existing condition to be a sports fanatic.)
This isn't to say there aren't Los Angeles Kings fans who live for the Kings like a dude in Manhattan loves the Yankees. There just aren't as many. So, the business of sports will gravitate to the larger audience first. I know ... duh! That's just good business, and good business isn't always fair. So, it's less of a bias and more of a business. If 1 million people would watch a Canucks-Ducks game starting at 10:30 p.m. ET, it would be on national TV in the United States. The media are not a public service.
ESPN now has a live "SportsCenter" show produced in Los Angeles five nights a week, and ESPN Los Angeles is one of ESPN.com's four regional Web sites to be launched in the past year. ESPN is well aware of the city's sports presence and would love even more Californians to watch TV, especially ESPN. California, with its 37 million residents, is the most populated U.S. state.
For hockey fans living in the United States, especially those without the NHL Center Ice package and/or the NHL Network, the alleged East Coast bias theory can be even more stinging. It's seems as though it's Sidney Crosby, some Red Wings, a dash of Flyers, Alex Ovechkin and not much else. And yes, people care about how their teams are covered nationally despite all the excellent Web coverage and comprehensive blogs. In some ways, I think fans believe that the lack of national coverage is a reflection of them and their community; they want their due and want their players to get their dues.
So, for this week's blogumn, I'll attempt to give some coverage to some of the non-East Coast stories that maybe haven't gotten their due in this space:
It is early February, and Sedin is the NHL's leading scorer. If I were forced to bet my mortgage on whether Sedin will win the scoring title, I probably would say no. No. 8 and No. 87 are right on his tail, and the money is on one of them to win the Art Ross Trophy for most points.
The jump Sedin has showed this season is hard to figure out. Perhaps the jump to a $6.1 million salary has provided just a tiny bit more incentive. This is how we want athletes who sign big deals to perform. Sedin already has set a career high in goals scored this season (25). One reason is he is shooting more. For the first time in his career, Sedin is averaging more than two shots on goal per game. Isn't that amazing? Sedin has never averaged two shots on goal per game in an NHL season. Someone should film a 60- to 90-minute documentary about the Sedin twins, telling the story of their lives, their dynamic as twins, what they mean to each other and how they think. A book would be better.
The Avalanche have lost three in a row heading into Tuesday's action. You keep waiting for them to slip out of the top eight in the West, but they are still hanging around. They have a very good chance to make the playoffs despite not having a dominant player. One expects Detroit to replace one of the current top eight teams in the conference, but that won't necessarily be Colorado. The Avs have a decent cushion and a good goaltender in
Craig Anderson
. The only issue is other teams might add talent, while the Avalanche may stay the course with their young core, which is probably the smart thing to do.
It will be difficult for the Phoenix Coyotes
not
to make the playoffs with the points cushion they have. Look at their roster. They have good coaching, goaltending and veterans. There are no elite players, so you can see a situation in which they could stop scoring; at this point, though, they can play for ties, get some shootout wins and protect their points lead. Like the Avs, the Coyotes are one of those teams that almost magically get some wins, start believing and just keep winning. And the Coyotes are doing it amid an ownership mess that dates back to last season. This team has tons of cap room, but will it add salary?
In January 2009, the Canucks were struggling. Vancouver then broke up Ryan Kesler and Burrows. It put Kesler on a wing with Mats Sundin and Burrows on the Daniel and Henrik Sedin line, and both Kesler and Burrows exploded. Then, in March, the Canucks signed Burrows to a four-year extension worth $2 million a year. Right now, it's the deal of the year.
Burrows will finish with about 35 goals and 70 points. Any player could get injured on his next shift, but Burrows has showed durability. He has missed one game in the past four NHL seasons, and that is remarkable considering the way he plays. And considering how durable the Sedins have been, the Canucks might have a line set in stone for three more seasons.
The fact that Duchene leads all rookies in scoring is not a major shock. We were bullish on him before the season:
Duchene, the third pick in this past summer's NHL draft, is the real deal, and his personality is a perfect fit for Colorado. There will be times when he reminds some Avs fans of Joe Sakic on the ice. Off the ice, he has a bounce to his step and an obvious joy and love for the game. His feet are magic, and I see big things out of him in a couple of years; you will see the glimpses of that promise this season.
Duchene has not disappointed. Some athletes have an electricity that transmits waves through the television screen. My son Jackson has talked about wearing No. 9 next season because of Duchene. Jack doesn't know Duchene's stats or really anything else about the Avs forward. If Jack saw him at the mall, he wouldn't recognize him, but something about Duchene connects with him. The expression "talk to me like I'm a fifth-grader" works in the verbal sense of communication. When Duchene moves, we are all fifth-graders. His movements communicate youth, exuberance, love, renewal, health and possibility. It's why we love hockey and sports so much.
Los Angeles Kings
The Kings went on a five-game road trip and won them all. They've won six straight and sure look like a playoff team. They have balanced scoring, a stud up front in Anze Kopitar and a stud along the blue line in Drew Doughty.
Kopitar is still just 22 years old, and his numbers have spiked this season after regressing in 2008-09. Kopitar's numbers are back on par with his sophomore NHL season. He should set career marks in goals, assists and points in his fourth season.
Doughty has put himself in the final three for the Norris Trophy with Duncan Keith and Mike Green. You can't be a consistent, top-level team without a five-star defenseman like Doughty.
I don't know whether Jonathan Quick is a playoff-caliber goalie, but if he is, the Kings have him at $1.8 million a year for three more years after 2009-10. That gives the Kings so much flexibility for the rest of their roster in the coming season and puts them in the Kovalchuk hunt in the summer if they don't trade for him during this season. Also, the Kings have a chunky expiring contract coming off the books in each of the next five seasons. The Kings should be good for most of this decade.
The Sharks have the most points in the NHL. The average sports fan doesn't know that. Jackson told me the topic of the Sharks came up in the locker room at squirt practice the other day. He said most of the kids didn't know what state San Jose was in. Jack knows because his dad demands an understanding of geography. There are probably some adults who don't know what state San Jose is in.
Patrick Marleau has to be in the Hart Trophy discussion. He is a good player in all three zones: equal strength, up a man and down a man. He will score 50 goals and doesn't take dumb penalties. Marleau was not a productive player as a youngster because he just didn't shoot enough. The past two seasons, he has had career highs in shots, and it has resulted in his best two goal-scoring campaigns.
All this is good, but the hockey community is not buying the Sharks until they reach the Stanley Cup finals. Do they have enough secondary scoring? If a good team puts its good checking line, good defenseman and good goalie on the Sharks' No. 1 line and neutralizes it, can the Sharks still win a playoff series? That will be a compelling and fun question to ponder come April.
I don't think the average fan adequately understands the story of the Hawks and the level of this season's team. Just imagine the Oakland Raiders being a model franchise in two to three years. That's what happened in Chicago. The current team is loaded with talent and grit and has to be considered the favorite to win the Cup. The Hawks are the only elite sports team in Chicago, but their story does not get consistent national coverage the way it should.
John Buccigross' e-mail address -- for questions, comments or crosschecks -- is john.buccigross@espn.com.
Bucci's Power 5
Explosive and balanced scoring, and much of that scoring is coming from young players who are still getting better. Worried about goaltending? Here are your Stanley Cup-winning goalies since the 2004-05 lockout: Cam Ward, Jean-Sebastien Giguere, Chris Osgood and Marc-Andre Fleury. That isn't exactly Patrick Roy and Martin Brodeur. What do all four post-lockout Cup-winning teams have in common? They all scored a lot of goals.
The Hawks get the nod over the Sharks because they have better-balanced scoring and a better group of defensemen. Goalie concerns? See above.
There is concern because the Sharks are top-heavy on one line. Ryane Clowe, Joe Pavelski and Devin Setoguchi have to score, and the defense needs to be productive. I worry about their depth in a playoff series against a deep team.
Yep, they are back. Why are they here despite having a team of third-line wingers? Sidney Crosby, Evgeni Malkin, Jordan Staal, a dynamic defense, a fearless goalie, big-game confidence, good road performance and, most importantly, scoring ability. If they acquire Ray Whitney from Carolina (yes, give up a first-round pick), the Pens might nudge past Washington. Whitney would put up big numbers playing with Malkin or Crosby. His shots on goal would skyrocket.
The Canucks won the first game of their record 14-game road trip. That's right -- a 14-game road trip. The Canucks have been a .500 road team with some ugly losses. They need to have a good road stretch, and this is the perfect time. They can score and prevent goals. Enough said.
Shot of the Week
It's back. You know how it works: We present an NHL photo, and Bucci provides a caption. E-mail him your suggestions (include your name and hometown/state), and we will use the best ones and provide a new photo the next week.
LAST WEEK: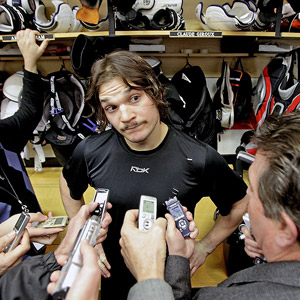 Getty Images
"Dan, have you considered Rogaine for the 'Stache?"
Your captions:
"What's that? You're the TV station's best reporter? Doesn't matter to me, I'm still going to punch you in the face."
Brian Haas (Arlington, Va.)
"My name is Inigo Montoya. Prepare to die."
Matt Boelkins (Grand Rapids, Mich.)
"If I tell you I'm Claude Giroux, then I'm Claude Giroux. You got a problem with that?"
Eric Luukko (Sutton, Mass.)
"Johnny Depp needs a stunt double for a hockey movie? I'm listening."
Derek Driedger (Mitchell, S.D.)
"For the last time, I'm not Adam Morrison."
James Read
"No, really, Gaborik pounded his face into my fist."
Sean Bateman (Apple Valley, Minn.)
THIS WEEK: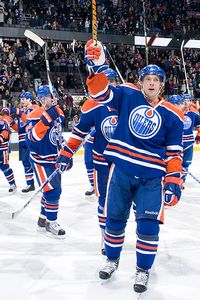 Getty Images
"And after one period, it's the Avalanche 1 and the Oilers 1."
Tuesday Poll
Sponsored by Ken the Otter