Updated:
March 16, 2010, 5:19 PM ET
Some thoughts as regular season winds down

By John Buccigross
ESPN.com
Archive
Some random things to ponder with the Stanley Cup playoffs less than a month away:
• It is becoming more obvious every day that the International Ice Hockey Federation may be a better hockey body to run the NHL than the NHL. The NHL's disciplinary apparatus is glaringly off the rails, with no rhyme or reason for the punishments being doled out. It is, quite frankly, embarrassing.
[+] Enlarge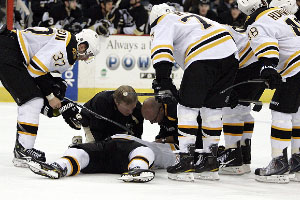 Justin K. Aller/Getty ImagesBoston's Marc Savard will likely miss the rest of the season after taking a hit to the head from Pittsburgh's Matt Cooke earlier this month.
The league has never looked more unorganized. While NHL commissioner Gary Bettman seemingly spends most of his time dealing with ownership issues in warm-weather megalopolises with attendance issues, miniscule television ratings and the cultural impact of Frank Stallone, the sleepy NHL has forced fans and media into spending their energies and headlines focusing on "safety" and stupidity because the league continues to do nothing about it. And you thought the Congress moved slowly.
When Sean Avery swung his hockey stick in front of Martin Brodeur's face in April 2008, the NHL expanded the unsportsmanlike conduct rule to cover Avery's giant windshield-wiper move. And they changed the rule the next day. Unless this "no-brainer" issue is not addressed soon, we are going to have no-brainer hockey players.
• With his occasional unethical play, Penguins forward Matt Cooke has reached the point where he has now embarrassed his own teammates. Even they can no longer defend or keep silent over Cooke's senseless and dangerous play. I can't immediately recall the NHL as whiffing on something so severely as it did by not suspending Cooke for his hit to the head on the Bruins' Marc Savard. That suspension should have been for the rest of the regular season. No one would have argued. How could anyone? The punishment could have set a head-shot precedent without having to hold 1,400 meetings at an overpriced Boca Raton hotel. Actions speak louder than Swedish massages.
Thus, Thursday's Penguins-Bruins game will have all of the aspects of the sport that make it look clownish, boorish, predictable and dangerous. Revenge will be in the air, in the stands and on the ice. Milan Lucic will scream "I am Spartacus!" sometime during this game. There will be multiple fights, elbows and high sticks. Let's just hope no one gets killed, and that's not even designed as hyperbole. As long as the NHL continually turns its Neanderthal heads and unless the culture changes, something bad will eventually happen. And soon. People, use your brains to save some others.
• Favoritism? Cooke gets no suspension and Alex Ovechkin receives two games? I slowed down the Ovechkin hit on Blackhawks defenseman Brian Campbell and watched it frame by frame (because, on first glance, it didn't seem like it had the characteristics of a malicious hit).
When you slow it down, you see Campbell is in a good position to absorb most of the force Ovechkin is bringing to the play. Campbell is braced on the outside edge of his left skate and the inside edge of his right skate. Then, inexplicably, the right skate becomes "loose," putting Campbell in the position to get plastered into the boards at an awkward angle with no time to defend himself. If Campbell's right skate stays on the ice, he takes that hit into the glass loudly, but with little consequences.
I don't have a problem with giving Ovechkin a suspension of some kind to have him gear it back a notch. The Capitals are going to win the East and Ovechkin will probably still win the Hart Trophy, anyway. This could be gentle safety reminder to save Ovechkin from himself, as well as the rest of the league. I do feel sorry for Carolina and Florida fans who bought expensive tickets for the chance to see No. 8 play. You can forget about a large walk-up crowd to these games now.
• I am always baffled by why NHL coaches, or any level of coach for that matter, don't keep the goalie out of the net after scoring an empty-net goal to make the score 3-2, as the Bruins did Monday night. The Bruins scored an empty-netter with a little over a minute left. Why wouldn't Claude Julien keep Tuukka Rask pulled for the center-dot faceoff? Even if you lose the faceoff, there is no way a player can score an empty-net goal through all of those players. Also, by having the extra man on during the faceoff, it gives you a better chance at gaining position in a faceoff tie situation, getting the puck deep and beginning the process of tiring out the other team with prolonged pressure.
• Boy, Zdeno Chara looks Hal Gill slow. When did this happen? Is the 33-year-old Bruins defenseman massively injured? He has one more year at $7.5 million.
• Helped by nine shootout wins, the Phoenix Coyotes are on pace to accumulate 100 single-season points for the first time in franchise history. Winnipeg's highest total was 96. Dave Tippett has coach-of-the-year honors wrapped up. The Coyotes will likely not have a 30-goal scorer, and they might not have a player break the 60-point plateau. They wouldn't be where they are without goaltending and scoring from their defensemen. Three more goals from Adrian Aucoin and he will join Keith Yandle and Ed Jovanovski as double-digit goal scorers from the back end.
• Ilya Bryzgalov is now firmly in the top three for the Vezina Trophy and in the top 10 for MVP. Bryzgalov will end up playing close to 70 games, almost an every-day player. His wins total will be in the low-to-mid 40s. He is the league's shutout leader (eight) and has a strong shootout save percentage (.725).
• Speaking of 100-point seasons, we had seven teams break that points total last season: the Devils, Bruins, Capitals, Red Wings, Blackhawks, Canucks and Sharks (the Penguins and Flyers had 99). This season it looks we will have about eight or nine. The Capitals are already over 100 points, while the other locks are San Jose, Chicago, Pittsburgh, Vancouver and Phoenix. That's six. The Devils (8-6 finish) should make it, while Buffalo (8-7 finish), Los Angeles (8-6 finish), and Colorado (8-6) all have realistic chances. If those last three make it to 100 points, it would make it 10 teams. The 2006-07 season had 11 teams reach the 100-point mark.
• This is the 19th season video replay has been used in the NHL.
• The last goal for Flames defenseman Jay Bouwmeester (earning $7 million this year)? Nov. 14.
• If the Red Wings make the playoffs, it looks like they will have to play San Jose, Chicago or Vancouver in the first round. How would you like to be one of those teams and have to play Detroit in the postseason?
• The Calder Trophy for rookie of the year is coming down to Matt Duchene, Tyler Myers and Jimmy Howard. This makes the evaluation close to impossible to measure. I mean, they play three different positions and are on teams that should make the playoffs. I'm thinking the Sabres' Myers will win. The big defenseman logs big ice time and hasn't missed a game. He would be the first Sabres player to win the Calder since Tom Barrasso in 1984. The only other Sabre to win the Calder was Gilbert Perreault in 1971.
John Buccigross' e-mail address -- for questions, comments or crosschecks -- is john.buccigross@espn.com.
Shot of the Week
It's back. You know how it works: We present an NHL photo and Bucci provides a caption. E-mail him your suggestions (include your name and hometown/state), and we will use the best ones and provide a new photo the next week.
LAST WEEK: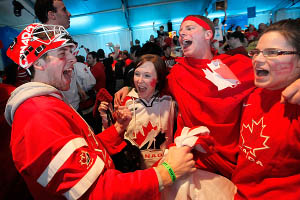 Getty Images
Tomorrow? Back to being Maple Leaf fans.
Your captions:
From in the crease to in the stands, "The Martin Brodeur Story," next on "Outside The Lines"!
Robert Skrydak (Omaha, Neb.)
After Canada won the gold, the goalie removed his mask, and to the crowd's delight, found it was really Kevin Nealon!
Jeffrey Neistein (Woodland Hills, Calif.)
THIS WEEK: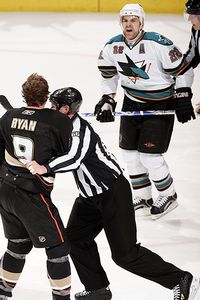 Getty Images
"Rush! Neil Young! Leonard Cohen! Mike Myers! Pamela Anderson! Martin Short! John Candy! Barenaked Ladies! Shannon Tweed! Do I need to go on!?