Updated:
March 24, 2010, 2:14 PM ET
A plan that will change the hockey world!

By John Buccigross
ESPN.com
Archive
Slowly, during the silent, slushy beginnings of the NHL nine decades ago, music danced its way into hockey's DNA and venues to organically fill the gaps of hush.
In 1929, as the fledgling NHL was snowplowing on double runners through its first decade, the 3,663-pipe Barton organ was installed at Chicago Stadium, thus setting the tone for a noteworthy century of musical accompaniment at NHL arenas.
[+] Enlarge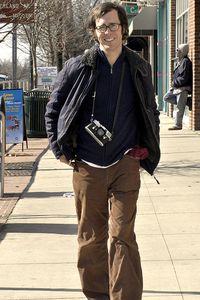 AP Photo/Karen TamBucci's dream? Bringing hockey and Ben Folds together. Make it happen, NHL!
The organists were the DJs. They picked the tunes, sensed the moment and played like conductors. At times, they just played; at other times, they let the crowd do its thing. There was an intuitiveness to the organist and the crowd that is largely lost today outside of the "Crosby Sucks" chant that is slowly making its way to every NHL arena save one in western Pennsylvania. In today's arenas, fans wait to be told what to do and spend more time looking up at the JumboTron than looking down at the ice to take their cues. The organ is now more nostalgia than living organism.
Eighty-one years later, few keyboards remain in less intimate NHL rinks, and you can forget about enjoying the silence. Every gap or space is filled with loud music, blaring promos or sponsored elements. For the love of God Shammgod, the Flyers and I'm sure others, have a sponsor for home power plays!
This doesn't have to be the case. After a mad flurry of chances by the home team and a whistle when the road goalie freezes the puck, don't play anything. Let the crowd be the chorus. And can we please simmer down the JumboTron shots of the portly 12-year-old dancing to AC/DC and then stuffing hot dogs in his face? It elicits standing ovations, which elicit positive, pork-induced reinforcement to the 12-year-old, which eventually will lead to heart disease in 2052. You want to lower your kid's (and, in the future, the nation's) health care costs? Give him a piece of fruit once in a while!
We have evolved from following the bouncing puck via arena organ to today's ear-pounding recordings of Lady Antebellum, Lady Gaga, Goo Goo Dolls and, hopefully, the New York Dolls. (Let's go arena entertainment, DJ folks. Crank the first 20 seconds of "Personality Crisis" during the next faceoff setup in the third period.) To be clear, I enjoy the music at NHL games, but I also enjoy space at times. Like anything in life, picking one's spots makes all the difference.
But back to the music ...
Yes, music and hockey -- the two are perfect linemates and two of my favorite things. Both continuous, both physical, both creative, both emotional and both attracting passionate followers with creative tattoos. Their marriage was destiny. I revel in the union. Music has the rhythm, and hockey has the Blues.
Sometime in the early-to-mid 1980s, someone started cranking rock 'n' roll during stoppages at NHL games. This is not surprising. Many things in North American life took leaps forward in the '80s -- culturally and electronically, good and bad -- mostly with the explosion of cable television. Fashion and trends spread quicker and wider; sports on television (especially lightly programmed hockey) was rampant with broadcast quality quickly improving like never before; diverse music could be seen and heard; news traveled faster; and there was nudity on HBO. Music, sports, trends, news and nudity. This was what cable television brought in the 1980s, with lightning speed and mind-numbing repetition. It was quite a time for developing brains.
As a teenager, I found this implementation of music at NHL games breathlessly cool and invigorating. (Thank goodness the implementation of nudity has been slow to arrive at NHL games.) When there was a stoppage in play, I would turn the sound up on the television to hear what song was being cranked in the arena. The cooler the music, the more I liked that team.
Then, as music videos made their pop culture imprint in the early '80s, changing music forever, it was only natural that sports music videos would follow. And few can match the JumboTron feeding hockey-related highlights for the way they feed and lovingly bombard the senses. Check your local YouTube listings and watch any pregame pump-up presentation before you attend your next NHL game. It's a great reason to get to the game early.
But it's time to introduce something new into the NHL/music experience with something unpredictable. I mean, how many times can we hear "Welcome to the Jungle" and really get fired up? It's starting to sound like hearing, and then instantaneously dreading hearing, Bob Seger's "Old Time Rock and Roll" at the 37th consecutive wedding from 1983 to 1992 to the present. We can blame Tom Cruise for this, too.
[+] Enlarge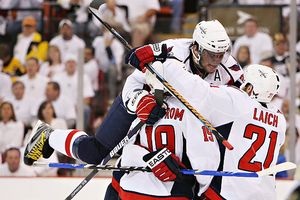 Bruce Bennett/Getty Images"Wild thing ... you make everything groovy."
(Another byproduct of the 1980s: Take something relatively positive, such as "Old Time Rock and Roll," beat it into the ground at every possible instance and in multiple environments until we not only dread hearing the art but also want Bob Seger dead in a moment of temporary insanity. That dread chokes the life out of the product. That's the beauty of being a Ben Folds fan. His songs don't get overplayed. Folds probably wouldn't mind if three or four of his songs would get massively overplayed so he could get massively overpaid. Then, he would be able to buy a hooded sweatshirt for every day of the week and do his best imitation of himself without having to play a concert in Bridgeport, Conn., on April 7. But I'm glad he is, because I'll be there with my Hakan Loob sweater!)
So, I make a proposal. You probably know that Major League Baseball players choose a song to be played over the ballpark sound system as they make their way to home plate for their at-bats during home games. A song to pump himself up but also probably to make a statement of who he is and what he is about. Most of this music in baseball is bad, so perhaps the baseball player would be better served to have you, me or Ryan Seacrest select his song.
Anyhoo, I propose having my, my, my generation of NHL players, or someone else in their organizations, choose a song to play in the arena when a player scores a goal at home. A goal song. NHL players actually have better taste in music than baseball players, so they probably could handle the selections themselves. This would give the player a chance to express himself in a league that desperately is trying to connect its young, great athletes to a larger fan base and would save us from hearing the same tune over and over again at NHL arenas during a 7-1 Edmonton Oilers loss.
So, how do we go about choosing such a song for a team to play after a player on the home team scores a goal? Well, in this instance, it's less about the player's favorite song than it is about selecting a song that fits him. It could play on the player's name, or (more appropriately) be a reflection of his persona or a combination of both. In the end, though, we could do whatever we want. (Wouldn't it be hysterical to hear Lionel Richie and Diana Ross sing "Endless Love" in Boston after Zdeno Chara beats Jaroslav Halak 5-hole? How would Bruins coach Claude Julien react? By the way, don't you love Claude Julien's face? He has a great face, something from the 1940s. He always looks as if he is trying to figure out a three-letter crossword-puzzle word for "Hall of Fame Beantown defenseman.")
I must say, when this goal song, blogumn idea sparked inside my above-average, oddly shaped skull, the first player and song that came to mind were Alex Ovechkin and "Wild Thing" -- the 1966 version of the song from The Troggs, which is actually a cover of the original by The Wild Ones from the year before. (The lead singer was and is Reg Presley. He'll turn 69 in June. Does he still sing this song in the shower at age 69? Will he when he is 80? Someone needs to record this on his camera phone. I wonder if "Wild Thing" now makes Reg's pacemaker sing? Gerry & The Pacemakers ... now there is a band that thought ahead. Yes, Gerry Marsden is still alive and ticking at 67. He shares a birthday with Karl Alzner and Tim Ecclestone.)
Can you imagine a sold-out Verizon Center in a full lather after an Ovechkin one-timer from the left point with "Wild Thing" blaring through the sound system? Over time, the crowd would start to sing the song out loud as it celebrates another "Crazy 8" goal. When it would be time to drop the puck, the song would fade out, but the crowd would still sing whatever lyrics are next, like in Detroit. When Journey's "Don't Stop Believin'" is faded down as play resumes, the Joe Louis crowd keeps singing Steve Perry's words. Very cool.
So, Alex Ovechkin = "Wild Thing." That's how this reindeer game works. Let's try to find some others.
[+] Enlarge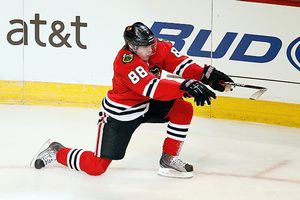 Jonathan Daniel/Getty Images"I'm a cool, rockin' daddy in the U.S.A.!"
Patrick Kane: "Born in the U.S.A." by Bruce Springsteen
The chorus sounds patriotic and a little obnoxious, which fits Kane perfectly. His on-camera quote about not wanting to take off his Team USA jersey was one of my favorite of the Olympics because it was genuine. And I love Kane's on-the-ice confidence. As I was throwing my smaller-than-average son a bucket of baseballs at our local Little League field the other day, I told him the most important thing that a smaller player needs to be to play sports is confident. Then smart. Then tough. If you are small and tough before being smart, you usually get hurt. Kane has a little of Dustin Pedroia in his persona, and I love that. Smaller players have to be cocky to make up for the lack of belief that many direct their way.
Ilya Kovalchuk: "You Give Love a Bad Name" by Bon Jovi
Imagine a Kovalchuk one-timer going through a goalie's sternum and piercing the net, the crowd exploding, then two seconds later:
"Shot through the heart, and you're to blame
You give love a bad name
I play my part and you play your game
You give love a bad name"
This would work especially well if Kovalchuk re-signs with New Jersey. Nothing says "America" like a 40-year-old Jersey girl with big hair, painted fingernails and a Brendan Shanahan jersey from 1990 singing Bon Jovi songs, especially this one.
Evgeni Malkin: "Lido Shuffle" by Boz Scaggs
The best song by the Canton, Ohio-born Scaggs and one of the best songs from 1977. Penguins fans could substitute Lido with "Geno." You could even get the Pittsburgh band The Clarks to cover "Lido Shuffle" for the sole purpose of Malkin's goal song. I'm guessing Geno and his mom would like this. What would be better than seeing Geno's mom singing this song after a Malkin playoff goal this spring? Penguins GM Ray Shero needs to make this happen now. He has nothing else to do now anyway.
"Lido, whoa, oh oh oh
He's for the money
He's for the show
Lido's a-waitin' for the go
Lido, whoa, oh oh oh
[He said] 'One more job oughta get it
One last shot 'fore we quit it
One more for the road'"
Plus, the Pens' arena DJ could turn the sound down during the "Whoa, oh oh oh" part for community effect. There is nothing cooler or more bonding than large groups of people singing together a cappella. It's what makes Ben Folds concerts so much fun.
Zach Parise: "Welcome to Paradise" by Green Day
"Pay attention to the cracked streets
And the broken homes
Some call it slums
Some call it nice
I want to take you through
a wasteland I like to call my home
Welcome to paradise"
Take the first three letters and last three letters of the word "paradise" and you get "Parise." That's serendipity. The tone and tenor of this song remind me of the area around a hockey net -- not just the crease but the entire circle of mayhem. It's where just about everything of true worth happens in hockey from mites to Minneapolis, where Parise was born 12 years after Billie Joe Armstrong was born and eight years before "Welcome to Paradise" was released in 1992. The crease and entire area around the net is like Green Day's mosh pits. It is where Parise makes his living. It is where he had an Olympic moment. It is where he will score 500 goals and make the Hall of Fame. It is where he should give his speech the night his number is retired.
Steven Stamkos: "Thunder and Lightning" by We Were Promised Jetpacks
The title and tone make this a fitting goal song for the electric Stamkos. If he were playing in Toronto right now, he would be an icon. He was so overlooked that he didn't make the 2010 Canadian Olympic team, which was a crime, gold or not. Tampa Bay DJ, start this song at the 2:56 mark after Stamkos wires one top-shelf.
[+] Enlarge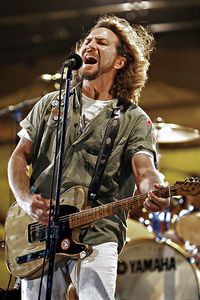 AP Photo/Mark HumphreyEddie Vedder = "Even Flow" = Jarome Iginla.
"Even flow, thoughts arrive like butterflies
Oh, he don't know, so he chases them away"
Iginla plays like a Pearl Jam song. Straightforward, not always discernible and powerful. He has three years left on his contract with the Calgary Flames. After it is done, he will turn 36 that summer. He will have more than 550 goals and about 1,100 points.
"Even Flow" (1992) was released more than four years before Iginla played his first NHL game during the 1996-97 playoffs. That surprised me a bit. Iginla seems as though he has been around as long as Pearl Jam has. He seems older than he is. That's what a weight of a franchise and a city can do to a good man.
Iginla is only 32, 16 years younger than Chris Chelios and 13 years younger than Eddie Vedder. You can see what his presence does to the Flames organization. It's why the front office, players, fans and coaches have tried so hard to win a Stanley Cup. For their own satisfaction, yes, but also because Iginla has that regal Ray Bourque quality that elicits maximum effort from everyone, as they all feel obligated to help him win. These players exemplify so much of what is good in hockey. It is why it is conceivable -- as Iginla ages and if the Flames slide toward mediocrity -- that No. 12 could be dealt Bourque-style for one more shot at the Stanley Cup. And if Iginla wins a Cup elsewhere, he still could walk the streets of Calgary as a welcomed legend, much as Bourque does in Boston.
So, those are six in-depth looks at possible goal songs. The songs also could be used during shootouts as players are introduced. I'm sure you will send me your contributions this week. As always, I look forward to your creativity and will post some next week. In the meantime, here are some quick-hitting goal song picks:
Jamie Benn: "The Bends" by Radiohead
A song from my favorite Radiohead disc.
Sean Avery: "The Racing Rats" by Editors
Avery is a music guy and must love Editors. This one of their top three songs.
Corey Perry: "Dog Faced Boy" by Eels
A grimy, gritty and edgy song for a similar player.
Mason Raymond: "Give In" by The Bravery
The forward has 48 points in 72 games for the Vancouver Canucks.
Rick Nash: "Rockin' the Suburbs" by Ben Folds
Nash needs a goal song, and if there was a place that Ben Folds channeled when constructing this song, it was the suburbs of Columbus, Ohio. To hear a sold-out crowd sing that song in unison after a Nash goal would be my finest moment as a human.
Matt Duchene: "The Adventure" by Angels & Airwaves
Start this at the 1:07 mark, Mr. or Mrs. DJ. This song fills me with a massive amount of life and enthusiasm. If I'm in a predicament where I need to remove a large, stainless steel refrigerator off a squealing ferret, I will channel this song. All the qualities of this song are also encapsulated in Duchene. He's a happy skater.
Travis Zajac: "Big Jack" by AC/DC
We need an NHL superstar named Jack. That's a great hockey name! And this is a great hockey/Jack song.
Martin St. Louis: "White Riot" by The Clash
This has "Marty, Marty, The One-Man Party" written all over it.
Jonathan Toews: "Stupify" by Disturbed

"All the people in the left wing ROCK
And all the people in the right wing ROCK
And all the people in the underground ROCK
I find myself stupified, coming back again
All the people in the high rise ROCK
And all the people in the projects ROCK
And all la gente in the barrio ROCK
I find myself stupified, coming back again"
Disturbed drummer Mike Wengren is a huge Blackhawks fan. Imagine the entire United Center screaming "ROCK!" as it celebrates a Toews goal. You couldn't pick a better player or person to be captain of the Hawks than Toews. Let's face it, folks, the Hawks have a dreadful championship history. They've won one Stanley Cup since World War II. With a couple of Cups, Toews would have the chance to be the most significant Hawks player of all time. Think about that while you bang your melon against the wall rockin' out to Disturbed.
[+] Enlarge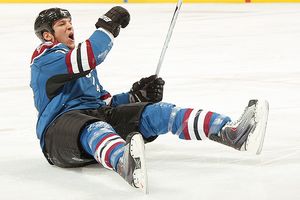 Doug Pensinger/Getty ImagesBucci's new Cam Neely-Mancrush ... Colorado's Chris Stewart.
Chris Stewart: "Give 'em Hell, Kid" by My Chemical Romance
Say hello to the 21st century's Cam Neely. As I type this, Colorado's Stewart (18th overall pick in 2006 draft) has more points than Nash, Toews, Mike Richards and Shane Doan. He leads the Avalanche in scoring. Stewart, like Neely, has really arrived as an impact player at age 22. On Dec. 2, Bryan Allen went for an open-ice hit on Duchene. Stewart stepped right in and pounded on Allen. He knows players like Duchene and Paul Stastny will make him rich.
Stewart also has a simmering temper and competitive attitude like Neely, which I love. I love to watch competitors. For the past two seasons, he has taken on all comers. Stewart comes from a family of seven kids and grew up with little means. His dad is a Jamaican immigrant to Canada and had a stay-at-home, Canadian-born mother.
Check out Stewart's hat trick against the Blues from March 6. He took a sick feed from Stastny, Craig Janney-style, and scored the first goal from the top of the crease. His second goal was a Neely-esque bomb from the top of circle -- a classic down-the-wing slap shot. (Yes, these goals still happen.) His third came on a penalty shot, which eerily looked like Neely's breakaway goal on Patrick Roy from April 26, 1988, that made it 4-1 Bruins. The Bruins' win from that April day ended their streak of 18 consecutive playoff defeats to Montreal. Neely and Stewart's shots both end up being in nearly identical places in the back of the net.
Recognize Stewart right now. He's a big reason the Avs are where they are right now.
Sidney Crosby: "Sick of Myself" by Matthew Sweet
An incredible song and a great way for Sid to show his sense of humor.
And a few more goal songs:
• Mike Richards: "The '59 Sound" by The Gaslight Anthem
• Mikko Koivu: "Stuck Between Stations" by The Hold Steady
• Ryan Kesler: "Bleed American" by Jimmy Eat World
• Either Daniel or Henrik Sedin: "Tattva" by Kula Shaker
• Nicklas Backstrom: "Kids" by MGMT
John Buccigross' e-mail address -- for questions, comments or crosschecks -- is john.buccigross@espn.com.
Shot of the Week
It's back. You know how it works: We present an NHL photo and Bucci provides a caption. E-mail him your suggestions (include your name and hometown/state), and we will use the best ones and provide a new photo the next week.
LAST WEEK: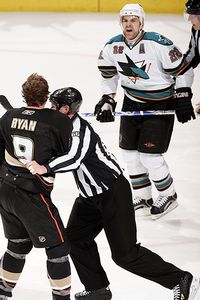 Getty Images
"Rush! Neil Young! Leonard Cohen! Mike Myers! Pamela Anderson! Martin Short! John Candy! Barenaked Ladies! Shannon Tweed! Do I need to go on!?
Your captions:

"Hey! You said I could have the next dance!"
(Mike Shovlin, Beaver, Pa.)
"That's a tango, not a waltz!"
(Joel Mattie, Largo, Fla.)
THIS WEEK: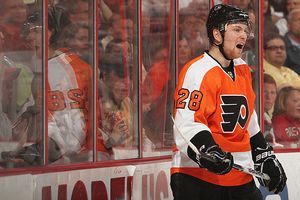 Getty Images
Oh, to be a Flyer on the wall.