Updated:
March 31, 2010, 2:07 PM ET
Your e-mails are my guide into your team's soul

By John Buccigross
ESPN.com
Archive
I'm a slow learner.
I've been employed at ESPN/Walt Disney Co. for 14 years and just recently realized that I, like many here, was eligible for a free PDA. Many of you work at places where the company will pick up the tab on a BlackBerry or iPhone. Companies will even pay the bill for business-related activities.
I chose the BlackBerry because of my undying support of Jim Balsillie and his quest to import an NHL team to Canada. I only use my work PDA to read work e-mails. I still use the flip phone I got in 2006 for texting friends and making personal calls.
The reason I decided to get a PDA was because of the large amount of e-mails I receive as a result of the posting of my e-mail address at the end of this blogumn. Posting my e-mail address was something I suggested when I wrote my first blogumn in this space in October 2001. At that time, many blogsmiths did not do that.
So, besides the normal amount of work e-mails one gets at a large corporation and some junk mail, I get a lot of hockey-related e-mails. And I get them at all hours. Some respond to a particular column; others write around topics concerning their favorite team or an issue like hits to the head. I try to respond to them all, but the math (number of e-mails + time in a day) just doesn't add up with that pesky "SportsCenter" job I have and all. Through those NHL e-mails I receive each week, I get a good sense of what is important to fans and what each team's fan base is feeling and thinking.
But are large sample sizes necessary to understand what is on the minds of a group of people? For instance, since I was not a math major, I always wondered how TV networks project election results with a small sample size. I've tracked the traffic for one of ESPN.com's SportsNation polls we came up with one night for "SportsCenter." (Let's pretend it was, "Who is better: Ovechkin or Crosby?" Of course, it was actually "Who is better: Kobe or LeBron?" But man can dream, no?)
After about 3,000-5,000 votes, the voting was roughly 57-43 percent for one of the players (I can't remember if it was Kobe or LeBron). As the vote totals climbed to 10K, 20K, 50K and eventually 80K over the rest of the night, the percentage differential pretty much stayed the same. There was little deviation. My point: a lot of the time, the first few thousand votes tell the story. Now, people can lie when answering a poll; they can't lie when they're voting in an election. A vote is vote.
It's the same with e-mails. People are generally truthful when writing e-mails because humans are very emotional and open in that medium. That's why, unlike polls, I think the large amounts of hockey e-mails I've received throughout the years have allowed me to form an unscientific, comprehensive sense of fan bases.
So, this week, I will give you a generic, current state of the fan base for all 30 teams based on e-mails I have received from 2001 through 2010.
The Ducks are certainly on the low end of e-mails, both in terms of number and passion. When I do receive e-mails from Ducks fans, they are generally reasonable and well informed. Anaheim has only been an NHL franchise since 1994, so it is still very young. Most kids who grew up with the Ducks have yet to have kids who play hockey and watch the Ducks.
The number of Atlanta Thrashers e-mails has really slowed down over the years. There was little reaction to the Ilya Kovalchuk trade. And even though they are a three-game winning streak away from perhaps grabbing the final playoff spot in the East, there has been little chatter or emotion.
The Bruins have been a consistent inbox leader in terms of numbers, passion and knowledge. There was a noticeable bump last season as the Bruins improved and became more interesting. This season, the Bruins are neither, and the fan base is PO-ed. It's been 38 years since the Bruins last won a Stanley Cup. That doesn't mean much to a 25-year-old fan; the 25-year-old fan just wants a good and interesting team now. The fan base pretty much checked out after the tepid Matt Cooke game. The Red Sox's first game is Sunday night. Have a nice summer, Michael Ryder.
Another strong and involved fan base. Sabres fans are consistent in their e-mail numbers and interest. It's no surprise the Sabres get good television ratings. They really want to be loved (think Stuart Smalley). Before and after the All-Star break, their optimism was low, low, low. They should be feeling better now, but I get a sense they are not ready to buy in yet. That would change with one playoff series win.
I don't get a lot of Calgary e-mails. The national attention hockey receives in Canada lessens the need to surf the Web. They don't need some stinkin' American telling them signing Jay Bouwmeester was an over-thought move that wasn't needed.
It's a small fan base, but rather engaged. When things are going good, I hear from Hurricanes fans; when things are not going well, it's kind of quiet. That's true in most places, but this team should be back next season.
The Blackhawks made the playoffs in the first season of this column, lost in the first round in the 2002 Stanley Cup playoffs and didn't return until last season. Along the way, there were plenty of Hawks fans voicing their displeasure. I realized this was a dormant franchise that had the potential for an awakening. Things perfectly came together, and the brand is back in Chicago and around the country. Lately, though, Hawks fans' e-mails are filled with doubt (goaltending) for the playoffs. Hawks fans are nervous despite the playoff experience of the Q-Stache.
It all started in 1995-96. First, the Avs were handed a sick and talented young team. Then, they were handed Patrick Roy in December and went on to win the Stanley Cup in what was their first season in Denver. After that beautiful season, the Avs went to the conference finals five of the next six seasons. They won another Cup in 2001. That is a profitable way to start a franchise history in a new city. It also builds a strong fan base.
The city of Columbus is so ready to embrace this organization, but it has been given little reason to do so in terms of success and stability. Rick Nash is a good start. He has a good Ohio hockey name and looks like Ohio. He would fit in at an Ohio State tailgate party. But after him, this has been a drab franchise with unforgettable characters and six different coaches in nine years. They've also had four television analysts and two play-by-play announcers in that same span. (They should have hired an Ohio guy.) This is the Jackets' ninth season and their eighth without a postseason game. The e-mails I receive are decent in number and the fan base is craving success.
Over the years, I have received fewer and fewer Dallas Stars e-mails. There is a passionate base in every NHL market, but I wonder if the Stars have dropped in popularity in terms of television ratings and attendance. They have one of the best telecasts in the league and a pretty likeable and entertaining team. I would like to hear from Stars fans on this.
The Red Wings fans that e-mail me are definitely the most sensitive in the NHL. In 2002, I wrote this:
Before the season began, in ESPN The Magazine's NHL preview issue, during the regular season on "NHL 2Night," and in this space in our playoff preview, my contention has been that the Red Wings would win the Stanley Cup. In my mind, there is not a more intellectual, comprehensive, stylistic team IN ALL OF SPORTS. They have the highest athletic IQ of any team in North American major professional sports.
Then, last October, I wrote the following in this space:
Pavel Datsyuk and Henrik Zetterberg are no longer in their NHL prime. Datsyuk is 31 and Zetterberg is 29. Those are not "prime" ages to play a nine-month NHL season (training camp to the Cup finals). I'm not saying Datsyuk and Zetterberg are Joe Paterno and Bobby Bowden and will never win another Stanley Cup. Just realize that players get injured more in their 30s and begin a downward arc in their production.
The first entry received little reaction. The second? Lots. If Wings fans are so sensitive to national critique, it makes you wonder how much criticism the team receives locally. Granted, there has been very little to criticize during the past four seasons, but Datsyuk will end up with a 30-point drop in points despite missing only a couple of games. Zetterberg will be around the same 73-point total as last season. The Wings have had injuries, but every team has injuries. As Detroit has surged down the stretch, the e-mails are back, warning of Detroit's playoff domination to come.
Oilers fans knew early this season that their team would not make the playoffs and quickly looked to 2010-11. The Oilers have not played a playoff game since losing Game 7 of the 2006 Stanley Cup finals. This is the worst stretch in team history since the mid-1990s, and I don't see it getting better any time soon. I think Oilers fans know this and that's why they are quiet. They know this is a long-term fix, and there isn't much sense getting too worked up about it.
Crickets. Certainly one of the quieter fan bases. Maybe the quietest. But can you blame them? They haven't been to the playoffs since spring 2000 and haven't won a playoff series since 1996.
Off of the e-mails I have received over the years, the Kings have always had an engaged and optimistic fan base. I thought that number would increase this season, but there seems to be a muted optimism. They haven't made the playoffs since 2002 and haven't won a playoff series since they beat the Red Wings in six games in 2001. They have very good, young players who should really grow from playoff experience. It will be curious to see if L.A. signs both Drew Doughty and Jack Johnson to extensions. Both are restricted free agents after next season. I think the Kings can sign them both.
Minnesota is the purest hockey state in the United States. Fans love their Wild, but from my e-mails, they have been frustrated during the team's nine-year existence. The Wild have made the playoffs just three times. This is also a young superstar era in the NHL and the Wild don't have one. They had one in Marian Gaborik, but decided he was not worth a long-term investment. He scored his 40th goal of the season Tuesday night.
I get a decent trickle of e-mails from Montreal fans and they are well mannered and well thought out. You would expect them to be cynical or angry, but I haven't sensed that. They love their team and desperately want them to win. But the team is kind of like the Wild: they have good players, but they don't have superstars. It almost always takes one or two of those stars before you can even think about a championship. There are exceptions during some seasons, but not many. And probably not in this era.
The Preds will make the playoffs for the fifth time in the past six seasons. And if they reach 100 points (and they should), it will be the third time in five seasons they've reached the mark. What is keeping fan interest from reaching a fever pitch is, again, the lack of an icon. Predators fans are hopeful but realistic. They have never won a playoff series in team history.
If you are a 20-year-old Devils fan, your team has missed the playoffs just once in your lifetime, won three Stanley Cups and hasn't gone more than two seasons in a row without winning a playoff series. They are a good team to root for. Devils e-mailers are generally proud and confident. This season, they should be both; but in the Eastern Conference, there is a slight fear of the Capitals and Penguins because of Alex Ovechkin and Sidney Crosby and the likelihood of one of them being in the Cup finals for the next few seasons.
Islanders fans are a very active e-mailing group. They are hopeful, but also confused over the team's future and what will happen. Their optimism signifies that a decent core of young fans will return in droves if the Islanders can continue to grow. New York will go from 61 points in 2008-09 to about 80 this season. I do believe these fans are ready to pounce if they can take that next step toward 90 points next season.
Rangers fans are always a great group from which to receive e-mails. They are passionate and honest -- my favorite combination. They have reached a breaking point. They are frustrated and angry. They are upset by how this team was constructed under the salary cap and feel as if they are in prison. The Yankees don't have to worry about no stinking salary cap!
Not many e-mails from Senators fans. I think they are still in shock over the fact they haven't won a Stanley Cup. I mean, they have had some of the sickest talent over the past 10 years. If they haven't won by now, how could you ever buy in?
The Flyers are among the leaders for the number of e-mails received from one team's fans. Naturally, they are emotional and reactionary. During last weekend's Flyers-Penguins game, I received e-mails during the game. I love that emotion. I haven't been to a Flyers game in Philadelphia for a couple of years and I have to get back. I love going to a game there. It's just a loud blanket of love for their team. The Flyers can't win this season with their goaltending, but they, and their fans, will not stop fighting.
Again, with no history of success to speak of, it makes you wonder how in the world there is even one Coyotes fan. This is a warm-weather, car city that is spread out for miles -- the worst kind of business setup for a mediocre hockey team. But the e-mails are starting to come in and Coyotes fans have belief! While other fan bases are thinking about their weaknesses or recent bad play, Phoenix fans are buying in big time. Warning: There is a good chance you are going to get the Red Wings in the first round.
This is a golden era for the Penguins. They are among the e-mail leaders, and one reason is because they have a very young fan base that reflects their young team. Imagine rooting for professional athletes your own age. This is unique in hockey. Players in other sports don't make that kind of impact at ages 19, 20 and 21. When you have multiple players like that, as the Penguins do, it is a magnet for every kind of fan. Lately, though, there is not a lot of swagger among Penguins fans' e-mails. They see the Capitals and how powerful they have been in the regular season. The one thing Penguins fans are holding on to is how things will change in the postseason.
A young and tech-savvy fan base which has always had active e-mailers. Generally, they like to point out all the things the Eastern-based media has missed, sometimes justifiably. Early season confidence has turned into downright fright as the playoffs approach. You have to wonder if any Sharks fans think San Jose can win more than one playoff series.
This fan base was ready for the next step. They were very big on their young players and were offended when I didn't mention T.J. Oshie among the NHL's bright young stars. Oshie still has time to blossom into a very good player, but his per-game numbers are down this season. The Blues haven't won a playoff series since 2002, and I think Blues fans are a little shell-shocked right now. They expected more and have now shifted their attention to Albert Pujols and the Cardinals.
It has been a quiet season from Lightning Nation. The crowds are small and interest is low. They have an absolute star in Steven Stamkos along with some other nice parts and may actually get the No. 1 overall pick again this summer (bad finish plus some lottery luck). When your team is terrible, it's nice to at least have hope. Dream of the possibilities.
Maple Leafs fans seem to be in neutral right now. They want to believe, they want to have hope and things seem to be getting better, but I don't think Leafs fans can figure out how the team is going to get there. The e-mails I get are of the interrogative variety. They want to be shown the way. They need a GPS right now.
I've had a pretty good relationship with Canucks fans over the years. I had a team-crush on Van during the Marc Crawford era. During that time, my go-to line was how much I wanted to hit an 8-iron off the top of Crawford's momentous salad. The Canucks will top the 100-point mark for the fifth time in seven seasons, but they haven't got much out of their regular seasons come playoff time. Fans seem to be in a wait-and-see mode. Part of that is due to recent playoff success and the fact the Canucks may have to face the Red Wings in the first round.
Aside from some e-mails voicing some concern for the Capitals' defensive acumen and goaltending come playoff time, most of the fan base is very confident. The Caps are a powerful team that should have another gear come playoff time, and fans sense that. Capitals fans are all in right now; they believe this is their year.
John Buccigross' e-mail address -- for questions, comments or crosschecks -- is john.buccigross@espn.com.
Shot of the Week
It's back. You know how it works: We present an NHL photo and Bucci provides a caption. E-mail him your suggestions (include your name and hometown/state), and we will use the best ones and provide a new photo the next week.
LAST WEEK: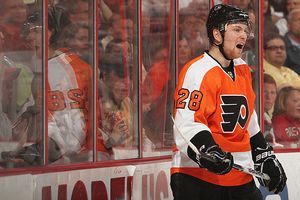 Getty Images
Oh, to be a Flyer on the wall.
Your captions:

"Hartnell and Carcillo may have the rock-and-roll hair, but I've got the air guitar."
Trent Pansze (Durango, Colo.)
"Hey, I cleaned all these windows. Can I play now?"
Paul Nolan (Langhorne, Pa.)
"I said I wanted No. 28, not 85. WHERE'S THAT EQUIPMENT MANAGER?!"
Travis Lounds
Giroux: "COACH! COACH! COOOACH! CCCCOAAAACHHH! COOOOOOOOOOOOAAAAACCCCHHHH!"
Laviolette: "What Claude?"
Giroux: "Hi!"
Mike C. (Pittsburgh, Pa.)
THIS WEEK: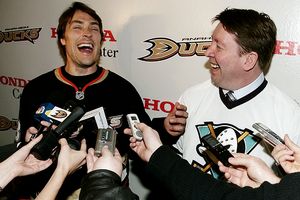 Getty Images
"The Finnish line! That's good!"