Updated:
May 6, 2010, 12:29 PM ET
Kids from Edge 2000 show true definition of team

By John Buccigross
ESPN.com
Archive
It was difficult for Boston Bruins forward Marc Savard to stay hopeful. He suffered a concussion after a Matt Cooke blindside hit March 7 and was cloaked in the prison of a darkened room week after week, his enemy the light of day. Every ray of light caused a frustrating cocktail of nausea and headaches.
Enter poetry from Ray LaMontagne:
Can you see him in his lounger
Watching TV in the dark?
Waiting for a spark
Till the sun turns black.

Out of the darkness and into the light. After weeks of hopelessness and uncertainty, it all changed for Savard. His lunging, wing-and-a-prayer snipe in overtime gave the Bruins a 5-4 win over the Flyers in their second-round series opener. It was Savard's first game since the Cooke hit. Seconds later, he was bathed in dazzling, brilliant, intensely bright spotlights. A prisoner was set free.
Let there be light. And hope. And health. Because you never know what is coming around the corner.
---
Jackson Sabo is on the Edge 2000 team. It is made up of 9- and 10-year-old boys from the south metro Minneapolis suburbs of Rosemount, Lakeville and Hastings. The Squirt team is coached by Richard Zemlak, Chad Schumacher, Sean Foley and Joel Owens. Edge 2000 was taking part in the 2010 Warrior Cup AAA Tournament in nearby Prior Lake.
Jackson is the sweetest kid you could ever hope to teach or coach. Every Squirt team has a kid like him. He has one of the biggest and brightest smiles, a Christmas tree lit from helmet to hockey skates. On the ice, he is one of Edge 2000's craftiest kids with the puck, Minnesota's mini-Pavel Datsyuk. Left alone, one-on-one against a goalie, he is allowance money. Just like his smile, Jackson makes it look very easy.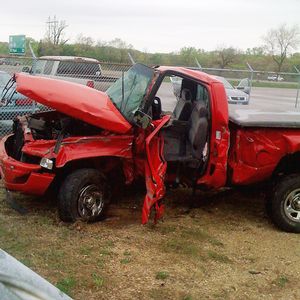 Courtesy of Calista VosKevin and Jackson Sabo were extracted from their red pickup truck after being hit by an SUV. Both were unconscious.
Kelly and Kevin Sabo are proud parents of three boys. This keeps them busy all year round with big dreams in small-town sports. They are the nicest couple you could ever hope to meet, practically living in trucks and cars, shuttling their boys around to practice after practice, game after game. But it's no sacrifice at all. Minnesota is our most underappreciated state, the state in the attic of the contiguous 48 we sometimes forget about it, and it's filled with people like the Sabos. Parenting is their purpose. As hockey parents, they are a coach's dream.
On April 24, Kevin and Jackson were spending their Saturday as many hockey fathers and sons do -- driving to a hockey tournament. They were in their red pickup truck traveling on 185th Street off I-35 toward Prior Lake for the morning's tournament game when, in a flash of steel, everything changed.
As Kevin was making his way through an intersection, a Cadillac Escalade ran a stop sign and two tons of high-speed fury T-boned the Sabos' red pickup in a loud collision of steel and glass.
Silence.
Jackson's teammates were also driving to the game that morning with their parents on the very same road. They came upon a crash scene, not knowing it was Jackson and his dad. The familiar red pickup truck was disfigured beyond recognition. As the families drove by, they said that silent prayer many of us say when we drive by anonymous crash scenes strewn with fire trucks, police cars and ambulances. The ride to the rink continued, and the kids carried their hockey bags into the locker room, got dressed and waited. And waited, and waited.
"Where's Jackson?"
Edge 2000 played the game while their teammate and his father were being extracted from a mangled truck, unconscious. Jackson had a badly shattered left arm, bruising from the impact and cuts from the glass. His seat belt, while causing internal injuries, saved his life. After the game, the coaches discovered the shocking news and went back into the locker room and informed the players about Jackson and Kevin.
Unfettered by the complicated layers of life, a child's imagination is crisp and vivid. News like this is often so difficult for a child's fertile mind to process; their brains never stop buffering after hearing implausible and daunting information. Silence. Speechless. Breathless.
After receiving assurances that Jackson's injuries would heal over time, the players played on. Kevin Sabo was not so lucky. His injuries included a laceration of the diaphragm and his spleen had to be removed. He broke his left femur (surgically reset), and suffered multiple fractures to his left pelvic bone (surgically repaired) and left foot. His chest was crushed, including broken ribs on both sides, and was placed on a ventilator to help him breathe. As of Monday, he was moved out of ICU after two surgeries and is off the ventilator. On Tuesday, he had his chest tube removed, is no longer on oxygen and was able to sit up and eat all his meals. He has an amazingly driven spirit.
[+] Enlarge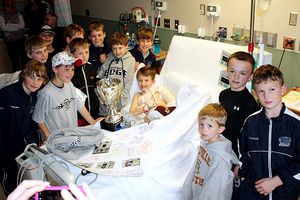 Courtesy of Calista VosJackson's Edge 2000 teammates visited him at the hospital after they won their local tournament.
Doctors decided Kevin didn't need surgery on his foot, but he cannot put weight on it for at least 6-8 weeks (he will utilize a wheelchair, walker and crutches, as needed). Doctors are a little concerned about his vocal cords, mainly because he can only whisper; they may perform an ENT scope to see if there was vocal-cord damage from being on the ventilator twice, or if they are just bruised and will eventually improve.
Kevin will have a long road of recovery and rehabilitation ahead. In a flash, his life changed. Dads seem indestructible to their sons. Of course, Kevin will get better and throw Jackson up into the air and into a swimming pool this July. That's what dads do.
The coaches agreed to dedicate the rest of the tournament to Jackson. Edge 2000 players put No. 12 stickers on their helmets to honor him and changed their traditional "1-2-3 Edge!" chant to "1-2-3 Jackson!" The team went on to play their best hockey of the year and win the tournament.
The players then asked the tournament director to name Jackson Sabo the tournament MVP and announce it over the rink sound system. Really. The players asked their parents if they could celebrate their win by going to the hospital to visit their injured teammate and share the trophy with No. 12. The players -- Zachary Strafelda, Joey Gimberlin, Adam Hobbs, Henry Welsch, Adam Vos, Devin Jirik, Chase Foley, Spencer Schneider, Anthony Owens, Dawson Klein, Zachary Zemlak, Tucker Schumacher, Jaden Axelrod and Brendan McFadden -- are North Stars, all of them.
---
The picture shows a hospital room, a trophy, an injured boy with a broken left arm who is surrounded by his sweaty, stinky friends. It's a colored portrait of a group of children who listen to coaches preach the values of the game at practices and summer camps, who watch and listen to NHL players selflessly talk about their place on a team and in the world, who witness their parents matter-of-factly sacrifice just about everything for them as they play the game that teaches more about love and life than any other.
Then, when called upon, without prompting, the team does the right thing, the human thing. The team represents the game as so many have before and will do in the future; teams big and small, not for public affection or political gain, but because it is right.
Kids these days.
John Buccigross' e-mail address -- for questions, comments or crosschecks -- is john.buccigross@espn.com.