Updated:
October 18, 2010, 2:13 PM ET
Steve Yzerman's cornea intensity required

By John Buccigross
ESPN.com
Archive
If you ever find yourself faced with the query of why young men and women would cry at Arcade Fire concerts, you would start with the eyes, heart and soul of 30-year-old lead singer Win Butler. He's a Larry Robinson-tall eclectic, intense dude who is part suburban Houston, part New England prep school, and part Maurice Richard Ville-Marie. Butler wears the "C" in this Montreal-based band, and fierce musical talent has a way of making emotional music fans well up with tears.
Butler's songwriting skill stabs at your heart.
Took a drive into the sprawl
To find the places we used to play
It was the loneliest day of my life
You're talking at me but I'm still far away
-- "Sprawl l (Flatland)"
Butler's stirring singing voice then attempts to either heal your pain or make it ache even more as he vocally drives home his point like a Steven Stamkos one-timer.
Living in the sprawl
Dead shopping malls rise like mountains beyond mountains
And there's no end in sight
-- "Sprawl ll (Mountains Beyond Mountains)"
Butler is old school. He has something to say. In his band's latest construction, "The Suburbs," Butler pens on the reality, cause and effect of late 20th/early 21st century North American suburban philosophy and life. When live in concert, Butler and his fellow bandmates say it, er, sing it, with the ferocity of a 2006 Edmonton Oilers home playoff game. Their presentation is primarily an aggressive forecheck.
Cue Tampa Bay Lightning GM Steve Yzerman (that phrase still takes some getting used to). Yzerman has always been painted with a dozen agreeable shades of appealing. True, sheer talent combined with a quiet humility and an easy, accessible smile that radiate an irresistible attraction. It is a rare glow. It's a star you want to follow -- the real deal.
[+] Enlarge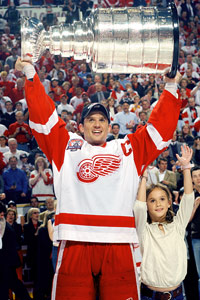 Dave Sandford/Getty ImagesSteve Yzerman, raising the Cup in 2002, scored 692 goals, amassed 1,755 points and won three Stanley Cups in 22 seasons in Detroit.
Unlike Butler (6-foot-4), Yzerman's peak is average (actual height 5-10). Think more stevie y than Stevie Y, but he makes up for a lack of vertical stature with a presence of seriousness and cornea intensity that could perform Lasik eye surgery. Seriously, Yzerman and Butler are similar flavors.
Prior to Game 4 of the 2002 Stanley Cup finals (the last year there wasn't an Arcade Fire album), I was standing outside the Detroit dressing room as the Red Wings players made their way to the ice to start the game. This is when ESPN was the home of the NHL, which meant I could pretty much go anywhere I pleased outside of Brett Hull's Jacuzzi.
My most vivid recollection of that 2002 tunnel vision was the image of Yzerman's eyes, setting the tone for this team as he rocked back and forth on his CCM's. Yzer's eyes said, "Win tonight, and the Cup is ours." He was dead serious.
And so Yzerman and his (eventually) nine Hall of Fame teammates took the ice in North Carolina, won 3-0, went up 3-1 in the series and raised the Cup in Michigan three nights later.
Simmering seriousness (think Scott Bowman, John Wooden, Bill Parcells, moms, Vince Lombardi, Rosa Parks, Mike Babcock, Bono, Clara Barton, Chesley "Sully" Sullenberger, Bobby Cox) is one of the most important leadership skills there is because it makes things seem very important, even if they really aren't -- like the Top 20 VH1 video countdown show. Also, it often causes others to pay attention to details and perform better when things really do matter, like in battlefield nursing and landing an airplane on a river. Seriousness undoubtedly causes those in the immediate area to focus more at work, music and play.
This is what 45-year-old Yzerman brings to the Tampa Bay Lightning along with their new owner, 51-year-old Jeffrey Vinik. Both are low-key, serious men trying to make something not currently important, the Tampa Bay Lightning, seem and be as important (and profitable) as a professional hockey team can. This is a very big challenge in Florida. Where does one start?
Butler once told Rolling Stone magazine:
"I remember The Cure coming to Houston [where Butler grew up], and I was like, 'Man, wouldn't that be amazing if I could go to a show like that? How would I even do that?'"
I know what Butler means. I also didn't have the toolbox to buy concert tickets as a teenager. First of all, I had no money. More importantly, I didn't understand the mechanics of acquiring concert tickets. Plus, just the idea of going to a concert just seemed too enormous to me. It was awe-inspiring. Like my eyebrows would burn off my forehead just walking through the doors. Just the thought of seeing a big-time live music act obliterated my senses and my fertile and unscathed imagination. I was soft.
Yzerman does not look at the Lightning in this way. Obviously he has been immersed in hockey all of his life and spent the last four years observing the finest-run NHL team of the last 15 years, the Red Wings. He is Harvard business school hockey educated.
Yzerman recognized the pillars in place (Stamkos, Victor Hedman, and an owner who is smart, rich and not a jock nor a star sniffer) to give the Lightning organization a foundation and thus himself a chance to succeed. Yzerman has faith in his ability to hire a competent staff, manage the salary cap, evaluate talent and character (most important) and make most of the right moves.
[+] Enlarge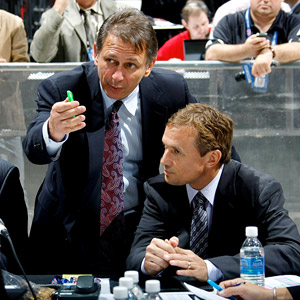 Dave Sandford/NHLI/Getty ImagesAfter working in the Red Wings front office for four years under GM Ken Holland, Steve Yzerman made the leap to become the Lightning's GM.
As I noted in the Lightning season preview capsule, Yzerman and Vinik are "Ready to Start" (second song on the current Arcade Fire album) and see if they can create a culture of success and profitability in Central Florida.
Yzerman has been thinking about this real-life fantasy hockey GM position for some time now. He's not a former player wanting to be a GM. He is a GM. I believe Yzerman will be a success because it's been in his bones since his playing career began to wind down. This is the kind of guy who would write down an imaginary Olympic hockey team on his Denny's place mat.
Aracade Fire, like REM, U2, Bruce and the E Street Band, Green Day and other long-running, successful bands, have a level of seriousness in them among the fun and frivolity. We don't know if Arcade Fire will have the ability to evolve and continually "bring it" like those other legit legendary acts have or ever even approach the Q rating of those acts. But talent and seriousness is a good place to start.
And this is how Yzerman begins his career as a hockey executive, using his talent and his seriousness to tackle the challenges and obstacles ahead of him.
• The organization is still thin until we see how the last two Tampa Bay draft classes develop. The Lightning are probably going to have to improve and reach elite status via the draft. The faster the better. Perhaps, the "perfect" trade of one of their veterans could help them make the leap, because the Penguins, Capitals and Flyers are going to be good for a while.
• The Vincent Lecavalier contract (signed before Yzerman's arrival, of course) is a monstrous inhibitor. Vinny has averaged a point per game for a season just twice in his career and probably won't again. He is signed for 10 more years at a $7.7 million cap hit. For this year and five more years, he will make $10 million a year in real money. Unless Yzerman can trade him, which is a virtually impossibility, or choose to eventually buy him out down the line, Lecavalier's contract will drain depth on the roster.
And, I was surprised Yzerman gave 35-year-old Martin St. Louis a four-year, $22.5 million extension. I can't imagine another team would have approached those terms -- but I suppose he had to get St. Louis in Lecavalier's W-2 solar system since St. Louis has had a better career and is currently a better player.
But those things can be managed. They will have to be. That is, after all, Stevie Y's job. And it's a serious one. If it all does work out in the coming decade, Mr. Y should invite Butler and Arcade Fire to the Stanley Cup celebration:
With my lightnin' bolts a glowin'
I can see where I am goin'
With my lightnin' bolts a glowin'
I can see where I am go-goin'


You better look out below!
-- "Wake Up" by Arcade Fire
John Buccigross' e-mail address -- for questions, comments or crosschecks -- is john.buccigross@espn.com.
Shot of the Week
It's back. You know how it works: We present an NHL photo and Bucci provides a caption. E-mail him your suggestions (include your name and hometown/state), and we will use the best ones and provide a new photo the next week.
THIS WEEK: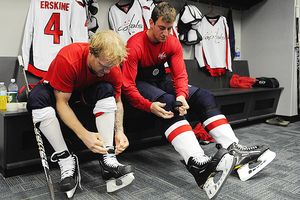 Getty Images
"Dude, let me know when everyone is gone so I can have my dad come in and tighten my skates."
Monday Poll
Sponsored by Ken the Otter