Updated:
October 26, 2010, 10:38 AM ET
New York teams need small-town mentality

By John Buccigross
ESPN.com
Archive
Small-town America faces a steep climb in this global economy. Large cities and megalopolises continue to grow while much of the rural parts of the United States get older and smaller. Sometimes you wonder if any of these towns will ever be the same or they will even exist in 100 years.
I spent the first 22 years of my life in three of these shrinking small towns: Indiana, Pa., Steubenville, Ohio, and Tiffin, Ohio. I root for them hard and visit them often. Many of the people are pure gold and their spirit is surprisingly still strong despite declining population numbers. If ESPN moved its operations to any of these hometowns, I would be stoked. ESPN would be treated like the Green Bay Packers in these places. Scott Van Pelt would have an apple pie left on his front porch every day. John Anderson, a giant block of cheese. (Wow, I checked my MacBook dictionary and "stoked" is an actual word now. When did that happen? Did Pauly Shore get this done? Well played, Mr. Shore. Well played.)
What may help small towns fight this fight is that athletics have been a big part of these communities, as sports has in much of America. (Although some are phasing out school sports.) These places are conditioned to scrap and claw. They will survive or adjust. Out of necessity, they will figure it out.
Big cities are sometimes viewed (especially by those who live in them) as smarter, more evolved and more important. They bludgeon with numbers. And no metropolitan area can bludgeon like metropolitan New York City and its combined statistical area of 22 million people.
One byproduct of this mass of humanity is having three NHL teams in a relatively small area. It makes perfect sense for capitalistic businesses like Chipotle or Denny's to be where the people are, where the capital is.
But the NHL is not run on pure capitalism. It's a capitalism-socialism-communism hybrid. There is revenue sharing and there is a cap on salaries that the metropolitan Rangers, Islanders, and Devils can spend on quality employees on the ice.
The population numbers don't help the Rangers, Islanders and Devils in this instance like they don't help the Knicks (no playoffs in six years, no titles in 37 years), Nets (no NBA title), Jets (no titles in 42 years), and Giants (one title in 20 years.) These are all salary capped teams. And while revenues can be high with tickets sales and higher ticket prices than places like Nashville and Phoenix, there is a competitive balance because of the cap that usually requires measured thinking, patience and planning.
In the final 10 seasons of a cap-less NHL (1994-95 to 2003-04), there were five different champions. Since the salary cap was implemented following the 2004-05 lockout, there have been five different champions in five years. One in the east (Carolina), one in the west (Anaheim) and three in middle of America (Detroit, Pittsburgh and Chicago). It doesn't matter if you are in the sun belt, sansabelt, or rust belt, you can win the Stanley Cup. You just have to be smart, a little lucky and you must draft well.
The cap allows small towns (Nashville, Columbus, Edmonton, Raleigh, etc.) to win a Stanley Cup where it is virtually impossible to win a World Series in baseball. The competitive balance is so out of whack in baseball that San Francisco (the sixth highest combined statistical-population area) and Texas (the seventh highest combined statistical area) are almost interpreted as two small market teams vying for the championship.
Yes, population size and body count doesn't quite matter as much in the NHL when it comes to the standings. The Rangers are still way more profitable than sold out seasons in Nashville, Columbus and Tampa Bay could be based on ticket prices, corporate sponsorship and advertising rates on everything from the boards to the bathrooms. That does allow the Rangers to go right to the cap every year, but, as we saw when there was no cap and the Rangers spent like teenagers at a cell phone convention, it didn't help.
So, let's look at the three hockey teams located in the biggest market in the country and see where they currently stand with all of this currency around them.
Islanders
The Islanders haven't won a playoff series since Al Arbour's second go around as head coach. Arbour was hired in the second year of the Islander's existence in 1973. In the seventh season, he coached the Islanders to their first of five straight Stanley Cup finals appearances, winning the first four and losing the fifth to the Oilers. Arbour coached for two more seasons and left after a 90-point season in 1985-86 at the age of 53, two years younger than Maple Leafs coach Ron Wilson is now. (Looking back now it seemed like Arbour was like 69 in today's years. Funny how that has changed, for the better, in our culture.) Terry Simpson took over for two and a half years before Arbour returned midway through the 1988-89 season. In the fourth season of Arbour's second go around, the 1992-93 season, the Islanders upset the Penguins and reached the conference finals, where they lost to Montreal. The Islanders haven't won a playoff series since Ray Ferraro made a perfect saucer pass to David Volek in overtime of Game 7 in Pittsburgh. Plus, they have missed the playoffs 11 of the past 15 years. Being in greater New York City has not helped them.
It's not difficult to decipher why the Islanders have not succeeded: Terrible management. You know all of the terrifically bad trades that were made, but part of Islander history that might have slipped by is the Peter Laviolette firing in June 2003. The Islanders made the playoffs two years in a row under Laviolette before losing to a much better Maple Leaf team in seven games in 2002 (an unbelievably entertaining series) and falling to a stacked Ottawa Senators team in five games in 2003. I mean, those Islanders teams completely overachieved under Laviolette. He should have been given a 10-year extension, a crate of the finest grass-fed beef steaks and a lifetime supply of Cakebread Cabernet.
In 2006, the Islanders hired Garth Snow as GM. Snow inherited an older team with no major prospects. People laughed at the hire, but Snow's results can't be questioned yet. It took Snow two years to get young and begin the process of building through the draft and with a good, young coach in Scott Gordon. Mark Streit was a terrific sign. Under Gordon, the Islanders had 61 points in the first season and 79 points last year. They are off to a good start this year and certainly look like at least a mid- to high-80-point team.
But stripping a roster of veterans and getting high draft picks is not difficult. Anyone can do that. Now we have to wait to see how good Josh Bailey (ninth overall), John Tavares (first overall) and Nino Niederreiter (fifth overall) can be, and if Snow can sign the right free agents and/or trade for players with salaries that teams are looking to subtract. He needs to add more dynamic players and depth.
The Islanders have loads of cap room, about $14 million, and sound like they are willing to spend it. What is unique to the Islanders is that despite a large population within driving distance to their rink, the politics of Long Island are complicated and far from fluid. One would think it wouldn't be difficult to build a rink in this part of America. There is all kinds of money here. But politics and the economy have combined to keep the Islanders stuck in the mud. I don't see why players wouldn't want to play on Long Island. It is beautiful in the summer and near New York City. But a bad arena and possible relocation is keeping players away unless they will be vastly overpaid. Hopefully, this will be resolved soon because the Islanders are set up to succeed.
Devils
The Kansas City Scouts/Colorado Rockies/New Jersey Devils were a Mickey Mouse organization until Lou Lamoriello was hired in 1987. In his first season, Lamoriello began his trend of firing the head coach at any point in the season. This is why John MacLean will not last long if the Devils don't start winning with style soon. The firing "worked" in the first season as the Devils reached the conference finals under Jim Schoenfeld. Schoenfeld would be replaced after 14 games two years later. Lamoriello has replaced a coach midseason seven times in his tenure. He's done it in as little as 14 games and as many as 79 games (Claude Julien) into a season.
After the lockout of 1994 and the expansion in the '90s, the NHL became defensive and slow. That being said, the Devils still had a great team when they won their first Cup. They had a franchise goalie and a terrific mix of veterans such as John MacLean, Stephane Richer, Neal Broten and Scott Stevens as well as young players such as 24-year-old Bill Guerin, 21-year-old Brian Rolston and 21-year-old Scott Niedermayer. The Devils would go on to win three Cups in nine seasons during their run with Hall of Famers Stevens, Niedermayer, and Martin Broduer. The Devils won championships because they drafted well, signed free agents and traded (Jason Arnott and Randy McKay for Joe Nieuwendyk and Jamie Langenbrunner was sweet) as well as anyone else.
Despite moving into a beautiful new arena, the Devils have lost some of their luster since the lockout. They have been a good regular-season team (100 points in five of the six post-lockout seasons) but a poor playoff team. They haven't won a playoff series since 2007 and haven't reached the conference finals since the NHL altered penalty enforcement and imposed a salary cap. In their three playoff series since the lockout, they are 5-12.
The Devils have a passionate, hard-core fan base but are lost in the megalopolis of New York City. This was a major reason why Ilya Kovalchuk was re-signed at such a high price. He is a unique star. Another reason why Kovalchuk was signed is the Devils' key players are older and it appears as though the Devils' run of drafting and developing first-line players has at least temporarily ended. But with Zach Parise and Kovalchuk in their late 20's, the Devils have two strong pieces to build around, the bright lights of New York City just a short tunnel ride away to attract free agents and a sweet travel schedule to promote. Never bet against Sweet Lou to return the Devils to Disney World.
Rangers
The Rangers won three of their first 14 NHL Stanley Cups with the teams built by the Drummondville, Quebec,-born Lester Patrick. They have two in the 70 years since.
The Rangers were terrible a couple of seasons after Patrick left and remained generally terrible in the '40s, '50s and up until the late '60s. The Rangers had some terrific teams from 1970-74, but just couldn't get by the Bruins, Canadiens and Blackhawks. They had a couple down years and then returned to make the playoffs 18 out of 20 seasons, which included the 1994 Stanley Cup.
After missing the playoffs for three straight seasons, the Rangers hired Glen Sather in 2000. In nine seasons under Sather, the Rangers have won two playoff series, making the playoffs four times and missing them five times. They haven't sniffed a championship.
Sather inherited a franchise with very little in terms of young assets. The Rangers drafted poorly and when they got good picks (the fourth and ninth picks in 1999), it was a weak draft.
Out of the lockout, the Rangers went with an older team. The kind of team that was not championship caliber, while at the same time, not allowing the Rangers to get beat enough. If the Rangers had decided to strip their franchise and be terrible out of the lockout, they would have given themselves a chance to draft Sidney Crosby, Jonathan Toews, Patrick Kane and/or Steven Stamkos. The talent at the top end of the past seven drafts has been stellar. Had the Rangers decided to start over, they would be in amazing shape right now.
I keep hearing over the years that you can't rebuild in New York. I've never, ever, understood this. If there is one place you can rebuild, it is here. The fans are smart and passionate. They would be able to see the picture. Their winter sports teams have been dreadfully bad or dreadfully boring. They have so much revenue from Madison Square Garden and are so insulated from Cablevision and the megalopolis that the Rangers are the easiest franchise to rebuild. And I think the fans would embrace a young, scrappy, up-and-coming team. I know they would.
And I would start that process now. I think this team is so far behind so many teams in the East, such as the Flyers, Penguins and Capitals, that they are better off taking the next five years off to rebuild. Hire a young, hungry, energetic front-office staff to accumulate young Canadian, American, Swedish and Russian talent that is being developed every year. Trade away the older assets they have and go young, then stay young until they are ready to strike. Add a young, star-A Ranger through and through.
But you know they won't as long as the current owner is involved. The temptation for the quick fix and the archaic view that money will make things better will continue to be their doom in this salary cap era. The standings say 4-2-1 and a couple of wins feel good, but is this roster going to be able to win a playoff series? Or two?
Yes, the way for this big city team to fix itself is with some small-town thinking and small-town players out there across the world. Grass roots. Patience. Smarts. Otherwise, the future of the Rangers and this season will finish like all of the others since 2000: Up in cigar smoke.
John Buccigross' e-mail address -- for questions, comments or crosschecks -- is john.buccigross@espn.com.
Shot of the Week
It's back. You know how it works: We present an NHL photo and Bucci provides a caption. E-mail him your suggestions (include your name and hometown/state), and we will use the best ones and provide a new photo the next week.
LAST WEEK: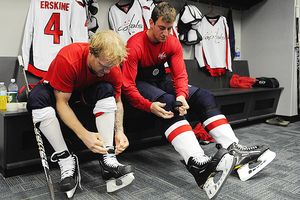 Getty Images
"Dude, let me know when everyone is gone so I can have my dad come in and tighten my skates."
Your captions:
I'll be darned, coach was right. First sock, then skate!
Howard Freedland
No, no you have it wrong! It goes ...
Build a tee pee
Come inside
Close it tight so we can hide
Over the mountain
And around we go
Here's my arrow
And here's my bow!
Steve Cestra (Seattle, Wash.)
Seriously, velcro skates. Is that too much to ask?
John Wilkins
REAL men don't use shin pads!
Jesse Swanson (Farmington, Minn.)
These combination locker bench/potties are not working for me at all. How about you?
Jeff Neistein (Woodland Hills, Calif.)
THIS WEEK:

Getty Images
The line to visit and take a picture with the Stanley Cup was long but worth it.
Monday Poll
Sponsored by Ken the Otter