Updated:
November 1, 2010, 5:30 PM ET
Looking back on the first 12 percent of the season

By John Buccigross
ESPN.com
Archive
Here are a few November droppings from the feeble mind of an otter-loving pigeon that you can forward to your casual hockey fan to give him an idea of what has happened during the first 12 percent of the 2010-11 season (and maybe some other things) ...
• It's November, and the conference leaders are Tampa Bay (East) and Los Angeles (West).
• The team with the fewest points in the NHL? The team with Zach Parise, Ilya Kovalchuk, Patrik Elias and Martin Brodeur. Of course.
• The NHL is a very defensive league. It's difficult to score goals. Last season, there was one 300-goal team, the Washington Capitals. For a team to score 300 goals in an 82-game NHL season, the team has to average 3.65 goals per game. At this pace, we will have no 300-goal teams this season. In the 1981-82 season, 16 teams broke the 300-goal plateau (the Oilers scored more than 400 goals; Wayne Gretzky had 92) -- and there were only 80 games. Yes, I still believe that the net should be a little bigger so that we have a sport with a few more goals per game. I know a 1-0 game can be great and a 6-5 game can be rancid, but overall I think it would be a good thing if we had a sport, at all levels, with a few more goals.
• The Boston Bruins don't have the most total points, but they have been the most impressive team in the NHL so far. They have given up 11 goals in eight games. Tim Thomas not only has been the best player on his team but also might be one of the two best players in the NHL so far with Steven Stamkos. Thomas had surgery to repair a torn labrum in his left hip in May. Two-and-a-half months later, I saw Thomas at a charity softball game this past summer. He wanted to play but couldn't, as he was still rehabbing. Getting traded was certainly on his mind, but his demeanor was very calm. Knowing you have $15 million coming your way over three years certainly can keep you from being stressed over your job status. There is no bigger competitor in the NHL in net than Thomas, and now he has regained his health and is driven to prove himself all over again. Thomas will turn 37 in April, so the Bruins still should monitor his games played and use Tuukka Rask once a week.
Trading Phil Kessel and Chuck Kobasew for draft picks, as well as injuries to Marc Savard and Milan Lucic, saw the Bruins' offense plummet last season to a paltry 206 goals. I'm not shocked the Bruins blew a 3-0 series lead to the high-scoring Flyers in the playoffs last season; I'm shocked they were up 3-0 to begin with. Now that the Kessel trade has turned into Tyler Seguin and the flexibility to trade for Nathan Horton, the Bruins, with an older Lucic, are back to their elite status of two years ago, when they were second in goals scored and first in goal prevention. Boston has the potential to do that again this season, although Kessel still would have been their leading goal scorer last season and this season had he still been on the Bruins. Boston still doesn't have that pure goal scorer like Kessel on its team, which you want to have come playoff time.
• Why doesn't Horton shoot more? He has 17 shots on goal in eight games this season. Five have gone in! His career high for shots on goal is 217 (the season he had a career-high 31 goals). Alex Ovechkin had 528 shots two seasons ago. 528! That was more shots than Horton has had in his past three seasons in Florida plus the eight games this season. The moral of the story, kids? If you want to hang with Russian models during the summer, shoot more.
• The NHL Center Ice package usually has a darling team or teams that some viewers (like me) find themselves getting drawn to every night. Back in the pre-Facebook, pre-Twitter, pre-lockout days (What in the world did we do back then?!?), it was the Todd Bertuzzi-Markus Naslund-Brendan Morrison line and the Canucks whom I would watch every night while eating a box of Apple Jacks. Now, Sidney Crosby, Evgeni Malkin, Ovechkin, Pavel Datsyuk and Patrick Kane make their games a must-watch. Those are take-your-breath-away givens. But the new kids on the Center Ice block this season are Colorado and, yes, Edmonton. If NHL defensemen still moved like discarded, front-lawn washing machines and NHL goalies still played with the equilibrium of Charlie Sheen on a Saturday night in Amsterdam, this group of Edmonton Oilers might be scoring 446 goals like the 1983-84 Oilers did (in 80 games!).
One thing that makes the 2010-11 Oilers entertaining is that they are terrible defensively. That is awesome for my late-night viewing and guarantees the viewer entertaining hockey. Second, this team has a slew of sick, slick offensive players who will be involved in many 6-4 games. The Oilers were already fun with
Ales Hemsky
and
Sam Gagner
. Now they've added
Jordan Eberle
and
Taylor Hall
. They also have small and fast
Andrew Cogliano
and
Gilbert Brule
. Hall was the No. 1 pick in the draft and is an amazing skater and a good competitor. He's just a natural carved from granite hockey player. Hey, young world, Eberle is the new Slick Rick. His hands are on loan from Hakan Loob, and he has winner inked all over him. Eberle might have scored the coolest first career goal of all the first career goals that have been scored. Somehow, he lasted until the 22nd pick of the 2008 NHL draft. His size (5-foot-10, 174 pounds) clearly scared some people. But would the Leafs trade
Luke Schenn
(fifth overall in the same, not drafted by current Leafs regime) for Eberle right now? Yes. This Oilers team is a blast to watch and has the perfect coach to grow under in Tom Renney.
• Back to those Edmonton Oilers teams of the early '80s. During the 1983-84 season, Mark Messier went out and had a pretty good season, scoring 37 goals. Today, he has to tell his kids that his teammate, whom we shall call Wayne, scored 50 more goals than he did that season. Fifty! Glenn Anderson had 99 points. Good season, Glenn. Gretzky had 106 more points than Anderson! Holy shnikies. Gretzky had more goals that season (87) than Kevin Lowe had in his 19-year, 1,254-game career (84).
• Paul Coffey wore nine different sweaters during his NHL career.
• I didn't make preseason playoff predictions this season. I just gave NHL teams some stupid "playoff percentage" that I warned would make little sense, yet I still offended staunch mathematicians (like my dad). Now that we have seen a decent sample size of games, if you held a KFC Double Down to my mouth and made me pick the 16 teams that will qualify for the playoffs, I would say ...
Eastern Conference playoff team projections: Capitals, Penguins, Flyers, Bruins, Canadiens, Rangers, Lightning and Thrashers.
Western Conference playoff team projections: Blackhawks, Red Wings, Predators, Blues, Canucks, Avalanche, Sharks and Kings. But as usual, that eighth spot in both conferences is up for grabs.
• Tampa Bay's Stamkos is now a top-10 NHL player. He will have 100 career goals before he is 21 years old on Feb. 7. He currently leads the NHL in scoring. Like Ovechkin, Stamkos gets a lot of his offense on the power play because of his smarts and his electric shot (a Mario Lemieux-Brett Hull quality). One reason he had more power-play goals than Ovechkin last season -- 24 versus 13 -- is that Stamkos (like Hull and Lemieux) is closer to the net on the power play. I would like to see Ovechkin play a full season on the power play and not play the point but play in the circles and slot. I bet his numbers would be better, and the Capitals' power play would be better. Same with Ilya Kovalchuk. Not only does Stamkos have the game, but he also is as natural a captain as there is in the NHL. How long until Vincent Lecavalier relinquishes the C?
• Last week's poll question was, "Should NHL teams return to wearing white uniforms at home?" The results were 75 percent said yes and 25 percent said no.
• After 10 games, the Toronto Devils, er, New Jersey Maple Leafs, are on pace to score 188 goals and give up 188 goals. Only one team gave up fewer than 200 goals last season, and that was the Devils. The Bruins were the only team to give up fewer than 200 in the 2008-09 season while playing under noted line-rolling, defense-first coach Claude Julien. Five teams achieved the feat in the 2007-08 season: the Devils, Rangers, Red Wings, Ducks and Sharks. All seven of those teams made the playoffs. The last time a team scored fewer than 200 goals was the 2007-08 season (Islanders and Blue Jackets), and those two teams did not make the playoffs.
The Leafs' goal-prevention leap has been impressive. Toronto gave up 293 goals two years ago and 267 last season. The Leafs just don't have the offense on their current roster to complement that improved defense. If their current numbers continue with their current roster (and the roster almost assuredly will change with a trade and a call-up of 20-year-old
Nazem Kadri
, who has four goals and four assists in eight games in the AHL), I would project the Leafs at 85 points at season's end. That would mean the Bruins, who own the Leafs' first-round pick again next summer as part of the Kessel trade, probably would select in the No. 9 to No. 11 area of the draft. A couple of key injuries, however, and the Bruins' front office and fan base could be getting lottery fever again. But, with cap space and Kadri, the Leafs do have lottery insurance this season.
• Marc-Andre Fleury continues his shaky play of last season for the Penguins. He is 1-5 and due $5 million a year for five more seasons. Brent Johnson, 33, should take over the job for a while.
• Don't cut in line when the Penguins' Deryk Engelland is waiting for his quadruple latte/Red Bull frappe in Monroeville, Pa. The 28-year-old rookie and former South Carolina Stingray (ECHL), Las Vegas Wrangler (ECHL), Reading Royal (ECHL), Moose Jaw Warrior (WHL) and Mingo Junction Pipefitter (I made that one up) has knocked out Colton Orr and bloodied Jody Shelley this season.
• The young players of the St. Louis Blues are really coming together, winning four in a row. Jaroslav Halak was my Vezina pick before the season, and the Blues look like a solid defensive team, giving up just 17 goals in nine games. The Central Division is the strongest division in the NHL. There will be great battles all season from that division.
• More than half the league has winning road records so far.
• This season's All-Star Game is in Raleigh, N.C., on Jan. 30.
• Not only does Chicago's Patrick Sharp lead the league in goals, he also might have the finest head of hair -- a Caesar salad, for sure. We like to focus on the important things here.
• Watch the Colorado Avalanche when you can. They play fast and are fun to watch. They have an elite power forward in Chris Stewart. Paul Stastny is the King of Sauce with his buttery passes. ("Sauce" is a good nickname for Stastny.) Matt Duchene is Crosby Lite with his electric moves around the net. This team is fast, gritty and moving up fast. The injury to Craig Anderson and its possible lingering effects could do them in this season. I hope not, but they are still great to watch during a long, cold winter.
John Buccigross' e-mail address -- for questions, comments or crosschecks -- is john.buccigross@espn.com.
Shot of the Week
It's back. You know how it works: We present an NHL photo, and Bucci provides a caption. E-mail him your suggestions (include your name and hometown/state), and we will use the best ones and provide a new photo the next week.
LAST WEEK:

Getty Images
"Dude, let me know when everyone is gone so I can have my dad come in and tighten my skates."
Your captions:
I guess this is what Coach meant when he said we beat ourselves today ...
Calvin Webster (Clinton, Md.)
Raise your hand if you like wearing white after Labor Day!
Nick Russell (Indianapolis)
Chum Line
Kevin G. (Philadelphia)
Sharks Squaredance Spectacular !!!
Sean Koeth (Westerville, Ohio)
Despite having two teams play in the conference finals, the San Jose Sharks still didn't make the finals.
Eric Luukk (Sutton, Mass.)
Nice game, fellas. Tomorrow we go shirts and skins so I can actually tell who's on my line.
Chris (Boston)
THIS WEEK: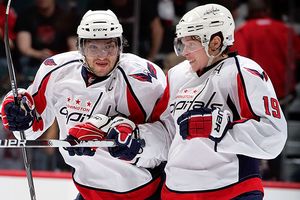 Getty Images
Blades of Glory 2 -- From Russia with Gloves.
Monday Poll
Sponsored by Ken the Otter