Updated:
November 8, 2010, 4:49 PM ET
Philosophy of Blues-Rangers ... because it is just

By John Buccigross
ESPN.com
Archive
St. Augustine (354-430 A.D.) believed that all knowledge is learned from sensory evidence and experience.
Plato (428-348 B.C.) and other early philosophers thought that all information accumulated by the senses is false, so no mental concept can be based on sensory information collected through experiences in life. Bummer.
Those two dudes wrote and thought a lot; they didn't have cable (but they would have been massive tweeters). I don't mean to simplify the volume of their thoughts, but I, like most of you, have cable, so occasionally we need to generalize their lifelong theories to get through a busy day. Plus, this is a hockey column, and we need to break down more important things like Brandon Dubinsky.
That being said, I'm going to go with St. Augustine on this one. I learn by closely observing. And on Sunday night, I decided to closely observe two teams off to good starts this NHL season: the St. Louis Blues and the New York Hockey Rangers. The Rangers have won six of their past nine games, and the Blues have won six in a row.
St. Augustine and Plato both strived to find justice and goodness in life, and this fits the Rangers and Blues this season. They have been good, thus it is just to give them a closer look. Plus, Rangers fans and Blues fans have been active on my Twitter account and on e-mail with lots of belief and enthusiasm. That tells me the fan bases are energized. As Blues vice chairman and CEO Mike McCarthy said on the Blues' team website, "At this point early in the season, to have had six sellouts and the highest rating in FOX Sports Midwest history is a true indication of the bond between this team and its fans."
So with that in mind, I will do some "live blogging" of Sunday night's Blues-Rangers game.
First period
20:00 (This is the time left in the period, by the way) -- I will be helping the Fox Sports Midwest record ratings by watching their broadcast on the Center Ice package. This is great because I get to hear ol' Clubber Pang, Darren Pang. He is the Blues' analyst in the booth with play-by-play man John Kelly. Just so you know, I can't watch Rangers broadcasts in my house this season. The Rangers are blacked out on my DirecTV and on the Center Ice package. Someone needs to explain this one to me. There are some strange blackout rules sometimes. Sam Rosen, I do miss you.
This will be a battle of backup goalies. Ty Conklin starts for the Blues, and Martin Biron goes for the Rangers. The normal starters are Jaroslav Halak and Henrik Lundqvist. Halak has a .944 save percentage this season, and Lundqvist has a .924 save percentage, but Lundqvist has seen 101 more shots than Halak. This shows what kind of team defense the Blues have played this season. OK, to the game.
18:48 -- Biron makes the first good save of the night on a nice shot by David Backes. The Blues played a shootout game the night before in Boston and the Rangers were off, but the Blues were probably in New York by midnight after playing in Boston -- got to love that East Coast travel. The Blues look fresh. Plus, the Bruins game was such an epically awesome game that they are probably still buzzing.
17:00 -- A great start for the Blues. They are controlling the game. The Blues are fast and crisp so far, as they have been this season. Biron has already earned this Madison Square Garden start. He's been great. Biron has subbed for Lundqvist three times in 14 games. This ratio will keep Lundqvist at fewer than 70 games this season, and the Rangers need to try to keep Lundqvist's games played down. In the past four seasons, King Henrik has played 73, 70, 72 and 70 regular-season games a season. Lundqvist's save percentage the past two postseasons was .908 and .909 -- not terrible, but those numbers are not as good his regular-season numbers.
14:11 -- Power play, Blues. They have not converted their past 14 power plays, while the Rangers have had poor penalty killing this year, ranking 27th out of 30 NHL teams. The Rangers kill the power play. One player who is really standing out for St. Louis is No. 20, Alex Steen. His dad, Thomas Steen, was born in Sweden but was playing for the Winnipeg Jets in 1984 when Alex was born. Thomas Steen went on to play 14 seasons in Winnipeg before playing three more years in Germany. Alex Steen was the 24th overall pick of the 2002 draft by Toronto. The Leafs traded him and Carlo Colaiacovo (who is hurt and not playing) to the Blues for Lee Stempniak in 2008. Steen had 24 goals last season, but this season he has just one goal in 11 games. It's not for a lack of effort. He is a fantastic skater but doesn't shoot enough in high-traffic areas. He's a perfect third-line energy guy on a good team.
11:59 -- Another power play for the Blues. The last power play was pretty good, and they probably deserve to get one here based on my observations. If Plato were alive today, he would say that it was a stupid premise. According to Plato's thinking, if the Blues do score here, it would have been determined before every player and official on the ice was born. Plato, who sported a beard, also would bow to Bill McCreary's 'stache.
11:22 -- Almost a sweet move by Brad "Bring in da" Boyes, who had a Datsyukian shootout move/goal against the Bruins on Saturday. If you haven't seen it, you must check it out. Great end-zone, ice-level camera by the folks at NESN really showed the sickness of the move.
10:02 -- The Rangers are very aggressive on the power play. You can see how a really good passing team could take advantage of that. The Blues don't make enough good passes, and the Rangers kill another power play. Well played, Plato. Well played. PLATO!!!!!!!!!!!!!!!!!!!!!
6:35 -- Alexander Frolov looks pretty bad so far in this game. He signed a one-year, $3 million contract during the summer. He has two goals in 13 games coming into this contest. He is only 28 years old, but he looks 38 the way he is moving. He still has a great shot but can't seem to get open. I could see him playing in the KHL next year.
2:37 -- The Dubinsky-Ryan Callahan-Artem Anisimov line finally generates a chance. The Blues have done a good job defending that trio. In case you missed it, Dubinsky has 10 goals in 13 games: five even-strength goals, three on the power play and two short-handed goals. He is developing into the Rangers' Mike Richards. Dubinsky was a second-round pick in 2004, and his ice time has increased every year. Dubinsky was born in Anchorage, Alaska, and probably will be on the 2014 U.S. Olympic team in Sochi, Russia. (Of course, NHL players will be there.) Dubinsky is playing for a big contract because he will be a restricted free agent after this season. Remember, he had a little contract disagreement last time around and would like more leverage in the summer. Dubinsky needs to put up some numbers to get the kind of money he feels he deserves. He's been a 40-point guy for three seasons, and hat won't get you paid. Put up 70 or 80 this season, and he should be able to get a nice five-year deal from the Rangers in the $4-5 million-a-year range. He hasn't been an elite scorer at any point in his career going back to junior and probably best fits as a real good No. 2 center on a really good team, but maybe he will keep improving.
1:56 -- The Rangers look as though they take a 1-0 lead, but the goal is immediately waved off by referee McCreary. Blues defenseman Nikita Nikitin reached up with a high stick as the puck sailed past him in the neutral zone but didn't make contact with it. A delayed high-sticking call was indicated as play continued, and the puck was next poke checked by Conklin, making the play dead -- had Nikitin touched the puck. Rangers forward Frolov got the puck and scored, but the whistle had blown and who knows if Conklin and the other Blues relaxed, enabling Frolov to score. Either way, it was a missed call that could have cost the Rangers.
End of one period, no score. The Blues' speed controlled the period, and, only thanks to Biron, the game is scoreless. The Rangers did seem to find their legs late in the first and had some chances. See whether the Blueshirts can carry that over to the second period.
Second period
16:18 -- Beautiful breakout play by Blues defenseman
Erik Johnson
. Johnson is a big-time talent, the first overall pick of the awesome 2006 NHL draft (Johnson,
Jordan Staal
,
Jonathan Toews
,
Niklas Backstrom
,
Phil Kessel
,
Derick Brassard
,
Chris Stewart
and
Claude Giroux
). Johnson is a great skater, has great hands and possesses superb hockey sense. He will win a Norris Trophy someday if he continues to improve, which is just about a lock. Johnson reminds me of a new and improved
Rob Blake
with better hands, more agile skating and a little better hockey sense, but without the monstrous bodychecks Blake used to deliver. But I think Johnson will develop into a really classy player like Blake, a credit to the game.
14:44 -- Goal, Steen. Twisted wrister. He really deserved that goal. He's been good all game. Great dish by Boyes, who sensed the middle man driving the net and properly anticipated the very high slot opening up. This is the 10th time in 12 games the Blues have scored first. With their great skating, that is huge, like a big server in tennis getting the first serve in a tennis match. All three Rangers forwards (Derek Stepan, Derek Boogaard, and Evgeny Grachev) were below the goal line, which opened up a pretty easy three-on-two. That just can't happen. Plus, Steen's shot was perfect. He needs more shots like that one.
13:44 -- The Rangers get their first power play of the game. Dubinsky, Callahan, Anisimov, Michael Del Zotto and Daniel Girardi start the power play. The Rangers don't score after some decent chances. The Rangers are skating better now, and the game has become very tightly contested. The effects of the Blues' game the night before in Boston might be coming into play now.
10:50 -- Another power play for the Rangers. Kind of a dumb penalty by Blues center Patrik Berglund, just the 18th minor of Berglund's 159-game career. His PIMs during the first three seasons of his NHL career are 16, 16 and now four this season. Get this guy a Lady Byng. Berglund is one of a number of Blues players playing for their next contract. Berglund, David Backes, TJ Oshie, Eric Brewer and others are in the last year of their contracts -- a lot of hungry, young men.
1:04 -- The Blues have great speed, yes, but they also have lots of players with really good hands and hockey sense. They get the puck out of their zone quickly with deft passing and great skating. They make a lot of nice little plays. Ian Cole, born in Ann Arbor, Mich., has had a nice game. The Blues have eight players on their roster born in the United States.
End of two periods, 1-0 St. Louis. The Blues have outshot the Rangers 19-15.
Third period
19:45 -- The only thing I don't like about the Blues is that yellow line that snakes down their jerseys and down to their pants.
13:35 -- Finally, a "Holy jumpin'!" from Pang. Everybody Pang Chung tonight. There is no better game analyst than Clubber Pang -- some might be as good, but not better. Vera Pang is energetic, informative and has a great overall knowledge of the NHL. I worked with Captain Pangaroo for six years at ESPN. We would go to Denny's after a late "NHL 2Night" and scribble our U.S. and Canadian Olympic teams on the placemats. That's the great thing about hockey people -- they are all in when it comes to the game. K.D. Pang is a great example of why teams shouldn't go cheap or settle on their broadcasts. It makes a difference. If I'm a Blues fan, Blues hockey is appointment viewing because Sugar Hill Pang will go Pangbusters every night, and it makes me love hockey more and makes me smile. The Blues have an excellent yin-and-Pang broadcast.
12:35 -- Five-minute major for boarding on B.J. Crombeen. His dad, Mike, played 475 games in the NHL for the Cleveland Barons, St. Louis, and Hartford Whalers. Dad was a low-penalty-minute guy. Son is a high-penalty-minute guy. This is the Rangers' chance to tie the game. This is a 50-50 game that could go either way. The Blues have more speed and more depth, but the Rangers are a hardworking team.
12:00 -- Johnson and Eric Brewer are a terrific defensive pair. They began the penalty kill on the back end.
9:43 -- Anisimov had a wide-open net and flubbed it wide. It would have tied the game. The Rangers need Marian Gaborik to take that shot soon. Anisimov is 6-foot-4, 197 pounds. He was the Rangers' second-round pick in 2006, the year the Rangers took Bobby Sanguinetti in the first round. Whom did the Flyers take right after the Rangers chose Sanguinetti? Giroux, who would be the No. 1 center on the Rangers (and a lot of other teams) right now.
7:00 -- The Blues kill off the five-minute major with their great speed, hands and a couple of good saves by Conklin. The Blues had the best PK in the NHL last season and were third the season before that. They have developed a culture that will make it easy to plug players in via trades or free agency, and they have cap space to add at the trade deadline.
1:36 -- Rangers coach John Tortorella is the most aggressive coach in the NHL in terms of pulling the goalie. He is the anti-Jacques Lemaire. I remember watching Minnesota Wild games in which Lemaire never pulled the goalie down a goal. Let's see whether the Rangers can squeeze a point out of this game.
3.9 seconds -- Steen empty-netter. Now there is some justice that Plato and St. Augustine can believe in. St. Steen (eerie how close they are. I swear to Wayne, I came up with the St. Augustine thing before the game began) has been a solid, speedy, hardworking winger all night long, and he was rewarded with two goals.
"Do you wish to be great? Then begin by being. Do you desire to construct a vast and lofty fabric? Think first about the foundations of humility. The higher your structure is to be, the deeper must be its foundation." -- St. Augustine
"Without effort, you cannot be prosperous. Though the land be good, you cannot have an abundant crop without cultivation." -- Plato
"Decide what to be and go be it." -- The Avett Brothers
Final score -- St. Louis 2, Rangers 0
This was the first time the Blues shut out the Rangers in 129 meetings since joining the NHL in 1967. The Blues are enjoying their longest winning streak (seven) since they ran off nine straight from Oct. 15 to Nov. 5, 2002. St. Louis has scored 16 goals and allowed only six during this run, posting four shutouts. Biron is now 0-7-0-2 against St. Louis in 10 career appearances.
The Blues are now 9-1-2, the best start in their history. Halak took the night off, and Conklin came off the bench and stopped all 27 Rangers shots. You can see why Halak has such big numbers this season. This is a team for which you want to play goalie. The Blues are fast, together, tough, well-schooled, good students and competitive, and they usually outshoot the opponent. I would like to see them somehow add an elite scorer at the trade deadline if possible. (The ultimate Blues dream is to somehow get Zach Parise and put him with Oshie.) They will be a 100-point regular-season team, but how will they compare in the playoffs against the Canucks, Red Wings, Sharks or Blackhawks? Time will tell.
The Rangers are a hardworking bunch with a solid defensive corps and good goaltending. There are players who would not be in the lineup if Chris Drury, Vaclav Prospal and Gaborik were healthy. What will be interesting is how Tortorella brings back the injured veterans and weaves them into the young lineup -- not so much with the fillers at the back end, but the guys at the top and the players in the middle. That will be fun to watch. What will the lines look like?
Team speed/quickness could be an issue down the line for the Rangers. They aren't a great offensive team or a great defensive team. They are kind of stuck in the middle. Hopefully, for them, when Gaborik, Drury and Prospal return, the Rangers will have more offensive depth and congeal into a dangerous playoff team.
If they believe in Plato, they will probably barely qualify for the playoffs (that would be my call) or barely not, then get bounced in the first or second round.
If they believe in St. Augustine, they can live, learn and, alas, have hope. And a prayer.
John Buccigross' e-mail address -- for questions, comments or crosschecks -- is john.buccigross@espn.com.
Shot of the Week
It's back. You know how it works: We present an NHL photo, and Bucci provides a caption. E-mail him your suggestions (include your name and hometown/state), and we will use the best ones and provide a new photo the next week.
LAST WEEK: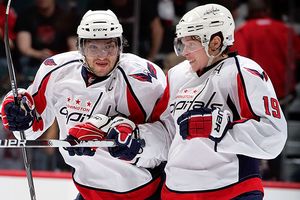 Getty Images
Blades of Glory 2 -- From Russia with Gloves.
Your captions:
OK, we got the "C" and the "A" covered.
Laich over there will wear a "P." Poti an "I."
Green a "T." Knuble has the other "A."
Chimera the "L." And Bradley the "S."
Then we all stand in a line. Hysterical.
Peter Crisano (Boston)
The Capitals have finally figured out that the only thing better than Alex Ovechkin is Alex Ovechkin with two sticks.
Curt (Maine)
Silly Silly Russian falls for the old "pull my stick gag" once again!
Mike C. (Redford, Mich.)
THIS WEEK: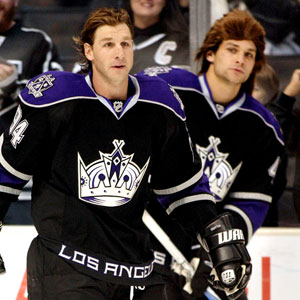 Getty Images
Ryan Smyth and the Kings employ a left winger, right winger and a Kip Winger.
Monday Poll
Sponsored by Ken the Otter