Updated:
November 22, 2010, 5:14 PM ET
Just the numbers for those short of patience

By John Buccigross
ESPN.com
Archive
Thanksgiving week in the United States is here. It's a short work week and school week. Plans are being made to visit some people you love and others who make your fingernails hurt. You might not have a lot of energy or patience to digest my inane observations, so let's just look at some numbers around the NHL this season.
• Alex Ovechkin is averaging just 4.1 shots per game this season, the lowest of his six-year career. He is on pace to miss the 40-goal mark for the first time in his career. Ovechkin's goals have gone from 65 to 56 to 50 to on pace for fewer than 40 this season.
• Detroit's Nicklas Lidstrom had one goal and 16 assists on Jan. 1, 2010, after 40 games of the 2009-10 season. In 2010-11, he has three goals and 17 assists after 18 games.
• Detroit has 66 goals through its first 18 games. Last season it had 62 goals in its first 18 games.
• Carey Price has started 19 of Montreal's 20 games. Among NHL netminders, Price has played the most minutes in net, has seen the third-most shots and is tied for first in wins (12) and shutouts (four).
• Jonathan Toews has taken the most faceoffs this season, 511 (58.5 winning percentage). Sidney Crosby is next with 504 (56.7 winning percentage). Eric Staal ranks third with 429 (42.9 winning percentage).
• Jeff Carter should take more faceoffs. His winning percentage is 63.4, but he has taken only 145 faceoffs. Guys who have taken at least 250 faceoffs and are excelling: Dave Steckel (63.1 winning percentage), Paul Gaustad (63 winning percentage), Manny Malhotra (61.8 winning percentage), Zenon Konopka (60.9 winning percentage) and Ryan Kesler (58.8 winning percentage).
• Top five ice-time-per-game dudes: Duncan Keith (27 minutes, 58 seconds), Dan Boyle (26:41), Zdeno Chara (26:38), Ryan Whitney (25:58) and Jay Bouwmeester (25:47).
• The top 48 leaders in ice time per game are defensemen. Crosby, at 49th overall, leads all forwards in ice time with a 22:24 average. Joe Thornton is 198th in ice-time average (18:38). Rick Nash is 232nd (17:52). Milan Lucic is 370th (15:41).
• Rostislav Klesla of Columbus is your plus/minus leader at plus-16. For players who have played at least 20 games, Sergei Gonchar has the worst plus/minus at minus-13.
• Patrick Sharp leads the NHL in shots on goal with 97. Evgeni Malkin is next with 91; however, Malkin has only seven goals, while Sharp has 12 goals. Milan Lucic has 10 goals on only 34 shots for the best scoring percentage of players with more than 20 shots on goal.
• Cal O'Reilly of Nashville, Mike Ribeiro of Dallas and Brad Boyes of the Blues lead the NHL with three shootout goals.
• Only eight men in the history of the NHL have played more career games than Mark Recchi.
• Alexei Kovalev has 999 career points. He is set to become the third Russian to reach 1,000, joining Sergei Fedorov (1,179) and Alexander Mogilny (1,032).
• Before the season, I wrote the following: "The Lightning led the league in penalty minutes last season. I will bet my autographed Joe Sakic golf ball that will not be the case in 2010-11." So far this year, the Bolts have the 18th-most penalty minutes (260).
• The Flyers lead the NHL for the most penalty minutes this season (384). The Panthers have the fewest (132). Florida has only four majors this season.
• The Panthers are the only NHL team that has yet to play an overtime game this season.
• The Red Wings are scoring the most goals per game (3.67). The Devils are scoring the fewest (1.80).
• The Blackhawks have scored the most first-period goals this season (25), but they've given up the second-most third-period goals (26).
• The Flyers have scored the most second-period goals (28), and the Capitals have scored the most third-period goals (28).
• The Sharks average the most shots on goal per game (36.1). Minnesota averages the fewest (25.0).
• The Penguins allow the fewest shots on goal per game (27.1). The Oilers allow the most per game (35.6).
• The Bruins have allowed the fewest third-period goals (nine) this season. The Hurricanes have allowed the most goals (28) in the third period.
• The Bruins haven't lost a game when leading after one period (7-0), and they haven't won a game when trailing after one period (0-3-2).
• Twenty-three teams have not lost in regulation when leading the game after two periods.
• Five teams finished last season with no regulation losses when leading after two periods -- Buffalo (4-1-0 this season), San Jose (7-0-2 this season), Los Angeles (7-0-0 this season), Atlanta (4-1-2 this season) and Washington (8-0-0 this season).
• Calgary is a dreadful 4-5-0 when leading after one period this season.
• Devils season-ticket holders have seen only 16 goals in eight home games. Red Wings season-ticket holders have seen 51 goals in 12 games at the Joe.
• Steven Stamkos has the most power-play goals (10). Claude Giroux has the most short-handed goals (three).
• Zenon Konopka has the most penalty minutes with 100. Tomas Kaberle has played 19 games and has zero penalty minutes.
Now, get your Aunt Belle a Thanksgiving card, Sparky. E-mail bag will come Tuesday.
John Buccigross' e-mail address -- for questions, comments or crosschecks -- is john.buccigross@espn.com.
Shot of the Week
It's back. You know how it works: We present an NHL photo, and Bucci provides a caption. E-mail him your suggestions (include your name and hometown/state), and we will use the best ones and provide a new photo the next week.
LAST WEEK: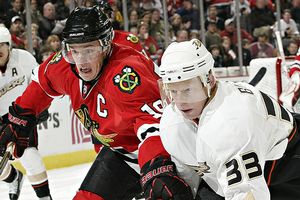 Getty Images
Jonathan Toews sees a mouse.
Yikes, that looks like Duncan's bicuspid!
Brent Smith
The Zamboni missed something!
Chris Hair (Surprise, Ariz.)
Yup ... I DEFINITELY forgot my cup.
Lt. James Desautels (U.S. Navy)
What did you eat?
Glen Wollenberg (Massanutten, Va.)
THIS WEEK: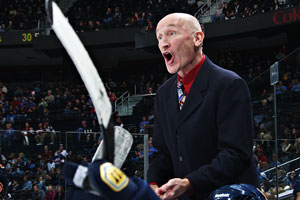 Getty Images
The Thrashers surprise Craig Ramsay with the addition of 12-foot defenseman Pierre St. Buick.
Monday Poll
Sponsored by Ken the Otter