Let's keep playing hockey outdoors, people!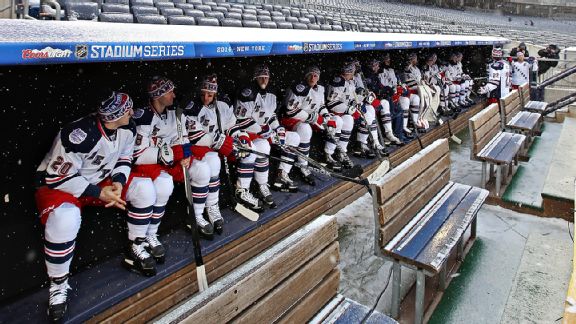 Bruce Bennett/Getty ImagesThere's nothing wrong with getting hockey players into dugouts as often as possible.
The Hockey Life opens up the Twitter bag this week, answering questions from all across the hockey world, including outdoor games and venues, player movement, playoff chances, college hockey and more.
@Buccigross Do you think the NHL has watered down the outdoor game appeal by adding too many of them? #NHL

Jeremy Sexton (@JeremyS_OffWing) January 28, 2014
@Buccigross: Absolutely not. There are more than 1,200 regular-season NHL games between October and mid-April. Why not have three to five a year where 50,000 people show up and KISS spits blood in shallow right center field? Until people stop going or stop watching, there are plenty of places to spread the gospel of puck. A game like that could make a 12-year-old a hockey fan for life. Why not reach as many 12-year-olds as you can? I took my boys to the Winter Classic in Pittsburgh. I'll never forget that game and experience.
@Buccigross your top venue choices for future Winter Classics and the teams who would play? #TwitterBagSkate

— Rink Problems (@RinkProblems) January 29, 2014
@Buccigross: I love all 30 teams equally, so I don't care who plays in these outdoor games. But, Lambeau Field, Jerry's House in Dallas, PNC Park in Pittsburgh, The Horseshoe in Columbus, Target Field and CenturyLink Field for the eventual NHL team there are all good. How about Bristol Motor Speedway? You could have three to four a year and find plenty of places to play.
@Buccigross Hockey is closing the gap on basketball in popularity. Thoughts?

— SWE3D (@SWE3DWAY) January 29, 2014
@Buccigross: I've said this since I began this blogumn drivel in 2001: I don't care how many people love hockey. Whether it's 10 or 10 million, it doesn't impact my love of the sport. I know the Avett Brothers are better artists than Justin Bieber. If people want to obsess over that twit, and he is deemed more popular, that makes no difference to me.
@Buccigross what do you think about increasing the size of the nets to increase scoring?

— Kevin Collins (@Sarahsdad_RI) January 29, 2014
@Buccigross: I've been on record for more than a decade that I would like to see a very slightly larger net. Baseball has lowered the mound and football relaxed rules to help the offense. I think the only adjustment the NHL can make to increase scoring and get fans out of their seats is a bigger net.
The 1950s was a low-scoring decade, especially in the first half of the decade. There was a slight increase in the '60s and then a nice climb in the '70s and '80s, with a peak of more than eight goals per game in the '81-82 season. That was Gretzky's 92-120-212 season. That scoring rate stayed around there for another four years, took a little tick down, and then plummeted after the 1994 lockout. By the late 1990s, we were back to the early '50's, except everyone had a goatee. The second lockout rule changes got the goals per game rate up to the 1960s range, but as the game was called less rigidly again, we dropped right back to the early '50s again.
I understand competitive hockey is better than high-scoring, blowout hockey. Tension is dramatic and scoring doesn't matter as much in the postseason. But I believe there is not enough payoff in hockey. Amazing moves are not rewarded enough with goals. There are games when people get up and scream one, two or three times.
Football's popularity has soared as the offensive game has opened up in college and the NFL. I think a slightly bigger net -- I'm talking an inch or two -- should result in more payoff for the players and more fun for the fans. What's wrong with seven or eight goals per game instead of five? The goalies are so good and the defensemen are so agile. There are no plugs on the blue line and no bender tenders. I think the NCAA and the NHL could take the game to another level with more goals, more screaming, more payoff from these amazing athletes.
@Buccigross will the Wings keep their playoff streak alive? Will nhl2nite ever return? Who will win the gold? When's your next book?

— Scott Voege (@scottvoege) January 29, 2014
1. Unless they make a major trade to reshape their team or we see an unexpected spike in scoring, the math does not look good for the Red Wings to make the playoffs. I would lean toward no right now.
2. Not unless ESPN gets a package of NHL games in the future.
3. Russia.
4. Thinking about one for next Christmas.

@Buccigross if the leafs trade James Reimer, where do you think he goes/ what do you think the leafs get in return?

Sean Dunne (@SeannDunne) January 29, 2014
@Buccigross: If he was traded, it would either be to a team that wants a solid backup, or to a contender with an injury before the deadline. Can't imagine getting more than a third-rounder for Reimer.
@Buccigross biggest name that gets dealt this trade deadline? #twitterbagskate

James Ferguson (@JFerguson1030) January 29, 2014
@Buccigross: Close between Thomas Vanek and Ryan Miller. But I would say Miller. He walks into St. Louis or Washington or Minnesota, it would be a big jolt to the dressing room.
@Buccigross who do you think the penguins will grab this trade deadline? And who will they give up?

Tyler Hudock (@Hudock84) January 29, 2014
@Buccigross: I think Matt Moulson is a perfect fit. A guy to stand in front of the net and get some of those goals the Penguins don't always get. The Penguins have plenty of assets to trade. But they might ride out what they have.
@Buccigross Early Hobey Baker/ Stanley Cup Predictions? And what should the NHL do about he Sochi threats?

Cam Hasbrouck (@CamHasbrouck) January 29, 2014
@Buccigross: Johnny Gaudreau (Calgary Flames) of Boston College will win the Hobey Baker as College Hockey's top player. Stanley Cup? Let's say Blues-Bruins right now. Sochi? Hire extra security, if allowed, for the players. If the intelligence is clear, don't go.
.@Buccigross what college hockey team(if any) is likely to make a end of the season push and surprise some people #twitterbagskate

Jamison Wood (@Schwood91) January 29, 2014
@Buccigross: Lots of teams. Minnesota and Boston College have the best players, but the team with the best players doesn't always win. At least eight or 10 others could. Ohio State has impressed me lately. I'm doing play-by-play of their game this Saturday afternoon against Penn State. The game is on ESPNEWS at 2 p.m. ET. Both teams go up and down and it should be a fun game to broadcast and watch. Ryan Dzingel of Ohio State, an Ottawa prospect, can really wheel and has that nose for the net the closer he gets to the twine.
@Buccigross #twitterbagskate What are your thoughts on the current NCAA regional setup at "neutral" sites? Changes you would like to see?

Jase Rosendahl (@jtrosendahl) January 29, 2014
@Buccigross: I would like to see going to the campus of the highest seed. These athletes deserve a better atmosphere than they are getting in some regional locations.
SportsCenter anchor
John Buccigross joined ESPN as an anchor in October 1996. He currently can be seen as an anchor on "SportsCenter." Buccigross frequently contributes to ESPN.com during the season.
#TwitterBagSkate
SHORT SHIFTS
@Buccigross are you still doing #twitterbagskate? If so I wanna know you're top 3 rivalries in the NHL

— RYANKRAFT. (@RyanKraft10) January 29, 2014
@Buccigross: Let's re-word that to three playoff series I'd like to see this spring: Kings vs. Ducks, Blues vs. Hawks, Bruins vs Penguins.
@Buccigross do you like the new NHL playoff format? #twitterbagskate

— Andrew Schell (@AndrewSchell17) January 29, 2014
@Buccigross: I'm not really a bright guy. I need history and experience to deem what works and what doesn't. I like watching hockey in loud arenas and that happens in every playoff series, so I enjoy them all.
@Buccigross who would you have starting for team USA? Miller or Quick #twitterbagskate

— Jordan Partyka (@JPartyka_18) January 29, 2014
@Buccigross: If I had one game to win tomorrow to ensure my head of hair into my 70s, I would have Jon Quick in net.
@Buccigross favorite American minor league hockey team/market #twitterbagskate

— Coach (@goalieguy87) January 29, 2014
@Buccigross: Florida Everblades, because they're 15 minutes from Naples and Calusa Pines golf course.
@Buccigross Will the jackets make the playoffs?

— Tariq Saleh (@TariqSaleh5) January 29, 2014
@Buccigross: Two gutting losses this week. Win those two and I say yes. Now it's back to 50/50.
@Buccigross #twitterbagskate If no Stamkos for TC, who replaces him?

— Alex Franzen (@alexxfranzen) January 29, 2014
@Buccigross: Has to be Martin St. Louis. He could play with Crosby and Kunitz. Karma says St. Louis will end up on the team. I feel it.
@Buccigross Who are your dark horse candidates for Hart, Vezina, and Selke trophies, respectively.

— Sean Elias Barrie (@Sean_Barrie) January 29, 2014
@Buccigross: Hart: Sidney Crosby; Vezina: Ben Bishop; Selke: Patrice Bergeron.
@Buccigross would you rather have hands like patty kane, or hair like karlsson? #twitterbagskate

— Chris Moquin (@cmoquin_879) January 29, 2014
@Buccigross: Already got hands like Kaner, so give me Karlsson's flow.