Penn State is building another special program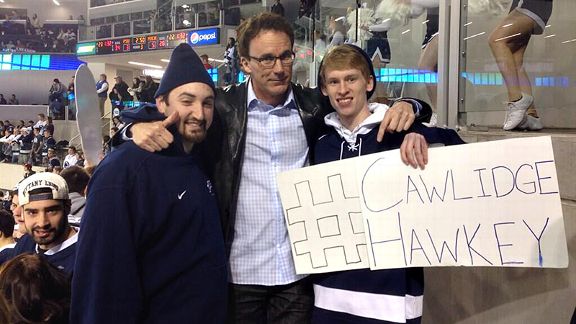 John BuccigrossThe author got an up-close look at how State College is embracing hockey.
The eastern half of the United States is America's lush, backyard garden. Most of the land is fertile and flat and ideal to produce mass amounts of food and, in the southern U.S., cotton.
Interrupting this largely undisturbed swath, which provides supermarkets and T-shirt shacks much of their inventory, is the majestic Appalachian Mountain range. It's the Eastern United States' badonkadonk.
The Appalachians run from Maine to Alabama, leaving their beauty mark on 18 states, or 36 percent of the country. The range is 480 million years old, and its imprint has yet to fade, its stature and posture have yet to slouch.
The 1,500-mile Appalachian Mountain range completely envelops the commonwealth of Pennsylvania, making it one of the more beautiful and awe-inspiring states in the country. It's also what makes a Pennsylvania city like Pittsburgh, well, Pittsburgh -- the city in the state with underrated character and charm that, when the smoke finally cleared, was revealed and appreciated as the gem that it is.
Outside of Pennsylvania's cities, there is plenty of room with plenty of views. The highways wind, dip and ascend. The vistas, for me, are equal parts intimidating, breathtaking and majestic -- a scenic contributor to our beautiful continent.
Smack dab in the middle of Pennsylvania, 1,200 feet above sea level in the Allegheny Mountain section of the Appalachians, is the campus of Penn State University. For being located in a part of the state with so much room, Penn State (the library, residence halls, athletic fields and venues et al) is packed into State College like a meaty hoagie.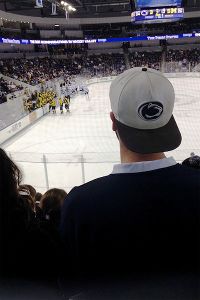 Courtesy of John BuchigrossPenn State fans are watching a program that could become nationally significant.
About 45,000 students roam here, but the place feels small and compact. During my first visit last weekend, I couldn't find a distinct demarcation from where the town ended and the campus began. That's because State College, Pa., was originally a village and the university, which would now be implausibly large to, say, a 19th-century farmer, is wedged into it like a tilted diamond.
There were 851 folks in State College at the turn of 19th century. When the 20th century became the 21st, the number was 38,000. The tiny town became a large town because of Penn State, and that's what it is today: a large small town with a very large school.
Isolated, insulated and seemingly (but not really) far from everything, you can see why the restless would want to get out and why the old-fashioned and content, and maybe a little power hungry, would never want to leave.
Brooklyn boy Joe Paterno came to central Pennsylvania when he was 23. Maybe it felt like the perfect distance from his boyhood home. A four-hour car ride is not too close and not too far when you are young, a little scared and a little unsure. It is a safe distance to set out on one's own while still clinging to home just in case things don't work out.
As it turned out, Paterno never left State College and died, a little over two years ago, at age 85 in a terribly sad ending. He built and branded the football program to national acclaim, and the university rode the wave to today's billion-plus dollar endowment.
If you search for Penn State University on Google Maps, you will find Beaver Stadium situated at the top of the campus, like the star on a Christmas tree. Trickle-down economics? It's real on a college campus like Penn State, where football generates so much money and so much national acclaim and, in some instances, prestige, scholarships, passionate alums and nice bricks. A new hockey rink is right across the street.
As I drove along Interstate 99 and approached the Mount Nittany Interchange near State College, I involuntarily thought about Joe Paterno and Gerald Arthur Sandusky and the way the Paterno era ended. I thought how that mark will always be a part of the history of the university. This was my first trip to Penn State, and my mind was racing. In the end, I thought, nothing can ever be perfect because none of us are.
Those thoughts came and went quickly as I approached Penn State for the first time in my life. Because I'm not here to talk about the past; I'm here to talk about the future.
---
I first heard of Penn State's interest in joining big-time NCAA hockey while covering the 2010 Stanley Cup finals between the Philadelphia Flyers and Chicago Blackhawks for ESPN.
I was told at a Chicago steakhouse that there was a rich man named Terry Pegula, a Penn State alum, who was about to become storybook wealthy. At the time, he was closing out the sale of the company he founded called East Resources, a natural gas drilling company. The sale price was $4.7 billion. That's billions with a 'b'.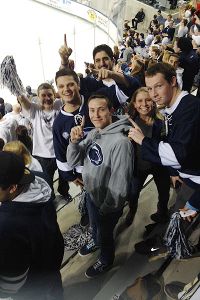 Courtesy of John BuccigrossThe students are a big part of what's happening in Happy Valley.
And Pegula had plans for that money. He was going to do things. Big things.
The sale went through the next month, in July 2010. Pegula announced his intention that fall to make a donation to Penn State and bought the Buffalo Sabres a few months after that, in February 2011. He was on a roll.
The story of the Penn State donation began in 2005, when Pegula had dinner with Joe Battista, the club hockey coach at Penn State, at Kelly's Steak and Seafood just outside State College. Pegula asked Battista, "Joe, why can't we play Michigan, Notre Dame and Ohio State in hockey? Why can't we have big-time college hockey at Penn State?"
Battista, a human energy drink who now works for the Sabres and whom I met at Penn State last weekend, coached the club team from 1987 to 2006. When Pegula asked to meet for dinner, Battista had no real idea who he was.
Knowing nothing would happen without a new arena, Battista threw $50 million out there to set the guy straight, not really understanding what was about to happen. Pegula didn't blink, looked at Battista and said he thought he would be able to do that.
The economic downturn delayed the sale of Pegula's company and thus the entire process, but five years after that dinner, Battista realized his dream of big-time college hockey at Penn State was actually going to happen.
In the end, when all was said, done and built, the final gift Pegula would give the university to instantly have a first-class, five-star college hockey program was more than $100 million, the largest private gift in Penn State history. An angel had descended upon State College for those who love hockey and for those looking for a fresh chapter in Penn State's now-nicked history.
The arena named after the Pegula family and built with its cash exceeded visions. When sold out, it holds a cozy 6,000 people. The roof is low and metal, throwing sound around like a racquetball court. The sight lines are perfect. The restrooms and concourses are street-hockey large. The 1,000-seat student section, The Roar Zone, has an old-school, old-rink vertical nature, going as straight up as the law will allow. This barn should host future NCAA regionals and a women's Frozen Four, like soon.
Down below where the fans can't see sit the men's and women's dressing rooms. Penn State women's coach Josh Brandwene showed me around during the second intermission of Friday night's 7-3 loss to Michigan by the men's team. The men's and women's rooms are identical: first class, spacious and with a ventilation system that helps control the stank factor.
Part of Pegula's hockey gift to Penn State was financing a women's program, and it is Brandwene's job to smartly and slowly build it like men's coach Guy Gadowsky.
Before coming to Happy Valley to build a program from scratch, Gadowsky was Princeton's head coach for seven seasons. The Tigers improved their win total in each of his first five seasons there.
An Edmonton, Alberta, native, Gadowsky played at Colorado College from 1985 to 1989 and professionally for seven seasons in the ECHL, IHL, AHL and finishing up in the WCHL with the Fresno Falcons, where he scored 52 goals and was the league MVP.
Everyone I've talked to about Gadowsky has said he is the man to make it happen at Penn State, and they believe it can happen quickly. I've always thought the program could be humming as a top 10 to 20 team in three to five years, for three main reasons: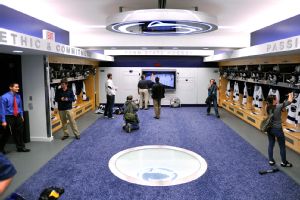 AP Photo/Centre Daily Times/Nabil K. MarkSparkling facilities not only help current players but also will attract Penn State's future stars.
1. Great facilities: Yes, more and more schools are upgrading their facilities, but I don't think there is a school with a nicer setup and there are plenty Penn State is better than. Spacious, modern, intimate, new.
2. Regional recruiting: Western Pennsylvania, Eastern Pennsylvania, New Jersey, Western New York -- Penn State is in the middle of those regions. Heck, it took me just five hours to drive from the Pegula rink to my driveway in Connecticut. He will be able to get New Englanders to Happy Valley too.
3. Big Ten brand: The casual sports fan doesn't know what Hockey East, WCHA, NCHC or the ECAC are, but they know what the Big Ten is. Now, elite teenage hockey players know the individual schools and conferences, but the power of the brand could end up having a subliminal effect on the best young hockey players as they make their decision on where to go school. There's the Big Ten Network, and this year ESPN started showing a package of Big Ten games. That exposure could pay dividends.
No road to success is guaranteed, though. It will be hard and difficult, and the Nittany Lions will have to stay the course, hoping to get that transformational player and recruiting class. This year, the first in the Big Ten, has been a challenge.
Penn State finally got its first conference win after nine tries, a 4-0 victory over Michigan on Saturday on ESPNU in front a standing-room-only crowd of 6,170.
Gadowsky said afterward it was "a tremendous night, something I will never forget. That's why I came here, to compete against the best teams in the nation and in the Big Ten."
The win moved Penn State's record to 5-18-1 this season. This weekend sees two home games against Michigan State, the Saturday game on ESPNEWS at 3:30 p.m. ET. Then it's two games at Michigan, two at Minnesota, two home against Wisconsin and two home against improving Ohio State. Tough sledding.
Which made the first Big Ten win in school history so important. Hockey is hard. Losing a lot in hockey can make it unbearably demanding. It was just Penn State's second win over the past two months. As if this winter wasn't trying enough. As if those Pennsylvania mountains aren't punishing enough to climb.
But you have to try. What would we be if we didn't try?
You learn, you move on, you build, you get better, you hope, you dream. You never stop climbing the mountain.
SportsCenter anchor
John Buccigross joined ESPN as an anchor in October 1996. He currently can be seen as an anchor on "SportsCenter." Buccigross frequently contributes to ESPN.com during the season.
#TwitterBagSkate
@Buccigross How long do you think it takes for a team to become a destination for top caliber players? #twitterbagskate

- Dan Grimaudo (@dgrim17) February 12, 2014
@Buccigross: Hey, tradition carries weight. Some kids have their hearts set on playing for BU or BC or Minnesota or Wisconsin or Michigan or North Dakota. But others have shown you can build a culture and a program to compete with the big dogs. Look at Quinnipiac in Hamden, Conn. The Bobcats were in the NCAA title game in April. They might get back there again. What will help Penn State get that first big time player and class are the facilities, the Penn State name, the Big Ten name and the chance to be the first great player or Penn State team ever. Only one person, only one team can do that. Everybody else is after them. I would sell that.
@Buccigross tie gold medal game, you get tripped and awarded penalty shot with a minute left. What's your move? #twitterbagskate

- Eric Ritacco (@tacco27) February 12, 2014
@Buccigross: I'm going to assume the goalie is tight and going to play it safe. He is going to be backing up in his net to protect the posts. I love Kris Letang's move where he comes down with speed on his forehand, goes to his backhand subtly and quickly back to his forehand and roofs it from close distance. (Mark Letestu also uses this move, among others.) It's an effortless looking move, but it takes advantage of the goalie who is backing up and waiting for the one big sell that doesn't really ever come. That's my move. Now, just let me borrow Letang's saucy paws.
@Buccigross You should do an article or podcast on how pairwise works and the tournament selection process. #twitterbagskate

- Chris Gallagher (@SLACK_20) February 12, 2014
@Buccigross: I'd rather spray Chloraseptic in my eyes.
@Buccigross of the 16 teams currently in the playoffs at Olympic break...who hangs on and who moves from outside in? #twitterbagskate

- Jason Yeckley (@JYeck7) February 12, 2014
@Buccigross: East: Boston, Tampa Bay, Toronto, Montreal, Pittsburgh, Philadelphia and the Rangers are in. I think it comes down to Detroit or Columbus, and I will take Columbus. West: St. Louis, Chicago, Colorado, Anaheim, San Jose, Minnesota and Los Angeles are in. Then it's Phoenix or Dallas for a coin flip. I will take Dallas.
@LukeSeibold @Buccigross SEC has hockey?

- Dan Shannon (@Dshann26) February 12, 2014
@Buccigross: Hockey is everywhere. The American Collegiate Hockey Association is a well-organized, serious, "club" hockey operation made up of three men's divisions and two women's divisions. Uniforms, scoreboards, media guides, national championships -- this is high-quality hockey by students who love the game. Who has hockey? Arizona, Arizona State, Alabama, Arkansas, Villanova, West Virginia, Syracuse, Indiana, Illinois, Oklahoma, Kentucky, Louisville, Brigham Young, Akron, Montana State, Tennessee, Tulane and on and on and on. This is not a freaky, fringy sport. It's a great game, and it's great everywhere.
This photo is my favorite thing about sports, about life. Joy, togetherness, a job well done #cawlidgehawkey pic.twitter.com/I3JAw8c5gx

— John Buccigross (@Buccigross) February 12, 2014
#cawlidgehawkey
The updated BucciMane Top 10 #cawlidgehawkey Power Rankings:
1. Boston College
2. Minnesota
3. Union
4. Quinnipiac
5. Ferris State
6. St. Cloud
7. UMass-Lowell
8. Wisconsin
9. Michigan
10. Cornell