Don't count on deep run for the Pens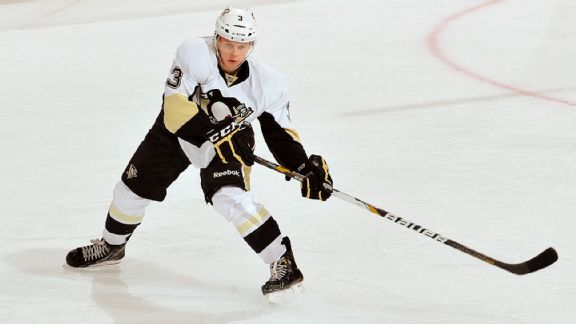 Steve Babineau/NHLI/Getty ImagesRookie Olli Maatta has been outstanding, but he can't carry the Penguins all by himself.
@Buccigross Prediction for the Pens in the playoffs this year. #twitterbagskate

— Nick Vardis (@2Girlz1Puck) April 1, 2014
I haven't been bullish on the Penguins' playoff chances all season. When your best defenseman (Olli Maatta) is 19 years old, you are a little light in terms of a Stanley Cup run. Now, if Kris Letang returns and plays well and Evgeni Malkin has a MONSTER playoff run, then the Penguins have a chance. Otherwise, I wouldn't expect more than one playoff series win.
@Buccigross @Buccigross Olli Maatta has had a great rookie season, in my eyes, what are his odds at rookie of the year? #TwitterBagSkate

— Bob Monticue (@fullmonti35) April 1, 2014
Maatta is having a terrific season. One thing that stands out is that he is always skating. He passes the puck, he skates. We hear coaches screaming "SKATE!" all the time. Maatta must have a recording that he wakes up to in the morning that screams "SKATE!" His car horn must be a voice screaming "SKATE!" He has been the Penguins' best defenseman this year and one of their best overall players. He certainly is worthy of a top-three finish in the Calder Trophy voting and a trip to the awards gala in Las Vegas. However, the Colorado Avalanche's Nathan MacKinnon is the rookie of the year. MacKinnon is a future MVP and a breathtaking player to watch.
@Buccigross What kind of timeline can #Sabres fans plan on before they're competitive again?

— Scott A. Ferguson (@scottaferguson1) April 1, 2014
There are no guarantees. Look at the Edmonton Oilers, who haven't made the playoffs since reaching the Stanley Cup finals in 2006 despite having three consecutive No. 1 overall picks. All you can do is keep drafting and constructing a balanced team with direction and purpose, and hope the chips fall correctly. Oh, and make sure you have a goalie. They are kind of important.
@Buccigross Do you think McDonagh is a legitimate Norris Trophy contender? #TwitterBagSkate

— Adam Silverman (@asilverman720) April 1, 2014
Former Wisconsin Badger Ryan McDonagh entered this season with 12 goals in 169 games. This season he already has 14. He has really elevated his game to include all three zones. Great skater, sturdy, dependable, and now has added an offensive element that the Rangers really needed. Many cases could be made for defensemen to be among the final top-three vote-getters for the Norris Trophy, and McDonagh would be one. We'll have to see how severe the apparent injury he suffered Tuesday night in Vancouver turns out to be, but overall he's had an outstanding season.
@Buccigross Marty St. Louis inexplicably hasnt scored yet for the NYR. If he gets going do you see NYR as a legit contender? #TwitterBagSkate

— Jay Francis (@Jayfrancis19) April 1, 2014
Marty finally broke through Tuesday against the Canucks, so that worry is over. And the Rangers absolutely will be in the mix. They have a decent goal differential, and key players such as McDonagh have taken a leap in the level of their play. Teams need their young players to do that because it can naturally lift the whole team.
@Buccigross Frozen Four thoughts? #twitterbagskate

— Jack McFarlane (@MotherTeresa7) April 1, 2014
Just an awesome Frozen Four in Philadelphia. Three strong brand names in Minnesota, Boston College and North Dakota, and a Cinderella program (in terms of where they were just 10 years ago) in Union. Plus, it caps a great 12 months for college hockey in Pennsylvania. The Frozen Four in Pittsburgh last April, the national unveiling of the Penn State hockey program/Pegula Ice Center/Big Ten alliance, Robert Morris out of Pittsburgh making the NCAA Tournament, and now the Frozen Four in Philadelphia.
@Buccigross Do u agree with waiting 11 days to play Frozen 4, going against the Masters? The B-Ball Final 4 is Sat-Mon, Hockey should be Fri-Sun.

— Jon Mikkelson (@JMouse83) April 1, 2014
That's not a terrible idea, but the Frozen Four is a big weekend with different functions. Giving everybody a break after the regional is not a terrible idea, either. Thursday's games are late in the afternoon and in prime time. And Saturday's game is also after they are done at Augusta. Plus, there might be NCAA people who want to be at both championships or spread them out instead of bunching them together.
SportsCenter anchor
John Buccigross joined ESPN as an anchor in October 1996. He currently can be seen as an anchor on "SportsCenter." Buccigross frequently contributes to ESPN.com during the season.
#TwitterBagSkate
@Buccigross #TwitterBagSkate Agree or disagree: Roy-Jack Adams/MacKinnon-Calder/Varlamov-Vezina/Avs hoist Lord Stanley?

— Brad Ouldhouse (@BradOuldhouse) April 1, 2014
1. Agree (or Babcock)
2. Agree
3. Disagree
4. Disagree
@Buccigross Who do you think is in the top three for Hart Trophy? #TwitterBagSkate

— Douglas Roemer (@neophiyte) April 1, 2014
1. Sidney Crosby
2. Ryan Getzlaf
3. Patrice Bergeron
@Buccigross who sneaks into the wild card spots for the playoffs? #TwitterBagSkate

— Pete Scottoline (@petescottoline) April 1, 2014
Columbus and Detroit in the East. Dallas in Minnesota in the West.
@Buccigross what's union gotta do to beat BC

— Timothy Ritz (@TheToolman83) April 1, 2014
Just be Union. That game is a push as far as I'm concerned. Union is a three-zone team with a strong defense and a good goalie. Obviously, limiting the Johnny Gaudreau-Bill Arnold-Kevin Hayes line to no more than one or two goals is key.
@Buccigross what do you think Johnny Gaudreau's ceiling is in the #nhl #twitterbagskate

— Ross (@Roscopeko79) April 1, 2014
It's hard to play and thrive in the NHL if you aren't strong, and that will be Gaudreau's big challenge. He's only 20, though, so he has time. He's listed at 5-foot-8 and 159 pounds, and keep in mind that Jeff Skinner, not a big man, is 3 inches taller and 40 pounds heavier than that.
@Buccigross Is there any line in the NHL that has salad that is better than Philly's Giroux-Hartnell-Voracek #TwitterBagSkate

— Joel Sipper (@SipDoctor) April 1, 2014
Lettuce pray. Salad bar. HAIR! The Moss Squad. Fescue Flyers. Angel Hair. Sodsquad.
@Buccigross I met you once like 10 years ago when i played for Midfairfield. You have a big head.

— Billy Strakosch (@Diabeto23) April 1, 2014
Yes, just shy of an 8. Large skulls are good for TV. But bad for baseball hats. Actually, my head is less big as it is oddly shaped. Like a football. When a baseball hat fits me, it's a miracle.