Patrick Roy getting real in Denver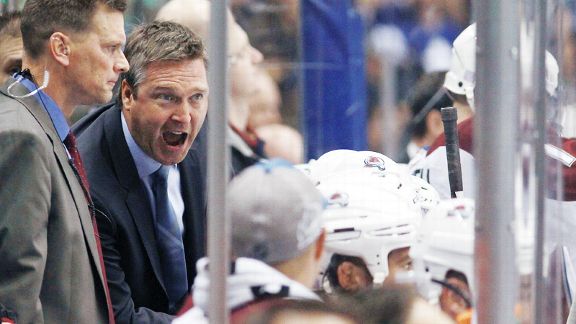 Steve Russell/Getty ImagesPatrick Roy's temper cost him $10,000 in the Avs' season opener.
Nine years ago -- June 22, 2004 -- I wrote these sentences after observing Patrick Roy at Ray Bourque's charity golf tournament in leafy New England.
"Even when Patrick Roy is sitting down after a five-hour round of golf under sunny skies, he isn't relaxing. His eyes are always far away and fiery. … He is a serious person. … His competitive gene and his badger-like relentlessness will make him a huge success. When he told me how badly he wanted to win a Memorial Cup (owner and GM of the Quebec Remparts at the time), he practically burned a hole in my forehead. (He would win one two years later after making himself coach of the Remparts.) This man is a single-minded freak. I don't know how much fun he is to live with, but this man is a born leader. … (NBCSN NHL Analyst and former teammate) Keith Jones said how (Roy) was the greatest leader he ever saw. How he said very little, but when he did, it was perfectly timed and made you feel 10 feet tall and bulletproof. … I don't know whether (Roy and Bourque) have been offered a chance to run NHL teams, but if they haven't, it's one of those things on my 'Dude, what is up?' list. … These men are why we love the game. Why we care. Why we spend our hard-earned money playing it and supporting it. Because they care. Because they don't do it for the money. They always played for the prize. Roy still is."
I recall that sunny June day vividly, like I remember most things. It stayed with me as I, and others, waited for Roy to make his move to the NHL in some capacity. From that 2004 afternoon when Nathan MacKinnon was 8 years old, it was clear to me Roy was a man with more to do.
This lifelong fire Patrick Roy carries is a common hockey trait. It is one that keeps this fragile game moving forward. Without people who share Roy's fire, this game would melt away like early-March backyard ice.
I mean, think about it.
• The game is cold.
• The game smells. I mean, nostril-searing.
• The game is difficult.
• The game is dangerous.
• The game is expensive.
• The air inside your local rink is Beijing quality.
• The Zamboni driver must be wanted in four states.
How in 2014 does hockey survive? People are soft, seek warm climates, seek the easier way out, want pillows strewn down hallways for soft landings and incomes have not kept up with rising expenses.
My son, Jackson Ray Buccigross, began travel hockey at age six. He is now a 14-year-old, second-year bantam. This is the ninth year of his youth hockey career. The bill to play this year is $1,990.00, which we hockey folk can pay in installments. Of course, there is also equipment, gas, a couple of tournaments involving hotel rooms and endless, stiff pieces of rink pizza and 12-inch cinnamon sticks.
This season will be well more than $2,000 to practice and play hockey. But, let's use that as an average over the past nine years. (There is also power skating, camps and the purchase of 359 ministicks in 14 states and three provinces.)
You don't have to ask Barry Melrose to know that all of that comes to $18,000 so far, and I'm on the low end because my kid doesnt play on a high-cost, far-traveling "elite" team.
There are many high-quality state schools (like, say, Miami University in Oxford, Ohio) with "reasonable" tuition for in-state students. Miami's tuition is $13,200 a year for Ohio folk. Ohio State's tuition is $10,000 a year. So, what I'm saying is, my youth hockey fees so far could have almost bought me two years of tuition at the Ohio State University if I moved to Columbus, established residency and become a Columbus Blue Jackets shoveling boy with the Blue Jackets Ice Crew.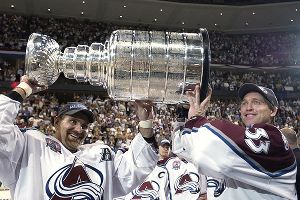 Elsa/Allsport Ray Bourque, left, and Patrick Roy celebrate winning the Stanley Cup with the Avs in 2001.
What in the hell are we doing?
Well, one, we are nuts. We all know this and accept this. And, two, when the spark of hockey went off in our bellies, it lit a fire. That fire does go out for some in the beginning. They can't hack the sacrifice and obstacles. They can't see the benefits beyond the scoreboard and stat sheet. For us, we have no choice. The game's got us, and it's not letting go.
And that's what you and I have in common with Patrick Roy. How many of us haven't two-hand-slapped the glass at a rink in joy over a goal or raged over an obvious hit from behind, you jerk!
We just haven't done it with Bruce Boudreau on the other side looking through the moving glass like he's watching "Sons Of Anarchy" on a big, flatscreen TV.
This isn't a hero-worship piece. We've had far too many examples of athletes/coaches who we thought stood for one thing yet contradicted their beliefs in a moment of truth and lied. I think we all learned not to take things with not just a grain of salt, but a big, deer-licking block of salt. Plus, Roy is rich and flies charter. It's easier to "love" the game through that prism. (To be fair, if Roy was a welder in L'Ancienne-Lorette, I think he would still be involved at his local rink and slapping the glass with two hands and swearing in French with no consciousness of how his tie looks.)
No, this is to suggest that to see Roy is to see a lot of our own local rink: organic, human, hockey souls.
"The rage you feel -- it's a gift. Use it. But don't let anyone see it." -- Enoch "Nucky" Thompson (Steve Buscemi's character on HBO's "Boardwalk Empire")
That might be good advice for a mobster, but in hockey, most of us let our rage out for the world to see and judge. Roy's glass-slapping, the look on Cam Neely's menacing face as he sits high above the rink after the Bruins score a big playoff goal, our own regrettable outbursts toward referees or our own goalie (What are you doing?), well, people see our rage.
That display of rage can later make us feel small. We feel terribly about it and vow to never to do it again. Yet we do. We rage. No game produces that r-a-g-e like hockey.
And that's why I'm glad Roy is back: his blue-collar rage and fire. We have too many "wine drinkers" in hockey these days. Everyone is always talking about drinking their "reds." Roy symbolizes the beer and whiskey "Boardwalk Empire" Prohibition patron, the community, union guy. He's complex, as we all are, but he hasn't sandpapered all of his rough edges, and I love that. (He signed a four-year, nonguaranteed contract!) He does hide his rage, for the most part, as Nucky Thompson advises, but, when it comes out behind the bench, we all win.
Shjon Podein (beer drinker) said Roy was the only player he saw who brought those Stanley Cup playoff-level competitive juices every night.
Stuff's about to get real in Denver.
SportsCenter anchor
John Buccigross joined ESPN as an anchor in October 1996. He currently can be seen as an anchor on "SportsCenter." Buccigross frequently contributes to ESPN.com during the season.
#TwitterBagSkate
@Buccigross Which Canadians will @dbackes42 fight in the lead up to the Olympics this year? #CaptainAmerica

— Michael Bouras (@mwbouras4) October 8, 2013
@Buccigross:
1. Patrick Roy
2. Gordon Lightfoot
3. Bieber's bodyguards (From Guelph)
4. Pierre McGuire
5. Rush and Glass Tiger combined
@Buccigross How long til the youth movement for our Sabres produces positive results?

— Kiran Bojedla (@kbojedla) October 8, 2013
@Buccigross: The Sabres haven't won a playoff series since losing to Ottawa in the 2007 Eastern Conference finals. This year, they lost their first three games, but the schedule makers did them no favors having the Sabres play the Red Wings, Senators and Penguins for their first three games.
It really is sad how disjointed things are. The Sabres had so much momentum when Terry Pegula bought the team in 2011. But the draft has not produced recently and the free agent investments have not worked.
Thomas Vanek (cap hit $7.1 million) is a free agent next summer and it will be very interesting to see what the Sabres do with him. Vanek is only 29 years old and coming off one of his best goal scoring season's (20 goals in 38 games). If the Sabres looked to trade him, say, NOW, they should be able to get a HAUL. Vanek At The Disco would be a game changer for a number of teams and should bring Buffalo a player, a prospect and a draft pick as a starter. It sounds like Vanek won't be back. Then why not deal him now if you can convince a matching team that getting Vanek now could shape their season? October and November wins are vital to making the playoffs.
Ryan Miller is also a free agent, and it also seems as if he might not be back. The Sabres have to be careful there. Miller has been very steady. He saw the most shots of any goalie last season. He's been durable, steady and a Sabre for life. But, like Vanek, maybe he's thinking about a fresh start. There won't be a shortage of suitors for either. They will get BIG deals.
@Buccigross You say Penn State will automatically be a college hockey force. UConn joins Hockey East next season. Thoughts? #cawlidgehawkey

— Michael Glasson (@Migla) October 8, 2013
@Buccigross: I'm bullish on Penn State making a quick move up the #cawlidgehawkey ranks because: 1.) Brand new facilities, 2.) the lure of constructing something from scratch, 3.) an immediate recruiting map of Pennsylvania and Western New York, 4.) the Big Ten brand, because of the popularity of football, can only help all Big Ten hockey teams and 5.) the chance to become the biggest show on campus with its newness, obvious arena excitement and intimate nature of hockey and its players.
UCONN will have a much bigger challenge. UCONN currently has no Division I facility that can compare with Penn State and other Hockey East powers. It's not even close to Quinnipiac an hour away. If they choose to play in Hartford, they won't have the campus atmosphere that makes college hockey special.
But, they do have scholarships and they do have BC, BU and Notre Dame on their schedule, which can help. One would think the program Quinnipiac is building, the program Yale has would drive UCONN even if those schools are in the ECAC. But, it's still a mystery how big of an investment UCONN will make to hockey. Right now, it's a basketball school.
@Buccigross if you were in charge of picking name -- your 3 Seattle NHL team names?

— ay kay bee mun ee (@AK_BMONEY) October 7, 2013
@Buccigross:
1. Seattle Grunge
2. Seattle Jam
3. Seattle Pearls
4. Raul Ibanez