One man's Olympic roster opinions
The 22nd Winter Olympics run from Feb. 7-23 in Sochi, Russia, with the hockey tournament beginning Feb 12.
Rosters are due on Jan. 7, though USA Hockey still plans to announce its roster as part of the Winter Classic on New Year's Day. Could there be any cooler job in all of hockey than to be part of the process of picking the Olympic roster?
One of my favorite "NHL 2Night" memories is the night in late 2001 when Darren Pang and I made a late-night/early-morning Denny's run after the show. I ordered my usual: Hash browns, three pancakes or french toast, two sunny side-up eggs, three pieces of sausages, three pieces of bacon, a side of toast and grits.
While we waited, Pang Chung and I turned over our Denny's placemats and jotted down our U.S. and Olympic rosters for the upcoming 2002 Winter Games in Salt Lake City, Utah, like two little kids.
Fantasy sports monetized the urge of fans to make their own lineups/rosters, with the added vice of low-level gambling. As a kid, I would jot down multiple baseball lineups of my favorite team, especially when they made a couple of new acquisitions. That urge never goes away.
With that in mind, here are my 2014 Olympic lineups for the USA and Canada. Keep in mind that this year's Olympics will be played on 200x100 international-sized ice.
TEAM CANADA
Forward lines Chris Kunitz-Sidney Crosby-Matt Duchene
No one plays faster than Crosby. Duchene has the big-ice wheels to keep up with Crosby and has experience playing mostly wing during his career. I don't think Hockey Canada will select Kunitz, but he is an excellent Crosby complement (although Crosby can play with anybody) and has a team-first, do-anything personality. I also believe Tyler Seguin would thrive playing the wing with these two.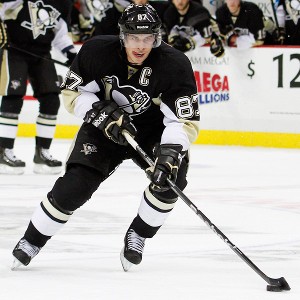 Justin K. Aller/Getty ImagesIt doesn't really matter who skates with Sidney Crosby, because anyone would thrive next to The Kid.
Milan Lucic-Ryan Getzlaf-Corey Perry
The level of Lucic's play and conditioning from early last season (beer-league quality) to this season is staggering. The big ice certainly could take away this line's effectiveness compared to NHL dimensions (200x85), but there is lots of reach and creativity here. Lucic actually looks to pass before shooting in many offensive situations. This line should be able to establish a lot of offensive-zone ice time once they get the puck. I understand Lucic's fighting acumen is neutralized under Olympic rules, but he still is an intimidating figure.
Patrick Sharp-Jonathan Toews-Tyler Seguin
Seguin has blossomed playing at center this season in Dallas, but he played enough wing in Boston that he would have no problem playing with Sharp and Toews. Like Duchene, Seguin has wheels for the big ice. He would continue to play hard to prove people wrong and the leadership of Toews, one would think, would bring out the best in Seguin's immense talent. Also, Seguin is excellent in the shootout if a gold medal would ever come down to that.
James Neal-Patrice Bergeron-Claude Giroux
With Bergeron and Toews, both defensive-zone dots are covered in late-game, one-goal situations. You could go many ways with the wingers on this line. Jeff Skinner, Taylor Hall, Logan Couture, Jamie Benn, Rick Nash, Eric Staal, and on and on. Neal is such a good skater and a good finisher. Giroux has been inconsistent this season but I want him on my team. Maybe Canada will try to construct a truer checking line here.
Defensemen
Duncan Keith-Drew Doughty
Jay Bouwmeester-Shea Weber
Marc-Edouard Vlasic-Alex Pietrangelo
This is a real sturdy, good-skating group. Dynamic players such as Kris Letang and P.K. Subban are tempting on the big ice, but play it safe. Shot blockers would serve Canada better.
Goalies
Carey Price, Roberto Luongo, Marc-Andre Fleury
Price and Luongo are locks. Not counting Monday night in Ottawa, Fluery has been very good this season. Also, if I had one goalie to pick in a shootout scenario with my life on the line, I would choose MAF. I'd have no problem taking Martin Brodeur here as well.
TEAM USA
Forward lines
Zach Parise-Joe Pavelski-Patrick Kane
No American has ever won the NHL scoring title. Patrick Kane has a chance this season. He has a 15-point lead among U.S.-born scoring leaders. He will be even better on the big ice because he will be even harder to hit. He is an all-time top-five U.S.-born talent.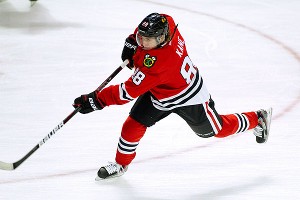 AP Photo/Cal Sport MediaThere is no better American-born player in the NHL right now than Patrick Kane.
Brandon Saad-David Backes-Bobby Ryan
I want a big, skating line that also has skill. Saad has proved he can play with older, skilled players. Ryan is as saucy as anyone. I'd like to see this line go head to head with my Lucic-Getzlaf-Perry line.
James van Riemsdyk-Ryan Kesler-Phil Kessel
No player in the tournament will be as thrilling in the open ice than Phil Kessel. And I like the personality contrast on this line. Ryan Kesler, who has no interest in your level of kindness toward him, is on a 30-goal pace this year. I hope JVR can pull off his five-hole, selfie, next-to-the-net goal for the world to see.
Max Pacioretty-Derek Stepan-Blake Wheeler
Pacioretty and Wheeler are big Americans who can really skate and crash the net. Stepan's poor faceoff numbers (44 percent) could hurt his chances. Nick Bonino, Brandon Dubinsky and Paul Stastny are all over 50 percent on the dots.
Defensemen
Ryan Suter-Erik Johnson
Ryan McDonagh-Kevin Shattenkirk
Cam Fowler-John Carlson
A good mix of left and right, offense and defense here. And anytime you can bring Wisconsin (Suter) and Minnesota (Johnson) together in a moment of hockey solidarity, that is a good step toward world peace.
Goalies
Ryan Miller, Jonathan Quick, Ben Bishop
Not much surprise here. It starts off as Miller's net. Before the season it was certainly Quick's, but Miller has good numbers on a bad team and his reflexes from all those shots should be sharp. Quick has plenty of time to get heathy and get his game in top form. Quick has a Mike Richter-like, big-game competitiveness and skill level that gives me a good feeling about him doing great things. Bishop has the best numbers of any American goaltender. That discussion is over.
SportsCenter anchor
John Buccigross joined ESPN as an anchor in October 1996. He currently can be seen as an anchor on "SportsCenter." Buccigross frequently contributes to ESPN.com during the season.
#TwitterBagSkate
@Buccigross except for Pit the metro division is weak. Who makes playoffs? When Columbus gets healthy do they have a shot? #twitterbagskate

— Chris Huston (@mrtopherhuston) December 24, 2013
@Buccigross: Washington seems safe. They are on a mid-90-point pace and I think they will finish in the top three of the Metro. Then, it's five teams (the Flyers, Devils, Rangers, Blue Jackets, Hurricanes) for one spot. Off the bat, I will say no to the Devils and Hurricanes. Because they already have 18 wins and will eventually get Ryan Callahan back, I will say the Rangers. But, Columbus certainly has a shot. It would have been nice to see a healthy Gaborik and Nathan Horton (cleared for contact) on the Jackets come Jan. 1 to see what they could do.
@Buccigross #twitterbagskate do you think any of the 20+ win teams in the west cool down in 2nd half &who makes playoffs if you had to guess

— Quasar (@Quantumbandsman) December 24, 2013
@Buccigross: My Western Conference playoff teams:

Central: Chicago, St. Louis, Colorado
Pacific: Anaheim, Los Angeles, San Jose
Wild cards: Vancouver, Phoenix

@Buccigross Pat Kane, Hart candidate & when his career is up will he be the all-time American-born leading scorer (PTS)?

— Mike Bradley (@MikeBradley27) December 24, 2013
@Buccigross: It will be a challenge for Patrick Kane to catch Mike Modano as the all-time leading American-born scorer. Modano had 1,374 points in 1,499 games. Let's assume Patty Ice plays 80 games and gets a career-high 90 points. That would leave him with career numbers of 526 games played and 514 points at age 25. Double that and, at age 32, Kane would have 1,052 games and 1,028 points. That would leave him 346 behind Modano. One would think his productivity would begin to erode a little by that point. If he can continue to stay healthy, which he has done a remarkable job of doing considering his size, he would have to average only 70-point seasons from age 33-37. That would be enough to break Modano's record. A long way to go, but if he stays healthy and really wants to have it as a long-term goal, the math does seem to suggest it is possible.
@Buccigross who is making the frozen four this year, and why doesn't espn give the attention ncaa hockey deserves? #twitterbagskate

— Eric Ritacco (@tacco27) December 24, 2013
@Buccigross: Frozen Four predictions are difficult because you don't know the regions teams will end up in. For now, I will say Quinnipiac, Providence, Wisconsin and Minnesota, but there is so much depth in college hockey right now that 10-15 teams could end up in Philadelphia. And ESPN shows every NCAA tournament game on our family of networks. We are also airing a package of Big Ten games starting in February from Michigan, Penn State, Ohio State and Wisconsin. I will doing the play-by-play of some of those games, which I'm very excited about.