Debates over NHL's best line, the Hall and R.E.M.

By John Buccigross
ESPN.com
Archive
Hi Mr. Buccigross,
I loved this week's column with the Chris Berman nicknames; it brightened my day at work. I had one more for you that a friend of mine came up with years ago: "Fountains of" Wayne Primeau. A dated reference, but so was my friend.
Matthew Palmer
Fountains of Wayne's "Welcome Interstate Managers" from 2003 is one of my favorite CDs of the decade.
John,
I have been walking around work all day saying Brandon Sutter "Butter Peanut Butter Sandwich Cookie." Again, great job on the blogumn; I also bake fish well. Do you "put the foil" or no? Anyway, for this week's photo, I looked at it and the first thought that came to mind was "Thoooossse aren't pillows!" Thank you, John Candy.
Shayne Brennan
Baileyville, Maine
I always put the foil on when I bake the fish. 400-ish degrees, 20 minutes or so, nonstick spray, the whole thing.
Hey John,
Isn't it about time for the NHL to grow up a bit and make stick swinging similar to
Keith Ballard
's a penalty in the first place so that this [accidentally hitting
Tomas Vokoun
in the head] doesn't happen again? Seriously, you can't kick the ball or throw your helmet in football without a game misconduct, you can't throw your bat without being ejected in baseball, so why is this behavior accepted in hockey? I'm not allowed to throw my stapler at the wall at work if my computer crashes without anger management being discussed.
Steve
Without question, temper-tantrum stick swinging against crossbars should be penalized with a 10-minute misconduct. Too many things can go wrong.
Hey Bucci,
Just wondering about the Leafs' shutout on Tuesday night versus the Canadiens. Since The Monster left after the first period because of his heart ailment, leaving Joey-Mac to clean up the rest of the way for the shutout, do either of them get statistical credit for it?
Travis Bateman
Brighton, Ontario
Toronto goaltenders
Jonas Gustavsson
and
Joey MacDonald
combined for a 3-0 win over the Canadiens at Bell Centre. (Gustavsson left the game after the first period with heart palpitations.) It was only the second Maple Leafs shutout in Montreal since Toronto won its last Stanley Cup in 1967, a span covering 95 regular-season games and four playoff games. The other shutout was a 1-0 win by
Ed Belfour
on Oct. 18, 2003.
John,
The league has its awards -- Calder, Hart, Vezina -- named after its legendary players, which is great. It has the Maurice "Rocket" Richard award for most goals in a season. Does the league have any plans to have the Wayne Gretzky award for most assists in the season?
Joe
It would be a good reason to get Wayne to the NHL awards show every year. Remember, Gretzky's No. 99 was retired by the league, which is a high honor. Speaking of Wayne, he was at ESPN headquarters filming one of those funny "SportsCenter" commercials. Luckily, I am in it. We filmed last week. Wayne plays a coach, and there are line changes. He watched his first hockey game of the season in New York the night before. (Bristol, Conn., where ESPN is located, is about a two-hour drive from New York City.)
Hey Bucci,
In high school, I played for a team that won only twice in two years, but we led the league in PIMs. Once fought a ref in the penalty box, our coach threw water bottles at a ref and got us kicked out of a tournament. We got into a fight with locals at another tournament (cops had to escort us to our bus), fought a water boy and speared the ref in the throat. (Cops were called into the rink.) Just to name a few highlights. Could you pass our credentials on to Brian Burke? I think our belligerent group fits the mold of a Burke team.
Anonymous Leafs fan
Whereabouts Unknown, Canada
Hi John,
Following topic for the Mother Of All Mailbags: With JR, my all-time favorite player, and more recently Shanny, out of the show, will we ever see such a combination of goal scoring, toughness and, most of all, character again in a player (outside of Alex Ovechkin)? Seems like the young players today possess one of those three qualities, while almost everybody lacks character and personality.
Jukka
Those kinds of players are special. That's what makes
Brendan Shanahan
and
Jeremy Roenick
Hockey Hall of Famers.
Ryan Getzlaf
has a nasty game to go with his silky hands. I thought
Nathan Horton
had a chance to be the kind of player you talk about, but whether it's his team (Panthers) or injury or he hasn't figured it out remains to be seen. Horton is just 24 years old. One has to wonder whether all this money that NHL players are getting at a young age makes them less desperate. It has to, right?
John,
My roommate and I are huge hockey fans, and an interesting question came up while we were watching a game the other day: What's the longest an NHL game has gone on without a whistle? Is it even possible to answer that question? We'd LOVE to know the answer. If you could settle this one for us, you'd be the king! (Not THE King, of course. No offense).
Rich
Santa Monica, Calif. (by way of Southbury, Conn.)
This is just an example of some of the questions I get. Those fans. I love 'em.
Dear Bucci,
I was watching the Bruins-Bolts game and noticed that Adam Oates was an assistant with the Bolts. I was checking the all-time points leaders in NHL history and noticed Oates was higher than a lot of Hall of Famers. Why is Oates, who is currently 16th all time on the points list, not in the Hall?
Jon
Lowell, Mass.
Only five players in the history of the NHL have averaged more assists per game than Oates: Gretzky,
Mario Lemieux
, Bobby Orr,
Peter Forsberg
and
Peter Stastny
. When
Brett Hull
had his amazing run of 72, 86 and 70 goals in three straight seasons, Oates was a Blue. When
Cam Neely
scored 50 goals in 49 games (on one leg) in the 1993-94 season and 77 goals in 91 games in two one-legged seasons, Oates was his center.
Peter Bondra
's two best power-play goal seasons were playing with Oates in Washington. Oates will be in the Hall of Fame someday.
Hey Bucci,
As long as they've been around, I've been in love with the Tampa Bay Lightning, but I realized today that they don't really have any iconic Hall of Famers. (Denis Savard played briefly for the franchise in the early days, but I don't think this really counts.) It might be early to talk about this, but what do you think of the eventual chances of both Vincent Lecavalier and Martin St. Louis?
Mike M.
No chance for St. Louis. Lecavalier's chances rest on how he produces in his 30s. He has a gigantic contract that gives him little incentive or desperation. He does have a good base to work with, but he is slipping. I would put his Hall of Fame chances at 65 percent.
Hey Bucci,
As for favorite R.E.M. songs, I would have:
1. "Find The River"
2. "Sitting Still"
3. "Don't Go Back to Rockville"
4. "What's The Frequency, Kenneth"
5. "I Believe"
You have to give "Find The River" a good, long listen. In my opinion, it is one of the greatest songs ever written -- by anyone. Just my two cents.
Rick
Pittsburgh
I have no problem with 1, 2, 4 and 5 on your list. However, R.E.M. have 48 songs better than "Don't Go Back To Rockville," Rick. I love "Find The River." In fact, I think we are in the minority of people who take "Find The River" over "Nightswimming."
Me, my thoughts are flower strewn
Ocean storm, bayberry moon
I have got to leave to find my way
Watch the road and memorize
This life that pass before my eyes
Nothing is going my way
-- "Find The River" by R.E.M.
John,
Thought you might like to see the video from our annual Teddy Bear Toss this past Saturday. After our first goal, fans throw teddy bears onto the ice that are later donated to children's hospitals and charities. This year, Spencer Bennett scored just 2:52 into the game to unleash 16,321 bears.
Graham Kendrick
Director, public and media relations
Portland Winterhawks Hockey
Grin and bear it.
John,
You gotta check out the new book on the life of Bruce Boudreau entitled "Gabby: Confessions of a Hockey Lifer." A must-read for hockey fans!
Bob
Give the gift of Gabby.
Bucci,
I was watching the NHL Network, and they had the news conference on with Jonathan Toews, Patrick Kane and Duncan Keith signing new long-term deals. It got me thinking, who do you believe is the better young NHL threesome: Toews, Kane and Keith or Alex Ovechkin, Nicklas Backstrom and Mike Green? Second question: Which is the best line in the NHL? San Jose's Joe Thornton, Dany Heatley and Patrick Marleau, Washington's Ovechkin, Backstrom and Alexander Semin or Chicago's Toews, Kane and Marian Hossa?
Brian
Maryland
Wow. That's a tough one. For the first question, I probably would go with the Hawks because Toews and Kane might be the two best all-around players in that group. If Ovechkin and Green can add some maturity to their off-the-ice preparation and on-the-ice focus, they could be among the best in the game.
For the second question, I probably would go with the Hawks again. Hossa is such a high-level two-way player, Toews offers around-the-net toughness and Kane has a gigantic hockey IQ; that gives them a very slight edge.
John,
I'm the GM at a local rink and just got a part-time job driving the Zamboni for the Dallas Stars. There's sort of a dearth of certified ice technicians in Texas. Who knew? Anyway, I worked the game last night, including door duty for the Ducks. I cannot believe the skating skill of Scott Niedermayer. I have been in the rink business for 13 years, which includes employment for two Division I hockey clubs (RIT and Niagara University) and an AHL franchise (Rochester Americans), hosting an NHL training camp (Buffalo Sabres in 2003) and watching all the figure skaters that compete internationally, practice at my rink.
His balance, edging and stride are the best I've ever seen, and I've seen Kurt Browning, Maxim Afinogenov, Angela Maxwell and Brian Gionta skate up close. He is absolutely amazing. I'd also like to say that not only is George Parros an absolute beast (largest mammal ever to walk the campus in Princeton, N.J.), but his 'stache might be able to put a Kimbo Slice-like smackdown on the Q-Stache.
Tim Kane
GM, The Ice @ Stonebriar
Zamboni operator, American Airlines Center
John Buccigross' e-mail address -- for questions, comments or crosschecks -- is john.buccigross@espn.com.
Bucci's Fan Photos
Bucci,
I have been stationed in Germany for six years now, and I don't often make it home during hockey season, but when I do, my family makes it a point to go see our Islanders in action. Here is a picture of me (left) my sister Lauren (middle) and my brother Larry (right) sitting in the obstructed-view Section 314 of the Nassau Coliseum. Here's to keeping the Lighthouse Project alive, bringing back "NHL 2Night," Melrose's Mullet, your oversized dome and great music.
Daniel J. Milazzo, SSgt, USAF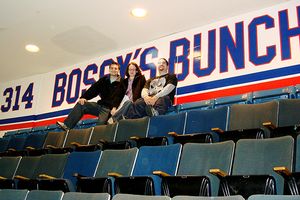 Bucci,
I took my daughter Braelyn to her first Thrashers game against Edmonton. I just hope they're still here by her third birthday.
Aubrey Neeley
Atlanta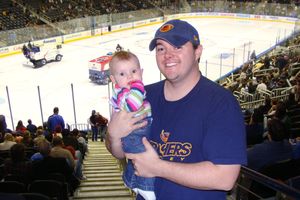 John,
The wife and I took the plunge. After deciding our kids really don't need any more toys, crafts, games, movies, CDs or clothes for Christmas, we decided on something for the whole fam -- a backyard rink. Taking advantage of an exceptionally mild Thanksgiving weekend, we put the rink below up while the kids were at Grandma's. All we're waiting for is the liner to arrive in the mail and a three-day cold snap. Obviously, we couldn't hide this thing until Christmas, hence the ribbon and bow. Our kids (8- and 6-year-old daughters and 3-year-old son) were very excited, although my eldest admitted later that she thought the early Christmas surprise that we couldn't hide was going to be a horse. Ha! Looking forward to a winter of making memories.
Matt
Stillwater, Minn.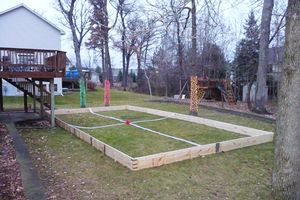 Don't Forget The Column!
It's that time of year, and you know what that means, puckheads. Back by popular demand, it's Bucci's annual tribute to his favorite Swede with ... "The Hakan-Hanukkah Song." Column