Hockey parents unite behind '13 simple rules'

By John Buccigross
ESPN.com
Archive
Last week's blogumn about 13 rules for new hockey parents and players produced quite a bit of reaction. We will start with those e-mails and go from there:
Bucci,
That is one of the best hockey articles I have ever read. I don't think my parents ever bought me a piece of new hockey equipment. My fondest childhood memories are of running around Play It Again Sports trying to find used equipment that both fit and didn't smell too bad, my dad cutting more off my wooden stick than he left on it so it fit just right, and eating a pink-frosted doughnut and drinking a lemonade while my pops drank a cup of tea and a jelly stick from Dunkin' Donuts as we drove 45 minutes to a 6:30 a.m. game. I don't ever remember coming home from any of those games; I would pass out as soon as we got in the car and drove to meet my mom at my older brother's game. So, thanks for giving me a quick finals study break and an awesome flow of memories.
Mike
Boston
Mike, you passed out because you consumed 87 grams of sugar and 49 grams of saturated fat in three minutes. That's a kid's version of back-to-back keg stands at a Halloween party.
John,
The "Big Jack" and "Junior Grand Slam" references hit the bull's-eye for me and my two boys (Cole, second-year mite, and Gavin, first-year pee wee goalie). It's always AC/DC or Disturbed on the way to the game and Denny's after. My kids play in the Houston area, believe it or not, but thanks to so many Canadian oil field transplants, the sport is growing fast. Gordie Howe's number is actually retired here in the rafters of the Toyota Center. Question: What's your stance on wheeled hockey bags for mite-level players? Are we coddling them?
Dan Fuller
Katy, Texas
I have no problem with wheeled hockey bags for mites and squirts, although they have the durability of
Martin Havlat
. Watching kids wheel them over other hockey bags, squatting parents and small children while exiting a small, crowded hockey locker room is high comedy and worth the price of the bag.
Hi John,
Great column! I have the privilege of being able to spend my workdays as the executive director of Minnesota Hockey. And when I'm not doing that, I'm lucky enough to be the coach of my 10-year-old son Louie's squirt team. Although I truly believe that most parents are decent, rational, civil, etc., I am amazed at how often I get an e-mail or a phone call from a parent who has issues with how his son's pee wee game "was officiated last night" or something similar. And as a coach, I find it humorous how many parents are screaming at the top of their lungs, having no idea that their kid can't hear them. Innocent and harmless, but funny.
Mike Snee
Executive director, Minnesota Hockey
John,
As a former professional hockey player (I also played for Jack Parker at BU in the '80s) and the father and coach of two youth hockey players aged 7 and 14, I absolutely loved your article titled "13 Simple Rules for Hockey Parents." Great insight and great job on this. I sent it to about 200 people.
Scott Shaunessy
Scott spent 10 seasons playing in the NHL (seven games with Quebec), AHL and IHL. He was a member of the Boston University hockey team for four years and a three-time Hockey East all-star. Standing at 6-foot-4, he is an avid triathlete and completed Ironman races in 2004 and 2006, which means he can kick your butt for a long time.
John,
I grew up a soccer guy, so this hockey thing is quite new to me, but I am quickly seeing the insanity that comes with the game at the youth level. Every parent thinks his kid will be the next Brian Gionta or Ryan Callahan (I am from Rochester, N.Y.), and there are moms who actually bang the glass during games! I am trying to isolate my son from most of the craziness, but it is tough.
The article made me laugh because one of our players missed practice, and the reason was that his parents wanted to get their Christmas tree. Our coach was livid, so I will have to share the story about Brendan Witt to show there really is no good reason to miss a skate.
Marc Misiurewicz
John,
My daughter's squirt team -- she's the only girl -- is 0-13 and has been outscored 107-10 this year. I know. But the kids continue to come to the rink with smiles and enthusiasm and work very hard. We celebrate every good play, good effort or smart decision. And the parents cheer for those things the way other teams cheer for goals. The kids are getting better and better. We may not win one this year, but no team plays harder. I think your article speaks very well to that and helps put the season into perspective. Thanks again.
Michael J. Siwajek, Ph.D.
John,
I'm a goalie dad for a second-year mite. Any extra thoughts for goalie parents? I know we're weird.
Russ
Dallas
Get the association to help pay for your goalie equipment. It's the least they can do. There is not a hockey game without the goalie. Also, get good coaching. There are good goalie coaches out there, and if you have the time and a little extra money, they can really help your kid. Don't go nuts, but some basic fundamentals can help your kid around the net.
As far as a parent, be supportive and don't ever yell at your little netminder. Ever. He is either competitive or not. And play catch with a baseball as much as you can; can't beat a good glove hand to control those rebounds. The only thing to demand from a young netminder -- or any netminder, for that matter -- is concentration. Tell him or her that he or she has to be the smartest, sharpest player on the ice. He has to get to the top of that crease and have the correct angle at all times. Emphasize and reinforce those points. I give Jack a detailed explanation of why that was a great play he made in the third period.
My second-favorite player on Jack's squirt team is one of the goalies (we have two), Julia. She is tiny and doesn't cover a lot of net, but she is quietly competitive and concentrates as well as anyone on the team.
John,
This article made me laugh and cry at the same time. My son started as a mite in Michigan when he was 9. (He had a July birthday before the age change to Jan. 1 ages.) He asked for a couple of years to play, but my wife wouldn't let him because she grew up in a travel hockey family in Detroit and apparently still bore some resentment for family times revolving around her brothers' hockey trips and games. Finally, I persuaded her to let him play with the agreement from him that no matter what, for that season, he couldn't quit.
He jumped at the chance. We got him some used stuff from his cousins to start with, and he was effectively able to "play down" a division, being 9 when the season started and being able to play in mites. He got on a team with the eventual coach of his high school team who really helped him with his skating and all the fundamentals. He was never a star, but he absolutely loved it. He never played travel and didn't even play for his high school when he found out the practices were at 5:30 a.m. (Thank you, God.) He just played house for seven years, fall and spring, from 2000 to 2007.
The families that we built relationships with will never go away. You're with a friend and see someone and tip your head to him from across the room. Your buddy says, "Who's that?" Your response is one word, "Hockey." His response: "Ahh!" Hockey people are hockey people. They're different. Some in a weird way, most in a good way.
I have never written an e-mail to a columnist before, but I wanted to thank you for writing it and allowing me to use it to reminisce about the great years that I had with my son in rinks across mid-Michigan. I wish I could get back all the days that I crabbed about getting up at 5:30 and dragging a grumpy kid out of bed to go sit in a freezing barn. Once they're gone, they're gone. I wish I could tell everyone how important it is to enjoy the moment while you have it.
J.D. Grover
Saginaw, Mich.
This was a sentiment shared by many. I'm flabbergasted by the amount of healthy people who go through life and don't enjoy most moments with a reflective calm. I think we all understand by now that (A) it goes fast; and (B) we all end up as fertilizer in the end.
Bucci,
Loved the article. Great advice for parents, and those are some excellent rules to live by. Here are a few more I thought of after reading:
1. No personal iPods in the locker room.
2. Injuries happen. If your son/daughter is hurt and out of the lineup for an extended period of time, make him or her go to all practices and games still. He or she still needs to be a part of the team.
3. A good assist, a broken-up two-on-one or a blocked shot can be a better play than actually scoring a goal. Teach your kids not to focus on goals alone, and make sure to congratulate them on these great "hidden" plays that win games for the team.
4. Make them carry their sweaters into games on hangers. You should be proud of your jersey every time you put it on, and it should be taken care of accordingly. Game sweaters should not be tossed in the bottom of a hockey bag underneath a helmet and three rolls of sock tape.
Matt
Denver
John,
I have a 3½-year-old who is obsessed (with a capital O... the kid can name about 40 hockey players, their jersey numbers and every team) with hockey, and we just started skating lessons this month. We are learning to count, spell, read and add through names and numbers on hockey jerseys and watching games. I grew up playing, but like many parents, I am lost when it comes to teaching and constantly need reassurance I am doing the right things and not projecting what I want onto him.
Sumit Arora
Toronto
The job of a parent is to project good things onto his child. Hockey is a good thing; so are fruit, vegetables, Simon and Garfunkel songs, rock climbing, water slides, libraries, Pete Yorn songs, logic, reason, faith, belief, humility, confidence, the movie "Elf," affection, dependability and about 1,298 other things you need to figure out on the fly between now and college. Just stay shoulder to shoulder, look him in the eye and you'll be fine.
Mr. Buccigross,
I am a hockey mom and board member of the Barrington Illinois Redwings. I read your article on youth hockey. Just wanted to say thanks. It brought a smile to my face as I look down the barrel of Christmas cookies, shopping, school and wondering how I am going to make the four hockey games and practices that we have before Christmas! We will do it because our son loves it. (So do we.) Have a great holiday and thank you again. I have forwarded that to every hockey mom I know!
Denise Benages
(Jimmy No. 8 squirt's mom)
John,
I am coaching the worst group of 16-year-old hockey players ever assembled, and their parents are the most demanding, obnoxious, hockey-illiterate group I have ever been involved with! This is my 21st year in coaching. This group is unbelievable. I forwarded your column to them quicker than a Dany Heatley wrister! Thanks for educating them for me.
Dave
There is nothing worse than a selfish (kids don't pass or are taught to pass and don't bond) and boorish (coaches who shorten the bench, get ejected from games, jealous parents) hockey team (coaches, players and parents), and there is not a better experience than a fun and fulfilling hockey team. So far, Jack has had three good years and one bad. This year, everything is great. If you get a three-to-one ratio of good to bad, you are doing pretty well. The bad ones will happen. You just have to grind your way through it and remember your kid at least gets to skate, and who is ever in a bad mood when he's skating?
John,
Just read your "13 simple rules for hockey parents everywhere" and absolutely loved it. We just moved from a low-key, down-to-earth hockey program in Arizona, to the uppity, out-of-control hockey circuit in Virginia. ... All parents need to read this! I do have one suggestion for a great article. I have found out that the "hockey moms" on the East Coast are also very different. Maybe a 20-rule program would be good for them!
Patty Moreno
Me-ow!
John,
Loved the article. I incorporate many of the rules in the teams I coach. Couple of extras:
14. You wear it, you carry it. No one after mite should have his parents carrying his hockey bag. It is your kid's responsibility to make sure his equipment is in his bag. No player after squirt should use a wheeling bag.
15. Parents. If you want to ask a coach a question about the game involving your kid, wait 24 hours. What seemed pressingly important at the end of the game usually goes away afterward.
16. Let your kids know there is only one thing they can control in hockey -- not the refs, not their opponents, but themselves. The only thing that is within their control is how hard they want to work.
Bob Joyce
Newton Youth Hockey, girls' under-10
And how smart they want to work. Discipline and code of conduct are other reasons my boys play hockey. Don't think I'm a softy. I am very demanding of my sons and daughter. I just balance it with equal amounts of affection, fun and support. You have to instill in your players and children that, above all else, you believe in them. That's why you push them.
John,
I didn't know who else to ask this question, because I live near Portland, Ore., not a hockey hotbed. We have a 4-year-old nephew who is interested in hockey. We thought we should buy him some equipment to get him started. What do you suggest? Are there toys that would work, or is that not OK in the real hockey world?
Tiffaney O'Dell
Gresham, Ore.
Age 4 is a little young for hockey. You can buy him a helmet and go public skating to start. But mini sticks and a mini net is a great way to start. It's never too early to start developing those hands. Also, roller-blading translates pretty well. My oldest son, Brett, didn't start skating until he was 8, but he had been roller-blading a little since he was 5 or 6. He stepped right on the ice and started skating. Jack did learn to skate at 4, played in-house hockey at 5 and started mite travel at 6. I was a little leery to have him start at 6, but I was able to be one of the assistant coaches, and that made me feel better.
I wrote about him scoring his first career goal. You have to scroll down a little to get to it.
Hi John,
I recently got socked with a 9 percent pay cut because of the economy. When we told our youngest, who has been playing since he was 5, he said, "I'll give up anything, but please let me play hockey." Yes, he's playing, and thankfully starting to grow into his older brother's gear.
Dennis Anderson
Lawrence, Kan.
Bucci,
I read the article, and it made me smile. I am 40, and my dad has been dead for 10 years, and of all the great times we shared, including trips to Europe as a teen, casino runs as a mid-20-something, the fishing and our weekly golf game that we had from 18 onward, the fondest memories are from going to the IHOP on Route 1 in Saugus, Mass., after a Saturday game. I still remember sitting across from him and wanting to grow up to be as good as he was. My dad could skate -- he played pro hockey for years but never made the NHL -- but his love of the game was so genuine.
He never missed a practice or a game and never rode me for mistakes. We'd just go to the rink and work on the mistakes I made in the games. I never minded because it was a great time with my dad. Even after I stopped playing, he switched from hockey practice to football; even though he did not like football, he was always there to run routes for me, to catch countless passes in the park.
Thanks for reminding me of my dad. I do not think of him as often as I should. I always strive to be half the dad he was. Thanks for the walk down memory lane.
Nikolai Terry
John,
Read your "13 simple rules for hockey," and this should be required reading and hung up at every rink. As a father of a squirt myself, our time in hockey has been fantastic, and the rules you listed are what separate hockey players from other athletes. Love to have a variation of this for baseball season. Thanks again, and hoping for more hockey on ESPN.
Dean Raleigh
I love baseball.
1. Parents have to watch from center field. No one by the backstop.
2. Kids have to run on and run off the field. This has to be done.
3. Kids should be encouraged to swing on 2-0 and 3-1 counts. I managed Brett's Babe Ruth team a couple of years ago, and I told the kids, "We are here to hit strikes." I would tell the ninth-place hitter to swing at 3-0 if it was a strike he liked.
4. For the love of God, play catch with your kids. This is the United States of America, and there should be an amendment to the Constitution requiring parents to play catch with their kids. Taking 10-15 minutes a day, two or three days a week is all you need. Talk to your kid then.
Bucci,
Please help me understand what is going on. Up is down, down is up, and the sky is green. The Kings are in first place, and the Flyers are a mess and tied for 14th in the East! Do you think the Flyers can turn it around, and will the Kings continue to be a top team in the West through April?
Adam P.
I say the Flyers still will make the playoffs, although the goaltending situation is something that could keep them from making a big run. This team is designed and used to playing offensive hockey. That will be hard to change without some big trades.
The Kings look like a safe bet to make the playoffs as long as they keep scoring goals, because they will give them up.
Hey Bucci,
Somehow you managed to leave Harry Lawton "Punch" Broadbent off your all-time best hockey names list. Not only is "Punch" Broadbent a great name, but he still holds the record for a consecutive goal-scoring streak at 16 games. Now, I know it was way back in 1922, but for me, it's even more amazing that the record is still standing. Seeing as your music taste, book quotes and personal anecdotes make up for this gross oversight, I'll let this one slide for now, but I think it merits consideration.
Bret
Delaware
• Download We Were Promised Jetpacks' latest CD for some good Scottish rock.
• I'm taking next week off from the blogumn, but when I return on Jan. 5, I could have a killer anecdote involving playing hockey with particular people at a particular skating venue.
Bucci,
So I voted in your poll this week for a New York game, but what about a Minnesota game? The Twins have that new Target Field. GAME ON! Wild versus Stars. A reunion of sorts. I'm all for rewarding hockey-crazed Minnesota, and myself, a Stars fan.
Not a terrible idea. It would be a great way to celebrate Minnesota as our nation's soul of hockey. And Reebok (the NHL's provider of Winter Classic merchandise) could come up with some killer hats and shirts. The Bruins' stuff this year is awesome and flying off the shelves.
This Winter Classic thing is absolute gold in terms of money and positive public relations. You can see why teams are begging to be a part of it. But can you really do better than Wrigley and Fenway?
Hi John,
I've noticed the Q-Stache has been suspiciously quiet these days. Is he focusing on keeping the Blackhawks winning, or is he waiting until the New Year to go nuts and wow us all? Any input would be appreciated.
Meredith
Las Vegas
The Q-Stache is lurking. Be afraid. Be very afraid. And pray he doesn't blow his nose.
John Buccigross' e-mail address -- for questions, comments or crosschecks -- is john.buccigross@espn.com.
Shot of the Week
It's back. You know how it works: We present an NHL photo, and Bucci provides a caption. E-mail him your suggestions (include your name and hometown/state), and we will use the best ones and provide a new photo the following week.
THIS WEEK: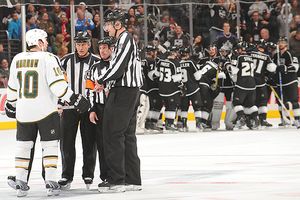 Getty Images
"I'm thinking they had too many men on the ice for that last goal, boys."
Your captions:

"We're sorry, Mr. Morrow, but you're not on the list!"
Sgt. Chris Petrini (Tampa, Fla., by way of Iraq)
"OK, boys, now remember, it is a surprise party. If you get there before 'SportsCenter' is over, neither the girls nor the food will be there yet. Oh, and boys, lose the orange bands, we all know who you are."
Duke (Maryland)
"Hurry up and get your stripped shirt. We have barbershop quartet practice right after the game."
Dan Dunmyer (Scott Depot, W.Va)
"Son, you have to leave the ice. The squirt game is over!"
Tim (Buffalo)
"Don't you guys also work at Foot Locker?"
Doug Davidson (Gallatin, Tenn.)
THIS WEEK: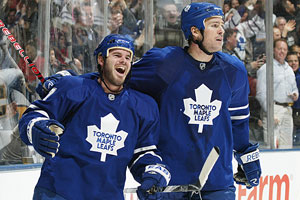 Getty Images
"I'm dreaming of a white Christmas!"
Bucci's Fan Photos
John,
Great write-up on youth hockey. I aspire to have my son tie his own skates.
Oliver Dow
New York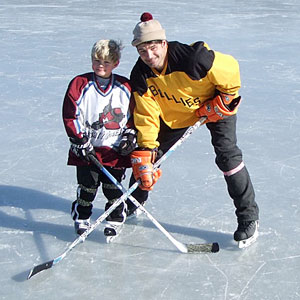 Hey John,
I just read your "13 rules" again this morning. I love them! And you're right about the blood, as evidenced by my 10-year-old squirt and his postchampionship celebration look.
Steve Ferm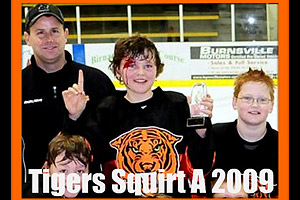 John,
Thanks for your great article, "My 13 simple rules for hockey parents everywhere."
My 6-year-old son just began playing, and somehow I've ended up being one of the dads who helps out on the ice during practices. This is in Hong Kong, mind you. When we got transferred here two years ago, we would've bet a thousand dollars there wasn't any hockey. But there's a pretty large presence, relatively speaking; my son's league has 28 teams.
I don't know if my son will end up playing hockey for any significant amount of time, but already I'm feeling that hope that we've discovered something special. These early-morning trips he and I take, first in a taxi to the commuter rail, then on the train, then walking through the mall where the rink is. It's what I saw in your article, and I hope you don't mind me sharing our experience, because I'm grateful yours shared with us.
I've attached a picture you'll probably appreciate: two friends (one my son), tired after practice, lugging their bags. In this case, it's through a mall, since all the rinks here are in malls. But it's just as deserted at 8:30 on a Sunday morning as anywhere else.
David Methner
Hong Kong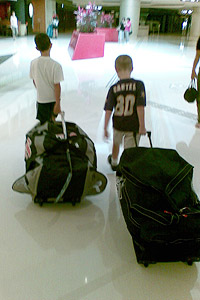 Don't Forget The Column!
It's the holiday season and hockey season. From Ol' Saint Nick to contracts with Clauses, our resident puckhead shows why there's no better match than Christmas and pucks. Blogumn