Predicting NHL's next decade, Classic site

By John Buccigross
ESPN.com
Archive
John,
Over/under list for the next decade?
Alex Ovechkin: 500 regular-season goals.
Sidney Crosby: 900 regular-season points.
Pittsburgh, Washington, Chicago: Two Stanley Cups each.
Roberto Luongo: One Hart/Lester/Vezina season.
[Marian] Gaborik seasons of 42-plus games: 4.
Teams relocated: 2.
Number of NHLPA "leaders": 8.
Olympics with NHL players (including 2010): 2.
Playoff seasons for the Leafs in the Brian Burke era: 4.
Stanley Cup parades down a main street in Canada: 1.
Earl
Victoria
Good effort, Earl. I love me some reindeer games.
1. Over; time will cover Ovechkin from age 24 to 34.
2. Under; salary cap will keep Pens from acquiring an elite winger.
3. Under; all three win one Cup. Two out of the three may win two, but not all three.
4. Under; no Harts for Luongo.
5. Over.
6. Under.
7. Under.
8. Over.
9. Over.
10. Push
John,
I was wondering if this might be the year Duncan Keith gets some Norris consideration?
Dean Peffley
Lititz, Pa.
John,
So, the Team Canada Olympic hockey roster was just announced live on almost every Canadian television station. Yes, it was an hour-long TV ceremony/event up here (talk about pressure) for these 23 players. Looking at some surprising additions and deletions, it got me thinking about the potential roster if Canada was able to enter a second team into the tournament. Quickly looking at a potential roster, I think it's safe to say this team may not be able to contend for a medal, but would beat at least Team USA. What do you think?
Goalies: Cam Ward, Marty Turco, Steve Mason.
Defensemen: Mike Green, Jay Bouwmeester, Stephane Robidas, Dion Phaneuf, Robyn Regehr, Brent Burns, Dan Hamhuis.
Forwards: Vincent Lecavalier, Martin St. Louis, Jeff Carter, Marc Savard, Jordan Staal, Shane Doan, Steven Stamkos, Ryan Smyth, Milan Lucic, Derek Roy, Brad Richards, Mike Cammalleri, Nathan Horton, Dustin Penner.
Sounds like a very solid team to me. Bring on Team USA!
Al Bezaire
Beamsville, Ontario
The depth is astounding, but I will take Team USA over the Canada B team.
Hey Bucci,
Working up a midseason review of the Capitals campaign for WeLoveDC. If you have a moment to answer a couple questions, I'd appreciate it:
1. Biggest surprise from the Caps' season so far? 2. Player to watch (aside from Ovechkin) as the season grinds into the second half?
3. Take on the Clark/Jurcina for Chimera trade?
4. Best upcoming matchups on the schedule?
5. Biggest disappointment so far? If you could slip me your answers/comments by Monday, Jan. 4, that'd be awesome.
Ben H. Rome
Sorry, Ben ... your e-mail slipped by me. When in Rome ...
1. Nicklas Backstrom. He has brought his game to another level and, as he improves, brings the whole team to another level. That's the power of young, elite players.
2. Whoever the goaltender is.
3. I thought it was cruel. Chris Clark represents everything good about a hockey player. They save a few cap pennies, and if that's the difference in adding a defenseman, I guess it's OK.
4. At Chicago, March 14; it could be a preview of the Stanley Cup finals this spring. That game, and all of the games against the Penguins.
5. I was hoping Boyd Gordon would score a goal so I could call him Oil Can Boyd Gordon on "SportsCenter."
John,
I have read your 13 rules and promise to do my best to abide by them.
My son started hockey late for Western New York (8 years old), but he loves it and even though they lose 15-0 most of the time, he has fun. The problem is very few kids on the team (mine included) appear to know what it means to go "full speed." Practice is always in slow motion and never do the coaches ask for hustle in practice. Some of the parents were talking and we think our kids don't really know what it is to go "full speed." I am not criticizing the coaches, who generously give their time and receive absolutely no financial incentive (it actually costs them to become certified by USA Hockey and that cost is not picked up by the league).
However, they are learning too (all first-year coaches), and I think they could use some pointers. If you have them and are looking for an excuse, the Squirts in Buffalo could use your help.
Dennis
Buffalo, N.Y.
It is a tough balance for a hockey coach; teaching technique and exertion. The young player who grasps and inherits both is rare. Squirts are usually divided into two groups: strong and fast skaters with stone hands and little hockey sense, and slower skaters with good hockey sense, but slower and weaker hands. The best players on the team have both.
As far as the "full speed" question, it's hard for me to judge your squad without seeing the team in person, but I would say teaching players to play fast and tough is something that has to be reinforced over and over again in practice, like good manners. It's not abuse to demand it at all times.
I am a believer that the skills where a coach has the best chance to make a difference for a player are toughness, effort and grit. Players are largely born with their strides and hands, but coaches can convince players they are tougher and better than they think. When battling for the puck, be the strongest and meanest person in the world. When backchecking, will yourself to break up the play. Look kids in the eye and show your belief in them. Kids respond to intimacy. They want to be better! They want to impress their coaches. Let them know that is what you are there for and what you are determined to do.
My older son had some destructive coaches growing up because they didn't know how to teach toughness. They belittled and berated, and all that does is fill some kids, the thoughtful kids, with doubt, fear and frustration.
Coaching is building and renovating over and over and over again. An effective coach never stops reiterating the basic values of the game: heart, courage, mental toughness and creativity. Coaches must teach it differently to each kid; and in prepubescent kids, they must do it with patient persistence. An occasional caveman-ish "Let's go!" is sometimes needed. A standard of behavior and discipline is vital, but so is effusive praise for small, subtle plays. When I talk to my boys about their games, I pick the smallest, most subtle plays to compliment them on because great players continuously make those plays. That's what makes them great players.
I would tell your Squirts that anybody can skate, but not everybody can be a hockey player. They are special. But they have to play with their heart, heads and feet every practice and every game. And the coaches will help them. Toughness, smarts and constant foot movement are not the only way to play winning hockey, but they're also the most fun way to play.
Be the hardest worker and the one having the most fun.
Hi John,
One of my Christmas gifts was a magnificent book entitled "Queen: The Ultimate Illustrated History of the Crown Kings of Rock." Strangely enough, the gift-giver was looking for a hockey book for me, but couldn't find one I didn't already own, so he picked this up instead.
Imagine my surprise when the review of the first album "Queen" was written by a John Buccigross. After reading it and taking note of the hockey reference, I knew it had to be the same John Buccigross who I watched religiously on the late "NHL 2Night" and now read online.
As a lifelong Queen and Penguins fan, I hope you don't mind me asking how you became involved with this project.
Donna Mancini
What an honor it was to be involved in such a beautiful project like the coffee-style book on Queen that you mentioned above. Music and sports have always been the dominant themes in my life, and when they combine, well, it is bliss.
Hey John,
As always, I just spent Christmas (as I did Thanksgiving) with the wife's side of the family, which includes hanging out with the great, great grand-nephew (and namesake) of Hobey Baker. The kid prefers NorCal surfing to skating, and that's just a crime, but surfing is a load of fun so we'll give him a hall pass. But let's get down to business. Minnesota is a fine hockey state, but let's compare it to Michigan, shall we?
Stanley Cups: Michigan 11, Minnesota 0
Stanley Cup Finals Appearances: Michigan 23, Minnesota 2
NCAA Champs: Michigan 19, Minnesota 5
Now, you might say that not only are NHL teams using imported players (and thus the Wings are not really "Michiganders"), but that the CCHA teams are also just as bad at importing their players from other locales. However, at lower levels (mites, midgets, etc.), Michigan also has great programs, fans, etc. Our success at the highest level is the icing on the cake. You can say Montreal or Toronto has more hockey in their blood, but when it comes to the States, Michigan is by far No. 1.
Jim F.
Piedmont, Calif. (by way of Michigan)
John,
Please help me settle a dispute with my friend. I know he will win, but we are arguing over the validity of Adam Foote and Milan Hejduk making it into the Hall of Fame. We agree both should have their jerseys retired by the Avs, but what are the qualifications for the HHOF? Hejduk has a Rocket Richard Trophy, a Stanley Cup and an Olympic gold medal, but we both think he is a long shot to make the Hall. Foote, though, I believe, should make it and my friend is dead set against it.
Mark
Neither Adam Foote nor Milan Hejduk will be inducted into the Hockey Hall of Fame, but I do imagine both will have their numbers retired by the
Colorado Avalanche
.
Hi Bucci,
Longtime reader, first-time writer here. As we hit the halfway point of the season, can Henrik Sedin get some love, please? Most people here in Canucks-land expect him to slow down, but he produced big-time while his brother Daniel was out with a long-term foot injury. And that was previously thought to be virtually impossible! In your point of view, what are the chances of Hank sticking around and winning the scoring title this season?
Randip
Vancouver, British Columbia
I would think the chances would be slightly less than 50/50.
Joe Thornton
should be a very steady point accumulator through the end of the season, and Alex Ovechkin and Sidney Crosby have that wild card of piling up points in bunches.
Bucci,
So the question of where to hold the Winter Classic next year has once again come up. My idea is a little bit outside the box: Caps hosting the Rangers (or maybe the Devils) at Camden Yards. It's perfect; it has everything the league is looking for. A classic venue, one of the league's best teams with young stars (Ovechkin and the Caps) and classic looks (the Blueshirts).
Mark Penney
Chicago
Camden is the first of the new wave of modern ballparks, and the camera does love Camden. Plus, Cal Ripken Jr. has a hockey soul. It's hard to imagine the outdoor game not taking place in Yankee Stadium next year, but the New York Yankees do now have a deal with the Big East and Big 12 conferences to host a college football bowl game at the Stadium starting next December. Taking this event to New York and adding an Ovechkin to the mix seems like a natural, but here are other games that are fun to think about:
Red Wings-Blackhawks at Notre Dame
Penguins-Capitals at PNC Park
Wild-Stars at the Twins' new ballpark
Rangers-Devils at the new Giants Stadium
John,
Your article hit home when I read the June 2009 quote. I have one son who has played hockey since he was five and I too have watched the younger versions of him come and go. Now, he is a freshman in high school, and I don't even get to take him to practice anymore. No more long car trips to far away places or guys' weekends at a Motel 6 somewhere in Massachusetts. Now, the games are different, as he rides the bus with his team. That means no more pep talks before and consolations afterward. My best friend has grown up and I do miss him.
(P.S. -- I hope nobody at work sees the tears in my eyes.)
Tony Rossman
John Buccigross' e-mail address -- for questions, comments or crosschecks -- is john.buccigross@espn.com.
Bucci's Fan Photos
Bucci,
I have two boys who play hockey. I have a second-year Squirt and a first-year Mite. I made sure to forward your "13 rules" article to all of the parents, and all the feedback was great from them, as well. I just really hope I am doing a good enough job at being a "hockey dad" that one day they will look back at these times as the best times of their lives. I know I am sad to think that one day this will all come to an end for me.
Ryan
Saratoga Springs, N.Y.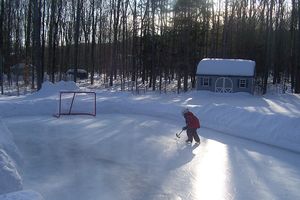 Bucci,
I've attached a picture of my backyard rink. I'm a Connecticut native, but live in Michigan now. The boys have been skating since Dec. 10. Good luck.
John Emmons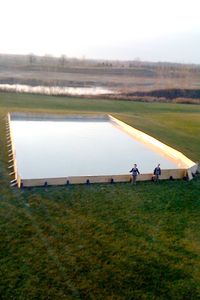 Dear Mr. Buccigross,
I am a relatively new hockey fan and, being a Southern Girl, don't have much to go on in terms of hometown hockey commentary down here in Tallahassee. Not growing up with "A Team to Root For", a la Chicago or Montreal fans, for instance, I settled upon the Capitals. This Christmas, I asked for a Nicklas Backstrom jersey since he is my favorite player. My parents have graciously accepted my enthusiasm for hockey and therefore obliged me with a No. 19 sweater on Christmas morning. Merry Christmas and Happy New Year!
Catherine
Tallahassee, Fla.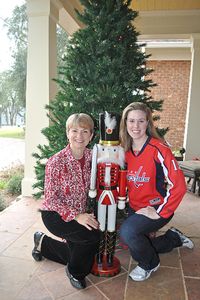 Don't Forget The Column!
Our man Bucci is entering his 10th calendar year of banging on the keyboards for ESPN.com. He looks back (the blogumns!) and ahead (all 30 teams) to open the new year. Blogumn