Settling some hockey debates

By John Buccigross
ESPN.com
Archive
Bucci,
I got into it with a buddy over a couple of soda pops at the local tavern the other night. I said MAF is a top 10 goalie, he says no way. I told him that if he asked "hockey people" if Fleury was in the top 10, he'd find that the majority would say he belonged. What is your vote?
I put him just behind Brodeur, Lundquist, Luongo and Miller. I mentioned his quick feet (remember those flashy yellow pads?) and big-game experience. My buddy put him behind the likes of Kiprusoff, Nabokov, Huet, Backstrom, Price, etc., saying that he is an average goalie on a great team.
Set one of us straight with some Bucci-logic.
Matt Church
Detroit
Bucci,
How 'bout a shout out for the Robert Morris men's hockey team's two-game sweep of No. 1 Miami of Ohio. Didn't see a mention on "SportsCenter", but as far as upsets go, this was pretty big. Figure you could get the word out.
Jim Wojnar
Mt. Pleasant, Pa.
I mentioned the big upset on the noon-3 p.m. ET "SportsCenter" that I anchor every Monday-Friday on ESPN. As a result of the Robert Morris upset, here is your new college hockey top 10:
1. Denver (45 first-place votes)
2. Miami (3)
3. Wisconsin
4. North Dakota (2)
5. Yale
6. Ferris State
7. Michigan State
8. Colorado College
9. Cornell
10. Minnesota-Duluth
ESPN is your home for the NCAA hockey tournament.
Mr. Buccigross,
Thank god we have shootouts! How boring would that Rangers-Devils game have been on Tuesday night if we hadn't artificially generated breakaways? How would the fans who watched the game have gone on living without a goal? They only got to see 96 saves by two of the best goaltenders in the league -- who are bitter rivals, no less. No one in their right mind could consider that a worthwhile game. Nope, the entire exercise was pointless until the exact moment that Elias scored. Then, and only then, was that game worthy of being watched and discussed.
OK, I realize I'm being overdramatic, but come on. It's incredibly disappointing that a game that was probably the best game in the NHL this year couldn't have ended 0-0. Isn't that more fitting to how the game was played?
Patrick Bohn
Here is some great material from last nights Devils-Rangers game, courtesy of Elias Sports Bureau:
"Martin Brodeur had played in 40 regular-season games at Madison Square Garden, but never posted a regular-season shutout there until his shootout win Tuesday night, after the Devils and Rangers played to a goalless deadlock for 65 minutes. Brodeur's only previous MSG shutout came in Game 3 of the Devils' first-round sweep in the 2006 playoffs. The only building, past or present, in which he's made at least 10 starts but never had a regular-season shutout is Miami Arena, the former home of the Florida Panthers (11 starts).
"The Rangers outshot the Devils 51-45 through 65 goalless minutes Tuesday night. New York's 51 shots on goal were the most ever against Brodeur in one game, regular season or playoffs. His previous highs were 48 shots in a regular-season game (twice) and 50 in the postseason (twice, both multiple-overtime games)."
Bucci,
I'm sure you'll get this e-mail from a hundred others from Minnesota, but I can't sit idly and let Jim F. from Piedmont, Calif., by way of Michigan, try to lay claim to the best U.S. hockey state. I know Michigan tries feebly to hold that claim, but please, citing Stanley Cups and finals appearances as the reason you're the king of U.S. hockey? Come on, what does that prove? Your front office is better than those we've had in Minny? Congrats. So I guess Carolina is a better hockey state because they have a Cup? Let's look at a real number that explains hockey's importance in each state:
Michigan population: 10 million.
Minnesota: 5 million.
High school hockey teams: Michigan, 180 in 2010; Minnesota, 158 in 2010. (These are from the respective high school athletic Web sites.)
It's not that Michigan doesn't have good hockey. It does. They put players in the NHL. They have players all across college hockey rosters. But it's about how hockey is tied to the fabric of the people, how it permeates everything here. To say hockey is part of Michigan like it is in Minnesota is just foolish.
Justin
St Paul, Minn.
John,
I am writing because I watched the Flyers and Maple Leafs game last night. It was a great game for us Flyers fans, but I got to thinking. Toronto is the hub of the hockey world and this team hasn't been competitive for so long. So with Brian Burke there, how long until we see the team become a contender again?
Matt Hawk
At least two years. Three is probably more realistic. The Penguins, Capitals and Flyers are too good and too young, not to mention how solid the Devils, Sabres and Bruins look for the foreseeable future.
JB:
How about Mike Babcock for Jack Adams? You've said for the last couple years he's the best coach in the NHL and now he's leading a team that is only a point or two out of a playoff spot while having NINE starters injured for a long time.
Michael Coats
Kalamazoo, Mich.
We have to wait until the season ends, but my three coach of the year finalists right now would be: Jacques Lemaire (Devils), Lindy Ruff (Buffalo) and Joel Quenneville (Chicago).
Hi John,
They're now laying the foundation for some hockey history. Are you going to give us some coverage?
Christie
Here you go, Christie: The first outdoor game in AHL history will be between the Syracuse Crunch and the Binghamton Senators on Feb. 20 at the New York State Fairgrounds. Almost all of the grandstand has been sold out (about 13,500 seats).
Dear Bucci,
Another week goes by and the Buffalo Sabres are still absent from the Power 5. Why can't the Sabres get some love? We have what any team needs if they're going to succeed in the playoffs: a hot goalie. We also have convincing wins over the Penguins, Caps and Blackhawks. What gives?
Bondo
Buffalo, N.Y.
The Sabres should have no problem holding on and winning the Northeast Division and the third seed. This would mean they would play the sixth seed in the East. I think Pittsburgh and Philadelphia have a great chance to finish 4-5 in the East and meet in the playoffs again. Either one of those teams would be a bad matchup for the Sabres. This would leave the Sabres facing teams like the Bruins, Rangers, Habs, Sens or Thrashers. All those teams would be good matchups except a team like Atlanta, which can really score.
Overall scoring is why I don't have Buffalo within the Power 5. I know the Sabres' raw numbers are very close to New Jersey and I can understand their fans thinking they should be in the ballpark. I'm not yet convinced the Sabres can beat an elite Eastern Conference team in a seven-game series.
Hello Bucci,
The World Juniors were just awesome. Thanks to the miracle of DVR, I watched all the U.S. games and a half-dozen other games. This is the first IIHF tournament I have seen from start to finish, and I have to say the drama and excitement rivaled only the Stanley Cup playoffs.
My buddies and I watched the final between the U.S. and Canada until the end of the second period, then rushed in time to see the puck drop in Anaheim as the Ducks hosted Detroit. I voted to stay until the end, but was overruled by hungry NHL fans.
Of course, I set my DVR with plans to see the third period later that night, but knew it was impossible to avoid hearing about it during the game. And oh, when they showed John Carlson's overtime goal on the JumboTron, I stood and cheered like a rabid fan. I stood out a little since the sparse reaction by the crowd at the Honda Center showed that many did not have the NHL Network or were not aware of the tournament. What a shame.
Needless to say, I watched the third period later that night, and even with knowledge that the U.S. team won, I stood and cheered at the end. I look forward to the Olympic Games, but find it hard to believe they will eclipse the World Juniors.
Todd Nelson
Anaheim, Calif.
Hey Bucci,
If you like oil and vinegar in your salad, you should try something my Lebanese grandmother introduced me to: it's called slata. Oil, lemon juice and mint. It's great stuff.
Josh
Bucci,
I've read your column for so many years, I can't even remember how many it's been. But I just wanted to comment on your June 2009 quote from your "Year No. 10 and Going Strong" column.
When I played girls' travel hockey in high school, my mom would come with me on every trip. It would be just me and her on the plane rides, long car trips, in the hotels. I could hear her whistling in the stands during the game (when she wasn't running the game clock or the penalty box). We were gone many weekends together and the bonding time was great. Not many teenage girls get to spend this sort of quality time with their moms and actually enjoy it. When I went to play club hockey at Ohio State, it was a bit sad to take off on that first road trip of the season without my mom there.
Cambria Knutson
Columbus, Ohio
John Buccigross' e-mail address -- for questions, comments or crosschecks -- is john.buccigross@espn.com.
Shot of the Week
It's back. You know how it works: We present an NHL photo, and Bucci provides a caption. E-mail him your suggestions (include your name and hometown/state), and we will use the best ones and provide a new photo the following week.
LAST WEEK: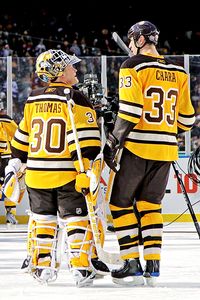 Getty Images
"You have frozen boogers in your nose, Z. Talk about the Green Monster."
Your captions:

"Is 30 your height in inches?"
Joel Mattie (Largo, Fla.)
Who would have guessed "take your child to work day" would give the Bruins a bump in the standings?
Tom Bernhardt (Apex, N.C.)
"Hey Z, when can we start blaming a curse?"
Trista Rajaratnam (San Francisco)
"Can you see if I left the porch light on?"
David De Michele
THIS WEEK: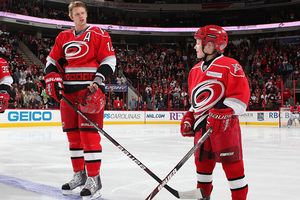 Getty Images
"Mom and Dad never told us about the fifth Staal."
Bucci's Fan Photos
Bucci,
Check out my recreation of "The Goal" as Pondvechkin in Frostburg, Maryland.
Andrew Siemann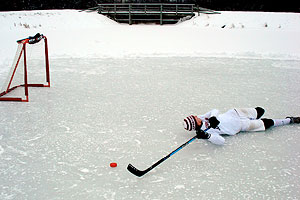 Bucci,
I'm attaching a pic of my son Noah Maxime (yep, for Talbot) in his Pens jersey. He was born the day of Game 2 of the Pens/Caps series last spring.
Evan Rosenfeld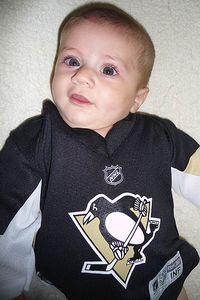 Bucci,
Ryan here in St. Louis. It's 11 degrees, the Blues are terrible, and unless we do trade Joe Buck, the Arch and a Clysdale along with David Perron, we wont get Ilya Kovalchuk. So, needless to say, it,s rough going in the Lou. But one bright spot would be you posting my e-mail along with the pic of my newborn son, born on Thanksgiving.
Ryan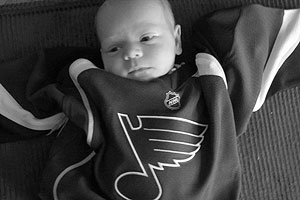 Bucci,
I was lucky enough to take my two oldest kids skating at Fenway on Saturday afternoon after three hours of skating in the morning at our backyard rink ("The Fredo Forum"); easily one of the best days of my life.
Scott Fredo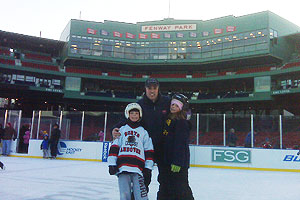 Don't Forget The Column!
The biggest name in the rumors? Ilya Kovalchuk. Does your team have a chance to land the star? Here are 29 proposals, one for each team outside Atlanta, for Don Waddell to ponder.
Blogumn