'Alaska' fans, shootouts and my next road trip

By John Buccigross
ESPN.com
Archive
After Tuesday's column, many people chimed in with their hockey movie thoughts:
Hey John,
I agree that "Slap Shot" and "Miracle" are probably two of the best hockey movies ever, yet I can't help but notice that "Mystery, Alaska" is never mentioned. It's a pretty great movie with good actors and acting, a pretty decent amount of humor and the hockey action isn't too bad, either.
Teesh Yalamanchili
I agree, Teesh. (Never wrote that sentence before.)
John,
Really? No mention of "Youngblood" as a hockey movie classic?
"Wanna go, pretty boy?" has become a hockey locker-room standard.
John Henderson
New Mexico
Hey Bucci,
I can't believe you mentioned "Sudden Death" over the best hockey movie of all time: "Youngblood"! It has everything you want in a movie from the '80s. It has a bad story, Rob Lowe, a hot chick and, of course, a montage workout scene. If you think The Deaner and Keanu Reeves don't bring enough to the table, you're crazy. Then you back that up with The Swayze? Can't be beaten.
Eric
Philly
Bucci,
Just read your latest on hockey movies. Got one for you if you've never seen this one. It's called "Les Chiefs." It's a Canadian production that I happened to catch on a friend's pirated Canadian satellite system a few years back. (Don't ask.) I highly recommend this one if you can find it.
Bob
Hey John,
I just read your latest article about hockey movies, and I know that hockey movies begin with "Slap Shot" (Parts 2 and 3 never happened, mind you) and "Miracle," but sometimes I think "Mystery, Alaska" gets lost in there. That movie is kind of a throwback to pond hockey like the NHL Network wants. They're playing the New York Rangers in Alaska. Also, Mike Myers doing his best Don Cherry is actually pretty good. It's a great hockey film when you compare it to others, I think. How about some love for Russell Crowe's stirring "I'm not beaten" locker-room speech? Just throw some love its way, it's pretty good.
Ryan
Wilmington, Del.
Bucci,
I've been waiting all season for this matchup. On Saturday, it was the Battle of the Beers. [Matt] Moulson versus [Ryan] Miller.
Jim Nowakowski
Bucci,
Define irony: Phil Kessel's old number (81) is now being worn by Satan.
Dan Smith
Devil with the blue dress, blue dress, blue dress
Devil with the blue dress on."
Dear John,
I write to you from a city far from you -- Krasnoznamensk, in the Moscow area. I do not understand why you write so negatively concerning Ilya Kovalchuk. In my opinion, he costs a lot [because he's proved his worth] in two world championships and regularly proves it playing for the club! Very much hope you reconsider the opinion after the Olympic Games!
Andrey .
Russia
Andrey, do not take last week's Kovalchuk column as a negative toward Kovalchuk the player. I always have been a huge Kovalchuk fan, and make no mistake, he is a gigantic force on the ice. He is right there with
Alex Ovechkin
,
Sidney Crosby
and
Evgeni Malkin
for pure NHL talent. He scores goals and doesn't miss games. He will have more than 400 career goals before he turns 30 years old. He has shouldered this franchise, for the most part, by himself and handled it all pretty well. The jolt he would give a competitive team at the March 3 trade deadline cannot be underestimated. He could transform any team in the NHL.
Understand this, Andrey: NHL fans love watching Kovalchuk play hockey. We know he is one of the greatest hockey players in the world, and any NHL team would love to have him. To Russia, with love.
Bucci,
OK, ESPN has given you a day off. You are free to go to a town of your choosing and spend $200 of your hard-earned money relaxing and watching an entire regular-season hockey game this year, from the national anthem(s) through the three-star selections. Which game remaining on the 2009-10 schedule would you go to and why?
Dan
Elk Grove Village, Ill.
I have never seen a game in Montreal. A crime. So I am buying four tickets and heading to Montreal on March 13 for the Bruins-Canadiens, a "Hockey Night in Canada" game. I also will be heading to West Point soon to experience the grounds and watch an Army hockey game.
Bucci,
You think the Avs can be legitimate contenders for the Cup next year? Seems like they might be overachieving a bit this year, but they have some nice young talent. What's your take?
Shawn
I wrote this about the Avs in my season preview back in October:
Either way, the Avs must start getting better at drafting and developing. They have been dreadful in that department. Their last good draft was 1998, when they had four first-round picks. Now, I understand they've been good for a long time and have traded some first-round picks to go for championships, but they should have done better. It's still a little early for the past couple of drafts. If they can get a couple of value pieces out of there and another stud next summer and add two free agents, this team will rise fast and Patrick Roy will love to jump on the ship. But it might be too late. GM Greg Sherman and coach Joe Sacco might get this thing going sooner rather than later, and Roy might, for the first time, be on the receiving end of a shutout.
One could see this coming. This fast? Not quite. But what we called for -- better drafting -- actually took place. Chris Stewart, 18th overall in 2006, looks like a right wing beast. Ryan O'Reilly came out of nowhere and had a great start but has since cooled down. It looks as though the Avs might have a couple of other picks who could develop as well.
In terms of salary cap, the Avs are in very good shape. They have expiring contracts, and the only salary drag they have is paying John-Michael Liles and Scott Hannan a combined $8.7 million next season. They are positioned to be players for Kovalchuk if they want to go in that direction. Kovalchuk would put up huge numbers playing with Paul Stastny. Signing Kovalchuk is the only way I can see the Avs becoming Stanley Cup contenders next season. They need an elite scorer.
The Avs are a great example of how a team can achieve big things because all the players are contributing, picking one another up and playing with great energy. Now, they need to find a way to overcome Milan Hejduk's injury.
Bucci,
The Edmonton Oilers have guys named Gilbert and O'Sullivan -- they are alone again (naturally) -- and a guy named Nilsson -- everybody's talkin' about him. Do they have anyone in the minors named Cat Stevens or Jim Croce?
Jason Clark
Kuna, Idaho
A look at the Oilers' draft history:
Glenn "John" Anderson: "Straight Tequila Night"
Gavin "Billie Joe" Armstrong: "Jesus of Suburbia"
Tim "Nat King" Cole: "Mona Lisa"
Adam "Aaron" Copeland: "Fanfare for the Common Man"
Lou "Bruce" Dickenson: "The Number of the Beast"
Colin "Michael" McDonald: "Ya Mo Be There"
Stephane "Robert" Goulet: "Gouuuuuuuulet"
Bryan "Angus" Young: "Back in Black"
Riley "Graham" Nash: "Our House"
Alex "Robert" Plante: "Big Log"
Bucci,
The Sabres are heading out on a West Coast road trip during which they play Phoenix, Anaheim, San Jose, Vancouver and Los Angeles in an eight-day span. If they do no worse than 3-2-0 and take down your boys in San Jose and Vancouver, I think it's safe to move them into your Power 5. BTW, the Caps are overrated in your P5. They have poor defense and goaltending. Their offense could get them to the conference finals, but no further.
Jon
Buffalo, N.Y.
In case you missed it, Jon, the Sabres are now in the Power 5. The Caps are not overrated. Do they need an upgrade on defense and in net? Yes, but that is coming soon through trades and healing. They do tend to run around in their own end, and that should be the focus in film study and practice time. They need to learn how to defend one-goal leads in the third period. That wins championships.
I watched the Red Wings-Capitals game Tuesday night, and Ovechkin stayed on the ice way too long at the end of the game. As captain, he needs to set a better example in terms of his shift times. It was as if he was sniffing for the empty-net goal. This was a one-goal lead against the Red Wings in the kind of game the Caps need to get into the habit of winning.
I love Ovi to death. He has infused an energy and uniqueness into not only the NHL but also sports as a whole. From my standpoint, I hope the score of every Capitals game is 7-6 whether they win or lose. But Capitals fans need to see their captain continue to learn and lead by example. Dropping the gloves in Tampa Bay was a good first step. The length of his shifts might be the next step in his evolution as a leader, especially when the Caps are trying to protect a lead.
Hey John,
Thanks for all you do!
Mike Flack
Effingham, Ill.
This e-mail made the e-mail bag because the Ben Folds song "Effington" was based on Effingham, Ill. Ben kind of misremembered the name of the town. He obvious was focused on the "Effing" part of the Effing town name.
Bucci,
Two questions: Would the NHL ever consider making the nets bigger to increase scoring, and when will the home teams go back to wearing white sweaters?
John
Philly
1. Ah, the bigger-net issue! We haven't talked about this in some time. I still believe the net should be made slightly bigger. Scoreless shootout games are appearing as often as meteors, Keanu Reeves movies and Shaquille O'Neal hip-hop CDs.
2. When I become NHL commissioner.
Bucci,
No icing in overtime, your thoughts?
Jon
I'm in.
Bucci,
You get a crosscheck for this comment:
Nashville Predators: "Talk about a market that has never had a superstar."
Are you suggesting that Peter Forsberg is/was not a superstar? He's arguably the greatest Swedish player to play the game.
Dennis
Pottstown, Pa.
Nashville saw a really good player when Forsberg played for the Preds. Nashville also saw a shell of the player Colorado had for eight seasons.
Bucci,
On "SportsCenter," ESPN.com and now USA Hockey magazine! We hockey moms can't get enough of the hockey guy. Nice article!
Christie
And for my next trick, I will float across America in a hot-air balloon shouting out Hakan Loob's career highlights through a bullhorn. Shirtless. Wearing a top hat. For the hockey moms.
Hey Bucci,
If you haven't already, you should check out The xx. They are really good.
John
St. Louis
Got it. Like it. A 21st-century Cowboy Junkies.
Bucci,
Why doesn't Joe Sacco get more consideration for the Jack Adams?
Eric C.
Good point, Eric. If the Avs make the playoffs, Sacco will be a Jack Adams Award finalist for coach of the year.
Bucci,
Saw your current Jack Adams finalists in the last M.O.A. Mailbags. If the Coyotes make the playoffs, Dave Tippett has to at least be a finalist, no?
DK
Good point, DK. If the Coyotes make the playoffs, Tippett will be a Jack Adams Award finalist.
John,
Having attended the game at Fenway as a Flyers fan, I have a few observations:
1. Attending an outdoor hockey game in a baseball stadium is a unique experience but leaves thousands of fans with terrible views. I paid a lot of money for my ticket and had a decent view, but anyone sitting close to the field or way out in the bleachers had horrible perspectives. If the NHL wants to create a special experience for its fans, it should stick to football stadiums, which are much more conducive to ideal hockey viewing/rink positioning.
2. If this is going to be an "event," the NHL should do more to involve the fans from the visiting team. ... The selection of "the fans of Boston" as the game's third star was insulting. In other words, if this is to be an event to showcase the league, it should not be treated as another home game. ... That said, the Boston touches of having the Dropkick Murphys and Bobby Orr (who symbolically lost the ceremonial faceoff to Bobby Clarke the way the Bruins lost the '74 Cup finals) were awesome. How could anyone not get chills seeing No. 4 skate on to the ice?
3. The in-stadium experience when the game was not going on was horrible. The "entertainment" consisted of cheesy, contrived ice carving and a complete lack of audio when the 1980 Olympians were being interviewed in studio. If this is an event, the NHL should work harder to keep the fans who attend engaged during the intermissions. For example, there were kids in Bruins and Flyers jerseys playing hockey on a smaller surface in the outfield at various points in the game, including during intermission. At least 75 percent of the fans could not see them at all, and they never once put the kids up on the JumboTron. I would rather have watched [the kids] skating around than three guys carving "NHL" out of blocks of ice.
That said, it was a wonderful experience and an electric atmosphere. The Boston fans (at least the ones near me) were gracious hosts, and seeing the U.S. and Canadian flags hanging on the Green Monster was awesome. This is a great event that could help boost the casual sports fan's interest, but the NHL should not forget about the core group of supporters who actually attended the game and spent an awful lot of money to be there.
Note to Gary Bettman: If you can get Penn State to agree, a Pens-Flyers game would sell close to all 100,000-plus seats at Beaver Stadium, and there would be much more room to have the FanFest. And I'll see you there.
Adam
Philly
Hey John,
The Rangers' defense has definitely been a problem in recent years. With big, long and bad contracts for mediocre players like [Michal] Rozsival and [Wade] Redden (not to mention Chris "Captain Clutch" Drury on offense), the Rangers have no cap space and bad players. Young guys like [Marc] Staal, [Dan] Girardi and [Michael] Del Zotto are giving me some hope, but the Rangers need help now to stay in the top eight in the giant logjam that is the Eastern Conference. Do you think that the Rangers could possibly muster up a trade for Sheldon Souray?
Jake Relis
Souray has a $5.4 million cap number for two years after this season. He'll turn 34 in July, and durability has never been a strength. He is not a great skater nor a great defender. Yes, he has a booming slap shot, but for $5.4 million? No, thank you. If Sheldon invites you to Vegas as his wingman, go.
John,
I very much enjoyed your "13 Simple Rules of Hockey." Coming from Minnesota, hockey is in my blood, so it was much appreciated. Hockey is all we do here besides writhe in pain after the Vikings or Twins crash and burn every year. Your rules should become the "13 Commandments of Minnesota."
My 3½-year-old daughter just had her first ice skating lesson three weeks ago. When the instructor came over to pick her up and skate her over to her group, Sara said, "No. I skate. I here to play HOCKEY." The instructor replied, "Well, then let's get you going," and led my hockey helmet-clad kid out to her group of bicycle helmet-clad classmates. The only rules we have right now are: have fun and get up right away after you fall.
But I will pass on to her many of the things you wrote, especially "BRENDAN WITT WAS HIT BY AN SUV ... AND PLAYED THAT NIGHT!" In fact, I think I'll paste that onto my bathroom mirror to persuade myself not to call in sick the next time I don't feel like going to work.
Molly
Future Hockey Mom
You are already a hockey mom, Molly. Enjoy the ride.
Bucci,
I hadn't read your previous article on the death of Ray Ferraro's mother. However, after seeing the excerpt in your "10 years and counting" article, I just wanted to thank you. For all hockey players and the parents who drove us to crack-of-dawn practices, your article moved me like not many have in my entire life. Also, I read that two days before my mom's birthday and immediately got on flowers.com and sent her the nicest bouquet I could find.
I am currently serving in the United States Air Force and look forward to reading your articles when I am deployed in a few months. And because of your article, I will thank my mother every day because my hero doesn't wear No. 30 for the Buffalo Sabres anymore.
My hero sends me care packages with all of my favorite things in them when I can't get them in Iraq and gives me the best hug of my life when I see her at the airport. It's a hug that always brings me to tears.
Christopher Van Volkenburg
United States Air Force
E-mails from military personnel bring tears to my eyes. Thank you, Chris.
John Buccigross' e-mail address -- for questions, comments or crosschecks -- is john.buccigross@espn.com.
Bucci's Fan Photos
Hello Bucci,
Last weekend, the family and I joined a group of friends at Lake Evergreen for some New Year's skating and some pickup pond hockey. While sucking wind in the defensive zone, I heard someone say that a couple of the Avs were messing around with some kids on the rink next to us. I took a breather and skated over to see, and there was Matt Duchene calmly leading some 8-year-olds on an offensive break. Tell me any other sport that would even allow its players to try this. Here are the shots I'm going to blow up and have the boys sign someday for my son Lucas' room.
Brian Drennan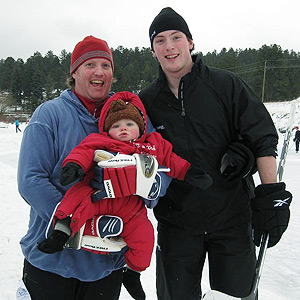 John,
I have been reading your column for as long as you have been writing it, and I look forward to it every week. I love the baby and child pics and have thought for years about being able to send one, so here it is! This is 13-week-old JP with me sporting our Blues gear, much to the consternation of my wife and her family, who are Blackhawks fans! There are two now famous videos in our family, one of him smiling as I am saying "Go Blues" and one of him spitting up as my wife is saying "Go Blackhawks!" He is one smart kid and getting smarter every day!
L. Scott House
Rensselaer, Ind. (formerly Chesterfield, Mo.)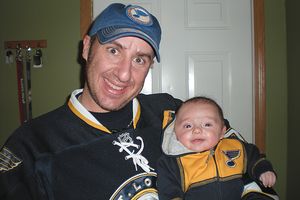 Bucci,
This is the second year for our rink. My son Seth loves it. I have had people tell me I'm crazy for putting the time and money into it. My response is, "If we get to use it only once a year, it's worth every hour and penny." We have decided to name it "The Kissell Avenue Omni" in tribute to Jack Falla.
Travis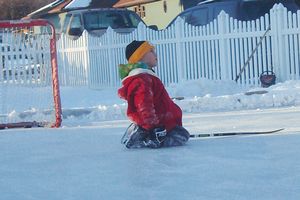 Mr. Buccigross (I'd call you Bucci, but I think I have to earn that),
Forgive my delinquency in getting this to you. I had hoped to get it out this past summer. Anyway, I read your articles all the time and, hence, came upon the Jack Falla book. I teach high school, and once school got out in '09, I took my requisite trip to Vegas. The picture I have attached is of the book with a beach towel and sandals nearby (as well as my Spartans Hockey T-shirt). Just showing that if you love the game, there is no offseason, even in 100-degree Vegas heat.
Michael Akouri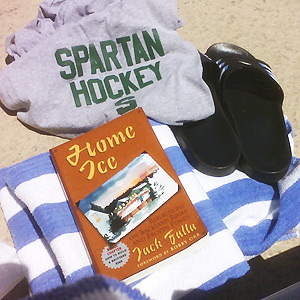 Don't Forget The Column!
Hockey movie discussions pretty much start and end with "Slap Shot" and "Miracle." But Bucci has found the latest must-see pucks movie. (Hint: It's not "The Tooth Fairy.")
Blogumn