Debating the Olympics; Buffalo's deadline plan

By John Buccigross
ESPN.com
Archive
Bucci,
Just started watching the first U.S. hockey game. What's up with the NHL size ice? I didn't realize the home city had the option -- gives new meaning to home ice. You would think they would have to play on the same surface.
Do you think it's a big advantage for U.S./Canadian players to play on the smaller surface?
Alex
Philly, Pa.
The 200-foot long, 85-foot wide North American-size rink is being used at this year's 2010 Winter Olympics in Vancouver. General Motors Place's configuration stays the same, which organizers say means a $10 million savings and 35,000 more tickets available. The arena name has been changed to Canada Hockey Place because corporate sponsorship is not allowed for an Olympic venue.
IIHF approved the rink size change, despite some resistance from European members who prefer the bigger ice for comfort and tactical reasons. Normal international size ice is 200 feet long but 98 feet wide, which smaller, quicker, less skilled teams find easier to play defense on. There are fewer collisions, and it's easier to funnel people to the outside.
This helps the better teams with very good defensemen who can assist on the breakout. This will help Canada a lot because they have the best defensemen, but it also helps Team USA because of their good skating defensemen, and the angles remain the same.
Team Russia has two great defensemen in Sergei Gonchar and Andrei Markov but from there they have a bit of a drop-off.
Sweden is being completely overlooked in this tournament. They have good defensemen and scoring depth. They certainly can't match Russia's amazing top-six forward superstar offensive talent, but I do think they are overall a deeper team than Russia. And I think they are just on the heels of Canada. Sweden is very strong up the middle. Finishing on the wings will be their key. They need Johan Franzen to have a big tournament. If he does, look out.
Meanwhile, after watching Team USA's 3-1 win over Switzerland, here are some of my observations.
• Ryan Miller looked cool and calm in net. He also looked big and was moving well. He has it in him to win a big game or two.
• Erik Johnson is Team USA's most dynamic defenseman. Remember he is 21 years old. My goodness, is he going to be a monster from ages 23 to 30. He is a restricted free agent after this year. The Blues are in a good position cap-wise, and I would certainly wrap up Johnson for the next few years. I would take him over Jay Bouwmeester right now, so why not just give him a seven-year deal at $6.7 million a year now? That's $100,000 more than Bouwmeester makes. Give him that deal and then say "Now earn it." He will.
• Ryan Suter is a classy-looking blueliner. Strong skater and very sturdy. The Preds have great value in him at $3.5 million per for two more years after this.
• Team USA's challenge in this tournament will be a lack of size, especially among their top six forwards. They will have a tough time dealing with Russia's top-six forwards.
• David Backes is such a strong and key player for Team USA. Relentless, tough and good length.
• Phil Kessel, Patrick Kane and Zach Parise are the key offensive guys for Team USA. They are the explosive players who need to create and finish. And then Ryan Malone, David Backes, Ryan Callahan, Chris Drury and company need to keep pounding the next. I like Drury on the wing.
• Overall, it was a good effort by Team USA. They seemed to congeal pretty well as teammates, have enough speed, and should, like other teams, continue to improve.
John,
Just wanted to get your thoughts on what the Sabres may need to do as the trading deadline approaches. They went into a pretty big losing skid and now Ottawa has taken over first place in the Northeast Division. I would like to see them try to add some veteran scoring punch of a guy such as Ray Whitney as other teams in the east, New Jersey and Ottawa, have already made moves to better themselves. What do you think the Sabres will need to give up for such a player as Ray Whitney, and will they need to sign him to a long-term deal as speculated?
Also, I thought I should tell you I recently saw the band We Were Promised Jetpacks on Feb. 14 on a recent trip to Boston. It was a great time had by all, as each one said they truly liked the band. They played a great set and an awesome "Thunder and Lightning." Thanks for adding your musical taste to each blogumn.
JSki
South Buffalo, N.Y.
Right now, the iPod in the car and at the gym can't stop going to Jay-Z's "Forever Young" and two songs by a group called The Low Anthem -- "Charlie Darwin" and especially the song "To Ohio."
Ray Whitney is an interesting case. He has a no-trade clause, but he would certainly waive it to get on a good team. And he should try to leverage the no-trade into a contract extension. Two years at $3 million per seems about right. He is making $3.5 million this year.
Buffalo doesn't make sense to me. They can't be extending 38-year-old small wingers. Whitney is a trade to be made for a good team like the Penguins. Pittsburgh could use a nifty winger, and Whitney's contract could essentially replace Bill Guerin next year if he is extended. The Penguins probably don't want to extend Whitney at all, but I would think they certainly would not go for more than a year extension at $2.5-3 million. Sergei Gonchar is unrestricted and Kris Letang is a restricted free agent. Gonchar's $5 million number could stay the same with a creative contract, but Letang's $835,000 will go up a million or so depending on how the Penguins decide to play it.
Bucci,
Your answers are definitely funny this year. And they have to do with Ovechkin mostly. What, do you have a crush on this guy? Talking about empty netters with him and how he is out there on the ice is funny. The one point I do agree with is that you want to have someone who can score, but it's an EMPTY NET!!!! Everyone should be able to! The point about defense is the hilarious part. He DOES NOT PLAY defense!!! He is lazy in his own zone because he saves his energy for the offense because that is all he cares about. He cherry picks at the blue line for breakaways. I watch him, maybe you should too.
JC
Alex Ovechkin
and
Sidney Crosby
are the two most exciting and magnetic players in the NHL. I will talk about both of them a lot.
There is no doubt that Ovechkin plays a more old-school game up around the blue line. As a winger, he is able to conserve energy and has few responsibilities as opposed to Crosby, Evgeni Malkin, Pavel Datsyuk and other superstar centers. But Ovechkin does hit, and he does provide such an offensive force that it has proved to be worth it so far in the regular season. He will need to continue to mature and bring seriousness to his game as captain to keep things together. Captains have to be the most relentless competitors on the team. If they are not, the house will crumble under any adversity. Will it translate over a long playoff season and eventually a championship? That remains to be seen, but I believe they are bona fide championship contenders.
Booch McGooks,
As a lifelong Caps fan, I'm already worrying about a possible playoff letdown. The 14-game winning streak was amazing, especially that 14th win, but are the Caps' league-leading 90 points a misrepresentation of how good their chances are of winning the Cup? We all know that playoff hockey bears little resemblance to the style played in the regular season, and the Caps sometimes seem disinterested in playing defense. Do you think that this laissez faire attitude exists because the Caps don't feel that anyone can keep up with their scoring, or is it an indication of an underlying problem that will keep them from making deep playoff runs? Our rivals are the Penguins. We want Cups, not Southeast Division Champion banners.
Colin
Annapolis, Md.
Geez, Caps fans, enjoy the Eastern Conference domination! George McPhee will make a defensive-minded trade or two before the deadline in an attempt to tighten things up. The Caps have as good a chance to win the Stanley Cup as anyone.
John,
I am a long time reader of your mailbags but I never had anything good to write or ask … till this past weekend. My buddy and I took a road trip from here in Philly to Montreal to watch the Flyers this past Saturday. All I can say is WOW. What an experience. Here in Philly the Flyers fans are die hards … that was until I witnessed a Habs game in Montreal. The way the crowd is so involved in a game was something magical. What was cool was that it was a home and home with them. So on Friday we went to the La Cage Aux Sports (The Cage) at the Bell Centre and the place was mobbed. They love their hockey and I was glad to witness that. Also, PK Subban was an instant hit. The chants for PK were unreal. I have heard the rumors about how good he could be and I got to witness some good things from him, but is all the hype for real?
Erik
Hatboro, Pa.
P.K. Subban
is a 20-year-old defenseman who has been playing in the AHL for the Hamilton Bulldogs and playing well: 39 points in 52 games as a defenseman. He is 6 feet, 200 pounds, and a strong and exciting player. The Canadiens selected Subban in the second round, 43rd overall of the 2007
Patrick Kane
NHL draft. He looked like a first-rounder in a couple of games against the Flyers. Subban had a magnetism about him that will make it hard for the Canadiens to keep him in the AHL. I would expect him to be back in Montreal after the Olympic break.
Mr. Buccigross,
I've heard rumors that Paul Kariya could be on the move from St. Louis before the trade deadline. Any chance the Ducks might be looking at him to reunite him with Selanne? Maybe that would make their second line potent enough to push them into the playoff picture?
Evan Buechler
Ventura, Calif.
Now that the Ducks have
Jason Blake
,
Paul Kariya
seems unlikely to be bound for Anaheim. Kariya has just 30 goals in his past 149 NHL games as a Blue. The three-year, $18 million deal that the Blues gave Kariya ended up being a terrible contract.
Here is a bonus to the mailbag this week: my recent interview with Boston Bruins prospect and West Point graduate Zach McKelvie:
Q:
Describe your hockey experience at West Point.
A: It was simply the best four years of hockey I have ever had. The bond between players is something I will appreciate for the rest of my life. I was given an unbelievable opportunity by the coaching staff to come here and play hockey. As a result, I really changed as a hockey player and a person.
Q: 2. Why should a young man or woman consider attending West Point?
A: It is challenging and perhaps the most unique academic institution in the world. It certainly is not a place for everyone, but I would recommend it to someone who wants to serve their country and do something different from the normal college experience. Although I only graduated several months ago, I know that many of the lessons I learned here will continue to help me throughout my life.
Q: What kind of a person fits best at West Point?
A: This is my fifth year here and I have yet to figure out what type of person fits best. People that are driven to succeed and aren't afraid to challenge themselves seem to fit in best. West Point is full of people who are overachievers.
Q: Did you have any other hockey options other than the Army after you played junior hockey?
A: Honestly, not really. I had received a little interest from other schools, but nothing serious. I could have played another year of junior hockey and maybe other schools would have shown more interest, but then again, maybe the opportunity to go to West Point would have passed. I am grateful that the coaching staff here took a chance on me.
Q: Why did you choose West Point?
A: Mostly a chance to play Division I hockey. To some, that may seem like the wrong reason to come to a place like West Point, but many athletes here came for the same reason. Other factors, such as the great education and a chance to serve my country, played a role in the decision. I now realize it is much bigger than that, and hockey was simply a way to get my foot in the door.
Q: Did you assume you would not receive interest from an NHL team when you began your Army hockey career?
A: Not necessarily. I have always felt that if I worked hard and put in the time, the opportunity may present itself. At that time, there were academy athletes playing professionally, so it was an option if the athlete was good enough. My father has always said if you are good enough, the opportunity will present itself.
Q: What was your reaction when you heard you would not be able to play pro hockey at this time?
A: Mostly frustration, but at the same time, understanding. I realize that these are turbulent times for our country and it is very hard to justify allowing athletes in the military to pursue professional careers in any sport. I think a misperception about athletes at the academies is, by attending one of these schools, we give up the dream of reaching the highest level of competition. That may be true for some, but for most athletes at the academies, we share the same dreams as athletes at other institutions. For me, that is certainly true.
Ever since I can remember, I wanted to play in the NHL. Whether it was playing knee hockey, ball hockey or pond hockey, my brothers and I would play Game 7 of the Stanley Cup almost every day growing up. So, in saying that, it is tough, but I believe everything happens for a reason, and now I look forward to the opportunity to serve in the Army. Although I have yet to serve the country in the capacity the men and women currently overseas have, it still makes me proud to be a part of the Army and wear the American flag on my uniform every day.
Q: What are the chances you will be able to play pro hockey at the end of your two-year obligation?
A: Not completely sure. Hockey is obviously a sport with very specific and perishable skills, so it will be hard training without being around hockey players or a hockey rink. I will certainly try to stay as sharp as possible, and maybe the opportunity will be there again. If in a couple years the opportunity is there and the Army decides this may be a good thing, then I will give it another shot, but I certainly do not feel that I should be entitled to a chance to play, nor do I expect it.
Mr. Buccigross,
Thank you for the beautiful article about Brendan Burke entitled "There's a light that never goes out." My daughter was fortunate to be one of the lucky to call Brendan her friend for the last few years while she attended Miami. And my husband and I had the great pleasure of meeting him and immediately understanding the "light" which you describe in your article. Here is what my daughter wrote to me after the Miami and Toronto hockey games Saturday night when I told her that I was sure that both the Hawks and the Leafs had played their hearts out for Brendan:
"This is going to be a hard transition for everyone to life without Brendan. His smile just reflected joy and love of life. His honesty with himself and those around him, and his genuine care for those around him are something I have always and will always admire. I was changed by having him in my life and will no doubt be changed for having him taken away."
Thank you for honoring his memory and capturing the truly special gifts which this young man gave to all those who were blessed to know him.
Becky Zukowski
John Buccigross' e-mail address -- for questions, comments or crosschecks -- is john.buccigross@espn.com.
Shot of the Week
It's back. You know how it works: We present an NHL photo and Bucci provides a caption. E-mail him your suggestions (include your name and hometown/state), and we will use the best ones and provide a new photo the next week.
LAST WEEK: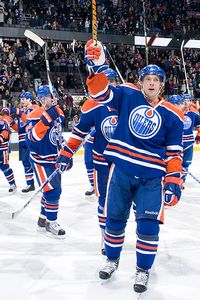 Getty Images
"And after one period, it's the Avalanche 1 and the Oilers 1."
Your captions:

"Raise your stick if you want to be traded!"
Kirk Stinebaugh (Seattle)
" … and if the ring lands on one of them, you win a prize."
David De Michele
"So if we score, is this how we celebrate?"
Brent Smith (Joliet, Ill.)
Referees Bill McCreary and Kerry Fraser were suspended and are being investigated by the NHL for missing too many men on the ice by Edmonton when they scored the game's decisive goal late in the third period.
Kris Rizzo (Staten Island, N.Y.)
"What do you mean double minors? High-sticking and too many men on the ice."
Mike Shovlin (Beaver, Pa.)
"Bartender, a Molson for me and my teammates."
Matt K. (Carlsbad, Calif.)
THIS WEEK: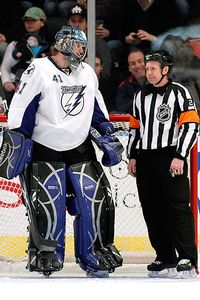 Getty Images
"You lost your confidence when they made you wear that helmet over that beautiful salad of yours, eh?"