Is there a right time to teach players how to hit?

By John Buccigross
ESPN.com
Archive
Dear John,
Here in Buffalo, we are treated to a "no-holds-barred" segment on local radio during Sabres pregame shows. This particular segment features Rob Ray. He had an interesting point regarding the dangerous hits that have been permeating the news lately. He mentioned that kids are not allowed to hit until their teens -- which is a problem. He continued, if kids were able to learn how to hit and take a hit at an earlier age (like they used to do), the players would be more aware of how to play, position themselves and not be as susceptible to such dangerous hits.
I am interested to hear your thoughts regarding the "best" time for kids to learn how to hit/be hit.
Chris
I have to disagree with my boy Rob Ray. I would delay hitting until kids are at least 12 years old. My son Jack will start pee wee (ages 11-12) in seven months. At most, he will be 75 pounds. A majority of kids will outweigh him by a healthy margin, and he occasionally will play against kids who probably will weigh at least 125 pounds. That size disparity could be dangerous, scare kids off from playing hockey and/or scare parents off from having their kids play hockey. It also could affect the development of players who may enter pee wee in a state of fear.
Young adult and adult hockey players hit the way they do today for two reasons: 1. Players are faster, stronger and better conditioned than they ever have been. 2. Players' equipment has never been better, offering great protection and erasing fear from the game. That fear is not only there when a player is hitting, but it also seeps into players' brains when they have the puck. Whether a kid starts hitting at 8, 10 or 12 years old, the fear won't change once he becomes an adult.
The reason questionable hitting continues in the NHL is that dangerous hitting is not penalized harshly enough. Players won't police it themselves; there is too much money involved in the quest to acquire playing time, stay in the lineup and earn a multimillion-dollar contract. The NHL is the only institution that can change the behavior. And if you want to change the behavior, there is only one way to do it: You go for the wallet and go after it hard. What age players start hitting at is irrelevant to their current behavior.
Bucci,
With Ovechkin's suspensions this season, do you think it hurts his chances of being named MVP (regardless of point total)? If so, who do you consider to be the leader for the Hart Trophy?
Owen Mannas
I don't think it will, Owen. The Capitals will win the Presidents' Trophy. Alex Ovechkin still has a good chance to lead the league in points, goals and plus/minus. I can't see how you can deny Ovechkin the MVP award with all those things working in his favor. I would have Sidney Crosby and Henrik Sedin as my two other Hart Trophy finalists.
John,
I love it when you play the contract game. Ryan Kesler is an arbitration-eligible restricted free agent this year. What would be a good deal for him? Pavol Demitra is coming off the books with his $4 million. I say three years/$14 million would get it done.
Chris
You are way low, Chris. Kesler will only be 26 years old at the start of next season. He is at the point of his career when it benefits both him and the Canucks to sign a long-term deal, when his experience and physical state intersect to give Vancouver his most productive seasons of his career. Kesler receives a contract that gives him the opportunity to live a life of freedom that a very small percentage of people get to live. If I were Kesler, seven years at $35 million probably would be the contract I would seek. It would take him to when he's 32 years old.
The Canucks are in good shape salary-cap-wise. As you mentioned, Demitra's $4 million contract will come off the books, and Willie Mitchell's $3.5 million also comes off the books and Roberto Luongo's cap number goes down from $6.7 million to $5.3 million. Plus, if Cody Hodgson can stay healthy and produce in Vancouver next season, the Canucks can continue their steady rise upward.
Hey John,
So what are your people telling you? Is there a chance Ilya Kovalchuk will be a Devil next year? Even with the pains of trying to mesh with a new team, I haven't seen such an electric player on the Devils ever. No snub to Zach Parise or Patrik Elias (especially during the "A-line" days), but Ilya is at another level. Is this just a tease for us?
Gary Carlson
Hoboken, N.J.
New Jersey does have the space and maneuverability to sign Kovalchuk to a 10-year, $100 million deal. The Devils can make it work, but it will make things very difficult in a couple of years when Parise's contract is up. Parise is a $7-8 million player. He can't be making that much less than Kovalchuk. Parise's presence alone makes me think Kovalchuk will go somewhere else.
Hey Bucci,
Got a question for you. Finally out of school, got a job and promptly took my meager savings and bought my first serious piece of hockey memorabilia: a signed Nicklas Lidstrom Sweden jersey while out at the Olympics in Vancouver. I want to mount the jersey right and on a reasonable budget. I tried the do-it-yourself way, but it just doesn't have the polished look I want. Any recommendations?
Preetham Reddy
Minneapolis
Save your money and get it framed right. It will be expensive. Do it right, then don't do it again. One framed jersey is enough.
Bucci,
When it comes to [Mike] Richards on [David] Booth and [Matt] Cooke on [Marc] Savard, am I the only person on the planet who sees this type of hit as a blatant five-minute match penalty and game misconduct for attempt to injure? It seems pretty cut-and-dried to me, but I haven't heard anyone in the media address it that way.
Derek Blakley
Lewisville, Texas
Those hits absolutely were made with an intent to injure. There is no tactical advantage. It is the equivalent of undercutting a player going up for a layup. It's a stupid, bush league hit that should receive a 20-game suspension.
Hi John,
Reading about all the complete nonsense that's been happening in the NHL since the Olympic break, there's really only one conclusion I can come to, and I've thought this for a long time now: Gary Bettman and his crew need to go. Under his watch, the NHL has had one misstep after another. I'm with you, I couldn't care less if the NHL attracts one more fan, but when the game is impacted by one dumb decision after another, then it's an issue.
If they are unable to suspend a player like Matt Cooke because by definition his hit on Marc Savard was a legal hit, there's an issue. You, me, anyone who has a clue about the game knows that was a cheap shot and unnecessary. Same as Mike Richards' hit. If they can't eyeball a hit and know what the intentions are, there's an issue.
Alex Ovechkin's hit was cheap and unnecessary, but good god, Cooke's was a pure cheap shot, and the only value he provides to his team is that type of play. That's not grit and sandpaper. It's like the difference between Cam Neely and Ulf Samuelsson; both were effective players, but only one exemplified how the game should be played.
John, there are too many Ulf Samuelssons running around the NHL now and not enough Cam Neelys. And this is all happening under Bettman's watch.
Joe Gleeson
Hoffman Estates, Ill.
When clear, simple decisions can no longer be made, people are either distracted or lost. And, it can be argued, there is a lack of committed and passionate leadership.
Hey John,
I know that this is not in the same coolness league as Hakan Loob, but I thought you would get a kick out of Slaughter of the Bluegrass, a group of metal dudes who do bluegrass covers of death metal songs. Sounds corny, but it is quite satisfying. I thought of you since you mentioned banjo in last week's mailbag.
Tad Spencer
Denver
I lasted a minute and 27 seconds. Any longer and I would have shoved my arm down my mouth and ripped out both kidneys.
Bucci,
My son was born in February 2008. This was great for me, as I had the late-night feedings, which turned into our watching the end of the season and playoffs until at least 1 a.m. (We live in Philly.) Every time hockey comes on TV now, he stops what he is doing and watches the game, which in turn allows me to watch even though the Flyers aren't playing. He has taken to picking up my putter and saying "We playing hockey," running around hitting golf balls, pingpong balls, tennis balls, etc. I have never played organized hockey, only pickup games, but I love the sport.
My question is, When is the proper time to put him in a league? I already had him out at the rink on skates this winter. Is a 2-year-old turning 3 too early for organized hockey?
Matt
Step away from the child, Matt! Enroll him in "learn to skate" in the fall/winter of 2012-13 and gauge your boy's emotional state and interest level. Watch closely, be patient and read his body language. Generally, in-house is good at 5 and 6.
Your boy has a good birthday. Take it slow; Rollerblade in the spring and summer, play street hockey and knee hockey, stay in your local rink, do "learn to skate," then in-house, and wait for travel hockey until the fall of 2015 when your boy will be 7½.
Your patience and love is the greatest gift you will give your boy. He will be full of love for the game, and it won't be your hobby, but his. You be the rock, the foundation of his life, so that when he falls, he falls in your arms. Too many kids fall alone, and it makes them cold and indifferent. Light the fire, step back and be patient. And then be his biggest fan. It will be the time of your life.
To the Mighty Bucci,
I'm an American reader and huge fan of your articles but have a complaint. You make all these great references to Sweden but nothing for Finland. You even asked readers for Swedish metal bands. Finland has Turisas, a band that wears war paint, animal hides and refers to itself as battle metal. That alone makes Finland the ultimate hockey country. Jari Kurri doesn't hurt, either.
Trevor
New York
Also, Finland is one of the few countries in the world whose surface area is still expanding. From Wikipedia:
"Owing to the post-glacial rebound that has been taking place since the last ice age, the surface area of the country is expanding by about 7 square kilometers (2.70 square miles) annually."
So, slowly but surely, the entire Earth will one day be one, big Finland. I stand corrected, Trevor. Finland rules.
Bucci,
I'm surprised you've never mentioned Neko Case in your column. She makes spectacular music and is extremely hardworking with a strong do-it-yourself work ethic. If you haven't heard her yet, check her out right away.
Jeremy
Ventura, Calif.
I love me some Neko Case. Those of you who remember the New Pornographers heard Neko Case sing with them. She sounds as though she is a Morrissey fan.
John,
I'm sorry for e-mailing you regarding an article you wrote nearly a month ago, but I can explain the delay. I left for one station unit training for the army on Nov. 2 to become a tank crewman. OSUT is a combination of basic training and advanced training that runs 15 weeks and that all combat arms soldiers in the army go through. It is some of the most physically, mentally and emotionally draining training the military has, outside of special forces training.
Before I left, knowing I would be cut off from any outside news for four months, I gave my wife the task of sending me game recaps from my beloved Penguins and your weekly column. Every week during mail call, I'd have five letters from her and one thick envelope containing the scores and standings for the week and your column. Although she'll probably get mad at me for admitting this, I'd usually read the recaps and your column before her letters. There was another soldier in my platoon who was a Bruins fan. I still hold that against him, but I'd let him read your column anyway after I was finished. It provided a pleasant distraction from the daily grind of boot camp.
When I got your column about emotion being the key to success, we were entering the final stages of our training. We had our testing to complete, both practical testing and our physical fitness test, and we had to complete an event called Knight's Forge, which consists of marching around 10 miles with our 50 pounds of gear. During the march, there were various scenarios set up, such as reacting to an ambush, treating casualties and performing battlefield maintenance on a tank. By the time we reached this part of our training, the emotional toll of being separated from our families for four months, sleeping only five hours or fewer per night and being outside in the cold Kentucky winter for 10-12 hours a day was starting to divide our platoon.
I opened the package from my wife and saw the title of your column; I knew it would help provide a spark for me to get over the hump and complete my training. After reading the first portion of the column regarding emotion being best when it's organic and how you can do things to boost your emotion level, I knew that applied not just to sports but also to those serving in the military; then, lo and behold, in the next paragraph you said the exact same thing. After reading the complete column and the recap of the Army-Air Force game, I shared the article with the rest of my platoon. We all took notice of how our emotions had been affecting our attitudes and how we needed to focus them toward positively completing our training and giving our all so we could graduate and get on to our combat units.
I'm proud to say that of five platoons in my training company, ours was the only one to have no failures of any of the final tests required for graduation. This success was squarely attributed to the focus we put on our emotions in those final weeks so we could control our destiny at the end of the training cycle. All 26 of the soldiers in my platoon are now at their new units, most of which already have orders to leave for Afghanistan or Iraq before the end of the year. The ones who will not be deploying to a combat zone are currently assigned to units stationed just 11 miles from the DMZ in South Korea.
I just want to thank you again for your wonderful insight on life as well as hockey.
SPC Michael J. Fronckowiak
Camp Casey, Republic of Korea
Thank hockey, SPC Fronckowiak. No other sport moves people like this. And thank you. We all thank you. Someday, we will raise a glass of Iron City. Health, happiness and good luck.
John Buccigross' e-mail address -- for questions, comments or crosschecks -- is john.buccigross@espn.com.
Bucci's Fan Photos
Bucci,
Here are two of the best defensemen I've ever skated against. Pond hockey on a frozen Lake Huron in the "thumb" of Michigan.
Michael J. VanBrienen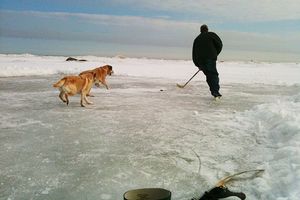 Bucci,
As a fledgling hockey dad, I want to thank you for your columns to help and guide other hockey parents. It's a tough and intimidating road, and it's nice to have someone attempting to wear the "C" and lead Team Hockey Dad. Here is a picture of Timmy "The Rocket" before his first session of Sidney Crosby's Little Penguins Learn to Play hockey program. I have to throw out a special thank-you to Sid for donating the gear for all of the kids in the program.
Matt Bottegal
Pittsburgh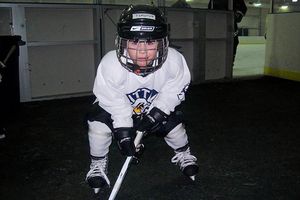 Hey Bucci,
I am a big Lanche fan stuck in Ohio, and I wanted to share a picture of my of my 2-month-old son, Colby, giving you the tough-guy staredown in his first Avs jersey. This team deserves to be given more credit; it has a bright future ahead. Super Joe Sakic will be missed by many, but with Paul Stastny and Matt Duchene leading the way, I see numerous happy nights for my family and all the faithful Avs fans in the years to come.
B. Coombe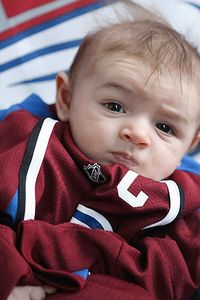 Bucci,
My son Alexander and I at his first Blues game on his 5-month birthday.
Jason Chapman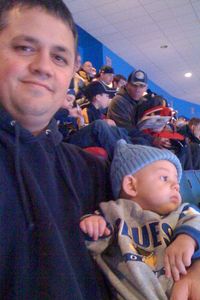 Hi John,
Attached you will find a picture of our 1-month-old daughter, Kaley, getting ready to watch her daddy play goalie. I swear she is a hockey and, more specifically, Flyers fan already. One evening, after fussing for about a half hour, I held her up in front of the TV in our bedroom to watch the Flyers-Lightning game. She instantly calmed down, and her eyes lit up! I think it helped that she started watching in the third period when the Flyers torched the Bolts for five goals. Can't wait 'til she is old enough to start understanding the game!
Steve Hughes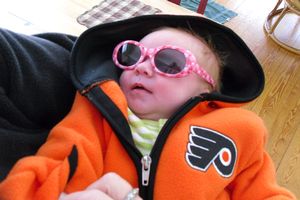 Hello John,
Here is a picture of the newest Wild fan, 2-month-old Brandon Marshall Walczak. He will be a speedy forward with a tremendous wrister and a playing style similar to that of Phil Kessel.
Chris Anderson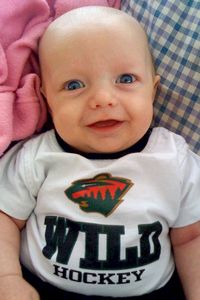 Don't Forget The Column!
Would you want to face Detroit in the first round? Will the NHL ever rein in its disciplinary process? John Buccigross ponders these questions and more as the regular season winds down.
Blogumn