Caps, Bruins, Flyers … looking into the future

By John Buccigross
ESPN.com
Archive
Bucci,
That Wings column was slap in the face to Wings fans -- a much-needed one. As someone who previously would hunt your columns for the Red Wings snub or criticism … I apologize. We Wings fans obviously love their team. Sometimes a little too much.
Lance
(P.S. -- Music prediction: The National's "High Violet" will destroy the summer.)
Red = love.
The National are one of the bands taking part in another jam-packed Lollapalooza weekend in Chicago, Aug. 6-8.
Bucci,
Why do you hate the 29 other teams in the NHL? It's so obvious you're in love with the Red Wings. I mean, come on, just read this week's column!
Dustin
That was a little joke, people.
John,
I just got around to reading your fan-base analysis, and I just had to say there is at least one Caps fan who believes this team has NO shot at winning the Cup this year. Maybe the rest of the fans don't want to admit it or maybe they're caught up in the flashy lights of this offensive explosion of a year, but the playoffs are a different game. This team was not built with the defense or goaltending to win it all. That was and should have been evident to everyone to start the season, but little to nothing was done to remedy that problem. Mike Green is a nice luxury to have on offense, but not when your defense is as suspect as this team's is right now. I have faith that this team will win a Cup or more in the next few years, but not until it realizes that you can't do it on only offense.
Mike
I think things are set up very well for the Caps to win the Eastern Conference and reach the Stanley Cup finals. From what I've seen, they have a good mix of well-understood skill and underappreciated grit and sandpaper. No one can match their skill. Nicklas Backstrom has elevated his game to the point where he is a top-10 center in the league. This team is a freight train; right now, the Caps would be my pick to win the East.
Certainly, we all want to look at a few playoff games to get a feel for every team, but unless there is an injury to a key player, I don't see the Caps slowing down in the postseason. I don't think a hot goalie alone will stop this freight train.
The Penguins, whom the Capitals swept in the season series, are not as good as they were last season. Marc-Andre Fleury is off his game, and the pressure on Sidney Crosby and Evgeni Malkin to produce offense is too great. I understand the Penguins have had injuries; Malkin has missed 15 games, Sergei Gonchar 20 and Chris Kunitz 29. But they are underachieving in some areas. I would never doubt them because Malkin (36 points in 24 playoff games last spring) and Crosby (31 in 24) can carry them a long way when they're on their A-games. But the drop-off after that is too steep unless underperforming players pick it up in the most difficult of environments.
The Capitals have no such problems this season. Their best players will be good in the postseason. The only concern is if the supporting cast tanks or the goaltending resembles a petrified goat inside one of those rubber sumo-wrestler suits. If I were a Caps fan, I would cast aside all doubt and enjoy a feeling of unbridled confidence. Confidence or expecting a good result is important in achieving good results.
Mr. Buccigross,
I want to ask you a few things about the Flyers. What is this team going to do for next season if it fails to make the playoffs or gets knocked out in the first round? I have watched every Flyers game this season, thanks to the Internet. (I am in Atlanta.) The easy first topic is goaltending; how do you see them handling this both short-term and long-term?
Other topics/questions: Scott Hartnell (14 goals in 78 games and getting more than $4 million and he's a heart-and-soul kind of guy, but he plays really undisciplined and almost mindless sometimes) and Braydon Coburn (he has taken a big step back this season and seems to always make the wrong play). What would you do to this team … if you're [GM Paul Holmgren]?
Ambrose
Atlanta
In the past 15 NHL seasons, the Flyers have been to the Eastern Conference finals five times. That's a good run.
The Flyers look as though they will make the playoffs, and as long as they are in the postseason, they will be a dangerous team because they can score goals. Now, this season, they are scoring a bit less, which is why making the postseason has been a bit of a nail-biter lately.
The Flyers do have a lot of young people making a whole lot of money who can, from the outside, appear to give the team a combination of country club and frat house. Obviously, goaltending is something the Flyers can't quite seem to hit on; that and avoiding the Penguins in the postseason could go a long way toward helping this team hit its stride. This postseason, the Flyers likely would play Washington, Buffalo or New Jersey in the first round, while there is a chance they could see the Penguins in a 2-7 matchup.
Mr. Buccigross,
I'm taking a break from an all-nighter study session for my 18th-century Paris test tomorrow afternoon. I'm a lifelong Pens fan, and obviously I'm delighted they may be playing in the Winter Classic once again. However, in my opinion, the NHL is making a mistake with choosing the participants in this great event. I think they should have passed on picking Philadelphia to be in this year's Classic to pair them with the Pens next year. Put them out in Beaver Stadium with 110,000 strong and have a hugely rivaled Battle of the Keystone State! Obviously, putting the spotlight on the Ovi-Crosby rivalry is attractive, but I think a Philly-Pens tilt in State College would be awesome! What do you think?
Nick Thompson
Penn State University
That would be another amazing scene, especially if it was a night game. I don't understand why next year's Winter Classic wouldn't take place in PNC Park. It's the best of the new generation of baseball fields with an unbelievable backdrop of downtown Pittsburgh. Heinz Field, the home of the Steelers and rumored location of the 2011 edition, is far from impressive and lacks the wow factor of PNC. Plus, the contrast of playing a winter game in a summer park is part of the Winter Classic's charm. In this case, though, the NHL probably would go for the revenue win instead of what would be better aesthetically.
Bucci,
There seem to be two constants [with the Devils], Lou Lamoriello and Martin Brodeur. Lou has taken a team that never made the playoffs and turned it into a team that rarely misses, regardless of how many coaching changes the Devils have gone through and the loss of players like Scott Stevens and Scott Niedermayer. Brodeur has been the on-ice key to victory for nearly two decades. Lou is now 67, and how much longer [he'll stay on as GM] is unknown. MB has a contract for two more years, and we also don't know what will happen beyond that. The question I have is, Which of these two in your opinion will be the most critical to replace?
Evan
Saskatoon, Saskatchewan
That's a great point on Lamoriello. Lou the Legend will turn 68 in the fall. At the moment, he appears to be full of hockey life, but that could change quickly. It is interesting to think about the Devils without Lou, just from the standpoint of how things might change in New Jersey. Would his legacy linger on in future administrations the way Harry Sinden's did in Boston, or would the Devils seek a complete change of culture moving forward?
I'm thinking more in the present tense and look forward to seeing the Devils in the postseason. They have so many interesting players; if they can just score a little bit and get a monster playoff out of Ilya Kovalchuk, they could go the distance. Watching great talents like Kovalchuk and Zach Parise in the cauldron of the playoffs is bliss.
Bucci,
How can the Nashville Predators add a superstar so they can get past the first round of the playoffs for once? I think Nashville is the greatest city. We have strong support for the Preds; every home playoff game is rocking and always has electricity in the air. We may be a small-market team, but we have big-time love for the Predators.
Eric B
No doubt, the crowds are great in Nashville, and a playoff win would raise the decibel levels throughout the city.
A lack of potent goal scoring is what keeps the Preds from making playoff runs. So, playoff success for a team like Nashville depends on matchups. It looks as though it will be San Jose, Chicago, Vancouver or Phoenix in the first round. Phoenix would be the best matchup for Nashville because the Coyotes are not a potent offensive team. The other teams have such good offense, so it would be more difficult for Nashville to knock off one of those top three teams.
John,
Reading your mailbox today was like picking off a scab. Why are all of these Dallas Stars fans complaining about their franchise? I was in fifth grade when the North Stars left Minnesota, and it was one of the saddest days of my life. (Norm Green still sucks.) I'm a huge fan of the Wild (your assessment was spot-on there, too), but they're not the same team my dad took me to see when I was a little kid (although it'll be cool to see Mike Modano end his career in Minnesota). If Dallas fans don't appreciate their team the way they should, they can go ahead and send that Stanley Cup to where it belongs!
Tim Freitag
Ramsey, Minn.
Bucci,
After seeing more broken sticks than goals this season in Boston, I've given up looking for excuses for the Bruins' offense. True, we have had problems with injuries, especially with Marc Savard. We really, REALLY miss Phil Kessel along with some others we let go. As long as we keep the defense pretty similar and keep Tuukka Rask in net, I think Boston's main focus this offseason should be bulking up the offense with more scorers. What do you think we're going to do?
Nick
Cranston, R.I.
The Bruins have good centers and average wingers. They are kind of like the Penguins in that regard, except Pittsburgh has the best center trio in the NHL, while Boston has good ones. The Penguins can deal with average wingers because Sidney Crosby and Evgeni Malkin are so great and can accumulate stats playing with third- and fourth-line wingers.
The Bruins had an elite winger in Kessel, but they traded him. Milan Lucic is only 21; if he is serious about his craft, he can evolve into a Mike Knuble, a 25- to 35-goal scorer who hits and fights. He will never be an elite player or 40-goal scorer unless he has one of those seasons when everything goes right. But he should evolve into a valuable player.
Bruins fans should not be surprised by this season. The Bruins traded away 57 goals from last season (Kessel 36, Chuck Kobasew 21) for nothing but draft picks in return. Scoring goals was going to be a problem. Then, Savard, their best offensive player, got hurt.
If they could trade Tim Thomas and his $5 million salary, and find some goals from a winger and maybe a dynamic defenseman, the Bruins could bounce back next season.
Hello Mr. Buccigross,
I am currently a freshman at the University of Minnesota-Duluth, majoring in communication. I, like many of my fellow freshmen, have asked myself what it is I want to set myself up for when I get out of school. After thinking about it, I realized my dream is to find myself in a similar career as yours. The real reason I wanted to e-mail you today is to ask what you did (as far as schooling and previous jobs) to get to this point in your career. Any tips are more than welcome, as well!
Ryan Anderson
I am asked this question a lot, and it is understandable. If there was e-mail when I was in high school and college, I would have sent Chris Berman an e-mail asking the same question.
The only advice I can give you is from my path.
My parents gave me a tape recorder when I was 12, and from that day on, I knew I wanted to be either a professional athlete or broadcaster for those who were playing. This was pre-ESPN, so my dream was play-by-play. I played with my tape recorder as a play-by-play man and disc jockey.
I chose a college, Heidelberg University in Ohio, small enough to compete in NCAA sports and equipped with a campus radio station (DJ), a school newspaper (writing) and a campus television station (broadcasting). I was there for four years.
Then, I was willing to work for free, five days a week, for five months at a small television station on Cape Cod while working part time at Chess King (simultaneously proving my passion for television and lack of long-term fashion trends). Then, I was willing to go to an even smaller cable station in the next town over and work there for more than five years for about $17,000 a year. This was poverty wages considering I had a wife and two kids. I ate pasta most nights and qualified for free baby formula (not for me) and, yes, cheese. Eventually, I increased my small salary by also getting a job at an all-news and talk radio station; I had to get up at 5:45 a.m. to record 60-second sports reports that ran all morning. This paid $6,500 a year, which was like hitting the lottery at the time. I no longer had to put grocery expenses on my credit card.
Later, I got a job at a larger station in Providence, R.I. (44th-biggest market in the United States at the time). This was my first real foray in television news. I was in Providence two years before I somehow wound up working 30 feet from Berman's desk at ESPN. I was 30 years old.
Besides that quick rundown, how did I get here? Again, I'm not really sure. Ryan, all I can give you in terms of advice is my approach, which may not be the best for everyone, I suppose. I didn't call in sick until my 15th year in the business. (Watch. Tomorrow: BUBONIC PLAGUE!) I've tried to write and/or read each word with all I've got, knowing effortless talent has never been my companion in anything except eating mozzarella sticks. So, I'd better write from the heart, and I'd better have decent hair.
I didn't listen to anyone else when I was young and poor because I believed that everyone was wrong and let chance furnish me with what I needed. And when someone like you asks me how I got such a cool job and how I've had the opportunity and honor to write a hockey column for the past 10 years, I tell them "accidental birth year and pure, unadulterated luck." I got lucky, babe. I hope you do, too.
John Buccigross' e-mail address -- for questions, comments or crosschecks -- is john.buccigross@espn.com.
Bucci's Fan Photos
Bucci,
I have to tell you, I loved the stories you did this year talking about squirts, mainly because my son was also born in the year of our Gretzky, '99. Patrick is the goalie for the Houston Wild squirt team and had a great year. He had six shutouts in 20 games for the regular season and three shutouts in six playoff games to win the NTXHL championship. Patrick will move up to pee wee next year, and I think he is a little nervous because the game changes. He will see the players in front of him hitting and winding up for slap shots. As a parent, it seems as if now he is really starting to grow up and knows his place with the team. He played out of his mind in the playoffs and made saves when it looked like a sure goal. When I asked him what was going on, he told me, "It's the playoffs, Dad. … I have to step it up." Not the kind of thing you expect from a 10-year-old.
Don Egdorf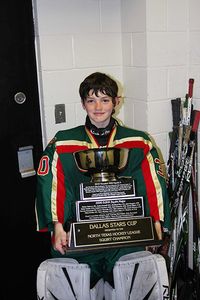 Bucci,
Enclosed is a picture of my son, Welton Zachary. He's a year old today! I always said, "If I have a son, I'd love to get his picture on Bucci's column." I'm an avid Red Wings fan, and hopefully my little guy will enjoy hockey and the Red Wings as much as his father. Aside from my local news, you're the only other hockey outlet I rely on.
Michael Roberts
Lincoln Park, Mich.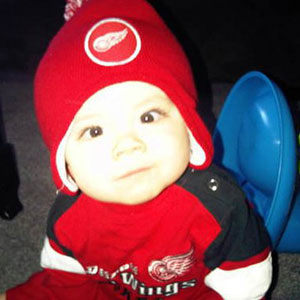 Bucci,
Here is Kaitlyn Nicole at 9 days old, wondering what she has to do to see the Sharks make a Cup finals in her lifetime. (She isn't even being greedy … just MAKE the finals, guys!) No East Coast bias with her.
Tony L.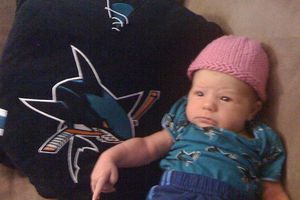 Hey John,
I have enclosed a picture of my first son (Philip Daniel); he recently had his first birthday. He is already a huge Rangers fan, and I am preparing him for the frustration that brings.
Phil Lanz
Goose Creek, S.C.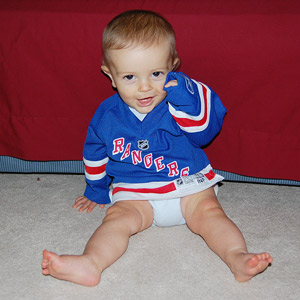 Don't Forget The Column!
"What's your problem with the Wings?"
That sent our scribe on a mission to prove Hockeytown doubters wrong. From Babcock to Yzerman, here's 10 years' worth of proof.
Blogumn
Weekly Poll
Sponsored by Ken the Otter