West outlook and Hockey Hall debates

By John Buccigross
ESPN.com
Archive
Before getting to your e-mails this week, here's my Western Conference forecast for the first round. We looked at the East on Tuesday.
No. 1 San Jose versus No. 8 Colorado: Will this be the year? The Sharks won eight of their past 10 games to squeeze by the Blackhawks for the No. 1 seed. This was important because it minimized the Sharks' first-round travel (Denver is closer to San Jose than Nashville, kids) and paired them against a young team that appears to be running out of gas. Over the long season, the Avs scored goals (244) but they've had goal-scoring issues down the stretch. If they can regain their touch, they have a chance. Goalie Craig Anderson has played in only one game since April 6, so he may be able to get his battery recharged for the playoffs. The Sharks deserve all of the doubt surrounding them, but I will take them in their opening-round series. Sharks in six games.
No. 2 Chicago versus No. 7 Nashville: When healthy, the Blackhawks are the Western Conference's best team. This doesn't mean they will win the West, but they have the best chance. If Brian Campbell can come back healthy, it really helps the Hawks' chances. The Hawks can score and skate and are great at home. Goaltending is always important, but Chicago skates and scores so well, it can win with the goaltending it has.
Nashville accumulated 100 points by scoring as many goals as it gave up. The Predators are not a great offensive team or defensive team; they don't have great special teams. They are still very interesting. We know they will be tough to beat at home in the Honky Tonk. This could be a tough series for the Hawks. I will say Hawks in seven games.
No. 3 Vancouver versus No. 6 Los Angeles: The Kings are dangerous because they can score and might have the best defenseman in the Western Conference in Drew Doughty. To have someone that mobile on defense, it can disrupt the Canucks' top line. People see the Canucks, they see Roberto Luongo, and they think the Canucks are a sub-200 goals-allowed team or something. The Avs and Predators gave up more goals than the Canucks. Everyone else in the West has given up fewer. I was at the Kings' fanfest in September and was really impressed with Dustin Brown and the togetherness of the team. I talked myself out of picking them for the playoffs after leaving the fanfest; but you could feel something there, and I feel something here. This series will be an overtime-fest. I feel and I will feel the Kings in seven games.
No. 4 Phoenix versus No. 5 Detroit: The Red Wings are making their 19th consecutive postseason appearance, the longest active streak across all four major pro leagues. The Wings were in danger of missing the playoffs for the first time in 20 seasons, but their play has been legit since the Olympic break (16-3-2) and they climbed to the No. 5 seed. The Coyotes also had a solid post-Games record (13-4-2). While the Coyotes lack an elite goal scorer teams need in the postseason, they are an excellent goal-prevention team that can steal a game early and put tension into a series. But I think the Coyotes have some players who will come up small in the playoffs and the Wings are really flying right now. This is a good opening-round matchup for Detroit. Red Wings in five games.
On to the Mother of All Mailbags!
Bucci,
Here's one for you to ponder. Am I a homer to think that Mike Modano is an absolute lock for the HHOF? Will he make it in on the first ballot?
Eric
Fort Worth, Texas
Mike Modano is a first-ballot Hockey Hall of Fame lock with 557 goals, 802 assists and 1,359 points in 1,459 games. In a blogumn from 2003, Pat Verbeek told me the following about the 1999 Cup-winning Dallas Stars team that clinched the title in Game 6 in Buffalo:
"I'll tell you, I don't know if we had enough left if it went to Game 7. John, it was incredible what the guys sucked up in that locker room. Me and Brett Hull blew out our MCLs, Mike Modano had a broken wrist, and seven other guys were really banged up. It was unbelievable."
John,
I was fortunate enough to watch what could quite possibly be Mike Modano's final game in the NHL. What a great and terrible thing it is to see one's childhood icons and heroes hang up their skates. Great in the sense that it forces you to remember and appreciate the skill, poise and sheer classiness that a player such as Modano brought to the game. Terrible in the sense that you realize that your hero will no longer be there to make memorable moments or that your children will not be able to experience those moments firsthand. The most powerful part of the game for me was not the eruption of the American Airlines Center after Modano tipped in the game-tying goal, but rather the long-lasting standing ovation in honor of Modano. Seeing a hero of yours moved to tears is a powerful thing.
Casey
Michigan
Bucci,
The radio stations and fans in Pittsburgh have been all over Marc-Andre Fleury lately. Admittedly, he hasn't been as sharp as he was the previous two springs heading into the playoffs, but the guy has been to back-to-back Cup finals and won the whole thing last year. Really, should Pens fans be worried?
B. Elder
Pittsburgh, Pa.
I think they should be worried. I've been a defender of Fleury the last couple of seasons. Various radio stations around North America will occasionally call me to get my inane opinion on hockey matters. I remember talking to a radio show in Pittsburgh in the middle of last year's Stanley Cup finals and the host was railing on Fleury. He was saying, "Fleury is terrible." And I'm like, "What are you talking about, dude?" And he's all like, "He looks like a baby moose being born out there." And I'm all like, "Dude, he's been to back-to-back Stanley Cup finals."
All of that was a loose interpretation of a conversation that probably sounded very different. My point was Fleury was not the problem the past two postseasons. He won games for the Penguins during that time, and his save on Nicklas Lidstrom in Game 7 is right there with Bill Mazeroski's 1960 home run and Franco Harris' "Immaculate Reception" as the three greatest moments in Pittsburgh sports history. Me and my two high-school buddies sneaking into a side door at Civic Arena to watch a Penguins-Minnesota North Stars game in 1981 is fourth.
But this time around, Fleury is not the same goalie he has been the past two years. He started 66 games and had one shutout. Just watching him, you can tell he is fighting the puck at times, and I'm not sure why that started. Now, he is a big-time goalie who is talented and generally fearless. That's why his name is on the Stanley Cup forever. But if he continues to fight the puck like that and let in questionable goals, the Penguins will have a hard time getting to the finals again.
Bucci,
Simple question. Is Keith Tkachuk going in the Hockey Hall of Fame? Based on his career stats of 500-plus goals, over 1,000 points, 2,000-plus PIM and 1,200 games played, I say yes. I realize he doesn't have a Stanley Cup to his name, but how can you blame that on him? Look at the quality of teams he's been on. It's impossible in this league for one player to carry an entire team through four grueling series to win a Cup.
Steve
I have Keith Tkachuk as barely a Hall of Famer. Two lockouts cost him 50 career goals, which would have put him around 590 career goals (a good territory). He played a lot of his hockey in the dead-puck era and fought a good amount in his 20s, providing his teams with much-needed sandpaper.
Tkachuk played on some bad teams, but he did play on some good ones. Those Blues teams in the early part of last decade were strong squads. In the 2001 and 2002 playoffs with St. Louis, Tkachuk had just seven goals in 25 playoff games. In 2001, he had just two goals in 15 playoff games. I wish his career playoff numbers were better. In 89 games, more than a full NHL season, his scoring line was 28-28-56. From his first full season as a 30-year-old on, Tkachuk's playoff line was 20 games, two goals and seven assists.
If physical fitness had been as much a part of Tkachuk's lifestyle as, say, Gary Roberts, his overall performance would have been better, especially after turning 30. Additional conversations with players who played with and against Tkachuk would be very helpful in this case.
Hi Bucci,
I am a born and bred Calgarian and have loved the Flames since day one. What are your thoughts about what Calgary could do to improve?
Jordan
Calgary
Calgary's goal totals over the past four years:
2009-10: 204 goals
2008-09: 254 goals
2007-08: 229 goals
2006-07: 258 goals
2005-06: 218 goals
Up and down, up and down, up and down. Who are the Calgary Flames? What do they want to be? Where is the balance? They need balance. Have a vision and stick it out. The focus of the Flames should be balance.
John,
I have to admit, reading this article has allowed me to see just how wrong I was about you. I was one of the many "sensitive" Wings fans to e-mail you after your article at the beginning of the year about Dats and Zetts being out of their prime. Sure, we fans in Detroit may get a little heated when someone tries to tell us that our team is no longer as bright and powerful as it has been in years past, but that is only because the Wings are one of just a few things here in Michigan that we have to inspire us. I've grown up in a time when the Red Wings have been nothing but a success. So, logically, when all these analysts begin to tell me that the reign of the Red Wing is over, I flip. Thanks, Bucci. And on a final note, I could not agree more on the fact that no other player in the NHL makes me go "holy $%$" more than Pavel Datsyuk.
Adam Everhardt
Grand Rapids, Mich.
I have a good feeling about the Wings this postseason, if Jimmy Howard stays solid in net. Things could fall their way in terms of matchups.
John,
First of all, HUGE fan! I was reading your latest mailbag and wanted to comment on the Devils Post Lou. If there is one thing we know, Lou has a plan. My guess? Lou will stay on as GM two more years, he will then step down as GM but retain president and CEO titles. At that point, he will turn the GM role over to Jacques Lemaire, who will be ready to retire from coaching. The new Devils coach will be John MacLean, who is being groomed in Lowell right now. The tough part will be to keep MacLean two more years. The other GM I can see is David Conte, their head of scouting. Take care and can't wait for the playoffs!
Michael Cottone
They are here. Let the games begin.
John Buccigross' e-mail address -- for questions, comments or crosschecks -- is john.buccigross@espn.com.
Bucci's Fan Photos
Bucci,
As a diehard Penguins fan, I wanted to take this opportunity to thank the Pens and the NHL for providing the people of Pittsburgh with an opportunity to bask in the glory that is the Stanley Cup. This picture of my 1-month-old daughter represents why this trophy is the best in all of sports. No other trophy lets the people share in its history.
J Minford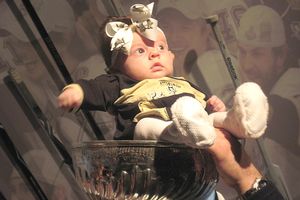 Hey Bucci,
Greetings from Hab Land. Reading your insightful columns makes my days that much brighter. Attached is a picture of my 17-month-old twin boys in full Habs gear. Hopefully it brings them the luck they need.
Eddy
Montreal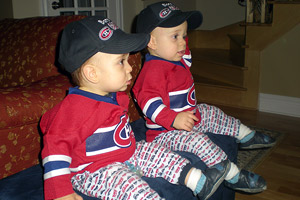 Bucci,
I've attached a picture of my daughter, Aylah, wearing her new Caps jersey that she received for her 4th birthday. She recently wrapped up her first year of hockey in our local initiation program. Started out slow, but by the end, she was passing me the puck back and forth. I hope she continues her love for the greatest sport on earth. It might be a bit early to tell, but I bet she'll be on the Olympic team in 2026. I was hoping you could share her beauty with the rest of the world.
Steve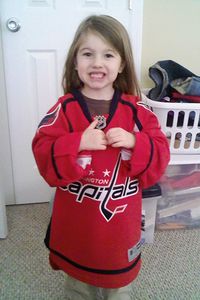 Bucci,
I have to attached my "Stanley" pic. Go Wings, Go Preds!
Dennis J. Pepperack
Nashville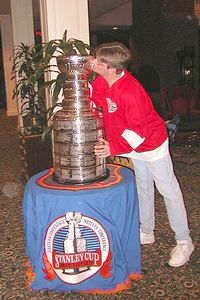 Don't Forget The Column!
Which teams will take one more step toward the Cup? Our experts make their first-round predictions.
East forecast
|
Experts' picks