My new role? Bar-stool GM-ing from my laptop

By John Buccigross
ESPN.com
Archive
Hey J.B.,
You know I am no professional here, but if the Horton/Iginla trading-block rumors are accurate, do you think there's any way Peter Chiarelli would trade the other first-round pick, or one of the second-round picks and a player for either of these two studs?
I have been saying ever since missing on Ilya Kovalchuk that the Bruins need the No. 2 pick AND another player to get them over. Are there any scenarios you can think of that could make a trade for one of them work (while not losing the No. 2, of course, nor losing a key part of the team's nucleus)?
Ryan Trost
This is always fun -- bar-stool general managing on a laptop. Let's do this.
The Bruins will not trade the No. 2 overall pick. I think Edmonton will draft Tyler Seguin and the Bruins will select Taylor Hall. Just a hunch. Seguin has that look of a franchise center. I would at least explore the possibility of dealing the other first-round pick, maybe the 32nd overall pick and anything else (Joe Colborne) to see what the Bruins could net in terms of upgrading their top-six forwards and top-four D.
Drafting Seguin would mean the Bruins would now have an overload of centers -- Patrice Bergeron, Marc Savard and David Krejci. None of these fellas is a checking-line center, and I don't see how the Bruins can keep all of them, give them adequate ice time and put them in their proper roles. Because of that depth at center, the Bruins could return Hall to Junior, develop him for another season and keep his high cap number off the books if it doesn't match his production. Then, they could play it from there and see what happens during the season. And after another summer of hard training and six more months of growth, Hall should be ready for the NHL; but we just don't know for sure with teenagers.
Next season is the last year of Bergeron's contract before he becomes unrestricted. Bergeron turns 25 in July. He is coming into what will probably be the best stretch of his career. The Bruins should probably decide what to do with him now. They could extend him for five years, but I wouldn't overpay him. Bergeron is a nice two-way player, but he is not an elite, franchise player. Bergeron is a difficult player for GMs to deal with in a salary-cap era. He had 52 points in 73 games this season. His career-high 73 points came the season after the lockout (all offensive numbers were skewed that season). Bergeron's 73 points were tied for 42nd with Shawn Horcoff and Maxim Afinogenov.
Personally, I'd like him at about the $4.5 million cap number area. Next season, his cap number is $4.7 million with an actual salary of $5.7 million. If he stays healthy next year and becomes a free agent, he would probably get a six-year contract worth about $30 million considering his age (26 in 2011). The Bruins could go longer with Bergeron to get his cap number down to $4 million or $5 million. They could make it 10 years and take him to age 35 with this contract breakdown: $6 million, $6M, $6M, $6M , $5M, $5M, $5M, $2M, $2M and $2M. That's $45 million over 10 years with a $4.5 million cap number. I think that's where Bergeron should be.
I would still test the trade waters to see if someone would overpay for Bergeron, like Montreal. I would look to see if a really good defenseman or winger could be had for him. I'm not advocating this just for the sake of trading Bergeron because I don't like him as a player, I do like him. It might just make the most sense if you look at the Bruins' roster. But again, if Hall makes the team next season, and I have no doubt he will be one of the best wingers in Boston, the B's wouldn't have to trade Bergeron. But I would see what could be had for him. Managing an NHL team is not just about keeping the best players; it's about managing the salary cap by looking a little bit ahead and having some sense of balance.
The Bruins need youth, scoring, tough wingers and elite young defensemen, as well. Miroslav Satan, Mark Recchi, Michael Ryder (one more year left) and others need upgrading no matter what they are currently doing against a banged-up, small Buffalo team. When the 42-year-old Recchi is often your best winger, you have issues at wing. This is an elite era in the NHL with all kinds of legit, sick, young talent. The No. 2 overall pick is a first step in upgrading the Bruins' roster in order to keep up with the Capitals, Penguins and (soon) the Lightning (if they are managed correctly).
Nathan Horton is tough-plastic-CD-wrapping to figure out. One would expect he is a 30-goal scorer who is tough and can fight a little, on a good team. He seems like a natural Bruin who could coexist well with someone like Milan Lucic on a roster. One line with Lucic, one line with Horton, a rugged third line and a brawler on the fourth line. Horton's $4 million cap number for three years is very good value, projecting him on a stronger roster, in a stronger hockey city and with a fresh start. Then again, maybe Horton is what he is and is considered a disappointment because too much is expected of him because he looks like a hockey player and has a great hockey name. If his name were Melvin Goodpaster, would we expect so much of him?
The Bruins' centers are not big and tough. They need those kinds of wingers to give their team balance. Early last season, it was obvious the Pittsburgh Penguins were too soft; that's why they acquired Chris Kunitz and Bill Guerin. They needed a couple of sandpaper wingers. Although, I must say, the Bruins are playing with pretty good overall team toughness against Buffalo.
Let's be clear, the Bruins are a healthy franchise. They are in excellent position to eliminate the Sabres, get Savard back and put up a good fight with what appears to be the Penguins. But with a couple of smart and bold moves, they could be even better. Can they really beat the Penguins and Capitals in back-to-back series this postseason?
Finally, what about Jarome Iginla? He turns 33 this summer. He has three years left on his contract with a $7 million cap number. He recently stated he would waive his no-trade clause. It seems like the weight of carrying a franchise is wearing on him and a fresh start would be a natural evolution for the man. He needs to go somewhere where he isn't the alpha dog. He needs to play with very good centers who can get him the puck. Iginla's shots on goal the past three seasons: 338, 289 and 257. He had 81 fewer shots on goal in 2009-10 than just two seasons ago. I think his three-year, $21 million number is pretty manageable and low-risk. I think on the right team, like the Bruins, Iginla would live up to such a contract. Iginla would also live up to the remainder of his contract in Calgary, so the Flames would need a healthy return for a future Hall of Famer who has three good seasons in him, or they could replace his cap number with what they want.
So, since you asked, Ryan, let's say the Bruins trade Patrice Bergeron and their own No. 1 pick, not the second overall pick, and maybe one of their second-round picks for Iginla. Let's say they sign Mike Grier to a manageable deal to be a part of a checking line and they shed Ryder's salary ($4 million) along with Tim Thomas' $5 million. Here is what the Bruins could look like next season:
Iginla-Savard-Marco Sturm: $14.5 million
Blake Wheeler-Hall-Lucic: $10.2 million
Mike Grier-Krejci-Daniel Paille: $7 million
Shawn Thornton-Vladimir Sobotka: $2.9 million
Total: $37.6 million
Zdeno Chara-Dennis Wideman: $11.5 million
Matt Hunwick-Mark Stuart: $3.4 million
Johnny Boychuk-Andrew Ference: $3.1 million
Total: $18 million
Tuukka Rask: $1.25 million cap number (for two years!)
Cheap backup: $500,000
Total: $1.8 million
Overall cap number: $57.4 million.
The projected cap for the 2010-11 season is at $57.7 million. If I didn't have this pesky TV job, I would do this for every team.
John,
I respect your opinion, so tell me who you think would be a good coach for the Thrashers?
Wm. Scott Farrow
Bucci,
I agree with 96 percent of what you write (although I don't care for Death Cab for Cutie because it sounds like something I did on my Casio SK-1 when I was in 5th grade) and want to say thanks for epitomizing the essence of our favorite game blogumn after blogumn. However, I wonder if you'd add a caveat to your suggestion that everyone go out and buy a golf umbrella; people who live in cities like New York consider their fellow citizens before breaking out the tent-sized umbrellas you speak of. On a crowded sidewalk, a golf umbrella is akin to driving a Hummer; sure, you're a bit safer, but at a cost to your neighbors. Oh, well ... coming from the man who wrote one of the truest columns I've ever read (2/19/10), I'll chalk it up to an oversight since most of your readers are probably not living in human ant farms like me. I know, I know, get off my lawn!
Bob Hilleman
New York, New York
Admittedly, I didn't think of the city sidewalk scenario. My interpretation was based on people walking into the doors of ESPN from their parked cars, which is akin to walking in Montana from your pickup truck to the barn.
But I still believe an umbrella can be held close to the head and tilted back a bit to allow a city sidewalk of human cattle to coexist as one mass of slow-moving, dry people.
I guess I just see so much potential for umbrellas. They are under-utilized. I use my umbrella walking into work when it's snowing and when it's windy. I'm considering using it to shield myself when I see someone who I don't like or annoys me.
Bucci,
The Capitals gave out golf umbrellas on their fan appreciation night, which was this past Sunday's game against Boston. Due to their obvious love of umbrellas, like you, do they get any favoritism in your predictions for the postseason?
Allan
Gaithersburg, Md.
I had the Caps as the favorite to win it all before the playoffs began and this only enhances their chances. This reflects a smart organization.
Bucci,
Right now, I am watching you on "SportsCenter", reading your Western Conference predictions and listening to you on Bill Simmons' podcast. I am having a Buccigross sensory overload and I am loving it! I blame playoff hockey for this.
Derek Levesque
Cranston, R.I.
You're only human, Derek.
Hey Bucci,
The podcast with Simmons was outstanding! You two are my favorite ESPN writers and I was hoping one day you would get together for a playoff podcast. Also, thanks for giving Pavs and Z strong consideration as the third-best player in the league. I know Ovi and Crosby get a lot of deserved hype, but even though I watch Pavs 82 games a year, he still does things every game the make me say "wow" and the determination that Z has is second to no one in the league today. I hope that another podcast with Simmons is in the works and becomes a regular thing during the hockey season.
Nick
Roseville, Mich.
We end this week's mailbag with more on the "when kids should start checking in youth hockey" discussion. Here are e-mails from a few hardworking and passionate people at USA Hockey about youth checking:
John,
I agree that checking should be pushed back into Bantams!! We cannot expect our young players to grasp every aspect of hockey at the NHL level when they are 8, 9 or 10. We need to simplify and to teach in a progression, making sure that our young players master the essential skills of being a good hockey player before we add more for them to comprehend.
We seem to be in such a rush to get to the next level, we never really make sure that the kids who are actually playing the game fully understand and feel confident about what they are doing on the ice. Let's focus on skating, passing, shooting and competing, and master those skills before we worry about checking, team play and positional play. We need to make sure the base is strong.
By getting our kids to play and practice in smaller areas (cross-ice), they will bump into each other and there will be some incidental contact, which is fine; however, we need to allow our kids to develop their skills without the fear of being hit from behind or just plain run over by a bigger kid. No matter what anybody thinks, that first year of Pee Wee, kids are scared to death!!! Move it up two more years and kids are more able to deal with the fear and will have two more years of physical and emotional development under their belt.
Roger Grillo
USA Hockey
ADM Regional Manager
John,
Studies from the University of Toronto and from the University of Alberta state that there is a direct correlation between the age in which checking is allowed and the number of chronic injuries and concussions that are experienced. In addition, doctors from the University of Toronto have stated that learning to body check when young does not reduce a player's rate of injury as he or she grows older while prolonging the risk due to exposure.
I am firmly in favor of increasing the age that we allow body checking in youth hockey to at least 13 years of age. With the "optimal window of trainability" to increase skill in youth athletes falling between the ages of 9 and 12, it makes no sense that we would introduce a technique that is predominantly used to decrease the effect of skill players or to equalize the playing field for a lesser-skilled team at this age. In fact, to do otherwise is a great disservice to the further skill development of our youth players and to the future of the game. In fact, I would argue that one way to further increase the skill level of our youngest players would be to advocate a well-documented and well-taught progression of body-contact skills (angling, contact, puck protection, etc.), starting at age 8 until the introduction of body checking at age 13.
By following a path such as this, we will create less room and more traffic on the ice, teaching our children to keep their heads up without putting them in immediate danger from going into a checking environment at too young an age.
Bob Mancini
Regional Manager
American Development Model

Bucci,
Checking at too early an age is detrimental to skill development. I believe that checking shouldn't start until Bantam age (13). However, body contact should begin when players first start playing. They should learn what it means to be bumped during play. Unfortunately, too many kids equate checking to hitting. Checking and hitting are two completely different things. Checking implies using your body to separate the puck carrier from the puck. Hitting is just that -- hitting.
First-year Pee Wees (the current age where kids can first check) often ask immediately in practices or games, "Can we hit?" This happens for two reasons: 1) A larger (typically) boy is looking to physically punish someone; or 2) a timid (typically) player is wondering if someone is coming after him. Either way, all too often they forget why the game is played (to score more goals than your opponent) and all they worry about is, "Am I a target?" or "Where is my next target?" If younger, less-developed boys worry about checking, they lose sight of the puck and skill development gets hindered. Until kids are physically mature enough, checking should be curbed and stick skills should be pushed!
Kenny Rausch
USA Hockey
Manager, Youth Ice Hockey, Colorado Springs, Colo.
John Buccigross' e-mail address -- for questions, comments or crosschecks -- is john.buccigross@espn.com.
Bucci's Fan Photos
John,
I have been a longtime follower of yours on ESPN.com and really enjoy your sense of humor on "SportsCenter". However, what I enjoy most is reading your stories and experiences with your Squirt hockey player. My son (Cody) just completed his second year of Squirts by winning his second Montana Squirt A State Championship. Some of the most vivid images in my mind are of him on the ice with his teammates and coaches battling in their state tournament. He finished the tournament with eight goals and two assists. I know I will miss these times as he moves on, but I will always have those images in my mind. Cody is standing behind the player holding the cup.
Rob Gagnon
Billings, Mont.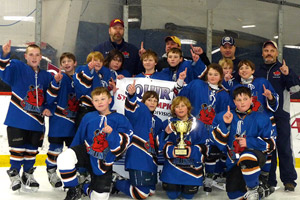 Bucci,
I know you're a fan of little ones showing their true colors, so I thought you may get a kick out of our first little one, Joel, getting ready to sit down and watch a third consecutive trip to the Stanley Cup finals. We think he was laughing because he saw a picture of the Q-Stache.
Ira Goldberg
Pittsburgh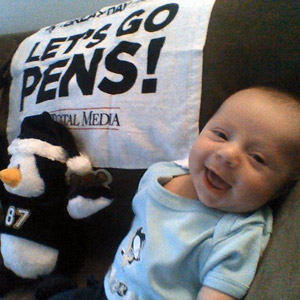 Bucci,
My son Tyler made his Verizon Center debut last month. His save percentage was a tad lower than Jose Theodore's, but he did make two sparkling saves. And much crowd support. Little kids in goalie equipment. Is there anything cuter?
Bob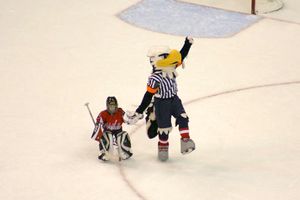 Don't Forget The Column!
Want a good gauge of how the Stanley Cup playoffs are going for certain teams? Our resident puckhead channels his playoff pool team for trends.
Blogumn