Fallout in D.C. … and previewing the East semis

By John Buccigross
ESPN.com
Archive
Although the first round was pretty predictable in the Western Conference (I was 3-1 in my picks), the Eastern Conference was Courtney Love wiggity, wiggity, whack. A Washington Capitals series win would have given me a 3-1 record in the East, as well.
The Montreal Canadiens lost their last three regular-season games, gave up more regular-season goals than they scored (minus-6), and were playing a Capitals team that scored 101 more regular-season goals than the Habs did and was a plus-85 in goal differential. I thought Washington would steamroll into the second round. Instead, the Caps sputtered like a lawn mower running out of gas 100 feet from the garage. They had the soul of the 1981-82 Denver Nuggets. There were signs, and some of you saw them. I was blinded by the Laich. At the same time, I myself questioned the composition of the team -- yes, its soul, the "it" factor -- but I couldn't get past the dominant numbers the Caps compiled over 6½ months.
That being said, the Capitals' power play was 1-for-33 (3.0 percent) for the series. That's the worst reported conversion rate in a single series among teams with at least 30 attempts (power-play attempts were first recorded as an official stat in 1987-88). Montreal's defense was also the story in Game 7, blocking 41 shots compared with just 11 for Washington. If the Caps scored just five or six power-play goals, they could have easily won the series.
It might make GM George McPhee question the team's ingredients; the Caps need to sign winners and need to get stronger up the middle.
R.J. Umberger said this of the Capitals in an interview with The Columbus Dispatch in early April before the playoffs began:
"They play the wrong way. They want to be moving all the time. They float around in their zone, looking for breakaways and odd-man rushes. A good defensive team is going to beat them [in the playoffs]. If you eliminate your turnovers and keep them off the power play, they're going to get frustrated because they're in their zone a lot."
Barry Melrose … you're fired. Again. Umberger? You start on "SportsCenter" on Monday.
Capitals owner Ted Leonsis is a glass-half-full, sweet man who is inclined to be patient. Maybe he stays the course and tinkers. Steve Yzerman was 32 when he won his first Cup. But it's not hard to see something is missing right now in D.C.
But that is the past and this is the present. Eight teams remain, and every seed number is represented (1, 2, 3, 4, 5, 6, 7 and 8). How about that? To the picks!
Eastern Conference
No. 4 Pittsburgh versus No. 8 Montreal: This is just the second postseason meeting between the teams and the first since the 1998 conference quarterfinals (which the Penguins won in six games).
The Canadiens were spent at the end of Game 7 on Wednesday night. They have to come right back and play Friday night in Pittsburgh. This should enable a rested Penguins team to jump on Montreal with lots of energy. The Habs proved they could take that kind of attack with their rope-a-dope style of hockey that relies on the goalie to take a punch, or 50. The problem for Montreal in this series is the Penguins are a completely different team from the Capitals. They are very strong up the middle, have confrontational players, are a very good passing team and are very good at scoring around the net. The Penguins can score ugly goals. They have a lot of gamers.
Montreal has a hot goaltender who had a better first round than Marc-Andre Fleury. I did think Fleury slowly improved as the series against Ottawa progressed, but there are holes. The Canadiens have plenty of skill up front to take advantage of a teetering goalie. The Senators were injured and had average goaltending, and the Penguins were close to going to a Game 7.
I really want to pick Montreal for this series. The Penguins are a grind-it-out team. Nothing will come easy for the Pens this postseason, and Sidney Crosby and Evgeni Malkin have to score. Pittsburgh's lack of finish on the wing is amplified in the postseason; that favors Montreal because it is in complete "circle the Slovakian wagon" mode. The Habs feel good because they know who they are and how they win. Identity is everything in the Stanley Cup playoffs.
However, because of Crosby and Malkin and how well so many of the Penguins play in Montreal, I'm going to take the Penguins in six games. If it goes seven, Montreal wins.
No. 6 Boston versus No. 7 Philadelphia: A Winter Classic rematch. Boston won the Jan. 1 clash in overtime. A lot has changed since then. For one, both teams have new goalies. The Flyers have gone from Michael Leighton (injured) to Brian Boucher. The Bruins have iced Tim Thomas in favor of the talented Mr. Rask, Tuukka Rask.
On the surface, the Flyers have to be the favorite because they dominated a very good team in five games; the Bruins beat a flawed squad in six. Buffalo is small and not very tough. The Flyers have gamers: Mike Richards up front, Chris Pronger out back, and players such as Scott Hartnell, Dan Carcillo and Arron Asham in between. They are a much more difficult team to play against from that standpoint.
That being said, the Flyers have been crushed by injuries. Simon Gagne, Jeff Carter and Ian Laperriere are out with injuries. That is a combination of penalty killing, speed, release, experience, grit and depth. Their absence puts a lot of pressure on Claude Giroux to keep scoring. He was 4-2-6 against the Devils. Daniel Briere also needs to keep scoring. If they and Richards have a below-average series, it will be difficult for the Flyers to score enough goals against Rask. But make no mistake, even with their injuries, the Flyers are a better test for the Bruins than the Sabres were.
The Bruins are getting a great lift with Marc Savard's return. Savard is the Bruins' best playmaker and provides an attitude and personality. The Bruins did not need Savard against Buffalo because their power play was an amazing 27.3 percent. That's why they won the series. The Bruins had only two plus players in the Sabres series. Their penalty killing was also strong (19-for-19).
The Bruins have a subpar defense, but they are very strong up the middle with Savard, Patrice Bergeron and David Krejci. But this question remains: Will Boston's wingers score against a tougher Flyers team? Will Mark Recchi get five points in this series? Miroslav Satan? The Bruins need a team effort, and they have it in them.
In net, Rask is a major talent who is technically strong at a young age. Boucher is playing a very simple, calm game. That has always been his strength and why he is a good playoff goalie. Ryan Miller must have been close to mentally fried after his long season. Boucher is fresh.
Second-round series are difficult to pick because hockey teams exude such confidence after a first-round win. Passion and belief bubble to the surface. Teams begin to imagine how things can unfold in their favor. All these series are virtual toss-ups. I had Philadelphia beating New Jersey in Round 1, but with the Flyers' injuries and the Bruins getting Savard back, I will go with the Bruins in seven games.
And now, a few of your e-mails:
Bucci,
First off, I can't believe Mike Green is a Norris Trophy candidate. Yes, this is a guy that can skate, roam the ice and pick his holes on the ice while accumulating points that make fantasy nuts drool, but his play in the defensive zone reminds me of my dog chasing her ball. He is too anxious and does not possess the patience that would make him an elite overall defenseman. Believing that he plays at the same elite level of Duncan Keith and Drew Doughty is absurd.
[Nicklas] Lidstrom should have been the third Norris Trophy candidate. Now, I may be wrong, but I believe Green has two years on his $21 million contract that he signed in 2008. Can you see the Caps with Boudreau as coach trading Green after two straight years of dismal playoff performances? I know they have a history that dates back to Hershey, but I don't think this guy, as their No. 1 defenseman, will ever win a Cup. Do you think that this team needs to be shaken up after their colossal collapse?
Jordan Bresnahan
Dujiangyan, Sichuan, P.R. China
Mike Green has a salary cap number of $5.2 million in each of the next two seasons. He will not be traded. The 24-year-old is a talented defenseman and had 76 points this past season. Smart organizations don't trade a defenseman who scores 76 points; they coach him to be better, strengthen his weaknesses and surround him with better and more complementary players, and hope he matures into a real adult. It is strange he has one playoff goal in his past 21 playoff games.
As I wrote last year in this space, a lot of that in the past was because one of Green's weaknesses was poor conditioning. I don't know if Green's fitness has improved this year, but it could explain his poor playoffs.
Every athlete is different. Stamina and strength come easier to some. Part of it is hereditary. Green might have to turn into a Gary Roberts fitness/nutrition maniac in order to keep up with the increased velocity of playoff hockey. NHL hockey has never been faster or better because most of the players dedicate themselves to a year-round fitness routine. If you don't, you won't get the best out of your game. Maybe part of the Capitals' problem is they are not as fit as they should be.
Why are they fizzling? There are many reasons -- structure, personnel, roster dynamics, leadership, composure, and so on. Do they party too much? Maybe team fitness/lifestyle needs to have a greater focus, as well. Everything needs to be analyzed and many things need to be changed. I don't think trading Green is one of them. It starts with Alex Ovechkin and trickles down to the other important players. These players need to be seriously challenged.
Trading Alexander Semin? Now there is something we will likely see. A Semin-for-Sheldon Souray kind of a trade might be one worth exploring for both teams.
Hi John,
The Caps had holes and their GM did a poor job addressing them.
Defensive depth: Green is an offensive defenseman who plays 25-plus minutes a game. He needs help. Tom Poti is a solid defenseman, he's not a defensive stud, a la Hal Gill or Brooks Orpik. Poti scares no one. The Pens have Sergei Gonchar, but they also have Orpik. Orpik leads the Pens in hits. Ovechkin leads the Caps. Which leads me to my next point.
Mean streak: the Caps lack a mean streak. Ovechkin is their leading hitter? That's crazy. The Pens have Orpik, Rupp, Adams, Cooke, Kunitz. That team has a mean streak a mile wide. That's playoff hockey!
Ovi had 185 hits this season, 22 more than the next guy on the team. Orpik had 255 hits, Rupp 198, Adams 197, Cooke 183. The Caps aren't tough enough, with apologies to Belanger. Goaltending: the Caps' No. 1 goalie gets the hook again. The Pens know Fleury is "the guy," the Red Wings know Howard is "the guy." The Caps' "we'll see how it goes" approach doesn't work.
Holes? The Caps got 'em.
Todd
Annapolis, Md.
I like the anger out of D.C., and so should the Capitals' front office. That means the base is caring more and they will respond. There will be changes. It might be the coach. This style is clearly not translating to the postseason. Now, they can see if Bruce Boudreau can change his style, but it would include getting players to fit this new style. It's complicated.
One reason Buffalo exercised its contract option on coach Lindy Ruff? Because he would have been a perfect candidate to replace Boudreau if he had been let go.
What the Capitals will do is take some time, let the emotions of shock, anger and disappointment subside, and then get down to business, thinking about the coaching staff, the players and the environment.
Mr. Buccigross,
I am fairly certain Nick Lidstrom is a robot.
Jay
Buffalo
He runs on 16 D batteries, ball bearings and Prestone. No, make that Quaker State.
Dear Bucci,
I've been reading your column for a while (loved the Red Wings blog, huge Wings fan). I'm stationed in Virginia Beach, Va., right now (originally from Bay City, Mich.) as an Intelligence Specialist for the U.S. Navy, but I'm confused!
I'm very confused about the Tampa Bay Lightning. I thought to myself, "Self, how can the Tampa Bay Lightning be so terrible with a 50-goal scorer like [Steven] Stamkos and great players such as Vinny Lecavalier and Marty St. Louis?" I understand they have problems with their D and goaltending hasn't been that great, but I still think they should be at LEAST fighting for a playoff spot instead of falling halfway through the season to the bottom of the league. I think that with some good drafting/dealing, Tampa could be a legit contender for the Cup in the next few years.
Josh Roznowski
I am very bullish on the Lightning's future if they get the right management. Their new owner, Jeff Vinik, is a very smart man. Darren Dreger of TSN in Canada is reporting Dave Nonis, Steve Yzerman and Doug Risebrough are believed to be among Vinik's list of potential GMs. Yzerman would obviously be a great hire. The issue with Yzerman is he has three daughters, ages 16, 12 and soon to be 11. Would he uproot his family from Michigan to the Tampa Bay area? Those are some tough ages to uproot a wife and three young girls. Perhaps the lure of Waffle House restaurants and Christmas parties at the Melrose compound can dissuade them all.
Tampa Bay, while not a strong market in terms of hard-core passion, is the kind of team any GM would salivate over. Outside of Vincent Lecavalier's contract, this team is very attractive. A young player to build around, a big, young defenseman in Victor Hedman, another high pick this summer and a low-key, smart owner. For someone like Yzerman, it would at least be the job he covets, running and building an NHL team, and he could always parlay that into a higher-profile NHL job.
John,
It really makes me angry to see all the talk about the Rangers trying to sign Ilya Kovalchuk in the offseason. There's nothing inherently wrong with that, but the Rangers as an organization have such an awful team philosophy, and it's annoying that no one seems to recognize it. They do nothing but fail at developing their prospects into NHL-caliber players, shower the biggest free agents with money to get them to New York, and make tons of trades to bring in big-name players who are past their prime.
Patric Leung
Ilya Kovalchuk is not past his prime. He is 27. But I get your point, Patric. The reason why teams who build through the draft are generally the most successful is because these teams have more committed players who take ownership of a team and are passionate and committed about being part of something they believe in.
Now, the Rangers have some of these players like Ryan Callahan, Brandon Dubinsky, Marc Staal and Henrik Lundqvist. Maybe Michael Del Zotto will join them. They are the beginning of a core group of Rangers. And like you said, bringing in a player like Kovalchuk and giving him $10 million a year could alter and perhaps damage the team dynamic. But if Kovalchuk got a 10-year deal with a no-trade clause, he is young enough that he could become a Ranger over time. He would play hard and, along with Marian Gaborik, be electrifying. I believe a Kovalchuk signing would work in New York and should be the Rangers' No. 1 priority unless they are bullish on their recent draft prospects to become big-time players.
The Penguins, Flyers and, yes, Capitals have windows that aren't even done opening. Boston is another team that is set up to be good for the next 5-7 seasons. Tampa Bay is coming. The Rangers need to make quick strides or they could experience a playoff dry spell.
John Buccigross' e-mail address -- for questions, comments or crosschecks -- is john.buccigross@espn.com.
Shot of the Week
It's back. You know how it works: We present an NHL photo and Bucci provides a caption. E-mail him your suggestions (include your name and hometown/state), and we will use the best ones and provide a new photo the next week.
LAST WEEK: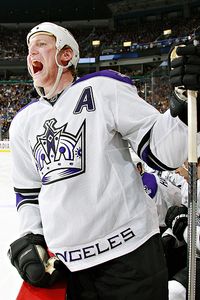 Getty Images
"TODAY'S SPECIAL: FLYING VANCOUVER SALMON!!!!"
Your captions:

"Luuongooooooooooooooo!"
Simon Hermant (Toronto)
"Attention! Will the owner of a silver Toyota Prius please return to the parking lot. You left your lights on! Thank you."
Maciej S. (New York)
"WOW!! Now that's a low price!!"
Ramon Nieves (Chelsea, Mass.)
"If anybody finds a No. 2 bicuspid out there, it should look just like this other one!"
Travis Lounds
"I think I saw the cast of 'Jersey Shore' here again. HEY SNOOKIE! SNOOOOOOKIEEE!"
Richard Gray (Avondale, Ariz.)
"What do you think? Too many teeth still to be a hockey player?"
Keith (Springfield, N.J.)
"MOM!! MEATLOAF, NOW!"
Dave Lavenson (Davis, Calif.)
THIS WEEK: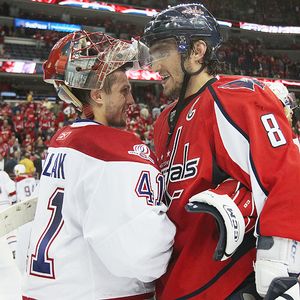 Getty Images
"Thanks, dude. I did not want to cancel my Aruba vacation with a Russian model."
Bucci's Fan Photos
Bucci,
I always enjoy your column and especially appreciate your love of minor hockey. I have a few kids of my own all ripping around on the ice and I skate around with a whistle and wave my arms a lot. We don't win too many championships, but we have a lot of fun with it. I've see a lot of boys in your Fan Photos. Well, here's one of my daughter Hannah -- her first year of hockey and playing Tyke against the boys. She improved quickly and soon we were greeted at rinks around the league with, "Oh, crap! There's the girl with the blond hair!" Oooh yeah, big-time proud daddy moment there.
Tom Holder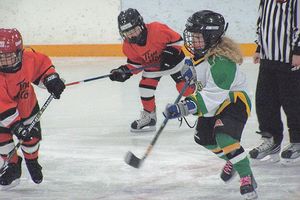 Bucci,
This is a picture of my brother, my mom, and myself. We bought my mom hockey gear for Mother's Day about 7-8 years ago. She comes out on the ice for pickup games with us and other parents and their kids. My brother says one of the coolest things is yelling "Hey MOM!!!" and passing her the puck. And they love to team up and try to score a goal on me. Mom has several assists on lucky goals from my little brother. :)
Cambria Knutson
Columbus, Ohio/Huntsville, Ala.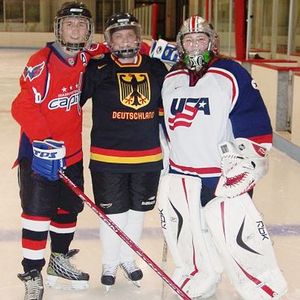 Hi John,
Here is a picture of my 10-month-old son Hayden Davis Ibscher as he patiently awaits the start of Game 2, Kings vs. Canucks. The Kings have an exciting young core, so hopefully he won't ever have to see them go eight years between playoff appearances. Let's Go Kings!
Christian
Corona, Calif.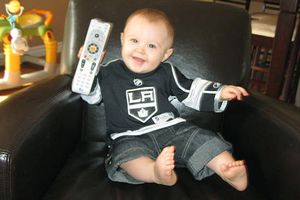 Don't Forget The Column!
San Jose has more confidence in the second round, but Bucci believes Detroit's championship experience is an edge.
Blogumn