Despite run, Sharks still face tough questions

By John Buccigross
ESPN.com
Archive
Bucci,
The Sharks got past the Avalanche (and maybe the Red Wings) largely thanks to Joe Pavelski and his linemates. Can you see him getting a captain's "C" in the future, possibly even next season? Also, what option do you think they should take with their goaltending situation? [Evgeni] Nabokov's gotten a lot better since that rocky Game 2 against Colorado, but I'm wondering if we're going to invest (wild guess here) five years and $40-50 million on a guy whose abilities in net are starting to drop off.
Scott Lanway
Pleasanton, Calif.
Pavelski will turn 26 years old in the summer. With Rob Blake on the precipice of retirement, Pavelski certainly appears to be the next man in line to wear the "C" in San Jose. Blake, who is playing outstanding hockey this postseason and showing his future Hall of Fame status, will turn 41 on Dec. 10. If the Sharks go on to win the Stanley Cup, it would be a great way for Blake to go out. Having said that, Blake has made $3.5 million this season and is outperforming that number right now. As long as some team (Sharks, Kings, Ducks) wants to give him $3 million to play hockey next season, it'll be hard for him to turn down that kind of cake until teams stop offering it. It's still a great gig, this NHL hockey -- millions a year with summers off.
This will be an interesting summer for the Sharks. Patrick Marleau, Blake and Nabokov will all be unrestricted free agents, while Pavelski and Devin Setoguchi will be restricted free agents. Joe Thornton, who will turn 31 on July 2, will be a free agent after next season, and that could put him on trade alert if he comes up small in the conference finals or Stanley Cup finals and the Sharks lose. It doesn't appear as if Thornton will. Jumbo Joe is playing with a desperation and resolve that I've never seen. He looks engaged and confident. He's hard not to root for.
Pavelski is not a five-star skater, but he is obviously very smart, savvy and clutch. I don't think his game will age well into his 30s, but for the next five years, he looks like a 25- to 35-goal and 35- to 45-assist guy. That's 70-80 points and similar to Mike Richards in terms of pure numbers, so it puts Pavelski in the $5-6 million salary category. I think five years at $25 million is about the right contract. His cap number is $1.6 million this season.
Setoguchi is only 23 years old, but he sure looks like a big-time player. With more ice time, power-play time and shots on goal, he should be a consistent 30- to 35-goal guy who could have one or two career seasons. Setoguchi is fast and hardworking.
A player in the NHL becomes a free agent at age 27 or after serving seven years in the NHL, so the Sharks have him for four more years as a restricted free agent. One of those four-year, $16 million deals seems about right for Setoguchi, whose cap number was $1.2 million this past season.
Setoguchi's agent, however, might look at Phil Kessel's contract as a comparable. Kessel will make $22.5 million over the next four years. Kessel and Setoguchi were both born in 1987. Both are great-skating, right-handed-shooting players who are roughly the same size (6 feet, 200 pounds). Setoguchi's agent could argue that his numbers will be very close to Kessel's in the next four seasons. This past NHL season, both played 70 games. Kessel scored 30 goals and Setoguchi 20, but Kessel had 132 more shots on goal. Setoguchi was on a much better team, but that can hurt numbers because of less ice time (Kessel averaged 19 minutes a game, Setoguchi 15) and power-play time (both had eight power-play goals).
Both Kessel and Setoguchi are nonconfrontational players. Setoguchi appears to be a little more active in all areas on the ice. Meanwhile, Kessel's release is lethal. This comparable might mean Setoguchi is more of a $4.5 million-per-year guy.
If those projected contract numbers are in the ballpark, one would think that means Marleau will leave San Jose. Marleau will be 31 at the start of next season and will probably look for a healthy, five-year contract around what he made this year ($6.3 million). His career-high 274 shots on goal resulted in a career-high 44 goals during the regular season. Marleau will be a very popular free agent, and the Sharks had cap concerns this season. Adding a combined $6-$6.5 million raise for Pavelski and Setoguchi makes it difficult to re-sign Marleau and Nabokov, and we all know proven goaltending is more important.
Unless Marleau signs one of those long-term deals that lowers the cap number, I don't see how the Sharks can keep him. A contract of $7 million, $7 million, $7 million, $7 million, $4 million, $4 million, $4 million, $2 million and $1 million would be nine years at $43 million and a $4.7 million cap number that could keep Marleau in San Jose if the Sharks deem him that important on and off the ice. However, even that deal might be impossible.
Nabokov, like Marleau, has spent his entire career with the Sharks. It would be great if the Sharks could win the Cup this season, sign Marleau and Nabokov to their final contracts and someday retire their numbers in the Shark Tank.
So far in the playoffs, Nabokov looks solid and confident. He is coming off his best regular season, in which he played an amazing 71 games. His cap number is $5.3 million, but he is making $6 million this season. A four-year deal that would take him to age 38 is probably what he would roughly get. Dwayne Roloson of the Islanders played well this season at age 40.
Nabokov would be a very popular free agent if the Sharks don't re-sign him by July 1, especially if they win the Cup. When thinking about which teams would need goaltending help, the usual suspects come to mind (Flyers, Red Wings, Lightning) and maybe a few more. But because of his age (he'll be 35 at the start of next season), I don't see how any team could blow away another. If the Sharks want Nabokov back, they should be able to re-sign him. Maybe a five-year deal at $7 million, $5 million, $4 million, $3 million and $3 million is a possibility; that would be $22 million at five years and a $4.4 million cap number, about $1 million less than last season's cap number.
If you combine the Nabby savings with Marleau's lowered cap number, it would be only a $2.6 million cap shaving to go with Pavelski and Setoguchi's $6 million-ish combined cap raise. If Blake retires and Niclas Wallin's $1.7 million is allowed to walk, that would be $5.2 million more off the books. After that, the Sharks might have space to do all of the above, as long as no one else gets a raise and GM Doug Wilson continues his Worcester AHL shuttle tricks.
Realistically, though, Marleau probably is out.
God, my head hurts.
John,
I thought I heard Bill Clement on a Canadiens broadcast recently. I was wondering if you had any updates on the whereabouts of the old crew from "NHL 2Night" and the teams you had working the game broadcasts back then.
Mike Main
SSgt, Hickam AFB, HI
Anchorage, Alaska
Steve Levy is a "SportsCenter" anchor. Darren Pang is the Blues' TV announcer. Dave Strader is the Coyotes' play-by-play guy. Jack Edwards does the same for the Bruins. Brian Engblom and Keith Jones are on Versus. Ray Ferraro works for TSN in Canada. Bill Clement does some Flyers games. Gary Thorne does Baltimore Orioles games and recently did the NCAA Frozen Four for ESPN.
Bucci,
Just a few questions relating to umbrellas before I make my final decision:
1. Does the Q-Stache need an umbrella?
2. What would Chuck Norris have to say about umbrellas? Are they acceptable for the common man who does not possess superior kung fu skills and catlike quickness that undoubtedly allow Norris to avoid raindrops altogether?
3. What is Barry Melrose's take on umbrellas? Is there enough hair gel in the mullet to repel rain, snow, hail and hurricane-force winds?
Jason Thibodeau
Auburn, Mass.
1. The Q-Stache is waterproof. Its trimmings are used to make uniforms worn by special force units when patrolling African rain forests.
2. You answered your own question, although Chuck Norris wears Pavelski pajamas to bed at night.
John Buccigross' e-mail address -- for questions, comments or crosschecks -- is john.buccigross@espn.com.
Shot of the Week
It's back. You know how it works: We present an NHL photo, and Bucci provides a caption. E-mail him your suggestions (include your name and hometown/state), and we will use the best ones and provide a new photo the next week.
LAST WEEK: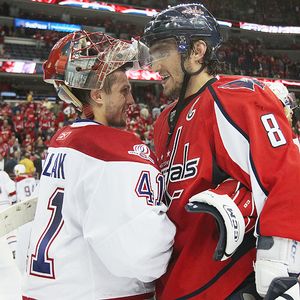 Getty Images
"Thanks, dude. I did not want to cancel my Aruba vacation with a Russian model."
Your captions:

Ovi: "Wow! You looked much bigger in the net!"
JF Denis
"Look! Your hand is shaking, too! Have a nice summer."
Steve
THIS WEEK: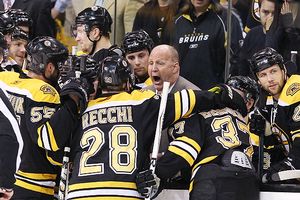 Getty Images
Bruins players are embarrassed at Claude Julien's decision to have an in-game colonoscopy.
Bucci's Fan Photos
John,
I thought I would send along a picture of my young Pens fan, Olivia Jane, who turned 2 just this month. By the way, she pronounces Penguins as "Penwins." A harbinger? A man can dream.
Ricky J. Perrotta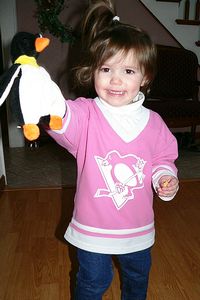 Hi John,
Here is a picture of my three boys just moments before screaming their heads off because either the Habs had just beaten the Caps in Game 7 of the best comeback in hockey history or because they REALLY wanted the lollipop I was holding to get their attention.
Greg Rothman
Los Angeles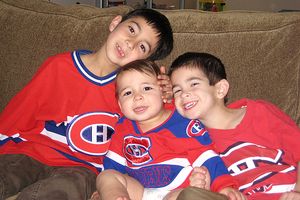 John,
When I took this first photo, I thought it was one of the most beautiful photos in the world. ... Looking forward to the "Sid the Kid with the Cup" photo in 2010, and maybe my son Nick in 2025.
Ken J. Musi
Greenville, Del.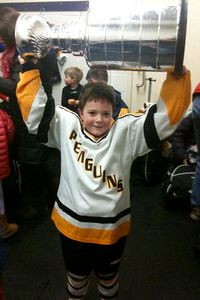 Don't Forget The Column!
Kids listen to coaches preach the values of hockey and to NHL players talk about their place on a team and in the world. But here's a story where the
kids
set the example.
Blogumn