The Q-Stache, Cup company and Bruins' future

By John Buccigross
ESPN.com
Archive
John,
Is there a hockey fan anywhere who, upon seeing an interview with Joel Quenneville, doesn't think "Q-Stache"? I mean, have you ever Googled "Q-Stache?" You've made history, baby!
Carolyn A. Dehring
I was not aware the Q-Stache went viral and how much some of my fellow media members are guilty of a lack of attribution. The Q-Stache was born here! Q-Stache, you complete me. For those of you who missed the "Q-Stache-&-A" with Joel Quenneville's better hairy half, here it is:
Bucci: First of all, I bow to your majestic presence.
Q-Stache: As you should.
Bucci: What mysterious powers do you and others of your ilk have? Why do your type help Jason Giambi hit home runs and Tom Selleck score with women (despite wearing Hawaiian shirts)?
Q-Stache: First of all, don't compare me to my facial follicle brothers. You'll notice they no longer reside on the lips of Mr. Giambi or Mr. Selleck. They lacked the staying power to make real change. Those stars have faded. Mr. Giambi was a bust in New York. Mr. Selleck peaked with "Three Men and a Baby." He should never have gotten rid of the 'stache.
Bucci: But explain your powers.
Q-Stache: It's simply the ultimate sign of manliness. I mean, look at Mike Ditka. What more does one need to say? Chicago is the city of broad shoulders and hairy backs. Ditka, Ozzie Guillen, Phil Jackson. They are our championship coaches, and they all had hair on their faces. What more needs to be said?
Denis Savard clearly was fired because he has the skin of a "High School Musical 3" extra. Way too soft. Hockey is a game of stink. That's what I'm getting at here. That's the visual, the vibe. Patrick Kane and Jonathan Toews are still poppin' zits in the mirror. They need a man in charge here. Outlaw Josey Wales Conference, baby! Woo! I am Chicago. You take me off Joel Quenneville's face, and you know what you have?
Bucci: What do you have?
Q-Stache: Bob Saget. The "Full House" version of Bob Saget. The Q-Stache rules. The sooner you understand that, the sooner we can move on.
Bucci: Are you Canadian?
Q-Stache: I put the Man in Manitoba, be-ahh …
Bucci: OK! I get it! You have more testosterone than the Canadian world junior team. I get it. I really do. And I truly bow to your presence.
Q-Stache: You are free to go. The Q-Stache needs to go kill a raccoon. Q-Stache needs to eat, too.
Bucci,
Much like the age-old question of who you would select to make up your golf foursome, I was wondering what three people you would choose to watch a Game 7 of the Stanley Cup finals with? Would you choose different people depending on who is playing for the Cup, or would you just come straight off the course and watch it with the people you chose to be in your group?
Chris
Barnstable, Mass.
Diora Baird and three of the five members of The National.
Bucci,
I was wondering if I could hit you up for a baby name. When I met my wife in 2002, she had no interest in sports. Now, she loves hockey, bought herself a Bruins jersey, has a favorite player (Tim Thomas) and gets Bruins updates on her iPhone so she knows the news before I do.
As Boston Bruins fans, we're now focused on the future, and with our first baby and the No. 2 draft pick on the way, the future looks bright. The baby's due in November and we don't know the sex yet. Your suggestions?
Chris Briggs
Lowell, Mass.
Bethany Patricia Briggs.
Gabriel Liam Briggs.
The spoked B stands for Briggs.
Hockey fact: The Chicago Blackhawks have never had a Conn Smythe Trophy winner. The Boston Bruins have had one, Bobby Orr, who won the award twice. The trophy for playoff MVP was first awarded in 1965.
John,
The first time I've ever e-mailed you. I took a picture of you and Barry in between periods in Albany for the NCAA regionals this year. I just thought you should know. I'm a Bruins fan, properly brainwashed by my dad. We watched the epic Bruins collapse. I'll admit, this team was not that strong and I had low expectations coming into the playoffs. And after beating Buffalo, anything else was just gravy. But this is an unacceptable collapse.
Pete Boudette
Albany, N.Y.
The Bruins were the lowest-scoring team of the 16 to qualify for the playoffs. They were being carried by 23-year-old Finnish goalie Tuukka Rask, who simply ran out of mental gas.
Miraculously, Miroslav Satan, who had five goals in his previous 35 playoff games, scored five in his first nine playoff games this spring. That was an aberration. Satan reverted to his playoff mean and didn't score in the last four games of the Flyers series. Marc Savard was out too long to be a consistent factor. David Krejci's injury was gigantic; he was really hitting his two-way stride. Krejci's injury, plus Simon Gagne's return, shifted the series to Philadelphia.
When healthy, the Bruins don't come close to the skill and depth of the Flyers. You have to be a high-scoring team to advance in the Stanley Cup playoffs. You can no longer go into a shell and protect leads via a non-aggressive trap. We are seeing Montreal revert to their scoring mean, and barring another miraculous comeback, they should be eliminated by the Flyers.
The Bruins need to amplify their scoring next season or they won't be a playoff threat. Satan is not the answer. Mark Recchi turns 43 during next season. Marco Sturm will be 32 and coming off a torn ACL injury.
On the bright side, this was kind of a lost season for 21-year-old Milan Lucic; late in the postseason, he showed he can be a force for the Bruins. Lucic needs to play on the top line, get 200 shots on goal and stand in from of the net on the power play like Tomas Holmstrom. Lucic had no power-play goals this regular season. That's absurd. Lucic has three power-play goals in 199 career NHL games. That's insane. If Lucic plays 80 games next season and plays on the top line, gets 200 shots on goal and plays on the top power-play unit, he can score 35 goals.
The Bruins have paid Lucic; now they need to play him. A lot. Tell him that now and have him get ready to shoulder the load. Lucic will help, but the Bruins need more. We will see if the No. 2 overall pick can step in and help right away.
Hi John,
I just read your column about the squirt hockey team who dedicated their tournament run to their teammate after he and his father were seriously injured in a car crash. I was pretty low about the Bruins' collapse, but after reading your column, it made me forget about all that happened last Friday.
Hockey is just a game, and what those kids did was nothing more than amazing. Thanks for your column. It made me believe that kids can be more mature than their years indicate.
Mike
John Buccigross' e-mail address -- for questions, comments or crosschecks -- is john.buccigross@espn.com.
Shot of the Week
It's back. You know how it works: We present an NHL photo, and Bucci provides a caption. E-mail him your suggestions (include your name and hometown/state), and we will use the best ones and provide a new photo the next week.
LAST WEEK: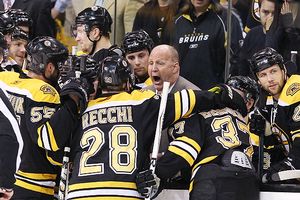 Getty Images
Bruins players are embarrassed at Claude Julien's decision to have an in-game colonoscopy.
Your captions:
"Coach Julien was tasered before running on the ice!"
David Rohrer
"Someone feed coach … he's going after Recchi!
Howard Freedland
"OMG! OMG! OMG! Don't look, but Justin Bieber is sitting in Section 108 and he just waved to me from the front row!"
Tom Bratton (Hazlet, N.J.)
THIS WEEK: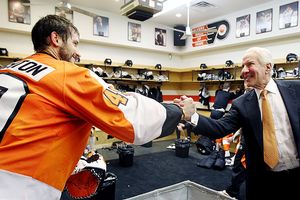 Getty Images
"I'm the new backup goalie."
Bucci's Fan Photos
John,
I know how you love having pictures of children on your mailbag and blog. Here is Emma Adrianna Blair Hartigan. She came six weeks early because she didn't want to miss any Olympic hockey games! Here she is cheering on the Habs in Game 7 of the second round. Her dad picked Habs in six (versus the Caps) and in seven (Pens).
Lawrence
Innisfail, Alberta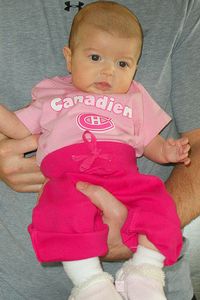 Hey John,
Here's a picture of my son Easton (age 3) moments after the Sharks finished off the Red Wings.
"See Dad, I told you there was nothing to worry about." If only I was that confident.
Greg Folla
Denver, Colo.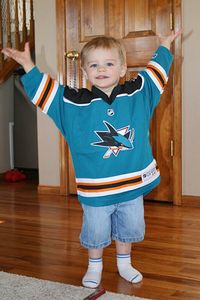 Bucci,
"It was a ruff, ruff postseason for the Capitals, but I still love them anyway!"
Riley Pensky
Terre Haute, Ind.