Updated:
October 14, 2010, 2:51 PM ET
Bucci's Mailbag: Weighing the Rangers' chances

By John Buccigross
ESPN.com
Archive
Welcome back, John ... and welcome back, NHL hockey!
I wanted to let you know I was playing the greatest hockey video game the other day (NHL HITZ 20-03), and there was a question asking, Who was the first Swedish player to score 50 goals in a season? The answer, of course, is Hakan Loob. I wouldn't have known this without you. Thanks for that. First Loob reference of the season! Go me!
(P.S.: How bad are my Rangers going to be?)
Trevor
Port Jefferson, N.Y.
Loob is always a good way to start a hockey season. Hakan Loob won practically every gold medal a hockey player could win, including the 1987 and 1991 world championships and the 1994 Winter Olympics. He also won the 1989 Stanley Cup with the Calgary Flames. Loob represents the fun portion of this mailbag because he has the funniest name in hockey. When you are having a bad day, say "Hakan Loob" 10 times, and I promise you will feel better.
The Rangers? They have too many good players to be bad. Through their first two games, they have given up 36 and 32 shots, respectively. Now, both were early-season road games against dynamic teams in buildings with a lot of energy, but it's something to keep an eye on. There are new players and new young players who probably will take some games to jell.
Based on last season's standings, the Rangers have some teams they should match up well against this month. They'll play the Maple Leafs three times as well as the Thrashers and Hurricanes. The Rangers need to get going. November is a big challenge schedulewise. Here are some bullet points:
• They'll play 16 games in 29 days, eight home and eight away.
• They'll have three back-to-back games; all three back-end games will be on the road.
• They'll play Chicago, Philadelphia, Washington, Boston and Colorado (the Avs are legit), and the Penguins twice.
Remember, NHL standings usually don't vary much after Thanksgiving. These three-point games make it difficult to have much volatility in the standings down the stretch. The first two months are vital for teams such the Rangers, whom no one expects to be in the 6-10 range in the Eastern Conference standings. They have only three games in the next 10 days. This is the time to get together as a team and figure out how this thing will work.
John,
Pavel Datsyuk is on pace for 82-82-164 and 410 PIMs. He will have traded the Lady Byng for the Art Ross, Rocket Richard and (with 164 points) the Hart/Pearson awards in the single greatest fantasy season in NHL history.
Mike
Kalamazoo, Mich.
"Corey Perry presents: 'Jump the Lady Byng Winner' ... in theaters Oct. 8 ... and on the Internet forever."
Datsyuk has won four of the past five Lady Byngs. (Tampa Bay's Martin St. Louis won last season.) His impressive bout with Perry should take care of any chance to earn the Lady Byng this season. If you can't lose the Lady Byng on the first shift, lose it during mop-up time against the Ducks.
Hi Bucci,
I've been a hockey fan for more than 15 years (started when I was 13) and a fan of your blogumn for the last two. I am planning to take my wife to our first pro hockey game ever. I just moved from El Paso to the Dallas area, and our first game will be Saturday (Stars versus Blues). I have two questions: (A) Which seats should I get, bleachers or close to the action? (B) Any tips that you can share to get the complete hockey experience (music, food, pre- and postgame activities, etc.)? I need the answer from the pro!
Oscar Quintero
A. There are no bleachers in hockey, Oscar. That's baseball. But I know what you mean. Closer is always better in hockey. I like lower bowl and up toward the back. It gives you a good perspective of the game on the ice, and you are close to the $10 pretzels.
B. Before the game? Go get yourself a nice chicken parm dinner, preferably within walking distance to the arena. It's what the hockey players do. Then, after the game, find Dallas Stars analyst Daryl Reaugh in the media parking lot and challenge him to a media parking lot wrestling match. He loves that, and it's a good way to wrap up the day.
Mr. Buccigross,
My question revolves around the new puppy my wife and I brought home. He's a puggle (pug/beagle mix) and very wrinkly and chubby. I've searched through Gophers and Wild hockey players of the past but haven't found anything that really hits the spot. Can you help us with a solid name for our solid pup?
Andy Krall
Minneapolis
C'mon, Andy. Expand your Minnesota horizons. He didn't play for the Golden Gophers or the Wild, but he was born in Rochester, Minn., and played three years at Minnesota Duluth. He also won a Stanley Cup and is a champion for those who play life short-handed. Like your puggle, he is cuddly, loyal and fun. For all of Minnesota and for all of hockey, please, Andy, name your puggle Podes. Thank you.
John,
Who: Denis and Darah Kirstein
What: Baby
Where: Pittsburgh
When: May 10, 2011
Why: Name for a puck-moving defenseman or shot-blocking defensewoman
How: Ask your parents
Denis Kirstein
Karsten Lee Kirstein
Cammi Ann Kirstein
Random hockey fact: The first professional hockey game was played in Pittsburgh.
John Buccigross' e-mail address -- for questions, comments or crosschecks -- is john.buccigross@espn.com.
Bucci's fan photos
Bucci,
Sure, the Sabres will steal some games because of Ryan Miller, but what is obvious is that when the chips are down, they can't score or play team defense. You have them as a 75 percent shot to make the playoffs, but I'd guess they will miss the playoffs by more than 10 points. However, we are excited for the season! My son is 6 months old and is showing off his Sabres love already.
Tom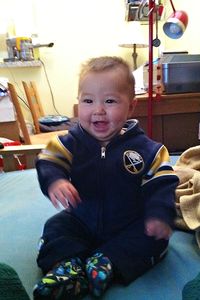 John,
I know it is the AHL, but you are a Connecticut guy and would appreciate the difficulty of explaining to my kids how the name of the team is now the Hartford Wolf Pack and they will soon become the CT Whale because Howard Baldwin is trying to capitalize on the popularity of the Hartford Whalers. Either way, they got their pics with both mascots Saturday night.
Gordon Perkins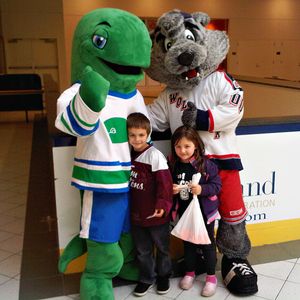 John,
I took my 3-year-old son, Matthew, to see the Stanley Cup. There are very few things a father and son can do that tops me reading the names of the Blackhawks off the actual Cup to my son and him being able to touch it. One of the coolest days ever!
Tab Bamford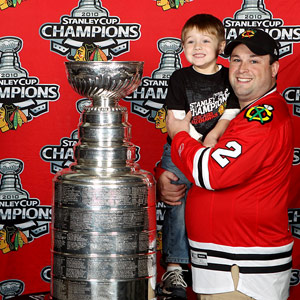 Tuesday Poll
Sponsored by Ken the Otter
Don't forget the column!
Bucci gives his playoff percentages for all 30 teams and checks out the Pens' new digs.
30-team preview
|
Arena tour!