Updated:
October 27, 2010, 1:53 PM ET
Debating Parise, Semin and, of course, 'staches

By John Buccigross
ESPN.com
Archive
Hi John,
With the Devils' salary cap issues and looking at who comes off their payroll next season, is there any chance they might not be able to keep Zach Parise? He's a restricted free agent [in July], arbitration eligible. He's also the heart and soul of this team and a true leader on and off the ice. Your thoughts?
Julio E. Aleman
Julio, salary cap-wise the Devils should be fine for next season.
First of all, NHL revenues should slightly go up next season if the economy continues to improve. More importantly, a new U.S. television deal should be struck early next year. If the additional television revenue is pumped directly into the salary-cap number, the salary cap is expected to rise by at least $3.5-$4.5 million, since the new television deal should increase by at least $100 million a season. This will help give teams like the Devils some salary-cap solace.
The salaries for Jason Arnott (just turned 36, $4.5 million salary) and Jamie Langenbrunner (36 next July, $2.8 million) should come off the books if one of them isn't traded this season for salary relief. That is $7.3 million. The Devils could cut ties with both and clear the salary and go younger, or they could bring one or both back at a lower figure. The Devils need to get quicker and younger up front, and this could be the end for these two veterans in New Jersey, unless there are no better alternatives.
[+] Enlarge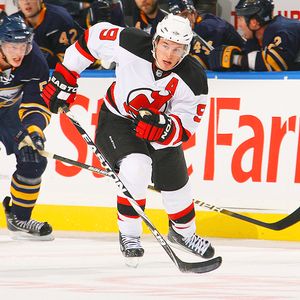 Bill Wippert/NHLI/Getty ImagesZach Parise is slated to become a restricted free agent at the end of this season.
Add a potentially higher cap number after a new television deal with the savings from the three players mentioned above, and the Devils will have room to re-sign Parise to a long-term deal. The question is, what will that deal look like?
There are two questions Parise and his agent have to ask themselves: "How long should we sign for?" and "How do we feel about Ilya Kovalchuk making at least $11 million a year for five years from 2012-2017 while we are in our prime?"
Hockey players don't always think in these terms. They look at their team and their contract and usually make a measured decision not based on pure money, as Kovalchuk and his representation did. Parise will be 27 years old when his deal ends after this season. He is a restricted free agent, but that doesn't matter. This will be a big deal. It's just a matter of how many years the contract will be and if Parise will demand a contract close to Kovalchuk's. If he doesn't, the money should be the easy part. Parise is probably a 35-45-80 guy (on average) for the foreseeable future and will have a few better seasons than that (maybe some lower if there is an injury). Parise is an elite winger who has two of the most important traits a hockey player or any employee of any corporation can have: character and durability. Parise has missed three games in his first five seasons.
To me, Parise kind of compares to Marian Hossa and Mike Cammalleri. Hossa is making $7.9 million over the next six seasons before his salary drops for cap purposes. Cammalleri will make $6 million this year and next and then $7 million the last two years of his deal. That puts Parise's number at about $7.5-$8 million on average.
How long should the contract be? The Devils would like a longer-term deal to get a lower cap number. The player would like a longer term to get the most guaranteed jack he can get playing a dangerous, physical game. I'm not a big fan of these ultra-long deals, but in this case a 12-year deal seems about right. It carries Parise from age 27 to 38, and he would presumably end his Hall of Fame career in New Jersey. I would have the yearly salaries for Parise in the range of $8M, $8M, $8M, $8M, $7M, $7M, $6M, $5M, $5M, $4M, $3M and $3M for a 12-year, $72 million deal with a manageable $6 million cap hit.
Parise's and Kovalchuk's cap numbers should enable the Devils to be flexible as the older players we mentioned above come off the books and Martin Brodeur and Patrik Elias likely retire at the end of their current deals. Brodeur's $5.2 million cap-number deal ends after next season (he will then be 40), while Elias' $6 million cap-number deal ends in 2012-13 (he will be 37).
Things may be clogged up a bit right now for the Devils, and they have to dump some salary now, but going forward they are in good shape to sign Parise to a long-term deal next summer and continue the transition of entering a new era of Devils hockey, one that includes a lot of success.
Hello John,
What do you think about this trade: Alexander Semin and either Semyon Varlamov or Michal Neuvirth for Henrik Lundqvist and Tim Kennedy?
Magnus Linde
Karlstad, Sweden
(Hometown of Hakan Loob)
Semin, who turns 27 next March, is an unrestricted free agent next summer, while Lundqvist has three more years left on his contract after this season. That's one reason why the Rangers would not make that deal. They could get Semin, who is off to a 50-goal pace this season, for nothing as a free agent come July. There is no question the Rangers will have interest to pair Semin with Marian Gaborik for a solid 1-2 goal-scoring punch. The only issue is these are not durable players. Semin has missed nine, 20 and 19 games over the past three seasons, respectively. The Capitals would probably make that trade tomorrow if they could.
Acquiring Lundqvist would be a culture-changing moment. If there was ever a team that needed a veteran leader in net, it is the Capitals, but again, that isn't happening with Lundqvist. But the Semin issue will be interesting to watch this season. I wonder if the Caps will try to find a match with a team that could provide the Caps with strong assets for a Cup run. With their deep blue line and veterans like Ryan Smyth on the roster, Los Angeles comes to mind. While it's an easy decision to sign a player like Parise (see above), Semin is a tricky one. Semin has so much talent, it's scary, but the missed games and playoff lines (he had no goals and two assists in seven games this past postseason) are red flags.
Hi John,
I'm thinking about building a backyard rink this winter, so, of course, I consulted your article on how to build your own. The one major hurdle I need to overcome is selling it to my wife. She's concerned the grass underneath it will die. I know you have yours on asphalt, but do you have any experience with building on grass, and will that grass survive the following spring/summer?
Pete
I bought my first backyard rink package at www.nicerink.com 10 years ago. If I could package the feeling it has given me and the kids over the years, I would express mail it to your wife. Will it kill the grass? I sincerely doubt it. But even if it did leave some slight discoloration in the spring for a few weeks, I guarantee you that when your wife looks at the grass she will think of the days of backyard winter skating that are unlike any other feeling out there. She will look out the window next summer and, just for a second, wish for winter.
Bucci,
Following the mention of several fine 'staches in your latest mailbag, I feel the need to make a case for NHL referee Bill McCreary. After all, George Parros, Lanny McDonald and even the mighty Q-Stache must obey McCreary when he's on the ice. Legend has it that Peter Griffin's mustache was modeled after McCreary's for an episode of "Family Guy."
Ben
Pittsburgh, Pa.
[+] Enlarge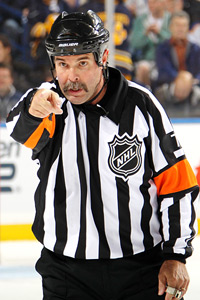 Bill Wippert/NHLI/Getty ImagesAll hail the Bill McCreary 'stache!
Bill McCreary made his NHL referee debut on Nov. 3, 1984, in a game between the Pittsburgh Penguins and Washington Capitals. McCreary has worked in 15 Stanley Cup finals and refereed in three Olympic Games. His Billy 'stache is in a word ... epic. If you glued all the hair on my body together it would not be as voluminous or coarse as the follicle salad of Mr. McCreary. It's a welcome mat of hair. McCreary was set to retire until his 'stache stepped in and demanded one more season. It had some scores to settle on the road.
Bucci,
I think you were way off with your comment about Lecavalier recently: "The Lightning traded the wrong guy when they dealt Richards in 2008 and kept Vincent Lecavalier."
First, No. 4 will always get more fans to the rink than No. 91 (not Stamer). Second, I'm pretty sure that Vinny has more points then Brad does since the trade. Also, let's consider what Lecavalier has done for the community. Finally, the chemistry between Marty and Vinny was always better than the chemistry between Marty and Richy, so you'd cause too much collateral damage by offloading Vinny instead of Brad, like you suggested.
Kris
Jacksonville, Fla.
Stats since the Brad Richards trade from Tampa Bay to Dallas:
• Brad Richards: 44 goals, 116 assists and 160 points in 155 games.
• Vincent Lecavalier: 63 goals, 94 assists and 157 points in 183 games.
• Richards has three more points in 28 fewer games (he broke his wrist in February 2009).
Bucci,
So I have been following you and the "NHL 2Night" crew since I was a kid. I miss the days of Chicken Parm and staying up late to watch the updates on my favorite team, the Flyers. I just watched your interview with Ovi and he seemed dull. As hard as you tried to lead him into at least some emotion, it just seemed like he was not feeling it (language barrier, maybe?)
(P.S.: Just bought you and Keith Jones' book. So far it's great! Keep up the good work!)
(P.S.S: BRING BACK "NHL 2NIGHT"!)
Andrew
For you new readers, I wrote a book with Keith Jones a couple of years ago. If each of you new readers purchases 20 copies each, you will help us break even.
I enjoyed my 20 minutes or so with Alex Ovechkin when he visited Bristol, Conn., last week. He was at ESPN headquarters to film one of those "This Is SportsCenter" commercials that have been so popular over the years. The general concept is Ovi and Semyon Varlamov (who was also in Bristol) are Russian spies. I'm told it turned out well.
Ovechkin gave me some time for a light-hearted interview. He was congenial, friendly and sensitive to the space around him. At times, he went out of his way to ensure no one else went out of their way to treat him differently. He is a hockey player. At one point, he was texting on his BlackBerry. I asked him, "Do you text in Russian or English?" He replied, "Both."
He has an interesting body. He has a big head that appeared to be sprouting a couple of gray hairs. His hair was implausibly devoid of any style whatsoever; it was Russian Caveman hair. When he looked at me, making sure he understood my every word, he had a look on his face at times like he was about to eat the face off my skull. His body is wide and thick up top, and with that head on top of his torso he almost appeared to be an upside-down triangle. It explains the power behind his freight-train hits we see on highlight packages. If he bumped into you, you would go down, and then he would smile that toothless grin and help you up.
You can watch our interview here. I know he might seem quiet and uninterested on tape, but you would have a different opinion in person. He thought about the questions and had a wiry smile throughout. He is self-effacing and playful. You would love hanging around Ovechkin. He's a cool dude.
Hi John,
My 4-year-old son wants to play hockey badly, but I'm not sure where to start (I grew up playing soccer and basketball and didn't learn to skate until college). Do I sign him up for skating lessons or go straight to a team (our local youth hockey association has an U8 program that he is old enough for)? Can you give me a new hockey dad primer? Also, we are expecting our third child in a few months and could use some name suggestions. Since we already have a boy and a girl, we have decided not to find out the sex. The baby will be joining brother Holden Asher and sister Elliot Olivia.
Chad Davis
Littleton, Colo.
Sign you boy up for a "Learn To Skate" program. Let him skate around for a winter, along with any public skating you have in the area. Depending on the kid, he then might be ready for an in-house program with kids at his level. Let him take over the pace from there.
If you have another son, please -- PLEASE! -- name him Chili. Chili Davis. Now that's a hockey name.
John,
I am sending you this link for a story in the Buffalo News regarding the Sabres donating unsold food from games to a homeless shelter. According to the article, all NHL teams are participating in this program. I think you give a shout out to all teams for participating in this program.
Chris
Mr. Bucci,
I was recently selected by the United States Navy to become an officer and aviator. As you may or may not know, aviators have call signs (Maverick, Goose, etc.). Although I will most likely be given a call sign by my peers, what would you suggest as a call sign for me? What would your call sign be if you could choose?
Mark
Ann Arbor, Mich.
Top 5 choices for a call sign:
1. Loob
2. Podes
3. Parm
4. Knob
5. Edge
Bucci,
Anberlin. Your new favorite band. You're welcome.
Anonymous
John Buccigross' e-mail address -- for questions, comments or crosschecks -- is john.buccigross@espn.com.
Bucci's fan photos
Bucci,
Thought I'd shoot you a pic of the current Memorial City B/C League Champs: "Just One More". Take a close look at the logo and you'll see what the team name refers to. ... Not only do the jerseys look sharp, but they have little pieces of Q-Stache embedded in them. ... Best beer league jerseys ever.
Matt
Houston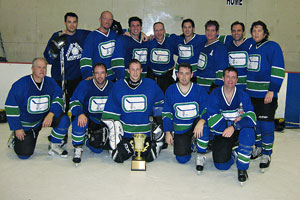 Hey John!
My wife and I had a baby boy in July, Dylan, and we've moved up to East Haven, Conn. I've attached his picture we took of him in his Avs gear next to my mini Stanley Cup.
John-Paul Cosentino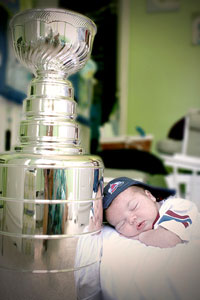 Bucci,
Love the column! I've been reading it for years and I know you do a great job at naming children when given a position and last name. I'm going to switch it up on you a little and ask you to give me a position for my son because I never got around to writing before he was born. Eli Alexander (born 9 pounds, 12 ounces and 22 inches).
Alex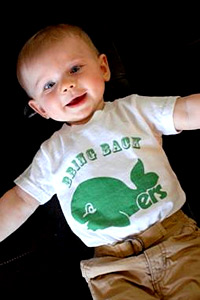 Bucci,
Make way for the 2029 Calder Trophy and 2031 Vezina Trophy winner, Nicklas Aris Bissett Edlund. He is scheduled to take in his first NHL action in November when his (OK, his father's) Oilers come to visit New Jersey. No. 29 on his jersey, but No. 1 in our hearts!
Jeff Edlund
Maplewood, N.J.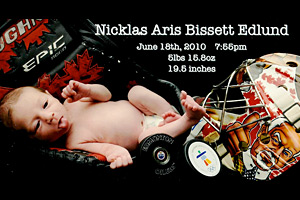 Hey Bucci,
Last season, you had an all-Red Wings article defending yourself when someone thought you never gave them enough credit. In that piece, I could see your deep love for the one and only Steve Yzerman. The attached picture will show you aren't alone, as he has always been my hockey idol, despite my close proximity to Toronto.
Nick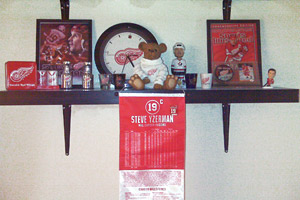 John,
You usually receive photos of cute little kids in hockey gear, but I wanted to send you a picture of my 12-year-old son, Ben, after his first ice hockey game. He had a great time and competed hard even while trying a new sport and playing with kids that have more experience. Ben is a good athlete, good student and kind and respectful to others. I am really proud to be his dad.
Fabian Rivelis
Washington, D.C.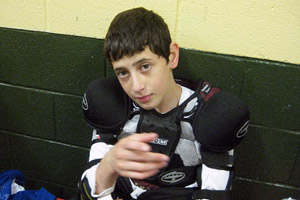 John,
I've taken some pics of my kids before, but this is the best yet. Quite a short-handed lineup.
John Davis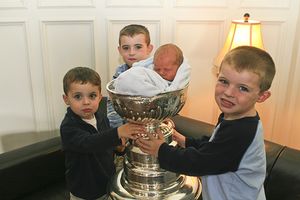 Bucci,
I had received one these mini-Cups as a giveaway at a Kings game many years ago. It sat in my office until I found someone that could lift it properly: my two-week-old son Adam. Hope he gets to lift the real thing one day (and maybe even be awake when he does it)!
Tony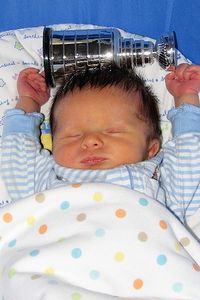 Don't Forget The Column!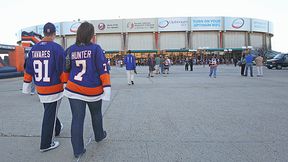 Proximity to New York City hasn't helped the Islanders, Devils or Rangers win a Stanley Cup over the years, but adopting a small-town mentality could help.
Story