Updated:
November 2, 2010, 8:38 PM ET
Alfredsson's future, Devils' woes and music

By John Buccigross
ESPN.com
Archive
Hi John,
Daniel Alfredsson reached 1000 points last week in 1009 Games. Only 75 players have reached that plateau before. On top of that he is the longest serving active captain in the NHL, has won the Calder Trophy and has an Olympic gold medal. He is loved by the fans in Ottawa (who know hockey as well as anyone) because he has always played the game with a seemingly perfect blend of modesty, creativity, grit and heart. Question: Is this a Hall of Fame career?
Ben
St. John's, NL
Alfredsson had two things working against him, Hall of Fame-wise, before his NHL career even started in the fall of 1995.
1. He was about to turn 23 years old, thus getting a late start on accumulating statistics. Sidney Crosby is not the best example to use here because he is a phenom, but as an example, Crosby is 23 right now and is already over halfway to 1,000 career points.
2. Alfredsson began his career as the NHL was becoming a defense-first, clutch-and-grab league with iconic goalies. It was the beginning stages of young goalies combining the legends of Patrick Roy and his butterfly with Dominik Hasek and his slinky, flexible, style. Hasek invented ways to make saves that at first were considered floppy and quirky and then became part of the science of goaltending. He was playing the percentages when at first it looked as if he was trying to scratch an itch in that hard-to-reach spot on your back. Hasek was skinny, crazy and competitive in practice.
This means you just can't look at the all-time point leaders and make simple comparisons. Yes, Brian Propp has similar career games played (1,016) and points (1,004) as Alfredsson (1,013 games with 1,004 points) does right now, but Propp began his career as the NHL was embarking on its most offensive era in league history. Alfredsson began his career as the NHL was trapping, clutching and grabbing. Alfie was also beginning his career as the evolution of the goaltender was rapidly ascending to the point where some goaltenders were arguably the most fit and flexible athlete on the team.
Goaltending coaches, excellent equipment, eliminating the goalie's fear factor and the science of goaltending have made it very difficult to score goals today. Even after the NHL dredged the clutching and grabbing style following the 2004-05 lockout, we are still nowhere near the goal totals of the '80s. We can't make simple point comparisons to determine greatness. So, Alfredsson had that going against him as he began his NHL career. But, he does have some things working for him. Alfie has played on good teams and with good players during his career. Outside of his rookie of the year season, when Ottawa went through three coaches, the Sens have been in the playoffs every year except for the 2008-09 season, and, even in that season, the Sens won more games than they lost. Yes, he has helped greatly in making those teams very good.
Other things working in Alfredsson's favor. He has a very good playoff record. In 107 career Stanley Cup playoff games, Alfredsson has 45 goals and 43 assists. In four Olympics, he played 20 games and had 11 goals and 12 assists. He's been more durable in his 30s than his 20s. He's played in five All-Star Games (it would have been more if not for the Olympics) and played in All-Star Games 12 years apart. He's made only one postseason All-Star team (2005-06 second team), but Alfredsson has superb regular-season and playoff season numbers. And, he did this with the burden of being captain.
It's kind of a close call with Alfredsson and in cases of close calls things like captaincy, playoff record, professionalism, style, two-way play and Swedish-ness matter. He can shoot and he can skate and he would be a classy, welcomed addition to downtown Toronto at the Hall of Fame.
Mr. Buccigross,
Do you think the NHL will ever remove the salary cap?
Thanks,
Robby
No. But, we may see things evolve to the point where there is a softer cap that would include more flexibility in retaining players or paying a luxury tax. The Chicago Blackhawks won the Stanley Cup last season primarily from good drafting. It would have been nice to see them have a chance to defend that title. Great teams and dynasties help give the league texture and traction. The competitive balance in the NHL does have a level of fairness and sportsmanship to it that is appealing, but I think teams, good teams, should have some flexibility in keeping rosters together and going for the Cup again.
Also, fans who invest so much in these players in terms of money and emotion deserve more return on their investment.
A reader, Connor, has an idea here:
Hey Bucci,
My main gripe with the cap is the possibility that it punishes teams for drafting and developing their own players well. My suggestion is, have only a percent of the total salary of homegrown players count against the cap. For instance, if Joe Shmo is drafted by the Rangers and gets a $5 million contract maybe it would only count as $3.5-4 million when applied to the Rangers cap (but would cost the full $5 million if he was traded/signed elsewhere). This would reward teams that develop their own core of players, gives incentives to keeping your team intact, develops better rivalries and creates better connections between fans and the players they root for.
Cheers,
Connor
Hi John,
Zach Parise contract. What do you think is wrong with Devils?
Thanks
Let's face it, the Devils are a disaster right now. What's wrong? They can't score. The Devils have now scored two or fewer goals in 11 of 13 games this season. Watching the game Monday night in Vancouver, one thing that stands out is the lack of a dominant playmaker. Ilya Kovalchuk has the puck so much and will make the right play for the most part, but he is primarily a shooter. When he has the puck and skates around the zone, you usually find the rest of his teammates watching him because he usually shoots it. Monday, he had a late-developing two-on-one in Vancouver with a teammate (terrible that I didn't go back and get the player's name; I think it was Travis Zajac). The right-handed shooter was wide-open skating to the far post. A simple pass over would have resulted in a goal. Instead, Kovalchuk shoots it. Kovalchuk's best years in the NHL came when Marc Savard was his center in Atlanta. Savard is a brash, outspoken, pass-first centerman. I'm guessing he would scream at Kovalchuk at practice and on the bench to get him the puck and just worry about getting open. I wonder if that is the kind of player Kovalchuk needs to be at his best. Just a theory from afar.
The Devils appear to be completely a lost cause, but people tend to go to extremes in matters of emotional sports issues. They are 30th out of 30 teams and better get going soon or the season will be over before Christmas.
It will be interesting to see if this season and the overall philosophy and health of the organization have an impact on whether Zach Parise wants to stay in New Jersey or not. Let's face it, at his age, Parise could sign a long-term, cap-friendly deal with just about any team he wanted to -- Pittsburgh, St. Louis, Detroit, Los Angeles, Toronto or a number of other teams. He is in a great position to dictate his life for the next 10 to 12 years. We should all be so lucky.
Remember, Parise is a restricted free agent, not unrestricted, next summer so he would either have to inform the Devils he has no intention of signing long term with them and force a trade or politely decline all contract offers until the Devils get the picture.
John,
Interesting article that hit home after a visit to the Prudential Center on Saturday to watch my Sabres crush a listless and lost Devils team. I was there on business, we had 50 alumni and their families join for a pregame program hosted by a CHS alumnus and college friend of minority owner Michael Gilfillan. Bruce Driver stopped by and signed autographs -- we wanted Larry Quinn (CHS class of 1970) to join us but he would be having surgery.
Gilfillan struck me as a man committed to Newark like Quinn is committed to Buffalo -- towns that have seen better days, that have the potential to return to glory and need leadership and capital to take them there. I was impressed by the new building, the 150 high school jerseys hanging along the arena and the number of Devils/Rockies jerseys in the hallways before the game ... Then I got to my seat and the place was empty. I was shocked. It was Saturday night and there are 22 million people an hour train ride away. The Devils are in trouble. On the ice that night you had the potential to see the best goalie in history, Martin Brodeur; the reigning Vezina Trophy winner and USA Olympic darling, Ryan Miller; the Calder Trophy winner, Tyler Myers; a top-10 NHL talent in Kovalchuk; and a number of other top players.
There must have been only 8,000 people in the building. Sections were empty. This is New Jersey, one of the best teams in my lifetime (I am 27) this is not the Atlanta Thrashers! That arena had every gimmick popular these days -- dancers, a nickname for the fans (Devils Army), tee-shirt shooting mascots and $10 food voucher with your ticket -- everything and still only 8,000. Is this the real NHL? Am I spoiled to live in Buffalo where as a non-season ticket holder I cannot smell a playoff ticket because they do not sell them to the general public? You have been to the other arenas. Tell me this was a fluke. I hope for the sake of a league I have learned to love that things are better for the future.
Selfish plug for my alma mater. Canisius High School has to be one of the only high schools in the U.S. that can boast a minority owner, Quinn, and a Stanley Cup winning GM, Stanley Bowman '91. Jim Bednarek is also the VP for Finance at the Bruins. Buffalo is more to hockey than Patrick Kane and the Winter Classic.
Paul A. Zablocki
Good evening Sir,
After such a win against Philly and a road win against the Hawks, do you think that Columbus can compete for the playoffs?
If we take a closer look at the team stats, three players have five points and many others have more than three, so is Rick Nash a little more indispensable than before? Or the Jackets can maybe really rely on their offense now?
Best Regards,
Loic
The Jackets appear to be well organized to go along with a strong competitive level. I really have a lot of respect for the way Rick Nash has grown into a leadership role. You don't see many wingers as dominant captains. It's usually a center or defenseman because they have more on-ice responsibility. But, Nash has totally embraced trying to be the centerpiece of the Blue Jackets as they try to get things going in Columbus.
My concern for the Jackets making the postseason is offense and the tough division that they play in. They don't have a lot of dynamic offensive players right now. I question if Derick Brassard or Jakub Voracek will ever develop into big-time, offensive players. They could be nice players, but Columbus doesn't need any more nice players. It needs elite players.
If the Jackets aren't going to score more than the 2.4 goals they are scoring right now and make the playoffs, they have to become a lockdown goal-prevention team and I don't see that happening with this roster and with Steve Mason in net. Watching the Blue Jackets this season, Mason seems to still have a lack of confidence and technique. He really reminds me of Marc-Andre Fleury right now. They have had similar career arcs the past two-plus seasons. I would be surprised if the Jackets made the postseason this season.
John,
Speaking of the Islanders in your latest column, you hit the nail on the head when you mentioned the [dismal] seasons after Peter Laviolette's run of success in bringing the franchise back to respectability. I knew it was a horrible move at the time and would set the organization back, which it did. I remember the magical 2001-02 season (his first behind the bench) when the Isles broke their seven-year playoff drought, before that great series with Toronto. I was actually in Army basic training at Ft. Knox, Ky., when I got news of the clinched playoff spot. We were cut off from all media (and the outside world, for that matter) for 10 weeks, but my mom would send me newspaper clips and standings in the mail. All he's done since is win a Cup and get to the finals last year.
Scott Akanewich
San Diego
Bucci,
David Krejci is that awesome young band that you love and everyone should listen to, but deep down you don't want them to get too big because liking them when they're not popular gives you a certain credibility by today's standards because they're "your" band.
Best,
Mike C.
from Lil' Rhody
I know what you mean, Mike. I have a lot of bands on the iPod that fit that definition in varying degrees. Avett Brothers, Guster, Nada Surf, Pavement, Mumford and Sons, Ben Folds, etc. When I was in attending Heidelberg University in Tiffin, Ohio, and dreaming of working at ESPN one day, there was a band called The Lover Speaks. It remains one of my all-time favorite CDs and I must be one of only about 138 people who have that much affection for it. I loved David Freeman's vocals, June Miles Kingstone's backround voice, the cover of the CD and all of the desperate, haunting lyrics. I found the album sensorial and smart. If I was sentenced to life in prison for attempting to steal Joel Quenneville's 'stache for my own personal use for my January South Florida vacation, and I could take only 10 albums to jail with me, one would be The Lover Speaks' self-titled and only CD from 1986. It's my Krejci CD.
Bucci,
Looking way ahead, what is more likely: The Penguins bringing back Bill Guerin midseason or making another deadline deal? I have a hunch that they will bring him back later in the season because he is old and may not hold up for a full 82-game schedule and the playoffs. Also, what is your favorite Mike Lange quote?
John
Guerin will not return to the Penguins. What the Penguins need is Fleury to play better and Jordan Staal to get healthy. They are not set up for a major deadline trade. That could change with injury, but with a healthy Staal and a sharp Fleury this team will be a Stanley Cup threat again.
Hey Bucci,
Your thoughts on who might be the front runner for the Calder this year? As a Bruin fan, I've got high hope for Tyler Seguin. It's been a small sample size and he obviously has a long way to go, but you can already see flashes of why this guy was drafted so high.
Also, was curious what you thought of the new Guster album? Probably my second favorite Guster album to date, if not my overall favorite. Highly recommended if you haven't gone through the whole thing yet. I'll be checking them out in NYC at the Beacon theater this weekend -- first time seeing them since 2007 when I saw your SportsCenter opener for them in Boston.
Cheers,
Joe
The Calder race is going to be sizzling this season. In net we have two goalies in Michal Neuvirth and Sergei Bobrovsky. Seguin will be in the mix with Taylor Hall, Jordan Eberle, Jeff Skinner, Tyler Ennis, P.K. Subban, John Carlson and others. It will be difficult for Tyler Seguin to win because the Bruins are deep and Claude Julien rolls four lines. Eberle and Hall will have much more ice time than Seguin and will therefore likely put up bigger numbers. And don't sleep on Skinner of the Hurricanes. The dude is legit despite being the youngest player in the NHL. (It's now official: There is a player in the NHL younger than my firstborn.) Skinner is an electric player who can shoot and make plays. If I had to handicap the field at this moment, my guess is the winner of rookie of the year will be Eberle, Hall, Skinner, Neuvirth or Bobrovsky.
Hey John,
If it's going to be a weekly thing where you mention great mustaches, Wendel Clark needs to be recognized. He was always one of my favorite guys to ruin players with in the NHL series for Sega Genesis. He was also a solid goal scorer, was known as Captain Crunch, is the cousin of Barry Melrose and he has a mustache that never backed down from any razor.
Sincerely,
Matt Nallen
Lake In The Hills, Ill.
Bucci,
Long time reader and I have e-mailed you a few times. I am hoping this one gets to in your mail bag.
Hockey has great stache's as you have pointed out, from the Q-Stache to Parros and now even the Billy 'stache is getting love. Have you heard about Movemeber? It is a chance for men to be men, grow a stache and show your support for men's health and research (particularly prostate cancer). There are professional sports teams that are getting involved, most notable to me are the Minnesota Wild. Movemeber started in Melbourne Australia in a pub. I spent some time living there and got to witness firsthand how cool it is to see so many Mo-bro's displaying their stache's with pride. I am hoping this catches on here in the states, too. So please take a minute and check out Movemember.
Thanks for your time,
Derek
St. Paul, Minn.
Pascal Dupuis is doing his part. He has the creepiest 'stache in North America right now.
Bucci,
If you use a liner on top of the grass, the grass actually ends up greener than the surrounding grass in the spring. I'm a tennis pro, not a horticulturist! But when I take mine down each spring, the neighbors think I've put sod down. If you make a rink with no liner, that's when you abuse the grass.
Bob
There you go, people. Start building those rinks before the ground freezes.
Dear John,
Love the column and really miss NHL tonite "The Parm". I wanted to ask your opinion. I bet my buddy $500 that the Flyers would finish with more points than the Rangers in the regular season and so far it seems that the Flyers are hung over from the Stanley cup run. Was this a good bet???
Robert Zimmerman
They should be pretty close again. But, if Bobrovsky keeps playing like this, the Flyers should be in the 97 to 102 point range. I would take the Rangers in the 92 to 97 point range right now, so I would favor you a bit right now.
Bucci,
Your article is bang on about small town mentality for N.Y. teams. We are the epitome of that here in K.C. The Chiefs rule again, fans stand the whole game, you cannot find a ticket after 4-2 start. The same would happen with a well-run NHL team right here in K.C.
Paul McGannon
Hi Bucci,
And thank you for the Homage to Lanny MacDonald's "All Timer" Mustache but you missed one thing: Lanny's "All Timer" Mustache was actually the billet for the Q-Stache in the junior days with Q learning from the veteran. Just sayin.
Jordan
Calgary -- Go Flames Go!!!
Bucci,
I'm watching "D2: The Mighty Ducks" right now and I noticed in one of the paper scenes after Team USA beats Italy the article next to it reads "Fehr Says Strike Possible." Given that Fehr is up to run the NHLPA, I found this extremely funny, even though this was for when he was working for the MLB.
Erik
Chicago
Hi John,
I've been reading for a few years now. After reading about some of the passion that you and other readers have for the game, I finally started skating and playing myself at the ripe age of 21 and absolutely love it. So for that, I must say thank you for inspiring me to finally take the steps to start playing.
I wanted to take a minute to lend my two cents on the Phoenix situation. I'm a Buffalo native that just moved down here and went to my first Coyotes game this Thursday against the Kings, where they had a whopping listed attendance of around 6,000. From the outside, I never understood why there was such a low draw. Now that I've been to a game, I can say I probably won't go to another weekday game. Why? Jobing.com Arena is in the most inconvenient location. I live in the middle of Phoenix, and driving there took me an hour with rush hour traffic to go the 15 miles to the edge of the city. If I ever want to be able to eat dinner and go to a game after work, I'll have to skip out an hour or so early to make it.
I really can't understand why the arena would be so far away from central Phoenix (with the light rail/metro and good public transportation), Scottsdale (where the wealthy folk live), or Tempe (with more than 40,000 college students). Making it to Diamondbacks or Suns games is super easy with it being a 20-30 minute drive from anywhere in Phoenix, including traffic, or you can use the light rail where there won't be traffic. The situation now would be similar to expecting the Islanders' fans in Manhattan to show up to their home games on weekdays. You can't really go to a Coyotes game on an impulse. I'm not surprised so few people go now.
Eric
Bucci,
About three years ago, you responded to a couple looking for first dance songs for their wedding. One of the songs you listed was "The Luckiest" by Ben Folds. I'm proud to say my wife and I used that song for our first dance at our wedding two and a half years ago. We received so many compliments for choosing such a great song. Well, it's time that I ask for your services again. My wife and I (big time Pens fans) are expecting our first child in April. We are not yet sure if it's a boy or a girl, but we are looking for names and would like your help.
Love your column, never miss it!
Ian Hammonds
Butler, Pa.
Boy: Henry Michael Hammonds
Girl: Maria Sidney Hammonds
Hockey Fact
Some of the NHL players born in April: John Wensink,
Scott Stevens
, Bernie Parent,
Roberto Luongo
,
Dale Hawerchuk
,
Trevor Letowski
, Clark Gillies,
Patrik Elias
,
Nick Bonino
,
Roman Polak
,
Peter Ing
and
Rich Pilon
.
John Buccigross' e-mail address -- for questions, comments or crosschecks -- is john.buccigross@espn.com.
Bucci's fan photos
John,
Whenever we are able to attend a Red Wings home game we jump at the opportunity. But alas we are stuck at home watching tonight's game. We thought we'd send you a picture of the Red Wings newest and prettiest cheerleader, Claire! :-) Keep up the great work!
Jeremy, Jane and Claire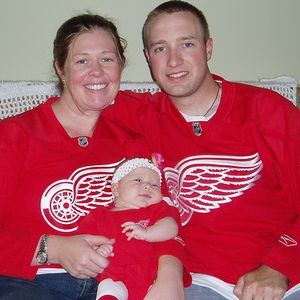 John,
Love your columns, attached is a picture of my son, Alexander. Any hockey parent knows the tremendous feeling of joy when your mite is FINALLY able to remove his gear on his own! Yes, that's a Blackhawks cap!
Take care,
Matt Brzozowski
Fort Wayne, Ind.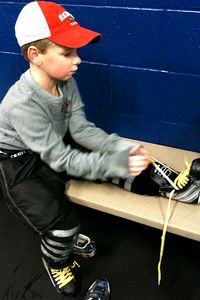 Hi John,
My son Max, 9, is playing on California Cougars squirt team, dark jersey No. 55. I'm reading "The Boys of Winter" right now about the Miracle on Ice team, very good read I highly recommend it to you in case you did not read it yet but I'm sure you did. Next morning after the game, still thinking about the book I was reading the night before, I opened up my son's team website and see this picture there, one of the dads was impressed by this as well posted the picture. First thing that crossed my mind: Max is Neal Broten (the smallest guy on American squad vs. Petrov the biggest Russian player) in Miracle on Ice game.
BTW, I read your column every week starting from the very first one! I have read most of the books you recommended through the years and for me nothing beats Jonesy! Also, I enjoyed Bob McKenzie's "Hockey Dad", I could really relate to it.
Thanks for your column,
Boris Zlochevsky
Bay Area, Calif.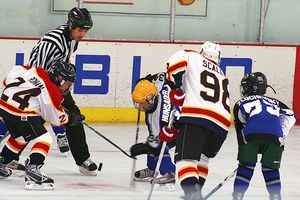 John,
My son, Benjamin, is in the process of completing his level 3 IP certification. After class he always takes advantage of the free skate. On this day, he proceeded to practice glide turns between the bluelines for over an hour at his own initiative. I am continually proud of my son, but this day took it to a whole new level.
Colleen Casey-Alabiso
(Proud Hockey Mom)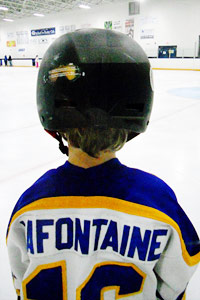 Bucci,
Halloween costume: Finding the right Q-Stache was a challenge. Hit or miss on people recognizing it so far, most people have said "The Blackhawks owner?"
Mike Schultz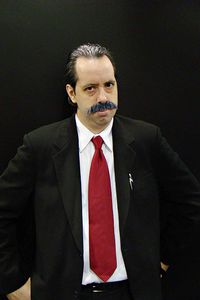 Don't Forget The Column!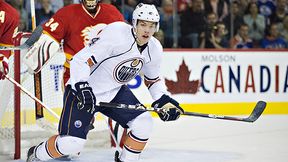 With 12 percent of the season over, the Lightning and Kings lead their conferences, the Bruins have been the most impressive team in the NHL and the Oilers are the team to watch.
Story