Updated:
November 9, 2010, 7:08 PM ET
Questioning success of Claude Giroux, Flyers

By John Buccigross
ESPN.com
Archive
Hey Bucci,
Big time Flyers fan here, and I must say, Claude Giroux is to this team what Brian Rosenworcel is to Guster. It seems like every night the kid makes two or three moves that make your neck hairs stand up. What is your feeling on the Flyers' chances this year? And what do you make of JVR? Is he ever going to live up to his potential?
Kevin
Philadelphia
First, for the second straight season, I picked the Flyers to reach the Stanley Cup finals in ESPN.com's season preview. (And Guster's new CD is very good.)
Second, James van Riemsdyk. He was a part of the 2007 Patrick Kane draft three years ago. And while there is still time for some of these players to develop into a first line or No. 1 defenseman (such as Jakub Voracek, Kyle Turris, David Perron and van Riemsdyk), and a small handful probably will, it is looking to be a bit of a weaker draft class (after Kane) compared to other recent NHL drafts. This illustrates how important lottery luck is to a team's success in terms of where a team picks and who is available in a given year. The Blackhawks had the fifth-worst record in 2006-07 and had only an 8.1 percent chance to come out on top in the lottery, yet they won the first pick, selected Kane and they wouldn't have won a Cup without him. Right now there is a cavernous drop off after Kane, and that's before he scored a Stanley Cup clinching goal. The Flyers, by far, had the worst record (56 points) in 2006-07, but the odds didn't work in their favor in the lottery and they picked second, selecting van Riemsdyk.
It also illustrates how important it is in life to be in the right place at the right time and to be in the right situation. Van Riemsdyk is very young. He just turned 21 in May and was in the Stanley Cup finals in June. I met him, his family and some of his buddies after one of the games. These were impressive kids, but, man, were they young. It was both refreshing and overwhelming to think how we thrust young people into these sensory-bombarding atmospheres and expect there not to be consequences of some kind. I don't think I could have handled it. I would have needed to take things slower, as I did in my measly media career.
Anyway, since being drafted in June 2007, one month after turning 18, here is the amount of significant hockey games van Riemsdyk has played:
2007-08: New Hampshire, 31 games. World Juniors, six games.
2008-09: New Hampshire, 36 games. World Juniors, six games. AHL, 11 games.
2009-10: Flyers, 78 regular season games (12.58 minutes per game), 21 playoff games (11:54 minutes a game).
That's about 189 competitive games in three-plus seasons since turning 18, and the games he has played the past two seasons have been with limited ice time (I understand there were times when he was given big ice time with big players.)
As a comparison, after Giroux was drafted in the first round of the 2006 NHL draft as an 18-year-old, he played roughly 238 games in the same time frame, didn't have to attend college for two years as van Riemsdyk did, and much of Giroux's ice time was high-ice-time situations. Now, maybe it is what it is and van Riemsdyk would be what he is right now if he began his NHL career in Philadelphia or Columbus, but I think environment does matter in development. Maybe, in retrospect, a full year in the minors last season would have been more beneficial to van Riemsdyk. Play 18-20 minutes, every situation, work him out hard every practice and every weight-room session, focusing on everything but production, and then bring him up in April.
All of that being said, I really like van Riemsdyk as a person and player. He is big, comes from a good family, is a good kid, can skate and has great hands. He came into training camp in great shape this year and, for the most part, is just fighting his game a bit. Like a lot of young people starting out in their careers, he just needs to keep showing up to work every day and love what he does. He is probably just fighting it a little bit right now and, as a big player, will take a little longer to develop than someone like Kane, who had 72 points in his rookie season. Also, the third season is when young NHL players really make a jump. Look at Giroux this season. Kane's point totals went from 72 to 70 to 88 with a Stanley Cup in his third season.
Van Riemsdyk will be fine.
John,
Would you call Giroux a top-five player in the NHL right now? I think he could be a serious MVP candidate.
Sean
York, Pa.
Time will tell with Giroux. One thing I would say is Giroux might be emerging as the most exciting Flyer player in their 42-year history. I know that is quite a statement. When Eric Lindros was in full flight, scoring, hitting, fighting and dominating, it was a sight to see. He was truly a comet. The old school Flyers had players with presence and flair and championships, but those players were nowhere near as athletic and agile as the players of today. Technology and training has made a significant difference. Also, excitement is different for different people. Mike Richards is smart, tough and confrontational and that is exciting and inspiring for some. But in terms of "Oh, my gosh" moments, Giroux is at the top of the charts. He would be in my top 10 of most exciting players in the league right now. That might make a good column next week.
[Subject line of e-mail: The next "Hockey God."]
John,
I just can't understand it.
You've written over 10 hockey columns/mailbags so far this season and still no mention of Ryan Callahan? The man embodies everything that you and I both love about hockey.
If you haven't been watching the unremitting forecheck of Brandon Dubinsky-Artem Anisimov-Callahan pinning teams in their own end and creating chance after chance, you're missing the best show in hockey. Sit down in your favorite chair, dim the lights, crack open a beer and I promise you'll have goose bumps by the end of their first shift.
Best,
Jesse Sokolovsky
Nagoya, Japan
Callahan will get "Hockey God" status when he:
• Pitches a complete game in the Little League World Series championship game.
• Wins the Hobey Baker Award for college hockey player of the year.
• Is a member of an NCAA championship hockey team.
• Wins the Calder Trophy as NHL rookie of the year.
• Raises the Stanley Cup over his head.
Hockey God status does not come cheap.
Bucci,
Our boy just said "hockey" for the first time -- 11/02/10 at 6:22. That's Mark Messier/Eddie Shore/Syl Apps at Ron Ellis:Rick Vaive.
Jason Bangild
John,
I've been an ardent fan of the column since the beginning. I've written you a number of times. You have never posted one of my notes, but you used to respond to them. Now you don't even respond. What do I have to do, get my vasectomy reversed and have another kid so I can ask you for help naming it? That seems to guarantee publication.
Dave
That would be a start. I would name your baby Kimbo Slice or Joe Sakic. Or you could:
(1) Take a picture with a live otter. Or one carved out of a tree.
(2) Tell the story of a game of horseshoes you had with Hakan Loob on your most recent vacation to Sweden.
(3) Say you are a 23-year-old female graduate student that reads my blogumn every week and watches the "Center Ice" package every night while practicing your putting in the living room carpet after a three hour cardio/Shake Weight/Perfect Pullup/Perfect Pushup workout -- your second of the day.
That would work, Sparky.
Juan,
So I was sitting around with a few buddies playing NHL 2011 this past weekend, and I roof a twisted wrister with Phil Kessel. In passing, I say, "Best wrist shot in the game." My opponent (obviously fuming) immediately disagrees and counters with the likes of Jeff Carter and Alex Ovechkin. How would you rank the best wrist shots of today? Let's say Top 3.
Brian
Philly
P.S. -- Do any current players compare with Sakic?
Wow, what a question. It's tough to measure as so many players shoot the puck so well like so many middle and late relievers now throw hard in baseball. I think Kessel might have the quickest and hardest release and shot in full flight as Sakic did, with lots of speed. Jeff Carter also has a sick wrist shot that he can wire with little coil or wind up. Ovi's wrist shots tend to be more of the sweeping variety. He seems to shoot less in stride because he plays with so much recklessness and just tries to barrel around and through people, but his snipe on the off wing is sinister. It's amazing to watch. But Ovi's shot, all of his shots, are consistently heavy. Ovechkin's teammate Alexander Semin has a heavy, thunderous wrister that could behead an elk. In his prime, Alexei Kovalev had a wrist shot that could, and to certain degree still does, control the Elk population in western Canada. The fitness of the hockey player and the technology of the hockey stick has given most players a good wrist shot nowadays.
Hey Bucci,
Boston's Milan Lucic-David Krejci-Nathan Horton line continues to impress me.
Are you as impressed or surprised as I am to see this kind of point production from this line and do you think they'll continue to hang with some of the best first lines in the league for the remainder of the season?
Thanks!
Mike
I wrote this April 24 in this space while the Bruins were about to beat the Sabres in six games in the opening round of the playoffs. I was responding to an email about what the Bruins might do with their two first-round draft picks in order to improve their roster.
"Nathan Horton is tough-plastic-CD-wrapping to figure out. One would expect he is a 30-goal scorer who is tough and can fight a little, on a good team. He seems like a natural Bruin who could coexist well with someone like Milan Lucic on a roster. Horton's $4 million cap number for three years is very good value, projecting him on a stronger roster, in a stronger hockey city and with a fresh start."
Bruins management read that paragraph and then traded for Horton 59 days later. I still have yet to receive my autographed Andy Brickley rookie card as a token of the Bruins' appreciation.
Horton was a 30-goal scorer four seasons ago, but his numbers have gone down every year since, mainly because of injures the past two seasons. And let's face it, Boston is one of the best atmospheres for hockey in the NHL, a much more energizing experience than playing near Fort Lauderdale.
Lucic is just a terrifying player to play against. He is 6-foot-3, 228 pounds and fearless. Horton is 6-foot-2, 229 pounds. Put Krejci in the middle of that, and he should have room to use his hands (just stop running into T.J. Oshie, dude).
I think before the season I would have figured scoring lines for this line at something like this:
Krejci -- 20-55-75
Horton -- 31-38-69
Lucic -- 23-33-56
Despite their red-hot start, I would still expect their numbers to end up around these.
Hi John,
I thought you might be interested in checking out George Parros shaving his iconic moustache. In addition to his Movember participation he'll also be judging the best NHL Movember Stache -- almost 100 NHL players are on board this season.
Best,
Jo-Anne Stayner
Hi John,
I agree, Daniel Alfredsson is right on the line as a potential Hall of Famer, however a guy who has much more impressive stats and a more highlighted career is Theo Fleury. I know he has his baggage but that is just it, if you take the two to three hundred games he threw away, he is one of the highest points per game players ever and we know he was/is well under 5-foot-5. I believe he is a much more explosive player then Alfredsson, but he does not have the "great guy of the community status" that Alfredsson has. I think if one goes the other has to. No?
Noel the Terrible
Based on numbers, Fleury is a Hall of Famer: 455 goals in 1084 games. A Stanley Cup and a gold medal. He had great playoff numbers (34-45-79 in 77 games), and I for one heavily weigh that in my Hall of Fame debates. Seven All Star games. Unique. Played all out just about every game. He showed up just about every night, rarely missing games. But after the icky feeling the Hall of Fame seemed to have voting Dino Ciccarelli in, it will be difficult for Fleury. Considering the horrors he went through as a teenager and what he accomplished as a very small player, he is worth examining, although I have seen no one mention of Fleury as a possibility. Plus, he had a great quality: He was interesting. His is quite a story, and Fleury's chances may rest on what he does with his life for the next 10 to 15 years. Also, Rick Middleton fans would wonder how Fleury got in and "Nifty" didn't. Middleton was also a great player and great in the playoffs. He played 72 games in the 1976-77 season and had two penalty minutes. TWO!!! AND HE DIDN'T WIN THE LADY BYNG!! (Marcel Dionne won the 1977 Lady Byng despite having 10 more penalty minutes than Middleton. Bully!)
John,
I just read the mailbag and wanted to draft attention to Paul A. Zablocki's question regarding the Devils and how he assumed there were only about 8,000 fans at the game he went to. Well, in my opinion (full disclosure: I live in South Jersey but am a Pittsburgh native and Penguins fan), that's the crowd most nights at the Rock. It's not 8,000, but it's not tons more than that. The reason it looks even smaller is because of the empty seats in the lower bowl. It looks even worse on television. However, the last time I was there, I found myself impressed by Devils fans. They were very intelligent and very loud. But the loud, intense fans are all in the upper bowl, because those are the only affordable seats in the building. I know it's like this pricing-wise in almost all arenas, but I think the pricing in the new arena in Newark is a big reason attendance if often so low.
Matt Pesyna
Pitman, N.J.
Booch,
Outside of sporting a wicked mustache, what do you think are the makings of a good NHL coach?
Mike Perri
Livonia, Mich.
The good hockey coach, for my money, has to have a simmering intensity that is felt as much or more than it's heard. Too much talking or yelling can actually soften the message. Seriousness, not bullying, and attention to detail, not smothering, is the best foundation for leadership in a game that requires so much instinct, creativity and feel.
Hockey is a serious game. When there is ice, thick boards, glass, blades, sticks, a rock-hard puck and packs of ogling hockey bunnies staring through the glass on a 200x85 slippery surface one better take things seriously and avoid distraction or one will either get destroyed or be completely intimidated. Like downhill skiing and juggling chainsaws, you have to take every moment of a competitive hockey game seriously. If you don't, you will either get trucked or go to the locker room with your tail between your legs.
When I think of coaches like that, Scotty Bowman, Herb Brooks, Mike Keenan, Ron Wilson, Joel Quenneville and Mike Babcock are just a handful that come to mind as quickly as I could type their names. Expressionless much of the time, but can go off in a second. Players feel that and it keeps them on edge. Having a delicate touch finishes off the great coach.
You see that intensity and edge with Tampa Bay's Guy Boucher right now. That guy has a look in his eyes like he is trying to figure out how to kill the rabid coyote that is about to devour the helpless child inside the playground. I love that look. It's a look that says to me that the child will survive and the coyote will be a dead carcass with no eyeballs and one ear. Boucher kills coyotes. Yeah, baby. Now there is a T-shirt for Bolt fans. But, Boucher knows that he has to pick his spots if he is going to last.
That coaching intensity can have an overt violence to it or the style of someone like Dan Bylsma of the Penguins. Bylsma has a controlled and measured boil to his intensity without the poser attitude we see especially in college basketball coaches. But you better believe it is there with Bylsma. Penguin players see facial scars of someone that would put his face in front of a puck to win a game. That means more than any speech could because every player can use their own words to describe those scars and use whatever words they want and in what order to motivate themselves most. If I was an NHL coach, I think I would most resemble Bylsma, except that I could wear more dark suits and blue shirts, and I would probably play music during practice.
Hockey is the most blood-boiling sport there is, because it is difficult, physical, fast and dangerous. The coach (especially youth/minor coaches) has to be able to empathize with the difficulty, confront and somewhat control the violence, interpret the speed and have a vaccine for the danger to bring the most out of his players. He or she has to be a birdhouse in the soul of each player and feed them and light them from within -- from the inside out. Keep them confident, together and in control. Not in fear but, yes, on edge.
The coach does not sail the ship anymore than a sea captain does. The sailors do. The players sail the hockey ship. The coach, like the captain, steadies the ship and keeps it going in a forward direction. A coach who tries to drive the team will crash and burn and not last. A coach that plays silly games like putting a veteran's goalie equipment in the hallway to make a statement or belittle someone like Wayne Gretzky will ultimately begin to fail and no longer coach in the NHL. The players are the thing. A coach can never forget that.
Hey John,
What is the deal with Bob Errey and Paul Steigerwald? I know announcers for every NHL team will be partial toward the club they themselves are employed by, but these two ruin every Pens game I catch on TV. They are beyond partial and sugar coat every little thing a Penguins player does while at the same time blasting every move by their opponent on that particular night. It's ridiculous in my opinion.
Your thoughts ... dreams ... aspirations?
Cheers Buddy,
Neal Sutton
I have to disagree, Neal. I watch all of the games and I think Steigerwald and Errey do a good job respecting the other team and telling it how they see it. If Errey thinks a reviewed goal scored by the Pens is not a goal, he will say it, and he is almost always right. He has a great feel for the game.
Steigerwald is clearly well read in terms of the rest of the NHL and the storylines of the other 29 NHL teams. Local announcers are supposed to emphatically point out the local teams attributes -- they are advertising the team and attempting to get people to the rink and pay $60 for a ticket, pay $20 to park and purchase a $6 hot dog and a $9 beer. I think every NHL broadcasting team does a good job in being partial. Honest assessment is a part of the hockey culture, and that includes the broadcast booth. Local NBA telecasts sound like small-college radio compared to the professionalism of the NHL booths. We should be proud.
Hi John,
Love the column (and I'm very envious of your awesome job) but in an NHL season, how many games do you watch either live or recorded (TV) or get to attend? I've had the pleasure of seeing about 20 NHL games, most of them Canucks and Wings.
Cheers
John
London
I work Monday-Friday, anchoring the noon-3 p.m. "SportsCenter" on ESPN. I'm helping coach my 11-year-old's pee wee hockey team this year. And I have an unquenchable passion for the oboe. Not playing it, but smashing mailboxes with it from the back of Barry Melrose's pickup truck. That being said, my life is still immersed in hockey.
The coaching is two practices a week and two games on the weekend. Every night that I am home, I watch the "Center Ice" package with Jackson. I particularly enjoy that 9:15-9:45 p.m. ET window when the 7 p.m. ET games end followed by the 7:30 p.m. ET games ending.
In terms of seeing NHL games in person? I average about one a month. I see more college games because there are tons of teams near me and the tickets are cheaper and the rinks are smaller.
Bucci,
Longtime reader and have actually e-mailed you a few times, several of which got up on the page. Last year, I e-mailed you about the best young stars in the game; Chicago's Jonathan Toews, Kane and Duncan Keith or Washington's Ovechkin, Niklas Backstrom and Mike Green (you said Chicago). And the best forward line: Toews, Kane and Marian Hossa or Ovechkin, Semin and Backstrom or Dany Heatley, Patrick Marleau and Joe Thornton (you said Chicago, again). And in your infinite wisdom, it looks to be that you were correct. This question was actually in the title of your mailbag, I bragged about it for weeks and still do whenever I get the chance.
Now to the point, my fiancee and I are trying to decide on what song we should play for our first dance. A friend of hers is a phenomenal singer and we were going to have her sing the song rather than have a DJ play it, we thought it would be original and something memorable for us and the people at the reception. I suggested Guns N Roses "Sweet Child o' Mine" and do an acoustic version. Why, you may ask. It is a great song in my opinion, but, more importantly, my cousin, who is a great guitarist (Tom Schleiter) could play the guitar for us as well. His band just finished touring with Slash. Who better to ask to play the song than him? She isn't thrilled with the idea because she wants a song more about "us" and not as much about just her. I come to you looking for advice.
Thanks,
Brian
Md.
Ahh, the first dance wedding song. I suggest the yet unwritten "For the love of God, man, don't do it because this will not end well."
No? Well, as I type these letters I am on a Southwest Airlines flight from Las Vegas to Hartford, Conn. I did the play-by-play for the 16th Annual World Long Drive Championship in Mesquite, Nev. It was live on ESPN3.com and it will air as a 90-minute show on ESPN on Christmas. The dude that won it trucked it 414 yards.
Anyway, it appears as though my 120GB iPod has 14,368 songs on it. I pressed shuffle to discover that number, and the first song of 14,368 to appear was "Love Is Blindness" by U2. So, I decided to hit next to find out what the next song would be. I was so intrigued by that title that I pressed next again and almost choked on my airline peanuts. I saw this as a sign, so to see if they provide any clues on your wedding and subsequent life for the next 50 years, Brian, I'm going to hit next and write down the first 10 songs on my 14,368-song iPod to see what we will find. I swear to Loob on a stack of Farjestads sweaters that these are the songs that appeared. I would take this very seriously, Brian.
(1) "Love Is Blindness" by U2 from Achtung Baby -- It starts with a keyboard that would pass as a church organ during a wedding procession. It does have one of the harder guitar solos recorded by The Edge that your boy Tom could thrash while your buddies stumbled to the open bar. Love will make you blind after you, Brian, find 17 boxes of tea of every flavor that will never be consumed but will be in the cabinet for the duration of your marriage. Every time you open the cabinet to grab the jar of peanut butter, a box of Apple Cinnamon will fall out and you will scream so loud your eyeballs fall out. You also will find 47 different body lotions in the bathroom and 38 candles strewn in every room in the house. I'm just warnin' ya.
(2) "It's Going To Take Some Time" by The Carpenters -- If there was any true indication that this is an actual list of the first 10 shuffled songs on my iPod, it is posting a list with a Carpenters' song on it. I like to have a lot of greatest hits on my iPod, so it is a library of 20th and early 21st century music. Plus, when I was 7, I listened to "Top Of The World" by the Carpenters every day. It made me very happy.
(3) "Dead" by My Chemical Romance -- As the kids say, OMG. When this song appeared is when I said I had to take this shuffle discovery to 10 songs for you, Brian. This was the song my 11-year-old Jack picked to do warmups two weekends ago with his pee wee team. Part of my pee wee coaching duties is providing music for the three-minute pregame warmup during home games. Rest assured, Brian, there will be times you will sing the words of this song during your marriage. Stay strong and the storm will usually pass.
(4) "Executive CD Edition Addendum" by Monty Python from the Holy Grail soundtrack -- I think this little, less-than-a-minute blurb on the Monty Python CD was supposed to be God commenting while battling a cold. I take that as saying God is speaking to you, Brian, through me.
(5) "Black Math" by The White Stripes -- This is one of the White Stripes' best songs. "Well, maybe I'll put my love on ice and teach myself, maybe that'll be nice."
(6) "Private Investigations" by Dire Straits -- Mark Knopfler is the most underrated musician in the history of rock 'n' roll.
And what have you got at the end of the day?
What have you got to take away?
A bottle of whisky and a new set of lies
blinds on the window and a pain behind the eyes
Scarred for life
No compensation
Private investigations"

(7) "Overkill" by Men at Work -- This was the official song during my junior year of playing high school baseball with John Balzano and Mike Pizzoferrato. This is the song about a paranoid and stressed-out dude. Think Devils coach John MacLean meets you, Brian. "I worry over situations I know will be all right. It's just overkill." Relax, breath in through the nose and out through the mouth.
(8) "Hurley" by Pinback -- The phrase repeated throughout this middle portion of this song is "Don't do it, don't do it." I couldn't make this up. I wouldn't because it would be too much work. This song ends with the repeated lyric, "Turn around and walk back home."
(9) "Dig a Pony" by The Beatles -- Obviously, the Beatles have a catalog of epic songs. They also have a good number of strange ones. This tells me, Brian, that one day you will sell your golf clubs and hockey equipment to buy your daughter a pony to get your wife off your back. You see where we are headed here?
(10) "Stand Inside Your Love" by Smashing Pumpkins --
I'm telling you how much I need and bleed for
Your every move and waking sound
In my time
I'll wrap my wire around your heart and your mind
You're mine forever now
Who wouldn't be the one you love and live for
Who wouldn't stand inside your love and die for
Who wouldn't be the one you love.
All is well that ends well. Love your life, love your wife. Keep in the sunshine.
After a manual scroll of the iPod, I make these two recommendations for a first dance wedding song:
(1) "The Luckiest" by Ben Folds
(2) "The Greatest Thing" by The Avett Brothers
Hi John,
I'm a huge fan of your column! Especially now that you have confessed your love of Mumford and Sons, my absolute favorite band right now.
I'm writing you this in the hopes that you might be able to give me some career advice. I live in Edmonton and am finishing up my last year of my undergrad at the University of Alberta. As a longtime lover of sports, I've decided that I want to be a sports reporter. I also think there are not nearly enough females covering sports right now!
I know that finding jobs in journalism right now is incredibly difficult, and even more so to find a job covering sports. What advice would you give to start on this journey?
Thanks so much!
Samantha
Edmonton
The only advice I can give you, Samantha, is my path and I answer this question once a year in this space because I get a lot of e-mails like yours.
My parents gave me a tape recorder when I was 12, and from that day on I knew I either wanted to be a professional athlete or broadcast games of those who were playing. This was pre-ESPN, so my dream was play-by-play. I played with my tape recorder as a play-by-play man and as a disc jockey.
I chose a college, Heidelberg University in Ohio, that was small enough to compete in NCAA sports and equipped with a campus radio station on which to deejay, a school newspaper to write for and a campus television station to broadcast on. I did that for four years. At a small school you are a player. At a large school you are a spectator.
After graduation, I was willing to work for free, five days a week for five months at a small television station on Cape Cod while working part time at CHESS KING. Thereby, simultaneously proving both my passion for television and also lack of long-term fashion trends. Then, I was willing to go to even a smaller cable station in the next town over and work there for over five years, making about $17,000 a year on average until I was 28 years old. This amount of money qualified as poverty wages with, at the time, a wife and two kids. I ate pasta most nights and qualified for free baby formula (not for me) and, yes, free cheese. Eventually, I augmented my small salary by getting a part-time job a news-and-talk radio station, which required me getting up at 5:45 a.m. to record 60-second sports reports that ran all morning. This paid $6,500 a year, which was like hitting the lottery at the time. I no longer had to put groceries on my credit card.
Then, I got a job at a larger television station in Providence, R.I. (44th biggest market in the U.S. at the time). This was my first real foray into television news. I still lived on Cape Cod, because I had no savings and commuted an hour, 10 minutes each way in a Dodge Neon. I was in Providence, R.I., for two years before somehow winding up working 30 feet from Chris Berman's desk at ESPN when I was 30 years old and the media world, especially Disney/ESPN, was exploding with the dawn of the Internet -- right place, right time, right age, right corporation.
Besides that quick rundown, how did I get here? Again, I'm not sure. All I can give you in terms of advice is MY approach. Not the best for everyone, I suppose. I didn't call in sick until my 15h year in the business. (Watch, tomorrow: BUBONIC PLAGUE!) I've tried to write each word and/or read each word with all I have, knowing effortless talent has never been my companion in anything except eating mozzarella sticks and taking naps with babies on my chest. So, I better write from the heart and I better have decent hair.
I didn't listen to anyone else when I was young and poor, because I felt everyone was wrong. I let chance furnish me what I need. I had a vision and I stuck it out like R.E.M. did. And when someone asks me, like you, how I got such a cool job and how I've had the opportunity and honor to write a hockey column for the past 10 years, I tell them accidental birth year and PURE UNADULTERATED LUCK. I got lucky. I hope you do, too.
John Buccigross' e-mail address -- for questions, comments or crosschecks -- is john.buccigross@espn.com.
Bucci's fan photos
Bucci,
The photo is my friend Dylan and Goldy the Gopher at a recent game between the Gophers and Saint Cloud State. Dylan has down's syndrome. He loves sports. I love the Gophers. No brainer. Had to take him to his first game.
Tony Reineccius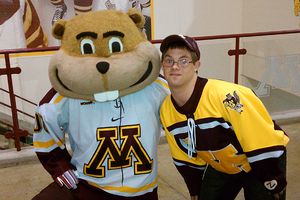 Bucci,
Attached is a picture of my son Jack who turns seven on Tuesday. He just started his fourth year of organized hockey and loved every minute of it. He scored 27 goals in 14 games last season and already has three goals and three assists in three games so far.
Because he has a little sister and brother, it can be tough to have Dad-Jack time. That is why hockey season is magical. I alone take him to practice and his away games. We get a chance to talk about everything from hockey to school to the Beatles. And he is also my partner in suffering while we watch our beloved Maple Leafs.
His smile is this photo is what reminds me what pure bliss is.
Thanks for all the great columns and your passion for hockey.
GO LEAFS GO.
Corey Chapman
Auburn, N.Y.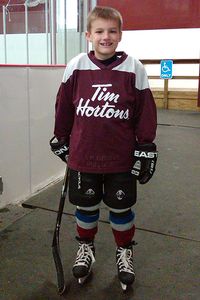 Bucci,
This is me and a few friends at the Kohl Center for a Wisconsin Badgers men's hockey series during their run to the Frozen Four last year.
I look forward to the column,
Ryan Evans
Daily Cardinal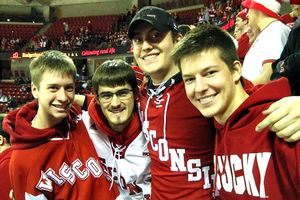 John,
You often publish photos of younger hockey players and babies in NHL outfits. I thought I would send a photo at the other end of the spectrum. This photo is my son Joey and I after his last club hockey game as a second year Bantam about nine months ago. He's now playing a regular shift as a sophomore defenseman in high school. This picture also captures my last moment as a hockey coach after coaching him from Mites all the way through. For Dads and Moms just starting the path my son and I took, enjoy it. Not only is hockey an exciting sport and a great way for kids to learn how to be a team player, but it also can bring road trips, tournaments and some 6:30 a.m. bonding you'll never forget. This photo will stay on my desk forever and I hope all your readers capture a similar one someday. Just make sure you teach them to tie their own skates and carry their bag as early as possible.
Andy Mayer
Chesterfield, Mo.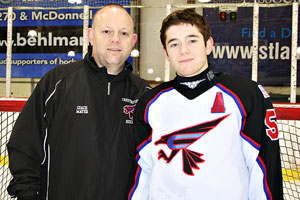 John,
I sent to you a pic back in 2006 and you were kind enough to post it in your column. Asher four years later on the Star's ice in Frisco, Texas, with me at his first 'Dad's and Lads' skate. Time flies!! He scored five goals in his first Mini-Mite game!! (of course there were no goalies...)
Thanks for the great articles!! I look forward to reading it every week and especially love how you work music into the column. I so desperately want to BE an Avett Brother.
JR Yarbrough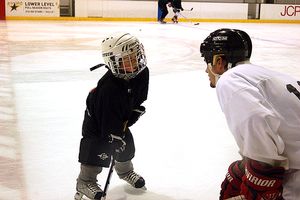 John,
Love your columns, and wanted to send you a picture of the Flyers' newest supporter, Anthony, born on Oct 28. So far our team is riding a winning streak, and I get to watch the late night/early morning SportsCenter nearly every day!
Best regards,
John Gerlach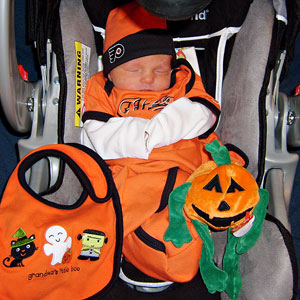 Bucci,
This is Isabella Marie Mains. She attended her first Pens game just after her six month birthday on Oct. 29 against the Flyers. Unfortunately, she is now 0-1 in her career, but there will be many more to come! Go Pens!
Philip M. Mains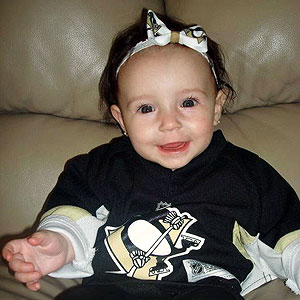 Bucci,
Go Ducks.
Jason Kazarian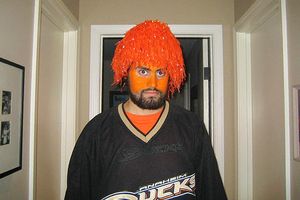 Don't Forget The Column!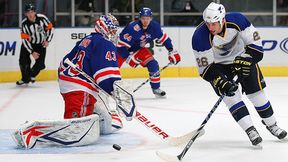 Using the teachings of St. Augustine and Plato to examine the Blues' shutout of the Rangers on Sunday night, because both teams are good and it is just.
Story