Updated:
November 18, 2010, 10:49 AM ET
Debating Stamkos' totals, Hawks' playoff hopes

By John Buccigross
ESPN.com
Archive
Bucci,
Is it just me or should the Predators play a medley of "boo-yahs" when Francis Bouillon scores? He doesn't score that much, but a name like that is something to celebrate, no?
Chris Kober
Placentia, Calif.
When I was the host of "NHL 2Night," I used to proclaim that Bouillon was French for "boo-yah." At least that's what my Rosetta Stone/French NHL version said. I tend to stay away from the "boo-yah" in the offseason, but I will employ a "boo-Yahtzee" on occasion.
Mr. Buccigross,
Hawk fans are falsely saying that they are just like the Red Wings last season. "We will catch fire eventually." Yeah, only the Red Wings fought the bubonic plague last season. Pleeeeeease let everyone know the Hawks' playing awful is not some sort of terrible facade, but the real thing. I see this team as at best a sixth seed and quite possibly missing the playoffs entirely.
Alex Nawrocki
Chicago
Back away from the ledge, Alex. Let's talk about this.
[+] Enlarge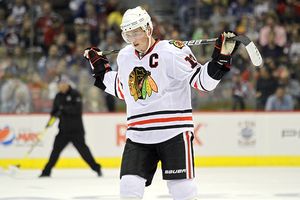 Marc Piscotty/Getty ImagesJonathan Toews has five goals in 20 games so far this season. He had six goals over that same span last season.
Yes, your team is off to a slow start, and there is cause for some concern, but there are more than 60 games to go. Let's break it down:
1. Dude, you jettisoned your Stanley Cup-starting goalie (Antti Niemi).
2. Kris Versteeg, Dustin Byfuglien and Andrew Ladd are gone. That's 54 goals and a lot of personality. The Hawks are simply not as interesting without those players, and some bounce may be missing in a room that needs to be stirred up.
3. The hangover.
When the Hawks won the Stanley Cup, it was kind of like the Boston Red Sox's 2004 World Series triumph. The two titles don't align perfectly, I know. The Red Sox waited 37 more years for their championship, but the Hawks had a decade of irrelevance that credits them at least 20 years of hockey soul-rot. These are my rules; I make them up. Add long, cold winters as opposed to short, warm summers, and I have the two championship droughts as a push.
What ensued for the Blackhawks was an offseason of "Party on, Wayne; party on, Garth" emotion that is a beautiful full-body experience for the fans. Imagine the exhaustion the players must have felt as fan after fan shared his stories with them. This is probably still happening everywhere the Blackhawks go.
As for the 2005 Red Sox, they, like the Hawks, got off to a slow start after their winter of celebration and early-season pomp and circumstance. Boston was 11-11 after 22 games in 2005. After 47 games, it was just 25-22, and it looked as though it was going to be a long, mediocre season. Then, on May 28, the Red Sox beat the Yankees 17-1. The summer was good, and in June, July and August, the Red Sox went 49-31. They eventually made the playoffs.
The Blackhawks need that special moment to get them going and congeal new players into the rest of the lineup. They seem to be playing somewhat better recently, limiting shots and getting chances. An overtime win over a hot Ducks team and hitting the road might kick-start the Hawks. They lost some key parts but have enough horses to get the job done. The job has to start soon. I think you'll see them go now.
Mr. Buccigross,
My idiot roommate has predicted 66 goals and 136 points for Steven Stamkos this season. Can you please tell him that this is an absolutely stupid prediction?
Alex
Chicago
Steven Stamkos has 66 goals in his past 98 games going back to last season. Can he get a 66-70-136 line in 2010-11?
The projected 70 assists is unlikely because, yes, Stamkos rarely has had more assists than goals in a season going back to his teenage years. I don't know whether I would call Stamkos a shoot-first player; I would call him a "do the right thing" player. He finds the dead ice, is almost always in the right spot and at the right angle, and is always ready to shoot. Shooting is one of his strengths, so you want him doing it often. To get that many assists, he would need to play on a high-scoring team with a high-scoring teammate, and neither is in Tampa Bay.
Do I think he could score 66 goals this season? I think it's a compelling over/under. If I were forced to bet a paycheck on it, I probably would take the under, but not by much. Stamkos is on a 72-goal pace. I think reaching 60 is very realistic, and that is just a couple of hat tricks from 66.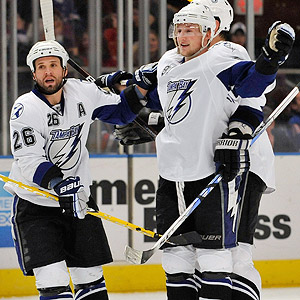 Paul Bereswill/Getty ImagesThrough 17 games, Steven Stamkos, right, is on pace for 72 goals this season.
Stamkos is shaping up to be the premier power-play force of this generation, which makes 60 that much more attainable. You would think it would be Alex Ovechkin, but his power-play goal numbers are trending down (probably because he now plays the point on the man advantage). This helps the Caps (who had a 25 percent efficiency on the power play the past two seasons) because Ovechkin's booming shot can be use on tip-ins and rebounds, and it frees up space for Mike Green, Alexander Semin and Nicklas Backstrom. The Capitals have great balance on their power play. If they could get their penalty kill to 85 percent and keep the power play at 25 percent, they will win the Stanley Cup this season.
But Stamkos plays a Brett Hull kind of power play. Hull was the man on the power play in the early '90s. He led the NHL in power-play goals three out of five seasons. Here are Hull's goal totals and power-play goal totals from those seasons:
1989-90: 72 goals/27 power-play goals (led league in both)
1990-91: 86/29 (led league in both)
1991-92: 70/20 (70 goals led the league)
1992-93: 54/29 (29 power-play goals were second to Dave Andreychuk's 32!)
1993-94: 57/25 (25 power-play goals led the league)
I think we will see Stamkos go on this kind of run. He led the league with 24 power-play goals in 2009-10, six goals clear of Dany Heatley and 10 clear of third place. That is domination. That is why Stamkos has a great shot at 60 goals and a decent shot at 66. Because of his power-play prowess, the passing of Vincent Lecavalier and Martin St. Louis and the development of Victor Hedman on the point, Stamkos should clear some room for future Maurice Richard trophies.
(FREE IDEA FOR NHL ALERT: I would retroactively award Maurice Richard trophies for past league leaders in goals. Give them the same trophy received by today's players. Instead of giving Brett Hull three of them, give him one with the three years on it. It would be a great way to bring these players back to the awards show. The player could be introduced by the host, that season's Richard Trophy winner or a teammate from the season the player led the league in goals. There could be a video montage and then a little speech by the player about that season. I think it would be a great marriage of past and present.)
Hi, John
What are your thoughts on the rumored return of the NHL to ESPN? Any truth to the rumor?
Chip
Galloway, N.J.
I get a handful of e-mails asking this question every week, so I will address this purely as an educational tool.
The NHL TV deal in America will end after this season. Versus has the exclusive games on cable and NBC has over-the-air rights along with rights to the Winter Classic and Stanley Cup finals Games 3-7. (Games 1 and 2 are on Versus.) Presumably, ESPN would be interested in every sport entity there is. (Two weekends ago I did the play-by-play for the RE/MAX World Long Drive Championship outside of Las Vegas. It will air on Christmas.) With ESPN, ESPN2, ESPNEWS and ESPN Classic, there is plenty of space to provide sports programming, and there is a desire to fill that time with the best programming possible.
NHL hockey is obviously a great TV product. The game is young, exciting and physical, and big U.S. television markets have good teams. (The Rangers, Kings, Blackhawks, Flyers, Sharks, Bruins, Capitals, and Red Wings all could reach the Cup finals.) Based on public statements from executives, ESPN and other networks will obviously be interested.
In December 2009, in case you missed it, Comcast announced it had brokered a deal with General Electric to acquire a 51 percent stake in NBC Universal for $6.5 billion. The FCC and Department of Justice are reviewing it and, according to a Wall Street Journal report Sunday, have stepped up their reviews of the deal in hopes of concluding them by the end of the year.
But remember, I am a television sock puppet, sometimes a play-by-play tool and a hockey blogsmith. ESPN's brass do not advise me or seek my counsel on the matter. We don't play poker, smoke cigars and talk shop.
I just don't know what is going to happen. Whatever happens, I suspect the NHL would announce the new deal in April or so, unless it signs an early extension with its current partners.
Bucci,
Hypothetical question: Where do you think the Kings would be right now, and how well do you think Kovalchuk would be doing at this point in the season had he signed with L.A.?
Rico Cordura
The Kings would have been a much better fit for Ilya Kovalchuk than the Devils. They have a nice balance of youth and experience and a strong sense of commitment and togetherness with some firm personalities. They have been progressing in one direction for a couple of seasons now, and I think Kovalchuk could have been persuaded to hop on, relax and just play. But for the love of gosh darn, why didn't his agents persuade him to sign a $93.3 million deal and not a headline-grabbing $100 million deal? When people see 93.3, they think of a soft rock station in Denver playing Dan Fogelberg's "Longer."
John,
With the Q-Stache being a featured celebrity in your column the past couple of years, how about a shout out to "Movember"? It is a great idea, raising money for prostate cancer research. I'm partial to John Erskine, especially after Sunday's bout with Eric Boulton.
Geoff
McLean, Va.
We've given Movember a shout-out each week this month. Here is another. And, yes, Erskine is one of the better fighters in the NHL, but how about his slap shots, which have been going in top-shelf? His two goals have been beautiful. He's already tied his season career high in goals. That 'stache had better stay, John. Don't play with karma.
[+] Enlarge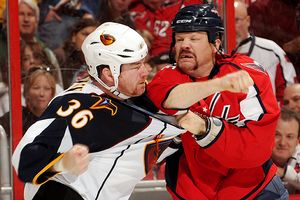 Mitchell Layton/NHLI/Getty ImagesJohn Erskine, sporting one of Bucci's favorite 'staches.
Hi Bucci,
Longtime reader, so hoping you can help us out. Our mentor group of hockey officials, "Ultimate Officials," has a charity for men's cancer awareness. You've probably heard of "Movember," with NHL players growing mustaches in November for awareness, as are we officials. Our group has partnered with the NHL Officials Association "Zebras Care Charity" for this great cause, and I'm hoping you can give our group a shout-out to help with our fundraising efforts. Our website is uo-mobro.com. Even for those fans out there who don't care for the third team on the ice, this is about men's health, no matter what uniform you wear on the ice.
Eric Arndt
St. Paul, Minn.
Hi John,
I'm a Bruins fan who just missed the Bobby Orr era, but I was lucky enough to start watching the NHL at the same time Ray Bourque started his career with the Boston Bruins. Every time I heard stories of how great Bobby Orr was (undoubtedly true), I had trouble envisioning how he could be that much better than Bourque. To me, Bourque embodies consistent excellence and class that is tough to match. Where do you rank him among all-time defensemen?
John Evans
With 19 All-Star Game appearances and six Norris trophies, I think Ray Bourque is as close to the perfect hockey player as you could imagine. He was durable; he had stamina, agility, strength on skates, speed and an accurate and powerful shot. He also was responsible. If we had to select a team of 20 to play against a team of extraterrestrials to save the solar system, Raymond Bourque would be one of my six defensemen along with Bobby Orr, Doug Harvey, Nicklas Lidstrom, Scott Niedermayer and Eddie frickin' Shore.
Hi Mr. Bucci!
Here comes an e-mail from the country of Hakan Loobs, Forsbergs, Lidstroms, Zetterbergs and Sundins! :)
I'm a Bruins fan, and after watching them play Pitt and destroying them in the third, I must say that I'm confused why everybody is blaming the defense of Pitt all the time -- every season. Watching the game, it was pretty obvious to me that the forwards of the Bruins are helping their defense in a much better way and allowing the defense to focus on clearing the puck and helping Tim Thomas make the saves. It won't matter which players Pitt will get on defense unless their forwards start to do the dirty work. What is your take on that?
My love to Sweden, Erik!
Under coach Claude Julien, the Bruins play a defense-first, tight checking game. Under Julien, the Bruins have been ranked 12th, first and second in fewest goals allowed. This season, they are first again. Zdeno Chara, Thomas, Patrice Bergeron and other good players also help in preventing goals.
The Penguins, right now, are far from championship-caliber. Yes, they miss Jordan Staal a lot. He is such a competent two-way player. But there is just a lack of urgency and defensive responsibility to the Penguins' game, and that was illustrated by the embarrassing goal they gave up against the Rangers at the end of regulation in Monday's game.
After taking a 2-1 lead and playing with the man advantage, the Penguins had all their offensive players on the ice with 1:53 to go. Casual decision-making and high-risk passes led to a Rangers rush the other way, and five Penguins players showed the intensity of an optional skate as Marc Staal tied the game. I thought it was a debatable group of players to have on the ice to begin with, but then came the embarrassing effort from the Penguins.
I know Marc-Andre Fleury and his brutal .873 save percentage have been, well, brutal, and that can sap the life out of a team. But the Penguins have to start showing some desperation, especially at home.
John,
In 2007-08, I e-mailed you from Iraq -- I am currently e-mailing you from Afghanistan -- with a series of questions. You answered one, which was: "What are you listening to right now?" You didn't answer any of the others, which probably had to do with the New York Rangers, but I remember you recommending MGMT, who I listen to now, but hadn't formerly.
Context: I am from Lake Placid, N.Y., so growing up, hockey was basically all I thought about. On Dec. 27 (I've been lucky enough to get my R&R midtour leave during Christmas time), I will see the New York Rangers play the New York Islanders. I will be meeting two of my best friends (never been to New York) and my girlfriend (from Long Island), none of whom have ever been to a professional hockey game at any level.
I've often thought about what makes such an amazing and pure sport so (reportedly) inaccessible to so many people in the United States, and I've generally come to the conclusion that (a) it's expensive (I grew up in Lake Placid; ice wasn't nearly as expensive as most other local programs); and (b) it's regional; if you couldn't play on a pond immediately after practice until it was so dark that the puck blended in with the horizon and created a laceration worth 12 stitches in your forehead, you probably don't understand it. It's a lifestyle, and while I personally think it translates incredibly well on television, it's because I am viewing it vicariously through former experience.
Questions:
1. Was I wrong?
2. What are the top 10 places to see your first NHL game (with teams)?
3. What are the five most aesthetically pleasing things about hockey?
4. What makes hockey so pure (as a sport and a profession, relative to other professional sports)?
5. What are you listening to right now?
Adam M. Sperry
CPT, MI
S2, 2d Squadron
2d Stryker Cavalry Regiment
Thanks, Adam.
1. That's probably about right.
2. Right now? Montreal, Toronto, Pittsburgh, San Jose, Vancouver, Boston, Philadelphia, Chicago, Detroit and Washington.
3. The feeling of flight, the beauty of skating, the courage of the players, the sound of a completed pass, the feeling of being alive.
4. Its foundation is sacrifice.
5. Mumford and Sons, The National, Editors.
John,

Getty, AP Photo
Vince Vaughn and Dino Ciccarelli were separated at birth. No one will convince me otherwise. Vince just aged better over the years and had the advantage of Hollywood makeup and Botox.
Chris
South Jersey
Bucci,
I'm here at work in Kincardine, Ontario, listening to Winnipeg Power 97, and Nirvana's "Smells Like Teen Spirit." I'm 32, so bands from the grunge era influenced me a lot. With your music knowledge and passion, how did Nirvana, Pearl Jam, STP, etc., affect you, and did you sense how big it was back in 1992? With your hockey knowledge, wit, passion and excellent insight, what is the over/under on Stamkos netting 60 in the next few years? Who would you rather have, a healthy Tim Kerr or Cam Neely? Which team is going to win the Cup first, Tampa, L.A., Colorado, Toronto or Edmonton? How tough is it to build a team via free agency?
Scott Smith
1. I was more Pearl Jam than Nirvana. It consumed me; I didn't have to sense it. It was the last batch of music before the Internet boom. Glad I was alive and young for it.
2. See Stamkos above.
3. Neely.
4. I will say Los Angeles.
5. Ask New Jersey and Toronto.
Hey Bucci,
It's been a long time since I wrote to you. I am an English teacher currently in South Korea. The last time I wrote about my favorite player, Paul Kariya, and his chances of getting into the Hall of Fame. Now I wonder about his chances of even playing in a NHL game ever again. Kariya was never the same after that Suter crosscheck to the face. Your thoughts?
Victor Bucheon
South Korea
Paul Kariya is a Hall of Famer in my book. He has style, class and skill to live and love for. If there were another league bigger and better than the NHL, he could play in that one, too. That should probably be the true definition of a Hall of Famer.
The Mighty Bucci (reference to the show "The Mighty Boosh"),
I'm a D.C.-area native and currently living in Australia. I love your column, and I've been reading it for the last two years. I've even got an Australian friend of mine onto it as well. (He's a Penguins fan, but I don't mind because it's rare to find other hockey fans on this side of the world.)
I just wanted to vent my frustration at the Caps. They are again showing themselves to be a great regular-season team, but I know come March/April, we are chokers. I put it down to inexperience in goal as well as the rest of the team standing around waiting for Ovechkin to do something. What do you think our chances are this year? Are we doomed to repeat history or will we finally win a series in fewer than seven games?
Justin
Sydney
Justin! Your boys are starting to slowly figure it out, but they still need to tighten up some more, somehow add a veteran defensive presence on the blue line and a veteran up front to get this team prepared for the playoffs.
Bucci,
What's the requirement for being a rookie in this league? Why are Mark Letestu and Tyler Ennis third in scoring for rookies even though they played 10 games last season? Is this not their second season? John Carlson of the Caps played 22 games last season! That's more than 25 percent of a season, yet now in his second "rookie" season, he is also third in rookie scoring. And just so I'm not biased, from my team, the Sharks, Logan Couture played 25 games last season and 15 more in the playoffs! That's just about a half-season, and yet he is still a rookie this season. What gives?
Reilly
New York
According to the NHL: "To be eligible for the Calder Trophy, a player cannot have played more than 25 games in any single preceding season and cannot have played in six or more games in any of the two preceding seasons in any major professional league. The player must not be older than 26 before Sept. 15 of the season in which he is eligible."
Bucci,
I am a singer in a newly formed barbershop quartet. We are just getting this thing rolling and are pretty serious about what we hope to do. I am asking you to combine your insanely awesome music insight with your insanely awesome naming skills (I know it's usually with newborn humans) to come up with a name that I can present to my fellow quartetmates. Hope you can help me/us out. Have you ever had a name request like this before?
Greg Horst
Langhorne, Pa.
Believe it or not, I was in a barbershop quartet in high school. I was the bass. We sang "Goodbye, My Coney Island Baby," and the crowd went crazy, so I have some striped-shirt cred in this area. Here are some to choose from:
Barbicide
Bill Barbershop Quartet
No. 4, Bobby Orr
Short-handed
John,
Just read your column. Particularly enjoyed the wedding advice/iPod shuffle response.
My buddies and I did that for several months a couple of years back. We e-mail ringed "The Daily iPod Shuffle." Rules were: (1) First 10; (2) no forwarding, no matter how embarrassing the wife/daughter's music is; and (3) an explanation of why you like that song today. Needless to say, when a "High School Musical 2" song infiltrates your Modest Mouse and Old 97's selections, there's some 'splaining to do!
Matt (No. 24, Hitmen Hockey Club)
Chandler, Ariz.
John,
I have been watching a lot of hockey this season, and a few questions have come to my mind that only a hockey insider like you can answer:
1. Does Zdeno Chara get his sticks custom-made?
2. Who is the enforcer whom the enforcers don't even want to fight?
3. Which hockey record do you think is the most unbreakable?
4. Which arena has the best food?
5. What do the ladies like more: Melrose's hair or the Q-Stache?
6. Who will be the better player: Taylor Hall or Tyler Seguin? 7. Which player gets picked first in the All-Star Game?
Derek
Rhode Island
1. What do you think?
2. I don't think there is one right now. There is fighting parity.
3. Glenn Hall's 502 consecutive games played in goal.
4. Not my local arena.
5. Melrose's salad.
6. They both good, and I think it will be real close, but I say Seguin by a nose.
7. Stamkos.
John Buccigross' e-mail address -- for questions, comments or crosschecks -- is john.buccigross@espn.com.
Bucci's fan photos
Bucci,
I hope you enjoy this picture as much as we did.
Go CAPS!!!
Thanks,
David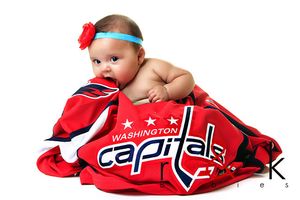 John,
My wife took my son ice skating for the first time and sent this picture to my phone. With a name like Nikolai, he's got a future in the NHL, hopefully with the Red Wings.
Taras Goshko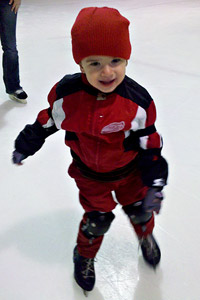 Bucci,
Here is my son Gabe taking shots on [Kings goalie] Jonathan Bernier.
Mike
Los Angeles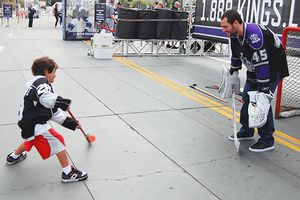 Bucci,
I'm originally from L.A. and just moved to Minnesota to start school. Of course, I'll always be a Kings fan, and when the Kings won 5-1 on Saturday and moved to an 8-0-0 record at home, I had to build this guy in front of my house for everyone in Minnesota to see! GO KINGS GO!
Adee Feiner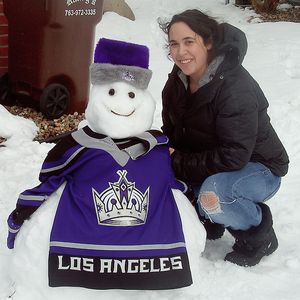 Shot of the Week
It's back. You know how it works: We present an NHL photo, and Bucci provides a caption. E-mail him your suggestions (include your name and hometown/state), and we will use the best ones and provide a new photo the next week.
LAST WEEK: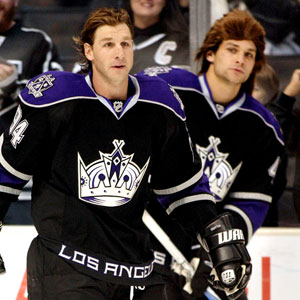 Getty Images
Ryan Smyth and the Kings employ a left winger, right winger and Kip Winger.
Coach, no one told me we acquired Ron Duguay.
Rod McDonald (Converse, Texas)
Mullet envy
Matt (Phoenix)
Someone got in a fight with his hair dryer ... and lost.
Jebbi Blackburn (Asuncion, Paraguay)
This is Ryan Smyth's hair. This is Ryan Smyth's hair on drugs.
Jesse Swanson (Farmington, Minn.)
Sure, anyone can purchase a wig, but you can't buy a nose like this.
Steve Carpenter
THIS WEEK: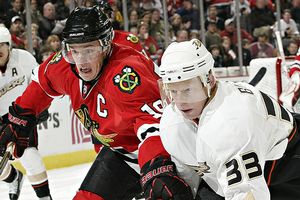 Getty Images
Jonathan Toews sees a mouse.
Don't Forget The Column!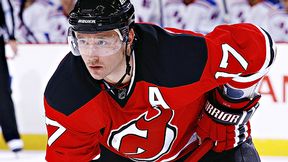 Yes, the Devils are at a turning point in the franchise's history, but a grassroots effort to bring more fans to Prudential Center means the future is very bright.
Story
A Special Wednesday Poll
Sponsored by Ken the Otter