Updated:
November 30, 2010, 6:57 PM ET
This week, player and Winter Classic forecasts

By John Buccigross
ESPN.com
Archive
Bucci,
There does not seem to be any question that Brendan Shanahan was instrumental in the postlockout rule changes, and I haven't read any serious criticism of the format adjustments to this year's All-Star Game, for which he also appears primarily responsible. (Indeed, the only "criticism" seems to be concern for the ego of the last guy drafted TO PLAY IN THE NHL ALL-STAR GAME?!)
Could it be that the only reason the NHL has not adopted a rule that allows players -- at their option -- to remove their helmets during a shootout attempt is that nobody has suggested it to Brendan Shanahan? I'm all for an e-mail campaign if you know where to find his.
Hagan
Denver
We have seen too many players get tripped by the goaltender or trip themselves to consider having players go helmetless just to show off their flow. A player could have the back of his head snap back on the ice or get tripped up and slam his head into the end boards. It's not a fashion show; it's a hockey game.
Bucci,
How great would a Flyers-Penguins Winter Classic game be? Oh, did I mention it should be played at Beaver Stadium?
Mike
A Winter Classic game at Penn State would be a natural rivalry, a beautiful spectacle and a huge revenue producer. But with the Penguins playing in their second Winter Classic on Jan. 1 and the Flyers participating in last year's outdoor contest at Fenway Park, one would think the Penguins and Flyers would have to wait a while before they get to play in another Classic unless the new television-rights holder has a say after writing a big, fat check. Maybe we can do a Penguins-Flyers game at Beaver Stadium four or five years from now.
Here are three other possible venues we could see soon:
Chicago versus Minnesota at Target Field: Multiple readers properly pointed this out last week. It also would be cool if there was a way to start the U.S. Pond Hockey Championships early that year and hold the finals of one or more divisions at Target Field on a pond hockey-sized rink (along with all kinds of high school and college options as well). I don't think the story of hockey in Minnesota has been told adequately to a national audience.
Detroit versus Columbus at Ohio Stadium: This would be a huge boost for hockey in Columbus, a market the NHL would be well-served to massage. The weekend could include an Ohio State-Michigan hockey game as well.
Yankee Stadium: The No. 1 media market seems like a tap-in-goal television event, but the Big East, Big 12 and Yankee Stadium have a four-year agreement in place for bowl games through the 2013 season. Unless the bowl game is moved to mid-December or after Jan. 1, Yankee Stadium appears to be out for a couple of years. The NHL could stage a game at Citi Field, but that just wouldn't have the same juice.
Bucci,
Do you believe in
Sergei Bobrovsky
yet? Cup dreams in Philly? We are the deepest team in the league on both offense and defense. Who might challenge us in the West?
Joe Mecholsky
Pennsville, N.J.
Well, Sergei Bobrovsky certainly shows great athleticism and flexibility and has good rangy size (6-foot-2, 190 pounds). From my observations, he does an outstanding job taking away the ice and going post to post, but he seems to sometimes get small in net. But the biggest concern: Can he handle six more months of hockey? He just hasn't been through the rigors of a long professional season in the best hockey league in the world.
Hey John,
Longtime reader, first-time writer. I love your column and haven't missed a week since I started reading it four years ago. First, I have to say thank you for introducing me to Hold Steady; absolutely phenomenal band, and I really enjoyed their last album.
Second, my question: At what point do you think people have to start considering Stamkos might have a chance of getting 50 in 50? It hasn't been done in a while, and honestly, I never thought anyone would be close in this era. But with the amount of firepower on Tampa Bay and with Stamkos being the main gun, I'm starting to think he may have a chance.
Scott
A player scoring 50 goals in his team's first 50 games has been done eight times by five different players: Maurice "Rocket" Richard, Mike Bossy, Wayne Gretzky (three times), Mario Lemieux and Brett Hull (twice). Hull was the last to do it during the 1991-92 season.
Steven Stamkos began the week with 21 goals in 24 games. Do I think he can get 50 goals in 50 games? I don't. Goalies are better, defenses are better and games are lower-scoring. At some point, you wonder whether coaches will begin to defend the Lightning's 23.4 percent power play a little differently. I mean, how many times has Stamkos had wide-open looks? It's so hard to score goals in the NHL, and I think hooking and holding are creeping back into the game.
Mr. Buccigross,
I try to watch just about every minute of Bruins hockey I can, and most fans are really excited about this season. The B's consistency has slipped a bit during the last couple of weeks, but I have faith Claude Julien will get them on track. You mentioned in your mailbag that "[Tyler] Seguin will be the Bruins' No. 1 center next season," but I'm not quite so sure. His wheels are even more impressive than I had heard before the season, but his wrist shot is equally impressive. That breakaway snipe he put top-daddy on King Henrik was pure Cheez Whiz, but I think he'll have a difficult time cracking a center spot on the top two lines.
Right now, David Krejci and Patrice Bergeron are ahead of him, and those are a couple of high hurdles. Krejci is an all-world center with hands and vision that have led his teammates to nickname him "The Matrix." Bergeron's two-way play and strong faceoff skills got him on the gold-medal-winning Canadian Olympic squad. Also, if Marc Savard comes back healthy and stays in a Bruins uniform, that's some serious talent up the middle.
If Seguin does crack the top line in the next year or two, I could see it as a winger where he could use his speed and wrister in a similar capacity as Phil Kessel did when he was with the B's. Either way, we're really ecstatic to have so much young talent on this team, and that, paired with a solid system, will hopefully bring the Cup back to Boston again after a 40-year hiatus.
James
It is an embarrassment of riches for the Bruins. They are set up to be good for a long time. That said, I don't see any of the Bruins matching the skill set of Tyler Seguin. I'm talking the entire team. The only things against him are his youth and inexperience. He will get stronger and more explosive in the next few seasons. There is no way I would move him from center, but the Bruins probably will because they are a defense-first team, and great defensive play usually takes experience in the middle. They could use Seguin in a Phil Kessel-type role, but he is a much better playmaker than Kessel. That is why I would like Seguin in the middle of the ice, skating and passing like an Evgeni Malkin offensive threat. Couple that with going to the high-traffic areas, and Seguin has all the tools to be an All-Star center.
John,
Hello from (as of today) snowy Syracuse, N.Y. ...
Max Talbot becomes an RFA at the end of this season. Being the folk hero he is to us Penguins fans, do you think Pittsburgh will sign him to a long contract? ... Also, not sure if you've heard of them, but check out the song "Soundtracks and Comebacks" by the South African band Goldfish. The sax solo at about 1:50 in is sick.
Kevin
Maxine Talbot will turn 27 in January and makes only $1 million. He is a very good player who can kill penalties and has a pretty good scoring touch. He has never received a lot of ice time, so you don't know for sure whether he could produce more if put in a larger role. Penguins fans can never forget what Talbot did in Games 6 and 7 of the 2009 Stanley Cup finals. Down 3-2, the Penguins won the last two games of the series by the same score, 2-1. Talbot played 19-plus minutes in both games. He had an assist in Game 6 and scored both goals in Game 7. Talbot is not afraid of the big moment; he is versatile and a great teammate with a strong personality. I would think there would be a fit for him to make $2.5-3 million a year for four years.
As a role player, the Maple Leafs could be a fit, or perhaps the Oilers. If Talbot does get that kind of offer, it will be difficult for the Penguins to re-sign him unless he takes less to stay (five years, $10 million?). The Penguins have no big contracts coming off the books and have a lot of role players to sign. Added revenue from the new American TV deal will add some relief. Also, they could try to move Chris Kunitz at $3.7 million because it will be the last year of his deal, but he provides nice jam and physical play. The Penguins are also deep on defense. Brooks Orpik's $3.7 million cap number is something that stands out as a possible contract to move, although he is the Penguins' most physical player and really important come playoff time.
Hey John!
Why don't they make a trophy for assists and call it the Gretzky Trophy? Seems fitting. You rule.
Nick
Lorton, Va.
It does make sense. Hockey has always valued the assist, so much so that it gives two of them. It is a mark of creativity and unselfishness. And to get The Great One at the awards show every year to present such an award would be a good thing and a great thrill for the winner.
Bucci,
I have e-mailed you many times and never got any love, so we will see how this barrage of questions fares.
As a Red Wings die-hard, I hear a lot about duos like Crosby/Malkin, Ovechkin/Backstrom/Semin, Kane/Toews, Stamkos/St. Louis, but how come I don't hear more about Dats and Hank more? They have to be the best offensive and defensive all-around unit of the bunch. Why doesn't someone do a story on them?
I think we all could tell in the beginning this season would be something special, but I have to admit I am worried about the future of this team two to three years down the line, especially with Jimmy Howard needing a contract and two of our top blueliners going into their golden years. Should I be, or am I worrying too much?
Last, I'm getting a puppy, a Siberian husky, for my girlfriend for Christmas, and I need a good Hockeytown name. Got any ideas?
Spencer von Behren
St. Paul, Minn.
Puppy name? Pav, Hank, Deke or Gordie.
One reason Pavel Datsyuk and Henrik Zetterberg may not have received more love in the media could be Red Wings fatigue. The duo examples you gave above play for teams that came from nothing to reach the top of the standings, and all at the same time. The Red Wings have been going strong since the mid-'90s. When they won their Cup in 1997, Sidney Crosby was 9 years old. They were good all the time and on TV all the time. Then, the NHL lockout was kind of starting point to a "new NHL." We heard it all the time on the broadcasts. So, those players who began their career during the "new NHL" have an extra newness to them; those who helped bring dormant franchises to great heights are going to get a lot of attention.
Bucci,
Martin St. Louis notched his 700th point the other night, which got me wondering: Certainly, we'll retire his number, but is he Hall of Fame-worthy?
Jared
Tampa, Fla.
St. Louis will turn 36 in June. He has a fantastic NHL résumé: MVP, scoring champ, a Lady Byng and a Stanley Cup; a five-time All-Star and three-time postseason All-Star. He has 48 points in 45 playoff games. He is also a beautiful player to watch and an incredibly classy person. Good college hockey career; he persevered and became a multimillionaire. If St. Louis can get to 1,000 games and 1,000 points -- and he should with Stamkos on his team -- he has a very strong case. With his production, passion and class, I would vote for him.
Bucci,
Things I'd like to see in the NHL next season (and going forward):
• The home team in white jerseys.
• The Red Wings successfully defending Lord Stanley in 2012.
• Some decent NHL trades!
My suggestions for encouraging this:
• Scrapping the salary cap from March 1 until the end of the regular season each year; let teams that want to retool for the playoffs do so. How much more fun would the trade deadline be?!
• When a team trades for a player, it has the option of renegotiating the player's contract (obviously player permitting). How much more interested would teams be in Wade Redden, [Sheldon] Souray, [Jeff] Finger, et al? It would allow NHL players with "bad" contracts an option of continuing their careers at the highest stage or collecting a big paycheck in the AHL but also spread the talent around the league more.
• For a player approaching unrestricted free agency (say from March 1 of that final contract year), if he is traded, the acquiring team has the option of not counting the newly acquired contract against the salary cap. For example, this season could see the Rangers acquiring Brad Richards or Philadelphia landing Tomas Kaberle.
John
London
Bucci!
I got behind in reading the ol' mailbag and column by about a month, so I am pounding them down like Bobcat Goldthwait slams Jolt soda. Holy Shnikees! You sang barbershop quartet in high school?! Me too! So were you part of a rogue, school-based program, or were you bona fide SPEBSQSA (Society for the Preservation and Encouragement of Barbershop Quartet Singing in America)?
Fact: My buddy Travis and I founded SMEASHL (Saturday Morning EA Sports Hockey League) for PS3. We have 2 members.
Fact: The guys from Toad the Wet Sprocket, before becoming Toad, played Barbershop Quartet singers in our high school musical.
Fact: Those same pre-Toad guys lost in "The Battle of the Airbands" at our high school, a regular production done during our "nutrition break" on one Friday of each month. (Yep, California public school!) They played U2's "Pride" and got outrocked by the guys doing The Scorpions' "No One Like You." The winner was determined by the trusty Crowd-o-Meter.
Fact: Q-Stache taught The Most Interesting Man in the World the bass parts to "The Old Songs."
Fred
Raleigh, N.C.
John Buccigross' e-mail address -- for questions, comments or crosschecks -- is john.buccigross@espn.com.
Bucci's fan photos
Hello John,
Here is our unit picture, the HHC of 2-10 Aviation at FOB Shank in eastern Afghanistan. I am in the second row, third from the left, the guy who asks you all of the controversial questions about the league's interworking that you rightfully do not want to answer. We watch the NHL on AFN and wish you a Merry Christmas!
Chaplain Jerry Johnson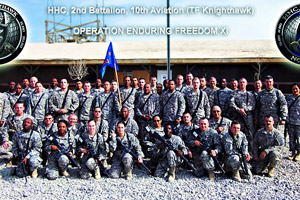 Bucci,
Here is my Oilers rookie of the year. My boy Drayden at 8 months, with some creative help from his mom toward the homemade lid and skates. Maybe when he starts skating, the rebuild will be over and they will actually be able to win two games in a row.
Lehi
Phoenix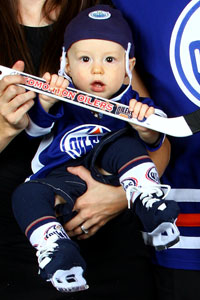 Bucci,
I sent you a pic of some fun times with the locals at Hartwall Arena in Helsinki. See you at the All-Star Game in Raleigh!
Kale Murphy
Wrightsville Beach, N.C.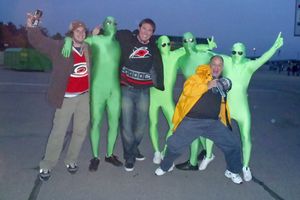 John,
Although these pictures do not feature any babies in Halloween costumes or mini-mites taking their first skate/attending their first NHL game, I wanted to send them to you anyway. We had a Duke University ACHA club hockey team alumni event in North Carolina. ... More than 30 former players attended, including members of the program's first teams in the late '70s right up to 2010 graduates. ... That team picture shows several investment bankers, lawyers, scientists and two world-renowned surgeons who at one time all played for the same program. I just wanted you and your readers to know that even if you can't make Hockey East or the CCHA, there are still plenty of opportunities to play college hockey, and the friendships you make will last well beyond the final game.
Jesse J. Swanko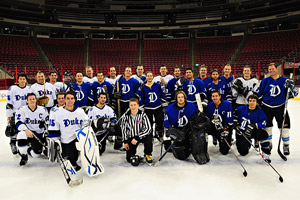 Bucci,
My wife and I welcomed Victoria Parker into the world on Aug. 17 (just in time for training camp) and have been waiting for her to don the jersey before sending you a picture. She's already become a fine student of the game, as you can see by her reverence for the famed "Russian Five." Now you can complete my greatest year ever by getting hockey back on ESPN (and Victoria tells me she would like to see her Wings win the Cup).
Mike, Tina and Victoria Ling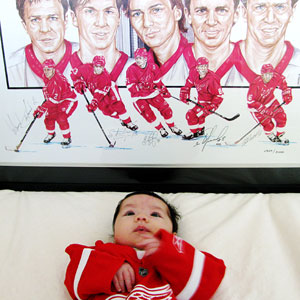 Bucci,
My 4-year-old daughter, Amelie, not only knows the entire Sharks roster by name, jersey number or sight, but if you ask her where Bobby Orr was born, she'll correctly answer Parry Sound, Ontario. A student of the game, indeed!
Steve Polevoi
San Jose, Calif.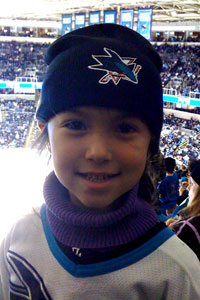 Bucci,
Here is Nicolas; you've seen him before, gnawing the tape off one of my sticks while he was teething. He's now 4 and loves to rifle shots 5-hole. He still likes to "share" the puck with his friends, which is really endearing and innocent.
Jonathan Leleu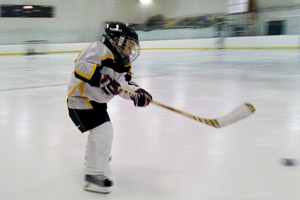 Don't Forget The Column!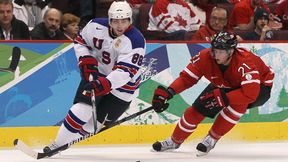 The United States should be producing more elite NHL players like Patrick Kane, and the place to start is with coaching and playing techniques in youth hockey.
Story »