Just A Thought
ideo1>

@ESPN_Burnside: Los Angeles Kings goalie (and U.S. Olympian) Jonathan Quick appears to have brushed aside any concerns that he was going to take a while to get back into a groove after missing more than seven weeks with a groin injury. Quick has allowed just seven goals in five games since returning Jan. 4. That includes a stellar 28-save performance Monday night as the Kings beat the Vancouver Canucks 1-0. Another good sign for both the Kings and the U.S. Olympic team? Dustin Brown scored the winner and has three goals in his past five games after netting just one in the 11 before that. It's been a disappointing season for Brown, at least offensively, but he's a key part of the U.S. leadership group and a candidate for the captaincy in Sochi.
---

@CraigCustance: It was an ugly loss, to be sure, for a Carolina team that had been stringing wins and points together quite nicely. But the 2-0 defeat to the Flames still was another solid outing for Carolina goalie Anton Khudobin, who has allowed two or fewer goals in four of his past five starts. In stopping 27 of 29 shots against Calgary, he improved his January save percentage to .938. With three goalies who have proven they can win games for Carolina this season, general manager Jim Rutherford's phone is ringing. "I've had lots of conversations," he said earlier this week. "I would say from my point of view, it's fairly active. Not active to the point that I've heard anything that makes sense to make a difference on our team." There may be GMs who are waiting Rutherford out while he carries three goalies on his roster, but he stressed that he's not moving one unless it benefits Carolina. Better to have too much goaltending than not enough. "I'm willing to run it out to the end if I have to unless something comes along," he said.
---

@Real_ESPNLeBrun: Welcome back to the NHL, Paul Maurice. The new Winnipeg Jets coach made an immediate impact, his team rolling to a 5-1 win over the visiting Phoenix Coyotes on Monday in his debut. The victory snaps a five-game winless streak and, at least for now, helps blow away the dark cloud that had been hanging over the team. The Jets were first on loose pucks, appeared a step quicker than they have in a month, and Ondrej Pavelec played like a No. 1 goalie. It also should be noted that Maurice kept Dustin Byfuglien up front for a second consecutive game, a project that Claude Noel began in his last game before being fired. Big Buff had two assists in Monday's game, looked like he belonged there, and now has three assists in two games. Hmmm, I wonder if this isn't the Brent Burns experience all over again. Might it be a permanent shift?
---

@KatieStrangESPN: Who else is curious about what sort of message coach John Tortorella delivered to his Vancouver Canucks team prior to last night's 1-0 shutout loss to the Kings? It was an emotional, heated battle from the very start, with some bad feelings clearly carrying over from their last meeting, when Kings captain Dustin Brown injured Canucks goaltender Roberto Luongo in a collision. The Canucks came out with the intention of settling some scores, that much was clear. Brown had to answer the bell and drop the gloves with U.S. Olympic teammate Ryan Kesler, Tom Sestito essentially racked up 27 penalty minutes as soon as he hit the ice, and Dale Weise slew-footed Kings defensemen Drew Doughty. It wasn't the type of offensive effort needed, but Vancouver captain Henrik Sedin called it one of the team's "best games of the year," nonetheless. It's obvious these Canucks are not going to be pushed around. Not on Tortorella's watch.
Picture This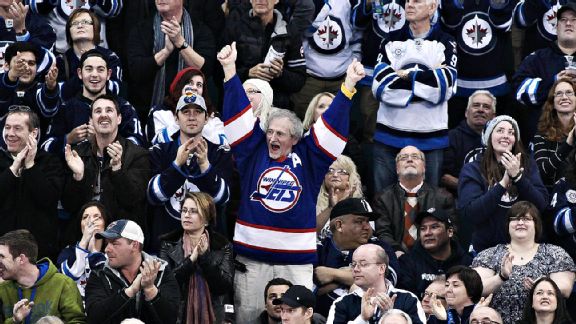 Marianne Helm/Getty ImagesJets fans finally had something to cheer about on Monday night.
Top Performers
Jonathan Quick | Los Angeles Kings
28 SV, 0 GA
vs. VAN | Recap
Jack Johnson | Columbus Blue Jackets
1 G, 1 A, 2 SOG
vs. TB | Recap
Karri Ramo | Calgary Flames
23 SV, 0 GA
at CAR | Recap
Quote Me On That
"We just don't like them very much, so they're always going to get our best effort."
-- Kings C Jordan Nolan on the chippy win over the Canucks
---
"It's good that it's out of the way. It's nice to finish one without a goal. Obviously, everyone thinks about it and knows the situation but you just have to focus and play normally."
-- Flames G Karri Ramo on his first career shutout in 58 starts
Stats Central
• Kings: Improve to 10-3-1 vs. Pacific Division opponents, inlcuding 7-0-1 vs. ANA/SAN/VAN.
• Nathan Horton(CBJ): Game-tying goal vs. Tampa Bay is 200th of his career.
• Blue Jackets: 5-1-0 since Horton was activated from injured reserve on Jan. 2.
• More from ESPN Stats & Information »