Just A Thought
>

@ESPN_Burnside: Another night, another disappointing performance from the swooning Vancouver Canucks. The Chicago Blackhawks spotted Vancouver a 2-0 lead early in the second period Wednesday night at Rogers Arena, then scored five unanswered goals to post a decisive 5-2 victory. Four of those goals came in a span off less than eight minutes in the second period, a frame in which the Blackhawks poured 17 shots at Canucks netminder Roberto Luongo. The loss left Vancouver with a 1-3 record on a just-completed four-game homestand. The Canucks now hit the road for five games before the Olympic break, and their tepid play over the last month has kept a slumping Phoenix Coyotes team and an inconsistent Dallas Stars team in the playoff picture in the Western Conference. Canucks coach John Tortorella has one game left on his 15-day, six-game suspension for trying to invade the Calgary Flames' dressing room area on Jan. 18, although it may take more than good coaching to get the Canucks out of their funk.
---

@CraigCustance: We tend to celebrate the coaches who lead their teams to unexpected to success. This season, we've highlighted the incredible job Jon Cooper has done in Tampa while Steven Stamkos has recovered. We've swooned over Patrick Roy's immediate impact on the Avs. But then a coach hits a milestone and we're reminded that sometimes being great when you're supposed to be great is pretty impressive, too. Joel Quenneville's win over the Canucks moved him into sole possession of third place on the all-time list with 693 wins. All he's done in Chicago is win two Stanley Cups and kept this team at the top of the game when a hangover was supposed to kick in. Yet he hasn't won a Jack Adams award since 1999-2000. Maybe it's time Quenneville's greatness is recognized, not just his team's.
---

@Real_ESPNLeBrun: The fun of the outdoors aside, it was another tough loss for the New York Islanders on Wednesday night, albeit in a picturesque setting at Yankee Stadium against the Rangers. It felt to me like the Isles had to take at least two of their three games this week, if not all three, to stay in the hunt and avoid the painful decisions that could come with pulling the plug on their season. They played a solid game but fell 2-1 to their rivals and now stand seven points out of a playoff spot, but with five teams between them and that last spot. Plus, the Isles have played more games (56) than any of the seven teams involved in the wild-card race right now. At some point they are going to have to admit they're sellers, although maybe if they can win Friday against the Rangers and then win out before the Olympic break next week they can hold off on that decision. But it doesn't look good.
---

@KatieStrangESPN: Wow. Not much else to say about Ben Scrivens' 59-save shutout performance in the Oilers' 3-0 win against San Jose on Wednesday night. The 27-year-old is wasting no time endearing himself to fans in Edmonton after being acquired in a trade from the Kings earlier this month. Scrivens' stellar effort in blanking the Sharks set an NHL record for most saves in a regular-season shutout (and we'll tack on some bonus points for Scrivens using the word "inauspicious" in his postgame press conference, as well). Understandable reaction from Oilers coach Dallas Eakins, though. As happy as he was about Scrivens' superior performance, he was clearly not pleased with the rest of the team, and for good reason. Edmonton finished the night with a horrendous 27.5 percent Corsi rating after allowing 100 shot attempts. Yikes.
Picture This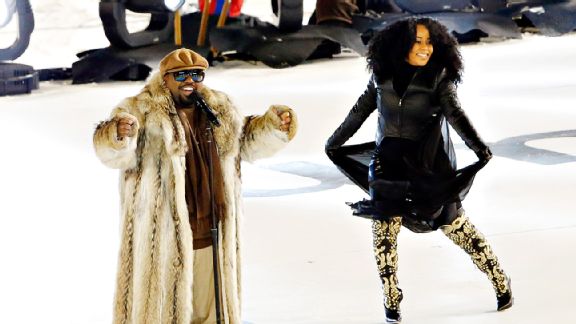 Anthony Gruppuso/USA TODAY SportsCee Lo takes center stage at Yankee Stadium on Wednesday.
Top Performers
Henrik Lundqvist | New York Rangers
30 SV, 1 GA
vs NYI | Recap

Ben Scrivens | Edmonton Oilers
59 SV, 0 GA
vs SJ | Recap

Quote Me On That
"I was seeing the puck well. We got extremely lucky with a couple of posts in the second."
-- Oilers G Ben Scrivens on his shutout of the Sharks
---
"You never really know [about playing outdoors] until you're out there and see that great atmosphere. I loved every second of it."
-- Islanders G Evgeni Nabokov on playing the Rangers at Yankee Stadium
Stats Central
• Rangers: Won last five road games (designated as road team for both Yankee Stadium games); now 3-0-0 in outdoor regular-season games.
• Islanders: Winless in last four games (0-3-1); last in NHL in home wins (8-12-8, designated as home team vs. Rangers).
• Canucks: Lost 11 of last 15 games.
• More from ESPN Stats & Info »
Socializing
Players wearing ski masks at the outdoor game. I played one of those sat, not one guy wore one. Maybe we are just tougher in California? ;)

— ben lovejoy (@RevLovejoy6) January 30, 2014