Just A Thought
ideo1>

@ESPN_Burnside: It didn't take long for Nathan Horton to make an impact on the Columbus Blue Jackets, did it? After missing the team's first 40 games while recovering from shoulder surgery, Horton -- who signed a seven-year deal worth $37.1 million during the summer after three seasons with the Boston Bruins -- returned to action Thursday night and scored in a 2-0 win over the Phoenix Coyotes. Horton's comeback coincides with the return of reigning Vezina Trophy winner Sergei Bobrovsky, who has been recovering from a groin strain, although it was Curtis McElhinney who got the shutout while Bobrovsky watched from the bench. McElhinney was terrific in the third period, stopping 21 shots. The Blue Jackets have quietly moved back into the playoff discussion in the Metropolitan Division, and as of Friday morning, were just four points back of Philadelphia for third place, although with Horton and Bobrovsky rejoining the lineup, things might not be so quiet in Columbus much longer.
---

@CraigCustance: After scoring 31 goals in his rookie season (2010-11), Carolina's Jeff Skinner hasn't approached that number since. Injuries and a lockout have held his goal production to a total of just 33 in the past two years. However, the Skinner of 2010-11 is back, and he's actually even better. With a hat trick in an overtime win against the Capitals, Skinner now has five goals in his past two games and 19 overall. He's on pace for 45 this season. The Hurricanes are 16-16-9, and they're nothing if not consistent. Carolina is 8-8-5 at home and 8-8-4 on the road, the picture of absolute mediocrity. If some of his talented teammates (we're looking at you, Jordan Staal and Alexander Semin) join in on the scoring, that could change.
---

@KatieStrangESPN: Chatting with Kyle Okposo a few weeks back, he told me about the experience of getting passed over for the U.S. men's national team prior to the 2010 Olympic Games in Vancouver. It was essentially the first team he didn't make in his hockey career, and though he was deeply disappointed and frustrated, he said it motivated him. Okposo had to have been just as upset Wednesday, when he was left off the squad for the Sochi Olympics, but expect him to adopt the same attitude. Just one day after the snub, the 25-year-old winger notched the game-winning overtime goal to give the Islanders a 3-2 victory over the Chicago Blackhawks. Okposo's two-point effort led the way for the Islanders in their third consecutive victory. He may not be a member of the 2014 U.S. men's Olympic team, but Okposo is doing his best to help his downtrodden Isles out of the basement of the Eastern Conference standings.
Picture This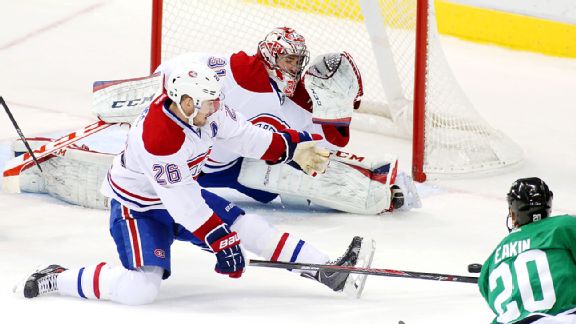 AP Photo/Sharon EllmanCarey Price is at the ready, but Josh Gorges is looking to make the kick save himself.
Top Performers
Jeff Skinner | Carolina Hurricanes
3 G, 5 SOG, +2
vs. WAS | Recap


Max Pacioretty | Montreal Canadiens
2 G, 2 A, 7 SOG, +3
vs. DAL | Recap

Curtis McElhinney | Columbus Blue Jackets
34 SV, 0 GA
vs. PHO | Recap

Stats Central
• Brad Marchand (BOS): first career OT goal
• Kyle Okposo (NYI): fourth career OT goal (first since Dec. 26, 2009)
• Jarome Iginla (BOS): goal; extends points streak to six games
• Islanders: three straight wins for first time this season
Quote Me On That
"Sometimes you get tough bounces in life. You don't always achieve your goals. Tonight I thought I left everything out there."
-- Islanders RW Kyle Okposo, who was left off the U.S. Olympic team, scored the OT winner Thursday.
---
"You can tell we're a good team when we play hard. I really enjoyed being out there with the guys."
-- Blue Jackets RW Nathan Horton after scoring in his return from injury.
---
"We've got something rolling now with three in a row and they're not all going to be pretty, but at this time of the year and where the standings are we'll take anything we can get."
-- Senators LW Clarke MacArthur on Ottawa's 4-3 win over the Jets.
Socializing
Bylsma on identity of Team USA: "Skating and speed had a premium." Also said focus was on intelligence, smarts & being great defensively.

— Craig Custance (@CraigCustance) January 3, 2014