Just A Thought
>

@ESPN_Burnside: You have to feel for Detroit goaltender Jimmy Howard, who was sensational on Broadway on Thursday night and turned aside 47 of 48 New York Rangers shots at Madison Square Garden. Unfortunately, thanks to the anemic Detroit Red Wings offense, the team came up one goal short and suffered a 1-0 loss thanks to Henrik Lundqvist's 38-save performance. That's twice in a row the Wings have been blanked 1-0, with Anaheim performing the same shutdown number in Anaheim on Sunday. The Wings have fallen out of the wild-card spot in the Eastern Conference they had held for weeks, and as of Friday morning the New Jersey Devils and Ottawa Senators had both leaped ahead of Detroit among teams trying to snare one of the two wild-card playoff berths now occupied by Toronto and Washington. And things aren't getting any easier, with Detroit beginning a five-game home stand against Los Angeles on Saturday. The problem is the Wings stink at home (6-10-7) and will host the Kings, Blues and Blackhawks, along with the Canadiens and Panthers. Ouch.
---

@CraigCustance: Just when you're ready to believe that maybe the Blues have passed the rival Kings, Los Angeles sends a stark reminder that it remains big brother in that rivalry. The Kings got two goals from Trevor Lewis and a strong performance from Jonathan Quick, sending a message with a 4-1 win that there's room for growth in St. Louis. After the game, goalie Jaroslav Halak took the blame for the loss after misplaying a puck in the corner that led to a Kings short-handed goal, but even without that misstep, the Kings were better team. The Blues can't hang their heads for long, though, because the powerhouse Ducks are coming to town and will be ready to pounce on any mistake the Blues make.
---

@Real_ESPNLeBrun: So why is it San Jose's Todd McLellan never gets any mention at all for the Jack Adams Award? I'd argue he deserves it this season more than ever given his work behind the Sharks bench for a team depleted by so many key injuries. Thursday was another win for San Jose, this time a 3-0 victory at Florida with a lineup missing Logan Couture, Raffi Torres, Martin Havlat, Scott Hannan and Tomas Hertl, among others. The Sharks have hung in there in the mighty Pacific Division, led by the terrific play of Joe Thornton, Joe Pavelski, Patrick Marleau, Dan Boyle and Marc-Edouard Vlasic. Watch out for this team post-Olympics. They are sending only four players to Sochi, meaning Thornton and Boyle can rest their veteran bones, Couture can take all the time he needs to heal his surgically repaired hand, and the Sharks should also have Torres back at some point just before or just after the Olympics. If this team ever gets healthy, it's right there with the big boys in the West.
---

@KatieStrangESPN: The Islanders' long history of goaltending woes is well-documented and, regardless of whether or not general manager Garth Snow thinks his team is poised to make a push for the playoffs, we still think it to be a shrewd move to go after a bona fide No. 1 starting goaltender for the future. But, giving credit where it is due, 23-year-old Kevin Poulin is making a strong case for himself lately. Continuing to step up in the wake of an injury to veteran netminder Evgeni Nabokov, Poulin made 30 saves en route to the Islanders' 2-1 victory against Tampa Bay on Thursday. Once a highly touted prospect, Poulin's career has been riddled with injuries and inconsistency, though Thursday's win improved him to 3-0 this season in the shootout. He has also held opponents to two goals or fewer in three of his last four starts.
Picture This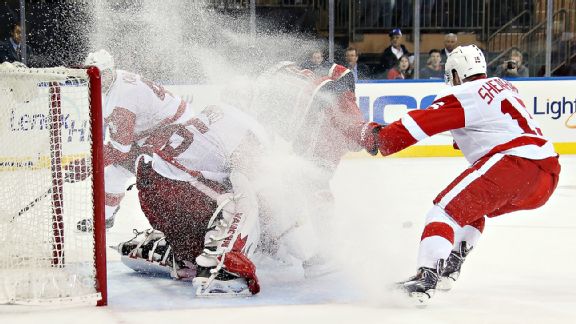 Bruce Bennett/Getty ImagesApparently Jimmy Howard was mistaken if he thought he was done playing in the snow this season.
Top Performers
Trevor Lewis | Los Angeles Kings
2 G, +2, 5 SOG
at STL | Recap

Shea Weber | Nashville Predators
1 G, 2 A, +1, 2 SOG
at PHI | Recap

Henrik Lundqvist | New York Rangers
38 SV, 0 GA
vs DET | Recap

Jimmy Howard | Detroit Red Wings
47 SV, 1 GA
at NYR | Recap

Quote Me On That
"It was a pass to (Benoit) Pouliot. It was a lucky bounce, I guess. I will take that."
-- The Rangers' Mats Zuccarello on his goal against the Wings' Jimmy Howard
---
"I pretty much had the whole net to shoot at and he got his leg on it. It could have been a game-tying play. Unfortunately, it went the other way."
-- Florida's Scottie Upshall on missed opportunity
Stats Central
• Rangers: 5-1-1 in last 7 games; first 1-0 shutout vs Red Wings since 2/4/71 (107 games).
• Trevor Lewis (LA): two points, second career shorthanded goal; one point in first 38 games this season).
• Blues: loss snaps five-game home win streak
• More from ESPN Stats & Information »
Socializing
Pretty cool to see my former roommate get his first shutout in the show. Thatta boy 32

— Logan Couture (@Logancouture) January 17, 2014