Just A Thought
>

@ESPN_Burnside: It's one of those games likely to go unnoticed outside the confines of Blue Jackets Nation, but Columbus' shootout win over Buffalo on Saturday was the team's sixth in a row and brings back memories of last season's impassioned run at a playoff spot in the second half of the lockout-shortened season. That run fell just short - Columbus missed the eighth spot in the Western Conference on a tiebreaker - but the team is now in the Eastern Conference, where head coach Todd Richards has it clicking along. As of Monday morning, the team owned the second wild-card spot in the East. Now, that's a tenuous spot, to be sure. Six teams are within three points of that final playoff berth, but Columbus has put itself in position to stake a real claim to what would be just its second-ever playoff berth (the Blue Jackets have yet to win a single playoff game in franchise history) before the Olympic break. They play six of their next seven games at Nationwide Arena, where they are 12-9-2. Six of their next seven opponents hail from the East, so this upcoming period represents a chance to prove this current level of play is no hoax.
---

@CraigCustance: We've piled on the Metropolitan Division in this space for most of the season and still don't think there's a Stanley Cup contender outside the Penguins residing there, but improved play lately from other teams has made things much more interesting. Scott mentioned the Blue Jackets, an easy team to get behind because of how hard they play for Todd Richards, but they're not alone. The Flyers have already clawed back into the race, and the Rangers' win on Sunday improved them to 7-2-1 in their past 10 games. The Metropolitan team I think is poised to make the next mini-run is the New Jersey Devils. If they were even .500 in games decided by shootout, they'd be in a playoff spot. Cory Schneider has been great this month, with a January save percentage of .957, and the Devils have a three-game homestand coming up followed by winnable games on the road in Nashville and Dallas. My prediction: When the month ends, New Jersey will be sitting in playoff position.
---

@KatieStrangESPN: Amid the outcry over the perceived snubs when the Canadian Olympic team was announced earlier this month -- veteran Martin St. Louis chief among those wrongly passed over -- there seemed to be grousing about the inclusion of Rick Nash. I doubt many people are still feeling that way. The streaky 6-foot-4 winger is experiencing a dramatic resurgence, and it's easy to wonder if the announcement might have provided Nash an extra boost of confidence. Nash, who won gold with Team Canada in Vancouver in 2010, has been on fire for the Rangers of late, with seven goals in the past eight games. Sunday night, he delivered his second multi-goal game during that span, single-handedly boosting the Rangers to a 2-0 lead in the first period of the team's 4-1 win over the Capitals. Anyone who witnessed his first goal of the night, a beautiful backhanded finish after Nash intercepted Dmitry Orlov's pass at the blue line, knows that the two-time 40-goal scorer is flying right now. Look for him to have a major impact with his size and skill in Sochi next month.
Picture This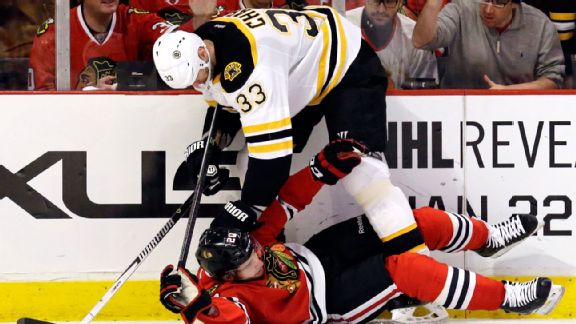 AP Photo/Nam Y. HuhBrandon Saad got all he wanted of the 6-foot-9 Zdeno Chara on Sunday.
Quote Me On That
"Two big games against two great teams. I can't say we were going as well as we wanted to before these two games."
-- Chicago RW Patrick Kane on back-to-back wins against Anaheim and Boston
---
"We're in a slump right now, that's for sure. It's tough, but we've got to find a way to get through it. We've got to start playing way better than we're doing right now."
-- Washington C Nicklas Backstrom after a 4-1 loss to the Rangers
Stats Central
SATURDAY:

• Cam Atkinson (COL): Sixth career multi-goal game.
• Ducks: Loss snaps eight-game win streak.
• Marian Hossa (CHI): First multi-goal game since 11/9/13 (Blackhawks 14-1-0 past two seasons when Hossa scores two or more goals).
SUNDAY:

• Lightning: Won nine of past 11 road games.
• Blackhawks: 25-0-5 this season when scoring first.
• Mark Barberio (TB): First two goals of NHL career (34th career game).
• More from ESPN Stats & Information »