Just A Thought
>

@ESPN_Burnside: Wasn't so long ago we were pronouncing the corner officially turned for the Philadelphia Flyers, and to be sure this is a much better team now than it was through the first six weeks of the NHL season. But -- you knew a "but" was coming, didn't you? -- an NHL season has more than a few corners in it and the Flyers suddenly find themselves at a bit of a dead end. After dropping a 3-2 decision to the Carolina Hurricanes at home Wednesday night in a game that had been postponed for a day by snow, the Flyers have managed just two wins in their last seven outings. The loss kept the Flyers from jumping over the idle New York Rangers into second place in the Metropolitan Division and further muddied the waters in the murky Eastern Conference playoff race. If the loss was disappointing to the Flyers, it was a pivotal win for a Hurricanes team that has seen the competition for a postseason berth pick up the pace of late. The Canes had lost three of four and had been searching for the offense to get right again. On Wednesday, Jiri Tlusty scored just his seventh of the year with fewer than seven minutes to go in regulation to give the Hurricanes a much-needed victory.
---

@CraigCustance: If Wednesday night's game is any indication, it's going to take more than a conference change to end the Blackhawks/Red Wings rivalry any time soon. A decimated Red Wings team battled back from a two-goal deficit to beat Chicago in a shootout, in a 5-4 game that had a bit of everything. It was high-end skill mixed with enough chippiness that even the composed Marian Hossa took a retaliatory penalty after taking exception to a couple of slashes from Brian Lashoff. Last year's seven-game playoff series against Chicago must seem like a lifetime ago for these Red Wings, who are fighting for their playoff lives, but they proved for one night they can still hang with the champs.
---

@Real_ESPNLeBrun: We're seeing more and more players slated to play in the Olympics openly sharing their concern about security threats in Sochi. Team Canada netminder Mike Smith said Wednesday that he's not going to bring his family there because of those concerns. He won't be alone, I'm sure. Should be a tense few weeks leading to the Olympics as everyone continues to monitor what's transpiring over there. The NHL, the NHL Players' Association, Hockey Canada and USA Hockey, among others, have constant dialogue to keep tabs on it. "Of course there is a certain level of concern, but we are receiving regular briefings and are staying on top of the current situation as best we can," NHL Deputy Commissioner Bill Daly told ESPN.com Wednesday via email. "Ultimately, we have to rely on the Sochi Organizing Committee, the Russian government and the IOC to ensure the safety of our athletes and guests. We have been given no reason to doubt that all reasonable steps are being and will be taken to ensure the safety and security of the Games." One worst-case scenario is that something horrible happens on the eve of the Games and forces the NHL and NHLPA to pull its players out of the Olympics. Let's hope it doesn't come to that. Right now, everything remains set for the NHL's best to play in Sochi.
---

@KatieStrangESPN: Interesting comments from Penguins goaltender Marc-Andre Fleury following the Penguins' 5-1 win Wednesday over the Montreal Canadiens in Pittsburgh. With the Canadiens trailing by four goals in the third, a heated scrum broke out in Montreal's end of the ice, with Habs goaltender Peter Budaj motioning to opposing netminder Fleury, inviting him to join the action. Fleury obliged as the goalies shed their gear and charged at each other, though the referees stopped any fracas before they had a chance to exchange jabs. Why? Fleury said he was arguing with referee Kyle Rehman to let him drop the gloves with Budaj, but that Rehman told him he had been on the ice for the Canucks-Flames opening-faceoff line brawl last weekend and didn't want another situation escalating. Can't blame him. Good job on his end for defusing a situation that could've turned ugly. Apparently, Budaj has some martial arts training, of which Fleury was unaware.
Picture This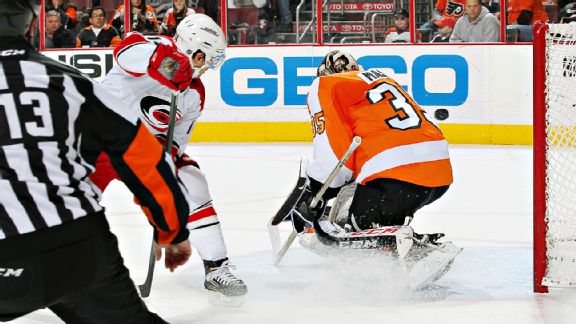 Len Redkoles/Getty ImagesDon't try this at home: Nathan Gerbe faked a shot by backhanding the puck through his own legs, then scored by taking a forehand shot while his stick was still between his legs.
Top Performers
Henrik Zetterberg | Detroit Red Wings
3 A, 3 SOG, +3
vs CHI | Recap

Evgeni Malkin | Pittsburgh Penguins
1 G, 1 A, 3 SOG, +3
vs MON | Recap

Marc-Andre Fleury | Pittsburgh Penguins
23 SV, 1 GA
vs MON | Recap

Quote Me On That
"You can't let Malkin carry the puck like that up the ice. It looked like he was playing a video game out there every time he went around us."
-- Canadiens LW Rene Bourque after a loss to Pittsburgh
---
"We're a little depleted, but we still have a great team and we showed that. It was nice to get rewarded for playing well."
-- Red Wings RW Patrick Eaves on a win over Chicago
Stats Central
• Red Wings: Have won three of their past four shootouts after losing their first six this season.
• Evgeni Malkin (PIT): goal, assist; points in 23 of past 26 games (10 G, 30 A in that span).
• Flames: Recorded their fifth straight home win over the Coyotes.