Just A Thought
>

@ESPN_Burnside: Fast, furious, fierce. The Los Angeles Kings and the Anaheim Ducks put on a clinic in big-boy hockey Thursday night in front of a standing-room-only crowd at the Honda Center, in a perfect appetizer for Saturday's outdoor tilt at Dodger Stadium. What did the raucous affair tell us? "It's a mans game and you'd better be prepared to be hit," Ducks head coach Bruce Boudreau said. Anaheim held off the Kings 2-1, despite spotting the Kings a 1-0 first-period lead and allowing their big-city neighbors four power-play opportunities over the last two periods. Thursday marked the 16th time this season the Ducks have come up with a win after giving up the first goal of a game. Their record in such games is now an astounding 16-6-1. No other NHL team is even .500 when falling behind by at least a goal. "That's something we have to improve upon. On the flip side, it shows what great character we have in this room," Anaheim defenseman Mark Fistric said after the game. The win moves the Ducks five points up on the Chicago Blackhawks for the top spot in the Western Conference, while the loss leaves the Kings with a three-game losing streak, winless in their past four (0-3-1).
---

@CraigCustance: It was career goal No. 100 for Chris Neil and a huge one. The Senators didn't get a win in Tampa on Thursday night, but Neil fluttering a goal past Ben Bishop earned the team a huge point by getting into overtime, continuing their success on the road. January is road-heavy for the Senators, who play eight of 12 away from home this month, and so far it's gone well. They've either won or earned a point in the first six road games of 2014. That's how you stay in a playoff race, where the Senators currently stand just two points outside a wild-card spot.
---

@Real_ESPNLeBrun: Toronto's six-game win streak didn't just end Thursday night, it came crashing down with the kind of mindless hockey we've seen too often this season: A 7-1 loss in Dallas that just made you wonder about this team once again. From Jonas Siegel's blog on TSN.ca, Leafs head coach Randy Carlyle and his postgame reaction: "It gets past a point of mad and frustration," Carlyle said. "It just gets to a point of disappointment and 'What the heck is going on out there?' Those are the things that bring you back to Earth in a hurry. This is the thud." Oy. For as much as the Leafs were impressive in spinning those six wins, the top line on absolute fire and Toronto showing it can score with any team in the league, Thursday's loss also reminded you that they have the kind of defensive awareness that can drive a coach crazy. The Leafs are playoff-bound, I think, but how they can win a round with their defensive play is beyond me.
---

@KatieStrangESPN: For as much as the St. Louis Blues get credit for being a big, heavy team -- the type of club against which you better be prepared to pay a physical toll -- they don't get nearly enough credit for their speed and skill. Both were on display Thursday night in the team's 2-1 win against the Rangers. After dropping four of their previous six games, including a humiliating 7-1 rout by the offensively-anemic New Jersey Devils on Tuesday night, the Blues bounced back with a big win against the Blueshirts. Jaroslav Halak made 34 of 35 saves and Sochi-bound defenseman Kevin Shattenkirk recorded the game winner with his bomb of a shot for a power-play goal in the third period. With one game left against the Islanders before they wrap up a four-game road trip and return home for a stretch of five of six games back in St. Louis, the Blues look poised to remain one of the top teams in the West. Hopefully for the Blues (and Team Sweden), Alexander Steen's injury is not too serious. After notching his team-leading 26th goal of the season, Steen left the game with a lower-body injury, missing the entire third period. He had only recently returned after missing 11 games with a concussion.
Picture This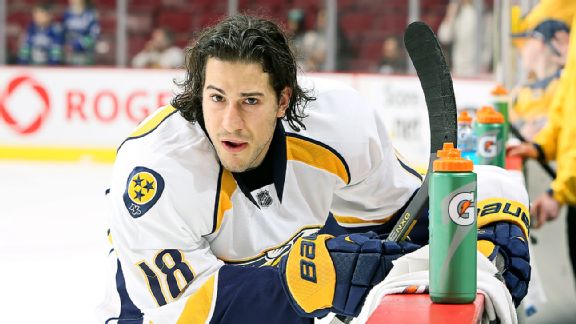 Kim Stallknecht/NHLI/Getty ImagesMichael Del Zotto looks like he is still getting used to his new team colors.
Top Performers
Jamie Benn | Dallas Stars
1 G, 3 A, +4, 4 SOG
vs TOR | Recap

Andrej Sekera | Carolina Hurricanes
1 G, 2 A, +4, 4 SOG
vs BUF | Recap

Jaroslav Halak | St. Louis Blues
34 SV, 1 GA
at NYR | Recap

Quote Me On That
"By no means can we be satisfied. Obviously it's a big accomplishment. We are happy, we are going to enjoy it tonight. We are going to come to work tomorrow and get ready for a tough game."
-- Jackets center Brandon Dubinsky
---
"It's a skills competition. It should be reserved for All-Star games."
-- Senators goalie Craig Anderson
Stats Central
• Blue Jackets: Team-record eighth straight win; outscored opponents 33-17 during win streak.
• Penguins: 7-1-1 in past nine games.
• Rick Nash (NYR): scored at least one goal in four straight games; has 10 goals in past 10 games.
• More from ESPN Stats & Info