Just A Thought
>

@ESPN_Burnside: Neither Jordan Staal nor his brother Eric will be joining the Canadian Olympic team in Sochi in a couple of weeks (barring a surprise injury replacement, of course), but you have to think GM Jim Rutherford and head coach Kirk Muller are okay with the brothers resting up for what they hope will be the team's first playoff berth since 2009. The Staals combined for three third-period goals Monday night as Carolina erased a two-goal deficit against previously red-hot Columbus and finished with a 3-2 home victory, vaulting into third place in the Metropolitan Division just two points back of the New York Rangers with two games in hand. The loss was the second in a row for Columbus following their franchise-record eight-game winning streak. Paced by Eric Staal's goals one-minute apart midway through the third, the 'Canes have now won four in a row.
---

@CraigCustance: It wasn't an easy three-game stretch to close out the schedule before their Stadium Series game - Penguins, Blues, Bruins - but the Islanders needed to show us a little more in those games to buy the notion that they can get back into the playoff hunt. With Monday night's blowout loss at the hands of the Bruins, the Islanders third straight loss at home, they limp into Wednesday night's outdoor game seven points outside a wild-card spot. The Islanders even-strength save percentage dropped to .910 in the loss, better only than the Oilers and Flames. Despite a nice stretch of home games, they still have just eight wins at home this season, a number even Edmonton and Calgary have topped. On Wednesday, what could have been a national stage to proclaim their return might instead be another nail in the coffin.
---

@Real_ESPNLeBrun: There was playoff desperation in their eyes. The Los Angeles Kings entered Monday night's game 10 points behind rival San Jose in the Pacific Division standings, and a loss in regulation would have made it 12 points, almost surely eliminating their chances of reeling in the Sharks for that important home-ice advantage in the playoffs. The gap is still big at eight points, but Monday night's 1-0 win was critical. It at least gave the Kings a chance as the Olympic break approaches. The win snapped the Kings' five-game winless streak and at the same time ended the Sharks' six-game win streak. And a 1-0 game should not surprise anyone. The Kings are 26th in goals per game (2.35), which is why they're looking for a scoring forward on the trade market. On the flip side, they're No. 1 overall in goals against per game (2.02), so they're comfortable in low-scoring affairs. Still, I'm sure Team USA netminder Jonathan Quick would appreciate a little more leeway.
---

@KatieStrangESPN: So far, Steven Stamkos' speedy recovery from a broken leg has seemed to suffer few bumps in the road, but that process appeared to take a detour Monday when the superstar center held himself out of a scheduled practice for the Lightning. After taking a pre-practice twirl, Stamkos decided not to push it and take a risk, telling local Tampa reporters his leg "didn't feel the best." Now, this could be a bit worrisome on a number of levels if you're GM Steve Yzerman. Not only does Yzerman want the dynamic young pivot back in the lineup for the Bolts -- currently third in the Eastern Conference -- but he also would like the former No. 1 overall draft pick at his disposal for Team Canada at the Sochi Olympics next month. It has to be encouraging to some degree, though, that Stamkos is proceeding with caution. No matter how badly you want him back, you have to be glad he's playing it safe and prioritizing his long-term health over the short-term gain.
Picture This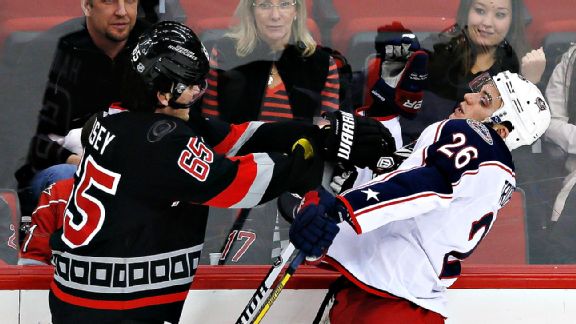 Kevin C. Cox/Getty ImagesUp close and personal at the Blue Jackets-Hurricanes game.
Top Performers

Brad Marchand | Boston Bruins
1 G, 3 A, 1 SOG, +3
vs NYI | Recap

Marc-Andre Fleury | Pittsburgh Penguins
24 SV, 0 GA
vs BUF | Recap

Jonathan Quick | Los Angeles Kings
23 SV, 0 GA
vs SAN | Recap

Quote Me On That
"That's a huge win for us. They're a great team in their own building. We got the two points. Now we're going to move on and forget about it."
-- Kings G Jonathan Quick on a win at San Jose
---
"We're expected to do a job out there. We got contributions from every line. That's how we win games and what makes us so tough to play against."
-- Bruins LW Brad Marchand after a win over the Islanders
Stats Central
• Bruins: Six goals from six different players, and six goals for the second straight game.
• Chris Kunitz (PIT): Ties career-high with 26th goal of season (had 26 in 2011-12).
• Penguins: 2-0 vs Sabres this season
• More from ESPN Stats & Information »