Just A Thought
ideo1>

@ESPN_Burnside: It wasn't too long ago that it looked like the Tampa Bay Lightning were going to throw a scare into the Boston Bruins atop the Atlantic Division standings, but after a minor journey sideways, the real Bruins are back with a vengeance. They crushed Florida 6-2 on Tuesday night in their fourth straight win and are 6-1-1 in their past eight. They have given up just 16 goals in that span and have started to really hum offensively, too, with six goals each in wins over Florida, the New York Islanders and the Philadelphia Flyers, and have opened up a four-point lead on Tampa, with a game in hand. One night it's Brad Marchand and Patrice Bergeron leading the way, then on a night like Tuesday, it's the team's top unit stepping up with a combined three goals and four assists from Milan Lucic, Jarome Iginla and David Krejci. Hmmm, that reminds us of the Bruins teams that won a Cup in 2011 and went to the finals last season.
---

@CraigCustance: Don't look now, but the Blues have caught the Blackhawks in the Central Division after Tuesday night's shutout win over the Devils. And because they've played three fewer games, St. Louis technically sits in first place, with the two division rivals tied at 77 points. That's what happens when you can't beat the rebuilding Flames, with Chicago losing in the shootout Tuesday in Calgary. The loss was Chicago's fourth consecutive, which might send some fans into a panic, but shouldn't. The Blackhawks are fine. Nobody is going to look back at a small blip in their January schedule once they get things going again. In fact, sitting second might be the place to be in the Central if the Pacific Division sends five teams into the playoffs. It can't get any worse than a potential first-round matchup against the Kings for the eventual Central winner.
---

@Real_ESPNLeBrun: I think it's time to give Mike Yeo a little recognition here, no? First of all, he's from North Bay and anyone from Northern Ontario is a good person to start with. (OK, that was a little self-serving.) But seriously, the Minnesota Wild coach has done wonders behind his bench in the past month and deserves some mention. The Wild have been without star forwards Zach Parise and Mikko Koivu, top-four defenseman Jared Spurgeon, and goalie Josh Harding -- the guy who carried them in the first half -- for most of January, yet have risen in the standings in the tough Western Conference. Parise returned three games ago, and Tuesday night had a goal and two assists as the Wild handed Anaheim a rare loss at home in a 4-2 decision. The Wild ended December with six straight losses as the injuries began to mount, but have gone 9-3-1 in January despite the missing bodies. Hats off, Mike Yeo. Of North Bay.
---

@KatieStrangESPN: It was a big game for Capitals defenseman Mike Green, who scored twice in Washington's 5-4 win against the Buffalo Sabres, including the overtime winner. Not only did it give the Capitals their second straight win following a seven-game skid, it snapped a 10-game goal drought for Green, who has struggled mightily this season. Some people (myself included) predicted this would be a bounce-back season for the offensive-minded Green, but he hasn't produced as expected, despite being healthy. Green went 24 straight games without a goal to start the season, and has recorded only seven in 50 games (four of which have come in two games this month). Not sure what Green's trade value is right now, and his yearly cap hit of $6.083 million certainly could be prohibitive, but he might be a player who could benefit from a change of scenery. The Caps have some other areas to address -- reports have general manager George McPhee kicking the tires on Sabres goalie Ryan Miller -- and putting Green on the block may be something they want to explore in the near future.
Picture This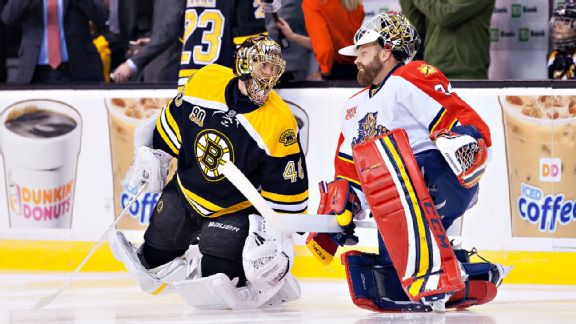 Richard T Gagnon/Getty Images"Been to the White House lately?" You can only guess what former teammates Tuukka Rask and Tim Thomas talked about before Tuesday's game.
Top Performers
Mike Green | Washington Capitals
2 G, 1 A, +3, 5 SOG
at BUF | Recap
Scott Hartnell | Philadelphia Flyers
2 G, 1 A, +2, 5 SOG
vs. DET | Recap
Carey Price | Montreal Canadiens
36 SV, 0 GA
vs. CAR | Recap
Quote Me On That
"He made a great play. I know it's tough for him not to shoot the puck, but what an unselfish play that was."
-- Capitals D Mike Green on Alex Ovechkin's assist on the game-winner
---
"They're a hard-working team so we expected them to work hard. They always seem to give us a tough game in this building. We had to be ready for it. I thought we did a good job fighting back. It was just a few too many mistakes."
-- Blackhawks F Patrick Kane on the loss to the Flames
Stats Central
• Ducks: Second home loss in past three games (started season 20-0-2 at home)
• Coyotes: Third shutout this season (all have come this month)
• Flames: Won three straight games for first time this season
• More from ESPN Stats & Information »