Just A Thought
>

@ESPN_Burnside: We saw intersecting storylines on opposite sides of the country Thursday night. After signing a five-year extension worth $5.9 million annually, Colorado netminder Semyon Varlamov went out and earned his 27th win of the year as the Avs edged Minnesota 5-4. Varlamov stopped 31 of 35 shots he faced in establishing a personal best in terms of wins as the Avs reinforced their hold on a playoff spot in the Central Division, where they are nine points up on fourth-place Minnesota and have St. Louis and Chicago still within their sights. Meanwhile. Varlamov's former team, the Washington Capitals, was losing yet again, dropping a 5-2 decision to Columbus. The Blue Jackets were up 4-0 just past the mid-point of the game as the Caps fell to 2-6-2 in their last 10 games, with Braden Holtby taking the loss. Holtby is 15-13-2 with an unsightly 3.00 GAA. As of Friday, the Caps are just two points out of the playoffs, but with five teams sitting between them and a postseason berth. They rank 22nd in goals against per game, a number that continues to reinforce the notion that perhaps the Caps let the wrong netminder get away.
---

@CraigCustance: Today could end up being as big as any day the Tampa Bay Lightning have faced this season. Last night, goalie Ben Bishop took a skate to the head and left the game against Ottawa after feeling weak following the hit. The Lightning lost this game, and also center Valtteri Filppula to a lower-body injury during the loss game. Comments after the game sounded optimistic that Bishop wouldn't be out long, but with headaches and potential concussions you never know. If he wakes up today clear-headed the Lightning will have dodged a bullet. But if this is something that keeps Bishop out long term, with Steven Stamkos already out and Filppula suddenly questionable, it would be devastating to Tampa's surprising playoff chase.
---

@Real_ESPNLeBrun: If the playoffs began this morning, Boston would play Montreal in the opening round, and I'm not sure how happy the Bruins would be about that. The Canadiens beat the B's 4-1 at TD Garden on Thursday night for their fifth straight win over their rivals dating back to last season. For whatever reason, the smaller but perhaps speedier Habs give the Bruins a hard time, and it's something to park in the back of your mind if the Original Six rivals meet in the playoffs. Meanwhile, folks in La Belle Province can now relax a little. It was full-fledged panic last week when the Canadiens extended their losing streak to four games and had played pretty lousy overall all month long. But back-to-back convincing wins over Carolina and Boston have calmed the waters for now. The Habs get set for their traditional Super Bowl weekend games, afternoon starts Saturday and Sunday against Tampa Bay and Winnipeg, respectively. It's a neat tradition the Habs have had on Super Bowl weekend dating back to the 1990s. Me? I'm picking the Seahawks by three.
---

@KatieStrangESPN: With that Blue Jackets win over the Capitals, Columbus moved into third place in the Metropolitan Division, tied with the Philadelphia Flyers at 58 points, and with a game in a hand. Ryan Johansen looked like a stud once again as the 21-year-old pivot notched two goals in the team's 5-2 victory. Perhaps one of the most encouraging signs for the Blue Jackets is the recent play of goaltender Sergei Bobrovsky. The 2013 Vezina Trophy winner is playing much better as of late, with a 10-2-0 record in his last 12 starts. During that span he has posted a 2.13 goals against average and .930 save percentage. Don't count out Columbus. I still like them as my dark horse team in the East and suspect they will be one of eight teams to secure a playoff berth when all is said and done.
Picture This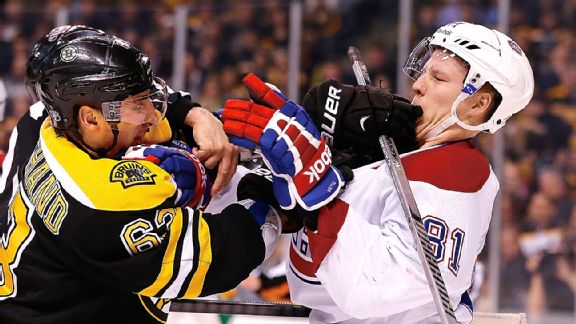 Jim Rogash/Getty ImagesLars Eller is left with a bad taste in his mouth after a scrap with Brad Marchand.
Quote Me On That
"This was close to a complete game for us. We needed that after spending the last week dropping some big games and by big scores as well."
-- Canadiens C Daniel Briere on the win over Boston
---
"You have to take care of the games you have, and we did that. If you don't, you're going to be on the outside looking in, and that's not where we want to be."
-- Senators RW Bobby Ryan on the win over Tampa Bay
Stats Central
• Bruins: Four-game winning streak ends; First regulation loss in last seven games (5-1-1).
• Kings: Lost seven of last eight games.
• Sharks: Lost three straight games (outscored 8-1).
• More from ESPN Stats & Information »