Just A Thought
>

@ESPN_Burnside: Quite a battle shaping up in the Atlantic Division with just five points separating the second-place Tampa Bay Lightning and the fifth-place Detroit Red Wings. Montreal -- just a point back of Tampa -- Toronto and Detroit all won Thursday night, with the Lightning dropping their second in a row, a 4-1 loss to Toronto to further complicate matters in the division. With Boston running away with the Atlantic and Pittsburgh owning the Metropolitan Division, the key is to finish in either second or third in the Atlantic (or the Metro, for that matter) to avoid a possible first-round date with either the Bruins or Penguins. The Lightning and Habs have identical 4-5-1 records over the past 10 games, while Toronto (7-2-1) and Detroit (6-2-2) have been playing better; the Leafs are tied with Montreal in points but have played one more game than the Canadiens and two more than the Lightning. As of Friday morning the Leafs and Wings, in that order, owned the two wild-card spots in the Eastern Conference, but that should make for a mad dash down the stretch when the NHL returns from its Olympic break.
---

@CraigCustance: If you're worried the Americans won't have enough firepower to compete with the Russians and Canadians in the coming Olympics, perhaps Thursday night's performance from Max Pacioretty eases some of that. OK, so maybe he won't be at the top of Dan Bylsma's shootout list after failing to convert two penalty shots, but his three goals more than made up for it, scoring twice on possible Team Canada starter Roberto Luongo before adding an empty-netter. Pacioretty's name sometimes gets lost behind other American wingers like Patrick Kane, Phil Kessel and Zach Parise, but his 26 goals trail only Kane and Kessel among Team USA wingers, assuming Joe Pavelski plays in the middle. With his speed and shot, Pacioretty is a guy to watch on the big ice.
---

@Real_ESPNLeBrun: What makes Kings forward Dustin Brown an effective player in the NHL is his ability to play on the edge, deliver some of the hardest hits in the league and get under an opponent's skin in doing so. He's found more than a little controversy this season, taking out the knee of San Jose rookie Tomas Hertl in a hit that was in the gray area and crashing into Vancouver goalie Roberto Luongo, which resulted in an ankle injury for the Team Canada netminder. On Thursday night, he was at it again, decking Columbus rookie defenseman Ryan Murray with a crushing check that replays seemed to show was a hit to the head on a player who seemed to be in a vulnerable position. Brown received a minor penalty for charging on the play. "If it's too hard, it's going to be a penalty," Brown said afterward. "There's a responsibility to protect yourself on the ice and the responsibility on the other side of it as well. It wasn't like I targeted his head or anything like that. It was a body check and he happened to be a little lower than I was, so I don't know what to do in that situation." Columbus head coach Todd Richards was visibly angry after the hit. "The hit stirred up a lot emotion in me," said Richards. "The way that I saw it was our player was vulnerable, [in a] vulnerable position, he left his feet and it was a form right to the chin, primary contact was the head. I don't know what else you have to do to get a five-minute major -- and the guy has done it before." Listen, you understand how difficult it is to play right on the edge of the line the way Brown has done so well for most of his career. If he lets up, he's no longer effective and he'll hear about it from his team. But he has to be careful. He could have laid off Thursday night with Murray in such a vulnerable position, and I thought he should have.
---

@KatieStrangESPN: And so it begins for the Islanders, as general manager Garth Snow transitioned into sell mode Thursday night, sending Peter Regin and Pierre-Marc Bouchard to Chicago in exchange for a fourth-round pick in the 2014 draft (and as ESPN.com's Pierre LeBrun reported, the Islanders retained 50 percent of both players' salaries to facilitate a deal with the cap-strapped Blackhawks). It was a minor move, but a good sign of what is to come for a struggling squad that has some valuable assets to peddle. Most notably Thomas Vanek, who recently turned down a lucrative long-term deal from the team, and defenseman Andrew MacDonald. Snow is expected to shop both aggressively with his club 12 points back of the last wild-card playoff spot in the East. Snow is lucky Vanek made it out of the team's 4-2 loss to the Calgary Flames unscathed. An awkward spill into the boards at the end of the second period could have spelled disaster if Vanek had suffered an injury.
Picture This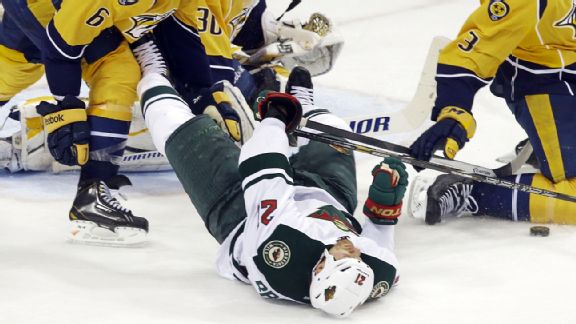 AP Photo/Jim MoneThe Wild's Kyle Brodziak had a hard time in front of the Predators' net on Thursday.
Top Performers
Steve Mason | Philadelphia Flyers
38 SV, 1 GA
vs COL | Recap

Ben Scrivens | Edmonton Oilers
35 SV, 1 GA
vs NYR | Recap


Max Pacioretty | Montreal Canadiens
3 G, 6 SOG, +2
vs VAN | Recap

Quote Me On That
"We're gaining some confidence here and putting a good stretch together. We need one good effort here before the break to put ourselves in a better situation."
-- Red Wings F Daniel Alfredsson on a win over the Panthers
---
"It's important that we got a win. This team has been struggling, and we're trying to find a way to break through. Going on a two-week break with a taste of a win in our mouths is important, and it feels good. We have a good team here. It's just a matter of fighting our way through it."
-- Kings F Dustin Brown on a win over the Blue Jackets
Stats Central
• Kings: Win snaps 4-game losing streak; 2-8-1 in last 11 games.
• Alex Ovechkin (WSH): Go-ahead goal (40); sixth career 40-goal season, first since 2009-10.
• Oilers: 5-1 last six games (winless in previous six)
• More from ESPN Stats & Information »