Just A Thought
>

@ESPN_Burnside: It was a pretty good night for a couple of long-in-the-tooth Olympians in the Czech Republic-Sweden game. First, there was Jaromir Jagr one-handing a puck past Swedish netminder Henrik Lundqvist to close the gap to 4-2 in the second period. Sure, Tomas Plekanec and Niklas Kronwall were on top of Lundqvist, but it was a pretty smooth play for Jagr, who will turn 42 on Saturday and is playing in his fifth Olympics. Then there was Daniel Alfredsson, who turned 41 in December, parked in front of the Czech goal when former Ottawa teammate Erik Karlsson ripped home the first goal of the game for the Swedes. Alfredsson joked after the game that his role on the team is to drive the average age of the Swedish team up, but it was still a pretty sweet start for Alfredsson -- also taking part in his fifth Olympics -- and the rest of the Tre Kronor.
---

@Real_ESPNLeBrun: Duncan Keith and Shea Weber may have something to say about this, but will there be a more dynamic defense pairing to watch in this tournament than Oliver Ekman-Larsson with Erik Karlsson? Oh my. The two young Swedish star blueliners were a treat to watch play together Wednesday when Sweden beat the Czech Republic 4-2 to kick off the Olympic tourney. Both defensemen are magicians with the puck, and watching them take turns with it against the Czechs was mesmerizing. Are there any concerns defensively with having both offensive-minded blueliners together? Not that I could see Wednesday night.
"They're good with whatever ice you give them," Swedish veteran Daniel Alfredsson said after the game. "They're so skilled. It's great to see them get off to this kind of start obviously. They're a pair to watch this tournament, I totally believe. Today was a great example. They made things happen. The same thing with their skating ability, they also played good defense."
Man, what a load these two guys are going to be.
---

@KatieStrangESPN: We've talked a lot about the bigger ice surface during the Olympic Games and how that might affect teams and players during the tournament, but don't forget that a wider rink isn't the only difference at play. There are several nuances to the IIHF rules as well, with some more distinct than others. Swedish goaltender Henrik Lundqvist appeared furious during Wednesday's preliminary match against the Czech squad Wednesday when Jaromir Jagr's goal was allowed following contact with the former Vezina Trophy winner that preceded the goal. According to IIHF rules, there is no standing in the crease and referees are expected to rule the play dead when an attacking player enters that area. Though Lundqvist made 27 saves to earn Sweden a 4-2 win in their Olympic opener, he clearly didn't feel that mandate was upheld.
Picture This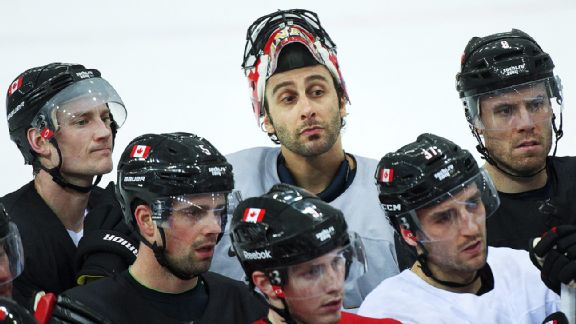 Nathan Denette/AP Photo"So who did you say was starting in net for Team Canada?"
Top Performers
Erik Karlsson | Sweden
2 G, +2, 4 SOG
vs CZE | Recap

Edgars Masalskis | Latvia
38 SV, 1 GA
vs SUI | Recap

Standings
GROUP A
| Team | Record | Points |
| --- | --- | --- |
| Russia | 0-0-0-0 | 0 |
| Slovenia | 0-0-0-0 | 0 |
| Slovakia | 0-0-0-0 | 0 |
| United States | 0-0-0-0 | 0 |
GROUP B
| Team | Record | Points |
| --- | --- | --- |
| Austria | 0-0-0-0 | 0 |
| Canada | 0-0-0-0 | 0 |
| Finland | 0-0-0-0 | 0 |
| Norway | 0-0-0-0 | 0 |
GROUP C
| Team | Record | Points |
| --- | --- | --- |
| Sweden | 1-0-0-0 | 3 |
| Switzerland | 1-0-0-0 | 3 |
| Latvia | 0-0-0-1 | 0 |
| Czech Republic | 0-0-0-1 | 0 |
Record: Wins-OT Wins-OT Losses-Losses